This article will teach you how to install the Clientexec billing system onto your GreenGeeks Reseller web hosting package.
Step 1: Request Clientexec License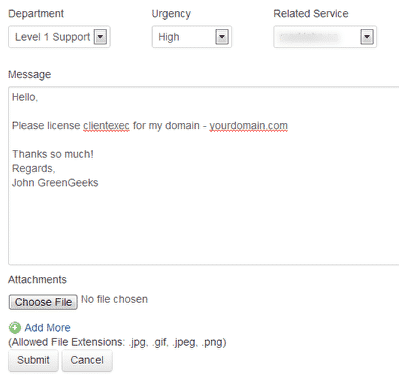 Open up a support ticket within the Account Manager and request a Clientexec license. Our friendly staff will get this activated for you right away.
Step 2: Download the setup files
Our staff will reply back to your support ticket once Clientexec is licensed and provide you with a link to download the software. Click on the link to download Clientexec and save it to your computer. Our next step is to upload the file to your account with us.
Step 3: Login to your GreenGeeks cPanel
Step 4: Click on the File Manager
Once you click on this icon, hit "Ok" to access the system.
Step 5: Select upload in the menu
Browse for the file on your computer and it will begin uploading. The box in the lower right hand corner will show "complete" when the process is done. You can close this tab once the file is uploaded.
Step 6: Extract the file
Select the Clientexec ZIP and hit Extract.
Step 7: Rename the clientexec folder
Select the clientexec folder and hit rename to change the name of your billing system folder. We renamed our folder to be "clients".
Step 8: Create the database for Clientexec
Go back to the cPanel home and click on MySQL Database Wizard.
Step 9: Select the database name

Enter a name for your database and hit "Next Step".
Step 10: Create database user
Enter a database username and password and click 'Create User". We recommend using the password generator for the strongest passwords.
Step 11: Assign database privileges
Check "All Privileges" and hit "Next Step".
Step 12: Open your web browser to Clientexec
Open your web browser and navigate to your domain and folder where you uploaded clientexec. In our case, it's domain.com/clients/. Accept the license agreement and hit "Continue". Fill out the database information snd click "Continue".
Step 13: Input admin information
Type in your admin information and click "Continue".
Step 14: You're Done!
Congruatlations! You've installed Clientexec.