Why You Should Use GreenGeeks Reseller Hosting
Exceptional Reseller-focused Features
Fully Loaded Web Hosting Features
You will be able to offer your customers the same 100's of web hosting features that we do with our shared hosting plans. Features such as E-mail accounts, MySQL databases, PHP, etc. You will also be able to control what features you give to your customers with our hosting plan control system.
100% White Label Hosting Platform
Our reseller hosting services are 100% white label, this means you will be able to brand your control panel with your logo, use private name servers, and remain anonymous as we make no mention of GreenGeeks anywhere..
FREE Migration Service
For hosting providers who are hosted elsewhere and are looking to switch to GreenGeeks, we will work with you to safely and accurately migrate your customers from your existing provider free of charge.*
FREE Hosting Billing System
We include a free ClientExec license ($12/mo value) for you to use to automate management of your clients including invoicing, support helpdesk, automated provisioning and more.
FREE Website Builder
You will be able to offer your customers access to RV Site Builder ($12/mo value), a drag n' drop website builder to help your novice customers to create their own professional website by using over 500 templates.
FREE eNom Domain Reseller Account
We'll also give you access to your own eNom Domain Reseller Account, a $995 value. You will be able to register, transfer and manage domain names for your customers. You'll also be able to sell add-ons such as SSL certificates, WHOIS ID Protect and more.
Access to over 150+ Apps
You will be able to offer your customers access to Softaculous, a 1-click automated application installation tool that makes installation of apps such as WordPress, Drupal, Joomla a piece of cake.
99.9% Service Uptime
We use the best when it comes to our network and hardware including the latest generation Intel processors, enterprise memory and SSD-powered local RAID-10 storage arrays. We offer our customers 99.9% uptime
Money Back Guarantee
With our 30-day guarantee, if you're not satisfied with our service, simply ask for a refund.
Features Your Clients Will Enjoy
| Web Hosting Features | Details |
| --- | --- |
| Super Fast Web Space (RAID-10 SSD-Powered) | Unlimited |
| Free Drag and Drop Site Builder | |
| POP3/POP3 Secure E-mail Support | Unlimited |
| IMAP/Secure IMAP E-mail Support | Unlimited |
| Gigs of Site Transfer/Bandwidth | Unlimited |
| Forwarding E-mail Accounts | Unlimited |
| E-mail Autoresponder | Unlimited |
| Parked Domains | Unlimited |
| Subdomains | Unlimited |
| Additional FTP Accounts | Unlimited |
| MySQL Databases | Unlimited |
| CGI-Bin | |
| Webmail Access | |
| CGI Library | |
| Server Side Includes | |
| Upload from FrontPage | |
| Account Control Panel (Demo) | |
| FTP Access | |
| SSH (Shell) Access | |
| Override .htaccess Support | |
| Anonymous FTP | |
| Log Files + Site Stats | |
| Custom Error Pages | |
| Web-based File Manager | |
| Custom Cronjobs | |
| Spam Assassin Protection | |
| Fantastico & Softaculous Script Installer | |

| World Class Technology | Details |
| --- | --- |
| Linux Operating System | |
| SSD, RAID-10 Storage Array | |
| Dual Quad Core Frontend Servers | |
| Optimized Web & Database Server | |
| 24/7 Monitoring, Every 10 seconds | |
| Courtesy Nightly Backups | |
| Multi-Gigabit Connection | |

| Faster Page Loads & Enhanced Security | Details |
| --- | --- |
| Real Time Security Scanning | |
| Built-in PHP Caching for Faster Page Loads | |
| Automatic Bruteforce Detection | |
| Hot Data Caching | |
| Apache Web Serving Performance Tweaks | |
| MySQL Database Performance Tweaks | |

| Included Software Apps | Details |
| --- | --- |
| 1-Click Installation/Updates | |
| WordPress, Drupal, Joomla, etc | |
| Bulletin Board (PHPBB, SMF, etc) | |
| Form-mail Script | |
| PHP Nuke | |
| Guestbook | |
| Mailing Lists | |
| Image Galleries/Coppermine | |
| Poll and Survey Software | |
| Moodle | |
| Mambo and Joomla | |
| phpForm Generator | |
| PHP 5 | |
| Perl 5 | |
| Python | |
| Customizable PHP Environment | |
| Multiple PHP Versions | |
| Javascript/DHTML | |
| Flash/Shockwave | |
| Help Center/Support Ticket | |

| E-Commerce Features | Details |
| --- | --- |
| SSL Secure Server | |
| Magento Shopping Cart | |
| OS Commerce Shopping Cart | |
| PrestaShop Shopping Cart | |
| CubeCart, ZenCart, Agora + Dozens more | |
| Password Protected Directories | |
| Open PGP/GPG Encryption | |
Simply put, our customers love us...
and so will you!
Leverage the Planet's #1 Web Hosting Control Panel
cPanel's WHM makes managing your web hosting business simple.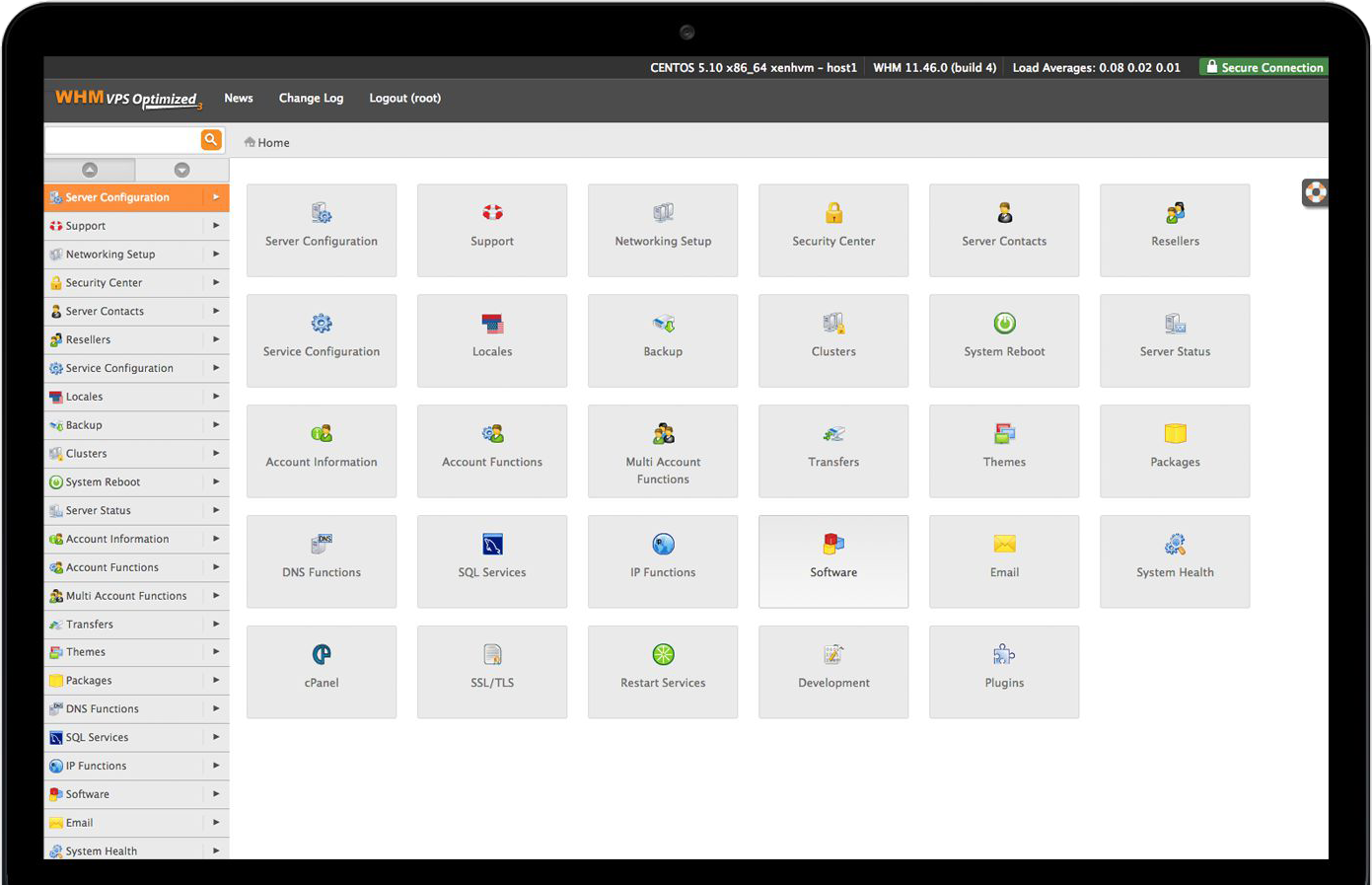 Frequently Asked Questions
Some of the questions that we get asked frequently...
Q. Who is responsible for providing support to my customers?
You as the reseller will be responsible for providing support to your customers. GreenGeeks will provide you, the reseller with support 24/7 via e-mail, live chat and telephone. You will also have access to our extensive Knowledge base, video tutorials & more.
Q. Is the Reseller Hosting White Label? Can I have Private Name Servers?
Yes, our reseller hosting service is 100% white label. Our servers are designed to be completely anonymous and allow you full branding capabilities. You'll also be able to create your own private name servers such as ns1.yourdomain.com & ns2.yourdomain.com.
Q. Will you transfer my website from my existing web host? Is there a limit?
GreenGeeks offers customers that are transferring from another web hosting provider our free migration service. There is a limit of 30 cPanel accounts under our free service. For full details, view our Migration Policy.
Q. How do I automate the management of my clients?
GreenGeeks includes ClientExec which is a web hosting billing system that will help you manage, automate and invoice your web hosting customers. You will be able to integrate into cPanel/WHM, eNom & payment processers such as PayPal, Authorize.net, 2Checkout, etc.
Q. Can I oversell the resources to my customers?
You will be able to assign as much or as little resources to your customers as you like, such as disk space, bandwidth, domains, e-mail accounts, etc, including offering Unlimited plans. You will be limited by the resources on your reseller hosting plan.
Q. I am not sure which plan to choose, can I upgrade seamlessly later?
If you're just starting out, we recommend starting with our Seed plan. If you're transferring from an existing provider, try to locate the most comparable plan. You will be able to upgrade/downgrade seamlessly at any time. If you're still unsure, do not hesitate to contact us. One of our hosting specialists will be more than happy to help.
Q. How will I register Domains for my customers?
GreenGeeks provides you with an eNom Domain Reseller account which will allow you to register .com, .net, .org plus 1000+ more TLD's. You will also be able to integrate eNom into your web hosting billing system to automate the provisioning of domain names for your customers.
Q. Do you provide nightly backups?
GreenGeeks takes disaster recovery very seriously. Even before backing up our servers we take special care in protecting our filesystems against data loss. In addition to this, we back up our servers nightly and retain data for 48 hours. We have you covered.
Start Creating Hosting Accounts Immediately
No risk with our 30-day money back guarantee!
Seed
50 GB SSD Web Space
500 GB Premium Bandwidth
Unlimited cPanel Accounts
Provision in or
80 GB SSD Web Space
800 GB Premium Bandwidth
Unlimited cPanel Accounts
Provision in or
Plant
120 GB SSD Web Space
1,200 GB Premium Bandwidth
Unlimited cPanel Accounts
Provision in or
Tree
160 GB SSD Web Space
1,600 GB Premium Bandwidth
Unlimited cPanel Accounts
Provision in or
Forest
200 GB SSD Web Space
2,000 GB Premium Bandwidth
Unlimited cPanel Accounts
Provision in or