When you first install WordPress, you'll notice that the visual editor is missing a few tools. Although this editing system is great for getting content created on your website quickly, some tools would make things so much easier.
For instance, you'll find that you're missing an ability to easily create tables.
Tables can be quite useful regardless of what you're trying to write. They can be used to offer a grid layout of information and separate points. It's a great way to keep information tidy and easy to identify.
This tutorial will show you a couple of ways to place WordPress tables within your posts and pages. It's quite easy to do and may offer functionality when you create content. It may even play into content marketing by increasing the value of the material for visitors.
Using TablePress Plugin
The TablePress plugin is a useful tool as it will allow you to create templates for your tables. For instance, you could have one specifically used for top ten lists or one that was designed for four-week predictions. The possibilities are near endless, and it could easily reduce your time when inputting the table.
To use the TablePress Plugin:
Step 1: Go to the "Plugins" area of your WordPress dashboard.
Step 2: Click the "Add New" button on this page and search for "TablePress."
Step 3: Click the install button and activate the plugin.
Step 4: This will add a new function to your admin panel called, "TablePress." It should be below your comments section on the left.
Step 5: Click the TablePress tool.
Step 6: You see a series of tabs along the top. For now, click the "Add New" tab to create a new table.
Step 7: Give your project a name. Make it something easy to identify later.
Step 8: Next, you can give your table a description. This may be helpful when you start creating more as it can help you find specific ones in the list. However, this field is optional.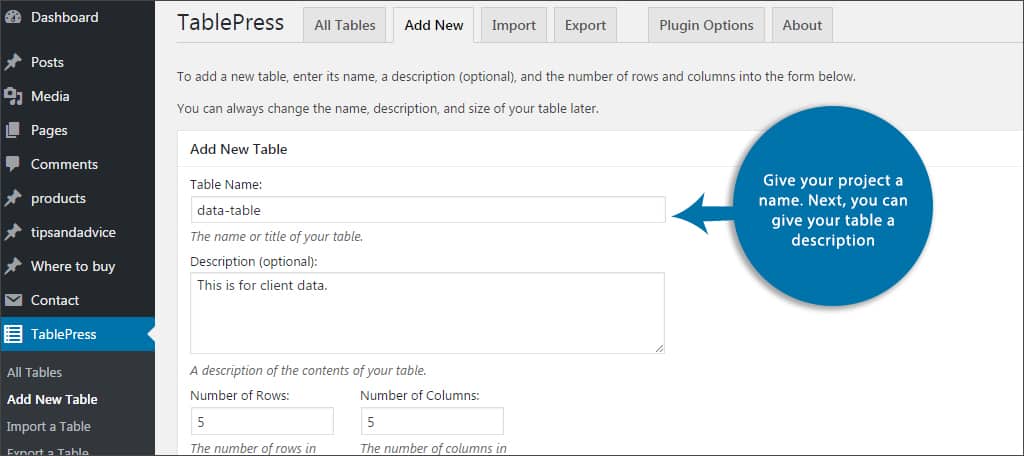 Step 9: Give your template a set number of rows. This will be corresponding to the data you are trying to convey. For instance, showing data for Monday through Friday would only require five rows for each data point.
Step 10: Set the number of columns. Again, this will be dependent of the information you're sharing.
Step 11: Click the "Add Table" button on the bottom left to save.
Step 12: Once it has been added, you'll be taken to a new screen where you can set up the fields.
Step 13: Set your information up using the empty fields and the options available.
NOTE: You have access to a variety of things such as adding more rows and columns, inserting images, headers and footers, printing options and much more.
Step 14: Once you are done setting up your data and options, click the "Save Changes" button at the bottom left. You can also copy, export and delete this table.
Step 15: Create a new post or page or edit an existing one.
Step 16: In the visual editor, you'll find a new tool to "Insert a Table from TablePress." Move your cursor anywhere within the content of your page where you want the table and click this button.
Step 17: A new window will open asking which one you wish to input. Find the table you made and click the corresponding "Insert Shortcode" button. This will automatically input the shortcode into the text field of your editor.
NOTE: You can get this shortcode directly from the TablePress tool as it will be displayed next to the name of the table.
TablePress will also allow you to import and export specific tables if you have something beyond the basics. The plugin supports some of the most popular formats such as CSV and XML files. These can come from your computer system or imported from the web.
The downside to using TablePress is that the information is not editable on the post or page. If you need to make changes, it has to be done in the tool itself. If you use a lot of tables, this can get to be quite confusing.
This option is valuable if you intend on sharing the same information repeatedly. If you're providing facts that are unchanging, this could be useful. However, what if you want to make tables on the fly without creating a default template?
Using TinyMCE Advanced
When it comes to boosting the abilities of the visual editor in WordPress, few plugins have the capacity as TinyMCE Advanced. With over one million installations, it's one of the most popular plugins available.
Aside from its extra tools, TinyMCE Advanced also comes with the ability to insert tables into your content. When creating posts or pages, you can simple use the button or the drop down feature along the top of the visual editor. To use this to make WordPress tables:
Step 1: Search for and add the new plugin for WordPress called, "TinyMCE Advanced."
Step 2: This will add a new function in your "Settings" area of WordPress. Look for and click the one labeled, "TinyMCE Advanced" within this section.
Step 3:  This will open the Editor Settings. From here you can drag and drop any tool you want to use in the content editor of WordPress. You even have extra toolbars available if you want to separate them out. For now, we are only looking for the icon that looks like a grid. Make sure it's in your editor's toolbar.
Step 4: Click the "Save Changes" button on the right.
Step 5: Open or create a post or page.
Step 6:  In the visual editor of WordPress, you'll see that TinyMCE has added a lot of functions. Move your cursor to where you want to place the table.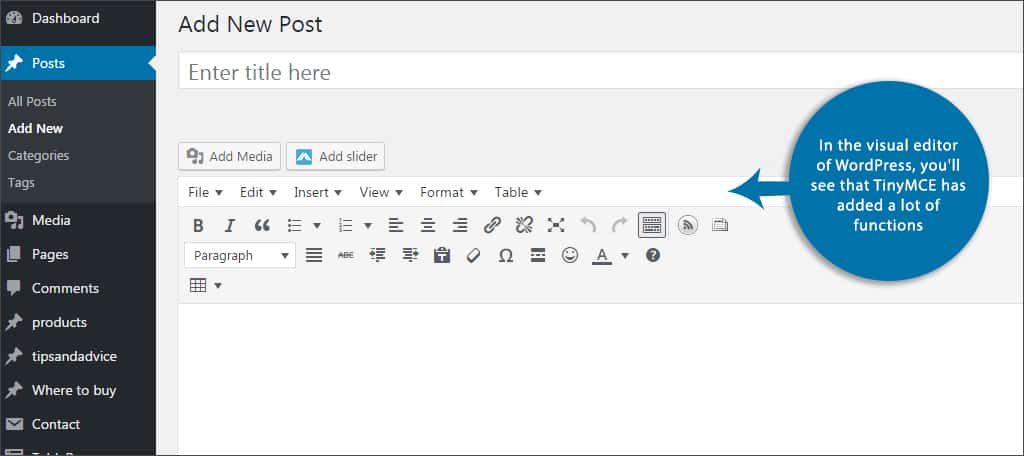 Step 7: Click the grid button for creating a table. This will open a variety of options for how many columns and rows you need. Once you select the sizes you want, it will be created.
Alternatively: You can also click on the "Table" function from the top toolbar in the visual editor to open these exact same settings.
NOTE: By switching to the WordPress text editor, you can directly modify the table's HTML coding for customization.
Step 8: Click on the table to select it.
Step 9: Click on the button or "Table" function in the visual editor.
Step 10:  You'll see that you are now able to change the properties of the table. This lets you control borders, colors, captions, padding, spacing and more. Make your changes and then click the "OK" button.
This plugin allows you to make tables without worrying about templates or setting information up in a secondary area. It's more useful for those who need tables but not necessarily the same information every time.
The trade-off with using TinyMCE is that you don't have the elaborate features given when creating a table in TablePress. However, you do have access to customize the table by switching to "Text" in the WordPress editor. Learning how to modify the HTML of a table is relatively easy and there are multitudes of online resources for this.
Creating WordPress tables isn't a difficult procedure and may help accentuate the content. These are only two plugins that can help you create material that is valuable to visitors and may serve to be worthy of sharing on social media. Choose the right method for you and make writing your posts and pages easier in the long run.
What additions do you have installed for your editor? How often would you use tables if you installed either of these plugins?