You live in a world where online information is a commodity. Everything from the criminal element to government are capable of watching what you do online. Luckily, you can avoid a lot of this monitoring by using the best VPN service available.
A Virtual Private Network is like having access to the Internet over a secured channel. In most instances, these systems are protected by military-grade encryption methods. As a result, you can freely access a vast majority of the Internet without being spied upon.
The VPN plays a critical role for many around the world. In some cases, it gave those who had no voice a chance to reach out. It also removes the fear of your information being used against you at a later date.
The world is full of cyber security threats. Malware can infect everything from your computer to your smart-enabled kitchen appliances. A VPN may not stop everything, but it adds another layer of protection to keep yourself safe.
Today, I'm sharing some of the best free and paid VPN services you can find on the Internet. And many of them will have very little impact on performance.
1. ExpressVPN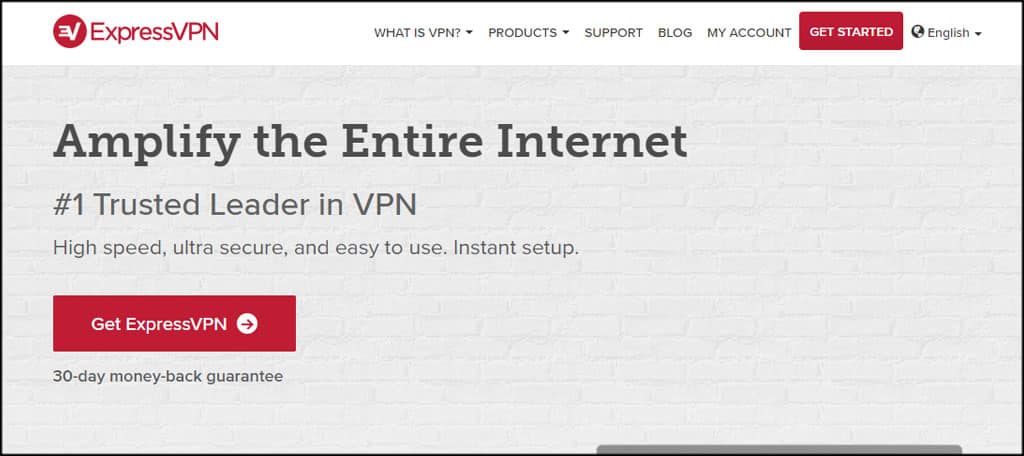 ExpressVPN is often amongst some of the best VPNs on the Internet. It touts a massive network of over 2000 servers across the world, optimization for fast connections and available for most major operating systems from computers to mobile devices.
Because the company itself is based in the British Virgin Islands, you don't have to worry about activity or connection logs being saved. This is because of the lack of data retention laws. The company also offers a 30-day, no-questions, money-back guarantee. So if you don't like it, it's easy to have the money refunded.
2. PureVPN
PureVPN utilizes approximately 750 servers spread across the world, and each can be accessed by all package plans. One of the biggest attractions is the unlimited bandwidth you receive. This means you can stream and download all you want without extra fees or data caps.
The company offers competitive pricing while covering a wide range of payment types including online methods and cryptocurrencies. And all services are covered by a 7-day money back guarantee.
3. StrongVPN
StrongVPN is powered by more than 650 servers spanning across more than 20 countries. It supports a 30-day money-back guarantee while hosting a new and improved network for performance. Regardless of your device, this system has support to keep your Internet browsing secure.
The system offers zero logging as well as strong security for public Wi-Fi networks. And because it accepts major credit cards as well as online currencies, just about anyone can easily afford and pay the service.
4. NordVPN
NordVPN is one of the more popular private networks on the Internet. It protects up to six devices simultaneously while supporting all major operating systems. With over 3,600 servers across the globe, you can access the VPN from almost anywhere.
One of the things many customers like about NordVPN is the double encryption method and the ability to use Bitcoin to pay for services. You also have access to peer-to-peer function, fast speeds and a quick kill switch to turn off the system instantly.
5. VyprVPN
If you're looking for speed, VyprVPN may be the service you want. The organization writes their own coding specifically tailored to run on their system. This means it's optimized perfectly to give you the best experience possible.
The system provides unlimited speed and bandwidth to do anything you wish on the Internet from checking your email to playing games. VyprVPN also has one of the highest collections of IP addresses for its users for more than 700 servers.
6. Windscribe
Out of the free VPN services you can try, Windscribe is perhaps one of the top. It offers a strong firewall, adblock software, peer-to-peer connections and up to 10GB per month bandwidth. It's one of the better systems to use for those who want to access systems like Netflix outside of the United States.
One of the major highlights to the system is being able to install the app on unlimited devices, even in the free version. If you want to set up a proxy gateway on your own network, you can do that as well which hides the activity of your other devices on location.
7. IPVanish
IPVanish delivers a lot of security and access in every plan. You're able to access censored apps and websites, benefit from unlimited bandwidth and relax knowing that traffic logs do not exist on the system.
Because of how IPVanish is set up, apps and software that charge you more based on location are easily circumvented. You can literally choose which country your connection is coming from to keep your extra payments to third-parties lower.
8. GooseVPN
GooseVPN is log free while allowing peer-to-peer networks to thrive. You can set it up on an unlimited number of devices ranging from desktop computers to Android TV. For an additional dollar per month, you can also add anti-virus and extra firewall protection for your browsing needs.
Not everyone thinks about securing themselves when using a VPN. Anti-virus software and a firewall are definitely a bonus, especially if you see signs of your data being tampered with.
GooseVPN has several affordable plans for those who want more "umph" behind their Internet connections. It also comes with a 30-day trial package to determine if it's the right system for you before handing over money.
9. Avast SecureLine VPN
Some of you might recognize Avast as the company who provides your anti-virus security. The company also produces a secure system called Avast SecureLine VPN for your browsing needs. Using fast servers around the world, you can easily get around content blocks put into place.
As SecureLine hides your IP address, you don't have to worry about ads coming in based on your location. The system also provides DNS leak protection and disables IPv6 requests while online. And like most other VPNs, there is no data logging within SecureLine.
10. Norton WiFi Privacy
Another favorite anti-virus brand among many, Norton delivers the WiFi Privacy VPN to add even greater security to your computer or mobile device. You can even get the VPN and Internet security software in an affordable bundle package.
Norton WiFi Privacy blocks ad traffic, delivers anonymous browsing and is backed by bank-grade encryption methods. Using a no-log system, Norton doesn't track your movements or browsing information while using the highly encrypted network.
11. Private Internet Access
Trusted by some of the biggest brands on the Internet, Private Internet Access is a VPN tunnel that focuses on superior security and function. It also has some of the lowest prices for plans among other private networks.
It comes with support for peer-to-peer, encrypted Wi-Fi, and blocks ads and trackers. As an added bonus, it also blocks various types of malware which allows it to double as a anti-malware app in addition to securing a VPN connection.
12. ProtonVPN
ProtonVPN offers a limited free service utilizing slower speeds. However, you can choose among several other upgraded accounts which boost speed and features with each step. However, all connection types are protected by 256-bit AES encryption.
As ProtonVPN is based in Switzerland, it's protected by privacy laws that are unmatched in many parts of the world. Core servers are stored in underground bunkers and the company ships equipment to these facilities themselves, which means your data is protected even at the hardware level.
13. Speedify
Those who use their mobile devices as primary Internet connections know how often speed is an issue. With Speedify, the system combines the power of cellular signals with that of Wi-Fi connections. This creates a faster and more reliable connection with fewer disconnects.
Speedify has a free VPN service, but it's limited to 1GB of data per month. However, it may be worth the investment if you can reduce LTE bandwidth by sharing it with Wi-Fi networks. One of the claims of the company is to keep the VPN security while delivering twice the performance of standard virtual private networks.
14. VikingVPN
Another fast system you may want to consider is that of VikingVPN. Connections benefit from high-speed gigabit connections for speed and reliability. And because Viking uses more resources for user bandwidth, each connection is at optimal performance regardless of the activity.
VikingVPN deploys a 2048-bit HMAC firewall to protect from incoming connections while keeping your data private. Another aspect that sets this company aside form many others is the false traffic that is sent which cloaks your online movements even further.
15. TunnelBear
TunnelBear has several payment options to choose from. You can start off with the free service and move it up to the maximum premium connections later. All plans have access to 256-bit AES encryption methods.
Although the free version is a good place to start, it is lacking when it comes to certain activities. With only 500MB per month available for data, you really can't do a lot of heavy use. For example, things like Netflix, YouTube and gaming would exhaust that limit very quickly.
16. Cryptostorm
Cryptostorm is a popular platform for many for hiding browser activity. It uses an open-source code and is transparent regarding how the program operates. Meaning you can look directly at the code to see for yourself how it behaves…if you know how to code, that is.
The system uses a token-based network that is temporary. Each time you connect, it changes. This means it's next to impossible to track an identity, even if someone could. With anti-leak protection and unlimited worldwide access, you can browse almost anything without leaving a trace.
17. Hide.Me
Hide.Me is another system that guarantees no storage logs for data. As there is no system in place to record your activity, there is simply nothing to hand over to officials. And if you need a free browser proxy, the organization has one of those readily available on its website.
This system delivers a fast free VPN service and caps you at 2GB of data per month. Which really isn't a lot if you plan on doing some heavy video watching. Otherwise, you can pay for the premium service which is comparable to other VPN platforms.
18. TorGuard
TorGuard is a strong VPN while also having plans for browser proxies. This means you can find a plan that fits your specific online activity. For example, you wouldn't really need the more expensive VPN if all you want to do is access certain websites blocked within your country.
It's a common system for those who share torrent files.
Although TorGuard offers excellent services for personal accounts, the developer also provides VPN services for businesses. These packages usually come with much greater additions such as expanding the number of users, encrypted email accounts and dedicated VPN IP addresses.
19. Opera VPN
Opera VPN is tailored for protecting mobile devices. It's available for both Android and iOS while delivering safety and security across Wi-Fi networks. The system monitors users as well as apps that allow admins to see your activity and keeps you aware.
This platform comes with a built-in ad tracker blocker, which gives you freedom of browsing without advertisement systems knowing your every move. The only downside is that torrenting is not supported for Opera VPN, which means direct peer-two-peer file sharing isn't going to happen across the system.
20. CyberGhost VPN
CyberGhost offers more than a VPN. It also delivers a system to keep you away from malicious websites by comparing addresses to a dedicated database. In this sense, it works similar to Google by monitoring what URLs are known for sharing malware and other criminal activity.
You can have five devices connected simultaneously while being protected by a standard 256-bit AES encryption. Other additions include DNS leak protection, high speeds, unlimited bandwidth and access to over 1,250 servers from across the globe.
If you're not satisfied, you can simply contact the company for the 30-day, money-back guarantee. This is aside from the 7-day free trial you receive when first installing the app.
Keep Your Data Secure
While VPNs don't prevent all forms of cyber crime, they do assist in preventing many types of cyber attacks, especially those that offer strong firewalls. For those who store a lot of personal and business-related information on the Internet, it's often a good investment to use a secure tunnel.
Never assume you have enough online protection.