Many marketing experts attest to email as being one of the most cost effective solutions for businesses. That's because it really doesn't cost anything to send out a quick message and it can be done en mass.
In a world of digital communication, email is still a heavily used platform.
To make this part of marketing more efficient, some will use the best email service they can find. These tools often deliver an automated system for engaging a vast target audience.
They help you develop campaigns using professional templates and rich customer data to create a powerful way to engage a target audience.
Why Worry About Email Marketing Services?
On average, the return on the investment for email campaigns is approximately $38 for every one dollar spent. This also depends on your industry and target audience. However, there is no mistaking just how effective these campaigns can be for a small business.
While you can set up your own email lists and send messages manually, you will be missing out on other features.
For instance, a nice template can go a long way to engage a reader.
Do you have the time to send these emails out on a daily basis? Are you able to track those messages with your current system? It's these types of features that make marketing services so appealing.
These systems can easily be an addition to your website marketing tools to give you incredible insight to online performance.
And now, here are 14 of the best email service providers for marketing in 2019.
1. EngageBay
If you're looking for a strong all-in-one system, EngageBay is a good choice. It comes with a slew of tools including lead generation, contact management, help desk automation and much more.
As the system has a free, extensive all-in-one solution available, you can try it out for yourself without committing to a subscription payment. This way, you can use EngageBay to see if it's right for your business without spending a dime.
EngageBay comes equipped with an excellent platform for creating rich email marketing campaigns with various templates. This is of great benefit when you consider that approximately 64 percent of people prefer a rich text email as opposed to basic layouts.
And with their Zapier integration, moving information between all of your apps is only a few clicks away. Essentially, you'll build a powerful networking system for all of your supported apps.
Additionally, the simplicity of sales reporting and automatic activity tracking helps to optimize time.
2. Mail Chimp
Mail Chimp is a very popular platform for many businesses small and large alike. Part of this is because of the free "New Business" plan and competitive pricing on its upgrades.
This is aside from the fact that the system is easily integrated into social media and WordPress to help grow mailing lists.
This system is also capable of integrating with some of the most popular eCommerce platforms. Whether you use Shopify or the WooCommerce plugin for WordPress, Mail Chimp can help drive your retail sales.
Conversion rates for messages used for following up on previous sales is approximately five percent. This means you'll have a greater chance of making a second sale while running email campaigns to past customers.
Strong return business can also help strengthen your online reputation.
3. VerticalResponse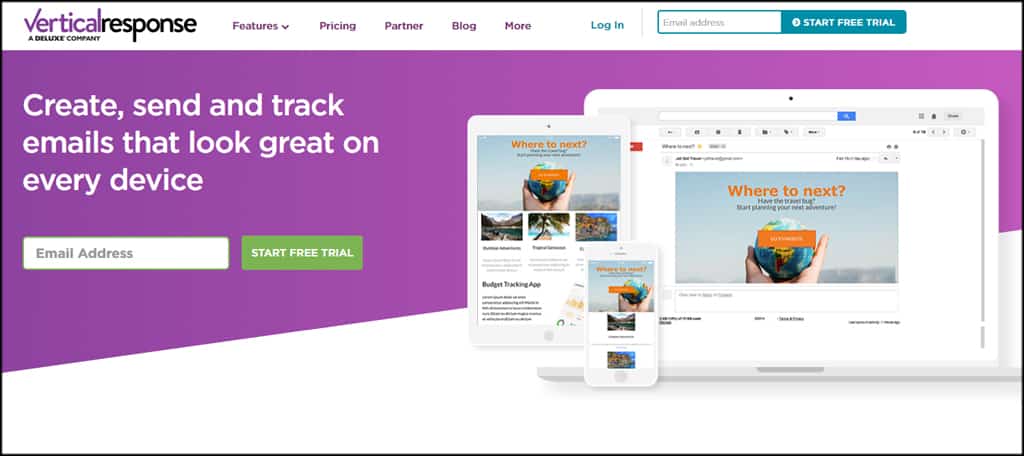 If you want a service your small business can grow into, VerticalResponse may be an excellent choice. It's one of the few that offers a free starter account so you can test the proverbial waters.
Should you need a more elaborate system, you can easily upgrade at any time.
VerticalResponse is one of those systems that has a lot of integrations available. From popular eCommerce platforms to design software, this system can help you get more out of those tools.
If you have skills in editing HTML, this system also delivers a way you can further fine-tune your email at the coding level.
An attractive feature for VerticalResponse is the program specifically for non-profit organizations. If you are qualified as 501(c)(3), you can receive bonus email credits or even a discount on monthly subscription plans.
4. iContact
iContact is another email marketing system that offers a spam checking service. Which may be an invaluable tool if you want to avoid messages being lost.
Essentially, this service pits the makeup of your email against a variety of known filters and ensures the subject and content won't trigger the spam filter of an inbox.
The social integration of iContact is quite elaborate. Whether you're dragging share icons to the email itself or scheduling posts to your profiles, this system can serve as an all-in-one platform for engaging your fans and followers.
For those who want to learn more, personal coaching is available from phone calls to webinars. You may also take advantage of the available videos and watch how to succeed in your campaign at your leisure.
5. Campaign Monitor
For those who love reports, Campaign Monitor may be a good choice for email marketing. Data collection from this system can help you create and optimize your messages each time.
The system records opens, clicks and even shares so you can see the effectiveness of the solution.
Campaign Monitor also connects to other data applications. Google Analytics, Omniture and WebTrends are only a few of the platforms that can integrate with this system.
This means you can get a total overview of your online presence for website access and email from a single screen.
Another great feature of this system is the ability to create stunning email messages.
6. Stream Send
One problem that some people have when sending email is not knowing what the message looks like from the recipient's side. StreamSend will display what the message will look like in 30 different email clients.
This can help you fine-tune the message to look good to a large portion of the population.
StreamSend also has the ability to drag-and-drop video content into email. When you take into consideration that 40 percent of consumers will visit a website after seeing a sponsored video, this could play well into an email marketing campaign.
If you're worried about image storage, StreamSend has you covered. You can easily create your own library from an unlimited hosting area.
The company also provides professionally designed and mobile-friendly pictures to use.
7. Mad Mimi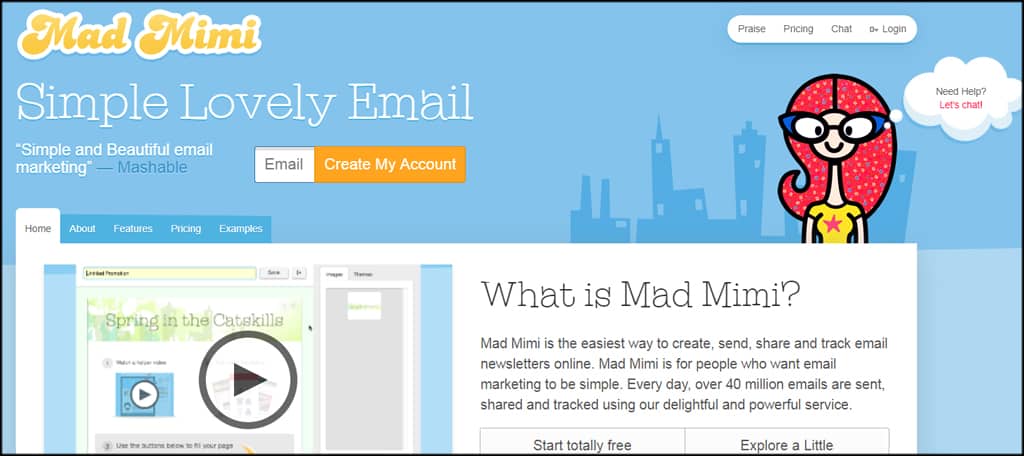 An affordable solution for email marketing, Mad Mimi has scalable plans depending on your business needs. From as little as $10 per month for basic accounts to much larger corporation capacities, this platform may help make your budget more realistic.
Mad Mimi offers a great deal of automation when it comes to managing your email lists. It handles duplicates, unsubscribers and bounced emails seamlessly allowing you to focus on more pressing matters.
A customizable form is also available that you can  add to any website.
Many marketers love the prospect of real-time tracking. This is when you are immediately apprised when someone opens, clicks or forwards an email. The system will deliver the data to you in an easy to read chart that can help you fine-tune your campaigns.
8. GetResponse
When you need an all-in-one solution for marketing, GetResponse may be a good choice. This system is more than just an email solution. It offers many other aspects of marketing to help give you a strong method for engaging an audience.
An important aspect to any online campaign is the landing page. Studies show that the average conversion rate of these pages is just under 10 percent. However, there are many factors that can drastically change this number such as your industry.
GetResponse gives you the tools to build this facet to use on your own domain or on their own free subdomains.
Email marketing, webinar hosting and system automation are just a few more tools that make this system quite attractive. It even allows you to track web events, cart abandonments and subscriber scoring.
9. SharpSpring Mail
Formerly known as Graphic Mail, SharpSpring Mail is another powerful email marketing solution that has great potential for the small business. The email editor contains a drag-and-drop, WYSIWYG system that delivers responsive messages to your recipients.
After all, approximately two-thirds of email in the United States are opened from mobile devices.
SharpSpring delivers a contact tracking capability that allows you to send messages based on user interest and behaviors. In a way, it's much like how Google delivers ads to people according to their online searching and browsing activity.
If you have close connections with your contacts, this platform will integrate with social media and fill in their information. This can give you a greater understanding of who communicates with your business in more detail.
10. Benchmark Email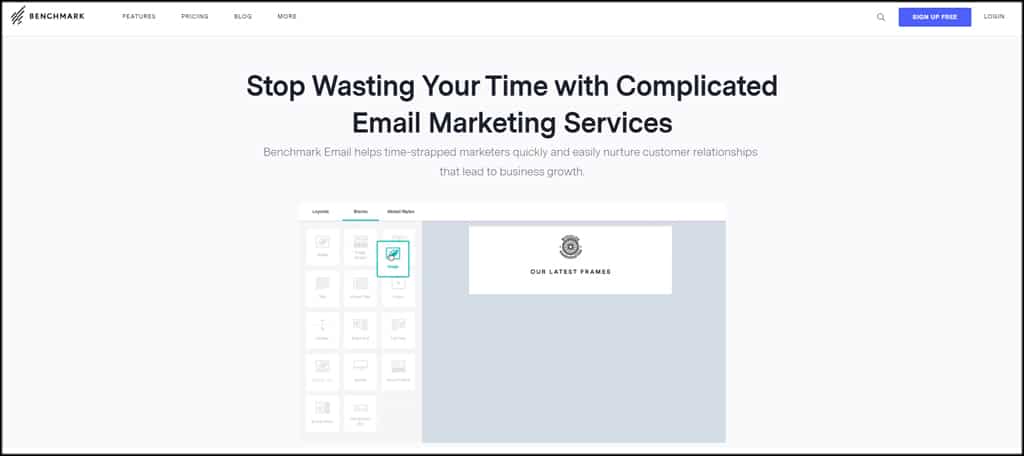 Another system that offers a free starter account is Benchmark Email. It also has comparable pricing in the event you go beyond 2,000 subscribers, which is one of the highest numbers you can have in any free platform.
Benchmark offers an easy-to-use, drag-and-drop system to create lavish messages. Using a WYSIWYG layout, you can see exactly what your email will look like as you're designing it. And yes, these are also created with responsiveness in mind for mobile devices.
For those who need photo editing but don't have Photoshop, Benchmark comes with a system to make those graphic changes. Crop, visual effects, stickers and more are all available to spruce up your picture.
11. AWeber
AWeber is a good system to have if you want a lot of customization at your disposal. Campaign development, form building, newsletter options and more give you a lot of control when it comes to setting up messages and gathering subscribers.
Although email will convert three times better than using social media, AWeber gives you the ability to connect to several kinds of sites. You can even place a subscriber form directly onto your Facebook business page.
Perhaps you don't have the time to create a new and inspiring email for your subscribers. AWeber will automatically pull blog posts you create and turn them into messages.
Whether you're running it from an RSS feed or broadcasting from a major blog CMS such as WordPress, the system will send out the mail for you.
12. ConvertKit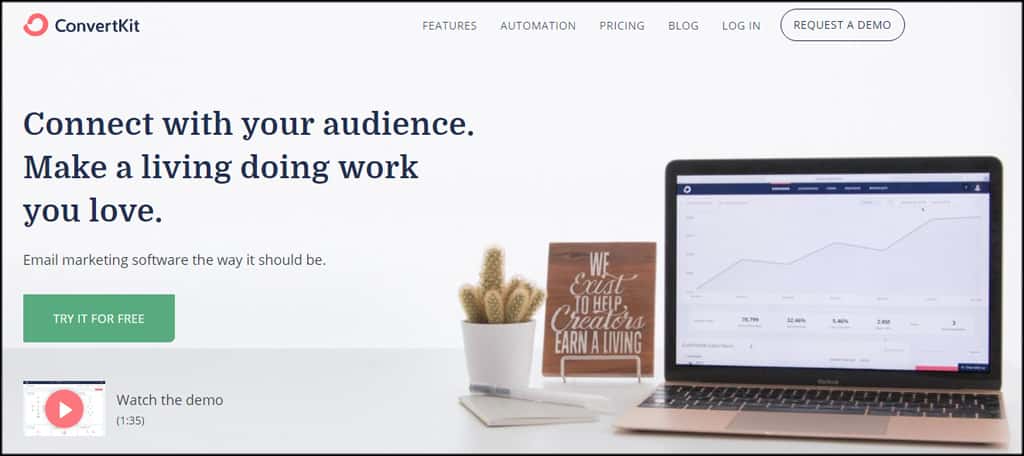 If you need a system that has the capacity to integrate with many different systems, check out what ConvertKit can do for you. This platform can connect to more than 30 different platforms ranging from eCommerce to webinar services.
The only real downside to this system is that it's a bit more pricey than some of the others in this list.
ConvertKit's saving grace from its greater price tag would be the unlimited everything you get regardless of the plan. There are no sending limits, you have access to unlimited landing pages and can set up as many automation rules as you'd like.
This may be a more feasible system for those who plan on taking email marketing to higher levels in their business model.
Since you'll have access to an unlimited supply of knowledge as well as functionality, you may be able to accomplish greater things.
13. ActiveCampaign
ActiveCampaign offers a lot of functionality when it comes to setting up automation. Using a drag-and-drop interface, you can set up a variety of triggers to engage your audience depending on whether or not the person has visited a specific area of your site.
The process can be as elaborate as you want with a high degree of functionality.
Follow up messages, link clicks, form submissions and more can all be monitored from the system for creating a powerhouse of automation.
ActiveCampaign also comes with an ultra-easy system for creating messages. For instance, it wouldn't take much to incorporate social media buttons within the message using simple drag-and-drop action.
After all, adding social sharing buttons in messages increases click through rates by approximately 158 percent.
14. SendInBlue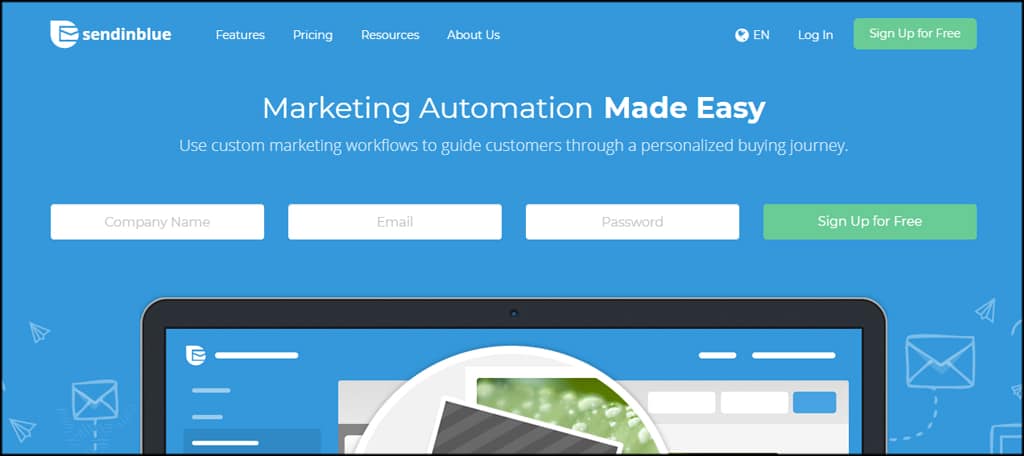 Although SendInBlue is commonly used for eCommerce email marketing, you can easily use it as a stand-alone platform. Not only does it provide support for email, it also gives you control over SMS messaging. This isn't to mention that it comes with a spam-checking feature to help you avoid those traps.
One of the features that some may enjoy is the ability to integrate well with the most popular content management and eCommerce systems. Magento, WordPress and Drupal are only a few of the systems that use plugins for SendInBlue.
Otherwise, you can use the available API for further integration.
This system also allows for engaging your followers on social media. With a few clicks of the mouse, you can launch your marketing campaigns with those on Facebook, Twitter and LinkedIn.
Find the Best Email Services for Your Needs
Using the best email service for your small business has potential to vastly improve success. Just think of the average ROI from above. Even if you had merely half of the average return, it may still be a worthwhile investment.
Weigh your options and choose an email marketing service that works with your needs.