WordPress 5.5 has arrived, and it's packed with improvements. If you haven't already updated your WordPress site, here's what's in store for you when you do. We'll highlight the top five changes, and let you know how they can benefit you.
What is WordPress 5.5?
WordPress 5.5 is the latest release of the popular blogging and website building software. It's the second update of 2020 and introduces many beneficial changes and improvements. The focus of most of the WordPress 5.5 changes is the Gutenberg block editor.
But several other features have also been introduced.
The 5 Biggest Changes in WordPress 5.5
These are the changes that will affect most WordPress users. As with any WordPress update, there are many technical changes of interest to developers. But in this article, we'll focus on the changes you're likely to see on your WordPress site.
The biggest change in WordPress 5.5 is multiple updates and improvements to the Gutenberg block editor. Another plus is the addition of sitemaps, which previously required a plugin.
Automatic updates can now be applied to plugins and themes. Website images "lazy-load" by default, and it's also possible to edit images directly in the block editor.
Let's take a closer look at each of these improvements.
1. New Features Added to the WordPress 5.5 Gutenberg Block Editor
WordPress 5.5 marks the tenth version of the Gutenberg block editor plugin. Never has there been a more controversial change to WordPress than the addition of the block editor in version 5.0.
A complete departure from the "classic" editor, the block editor was not exactly met with enthusiasm by many WordPress users.
Changes and improvements to the block editor make up the bulk of what's new in the WordPress 5.5 update. We'll talk about the other significant changes as well, but the editor changes deserve a closer look.
Block Directory
When you search for a block to insert, the search now includes a block directory. That means blocks that aren't installed in WordPress are displayed, and you have the option to add them with the click of a button.
Here I've searched for "notices," and since there isn't an existing block for that, I see the block directory listings.
Block Patterns
When you add a block, there's a new tab called "Patterns." Block patterns make it a lot easier to plot the layout of a post or page. Now you can add columns, buttons, galleries, quotes, and other page elements quickly and easily.
There aren't a lot of patterns available yet, but we can expect to see new patterns added to the mix.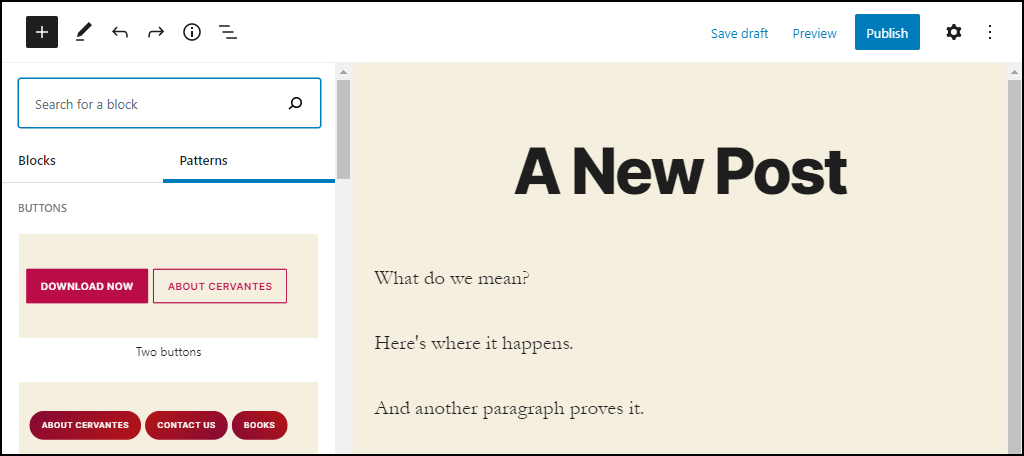 Content Previews
Clicking the "Preview" button used to load the page you're working on in a new browser tab. Now the preview button gives you options for desktop, tablet, and mobile views. Those views load in the editor itself rather than a new page. (Though "Preview in new tab" is still an option.)
Other notable changes to the block editor include better color contrast to highlight different sections and functions. As well as new icons, block movers, and improved drag-and-drop capabilities.
2. WordPress Now Generates XML Sitemaps
I'm sure the makers of WordPress had a reason for not including sitemaps for more than 16 years. But the good news is they've finally arrived.
An XML sitemap is a file that search engines use to help discover and index your website content.
Sure, search engines already crawl the web looking for content. But there's no guarantee that they'll find your corner of the web. Publishing a sitemap (and telling Google it's there) ensures that all of your content is indexed, so search engine users can find your site.
You can see the new WordPress sitemap file at YourWordPressSite/wp-sitemap.xml. If you FTP to your site, you won't find the file, it's generated on-the-fly when it's requested.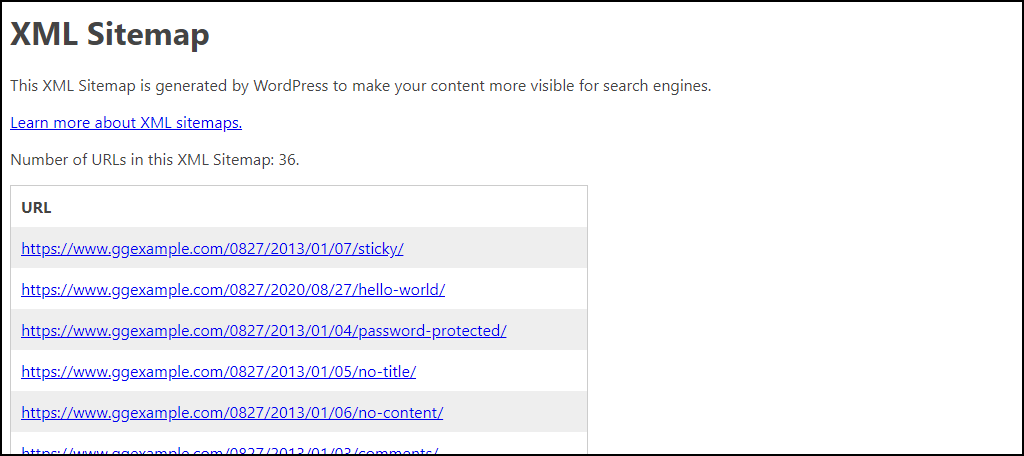 The new WordPress sitemaps are good, but they're rather basic. If you're already using an SEO plugin that creates a sitemap you can keep using it. Popular SEO plugins like All in One SEO and Yoast SEO will now override the native WordPress sitemap.
That prevents two sitemaps appearing for your site, which would be a problem.
If you're not sure whether your SEO plugin overrides the new WordPress sitemap, check with the plugin developers.
3. Images "Lazy-Load" by Default in WordPress 5.5
Lazy-loading is a function that prevents the loading of images that don't appear in the viewport (or on the visitor's screen). We've talked about why lazy-loading in WordPress is a good thing and recommended some plugins in the past.
But now there's no need for a plugin, as WordPress lazy-loads images by default.
Lazy-loading shortens page loading times and saves bandwidth, both for your website and its visitors. If a visitor doesn't scroll down a long page, the images on the unviewed parts of the page aren't downloaded.
Lazy-loading of images by default was intended to be part of WordPress 5.4, but it's here in 5.5. It's a greatly beneficial piece of technology, especially for image-heavy websites.
4. You Can Now Edit Images in the Block Editor
Speaking of images, now you can crop, zoom, rotate, and tweak image positions directly in the editor. There's no longer any need to break your workflow by opening up the Media Library to edit an image.
Clicking the "Crop" icon will expose the in-editor image editing options. You can change the image alignment, zoom in, change the aspect ratio, and even rotate images.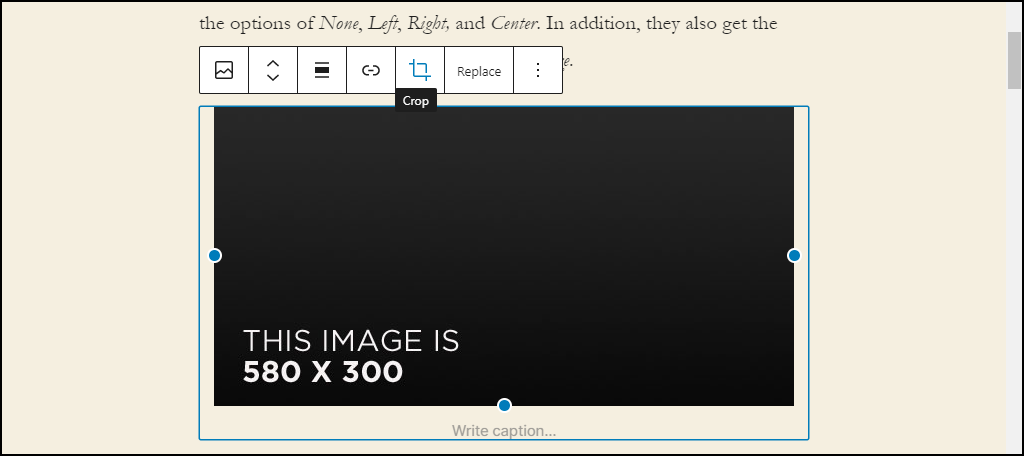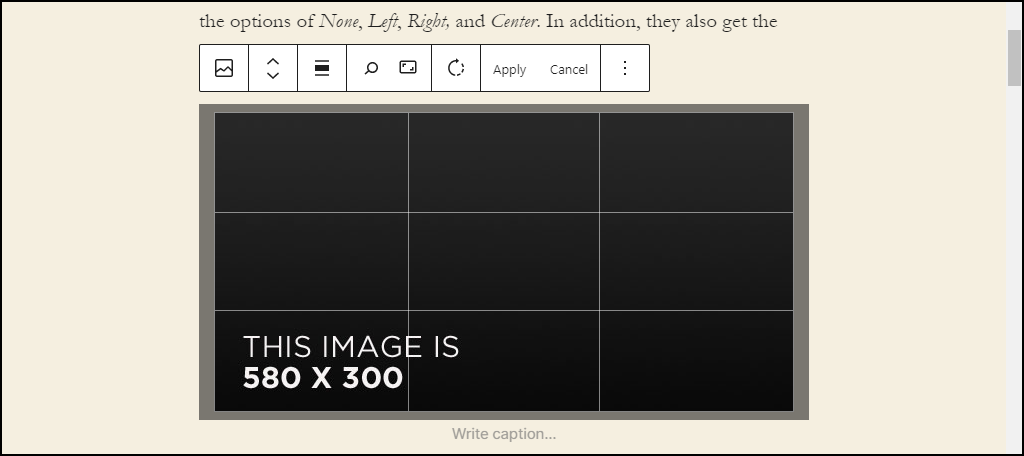 5. Automated Updates for Plugins and Themes
Another important function that used to be handled by plugins is automatic updating. Now you can click the "Enable auto-updates" link in the plugins list and never worry about missing a critical update.
Themes can be set to update automatically as well.
Open the themes page, and click the "Theme Details" button for a theme. You'll see an "Enable auto-updates" link.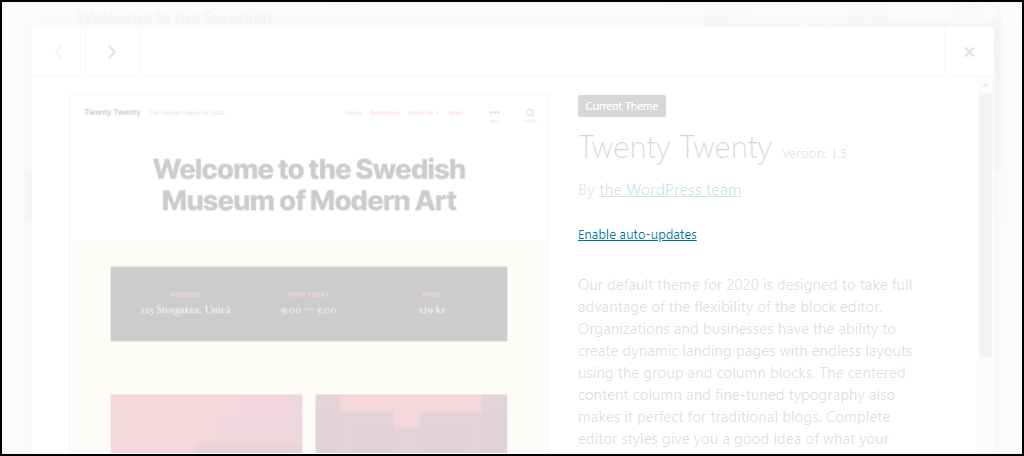 You can even automatically update themes you aren't currently using.
There are a lot of things you can do to increase the security of your WordPress website. But keeping your WordPress installation, plugins, and themes current is your best defense against a website hack or compromise.
Now it's easy to stay up to date without lifting a finger.
WordPress 5.5 Continues the Tradition of Timely Updates
The changes and additions introduced will make all of our WordPress sites faster and more secure. Not to mention the incalculable benefits of adding a sitemap to a site that didn't have one previously.
WordPress continues to improve its product, which is pretty impressive considering most of us use it for free. There's not a better free website platform available, so the dedication of the WordPress team is commendable.
And I know that a lot of you reading this right now don't like the Gutenberg block editor. Mainly because it's entirely different from what you're used to. But if you take a little time to learn it, you'll be rewarded with a better, more flexible experience.
Your website will thank you.
If you haven't updated your WordPress installation to 5.5 yet, what are you waiting for?