WordPress is a versatile platform that can build any kind of website. By installing BuddyPress, you can build your own social network. Of course, to truly maximize this plugin you will need themes that are BuddyPress-friendly.
So what is BuddyPress?
BuddyPress brings a great selection of features and tools that allow users to connect to one another and includes things like private messaging, profile building, adding friends, and much more. While it can work with any theme, specialized themes will work better.
A dedicated BuddyPress theme will typically come with a variety of templates creators can use to build different styles of their websites. For instance, if you're trying to make a Facebook clone, well there's probably a template for that.
Today, I will share the best BuddyPress themes you can install today.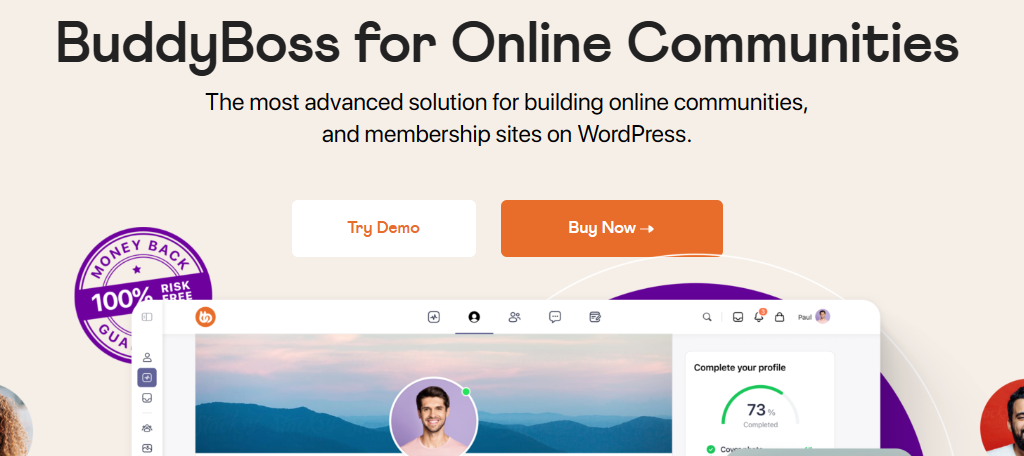 Without a doubt, the best theme for using BuddyPress in WordPress is BuddyBoss. And if that name seems awfully similar, it is because it is made by the same group of developers that brought you BuddyPress, to begin with. As such, it is the best theme to use.
BuddyBoss is an extremely flexible theme with a wide range of customization options to configure that work really well with BuddyPress.
For example, perhaps you want to build a private dating community where users can build profiles. You could monetize the website to help filter out bots and fake profiles, and BuddyBoss makes that incredibly easy to do with its membership features.
If you wanted to add more gaming elements to your social network, like levels, achievements, and more, you can utilize integration with GamiPress to add those on top of the BuddyPress features.
If you're looking for perfect compatibility, BuddyBoss is the way.
Benefits of Using BuddyBoss:
Create hidden social areas for private groups between friends
Zoom integration allows friends, family, and businesses to talk directly on your platform
Upload and share file types to your contacts
Integrates with WooCommerce to allow for online shopping and membership payments
Import demo content to get a head start on site creation
Building a social network is difficult today due to how established the big ones are at this point. Instead of building a platform for everyone, it is better to focus on a specific audience. The Armadon theme does this by focusing on gamers.
Gaming is by far the most popular form of entertainment in the world, thus building a social network around it makes sense.
This theme fully integrates with BuddyPress to add social elements for gamers to connect with one another. It's perfect for building an eSport community, or just a general gaming community for people to LFGs.
In terms of design, the theme offers one template that was made for eSport organizations, but it can be customized to fit your needs. You can combine it with Elementor Page Builder for even more customization. So, there are no limits when it comes to creativity.
Benefits of Using Armadon:
Choose from a variety of layout options to better suit the needs of your community
Build team pages with member biographies and social profiles
Organize gaming tournaments and events with dedicated pages
Build a merch store with WooCommerce integration
Switch between a light and dark mode
If you are looking to build your own social network, there's no better choice than using the Socialize theme. This BuddyPress theme is full of customization options that are essential to a social network.
While this theme is one of the best, it's worth pointing out that the high price point of $249 is not for everyone.
There are a lot of unique features in this theme, however.
For example, there are activity streams for users. These tell you what the user is up to based on what they post about on the platform. It's quite similar to a timeline.
In terms of design, this theme utilizes WPBakery. The BuddyPress widget is turned into an element in the page builder that you can place anywhere on the pages you build. This gives you complete control when building your website.
Benefits of Using Socialize:
Users can easily create and style their own profiles
Display profile pics of recently added members
Display statistics like the number of users online on your website
Integrates with Contact Form 7 to build all of your registration forms
Display newsfeeds based on the categories users are interested in
If you are interested in building an online community consisting of forums with BuddyPress, there is no better theme than Kleo. In just a single click, the theme will be installed and include a pre-made website that is ready for use.
The website is fully customizable, and ultimately optional, if you want to use it at all. Alternatively, you can install specific pages.
There are pages for holidays such as Halloween, or more specialized pages for things like video games, health, music, and more. If you are interested in building your own pages, this plugin has you covered as it comes with WPBakery.
It's also fully compatible with WooCommerce and includes demo pages for online stores. You'll also have the option to choose between 700 icons that you can use to customize your site.
Overall, it is one of the most robust BuddyPress themes on the market.
Benefits of Using Kleo:
Import all of the demo content in just a single click
Choose from over 600 Google Fonts
Intuitive design makes it an easy theme to build with at any skill level
Includes a Facebook login area for your website
Easily help businesses share their locations with Google Maps integration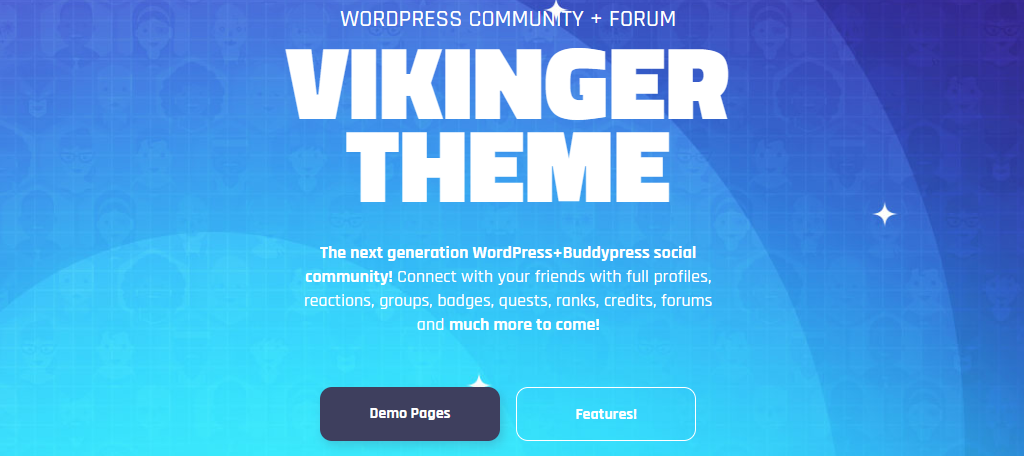 If you're looking for the best BuddyPress themes in WordPress, then look no further than the Vikinger theme. This is another theme that specializes in building communities for gamers and is fully compatible with both BuddyPress and GamiPress.
These tools combine to give you a great way of gamifying your community and making sure they stay connected to one another.
When it comes to design, this theme has a lot of options that can be configured, which makes it usable for any kind of community. You'll be able to choose between a variety of light and dark mode templates so you can find the perfect fit.
User profiles can be customized to show off the points, titles, or achievements they have earned within the community.
For example, you could award a user an achievement for making 1000 posts. It's a simple but effective way to increase user engagement.
Benefits of Using Vikinger:
Includes a custom BuddyPress status update box
Gain access to eight different post reactions
Create a user rank system to encourage users to level up their profiles by using it more
Users can build friend groups to help them stay connected
Add reactions to blog posts or write full comments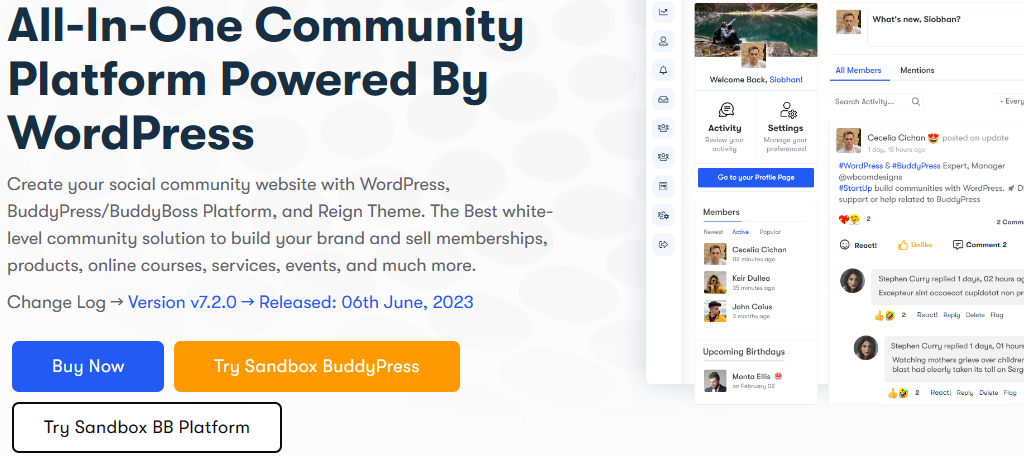 Reign is often described as one of the best BuddyPress themes for WordPress due to its incredible customization and stylish design options. It is feature rich and even includes ways for you to monetize your social network.
You'll find all of the staples a social network should include like activity streams, user profiles, private messaging, and more.
When it comes to designs, nothing is off the table. That is because you can install your favorite page builder to build anything you want while still gaining access to everything this theme and BuddyPress offer your website.
Perhaps one of its strongest aspects would be the high level of support you receive. To start with, the theme comes with excellent documentation that explains all of the bells and whistles.
If you need more support, a team is standing by to help.
Benefits of Using Reign:
This theme is fully compatible with WooCommerce to meet your eCommerce needs
Easily configure the theme colors and typography options
Reward users with digital badges to help increase engagement
Showcase upcoming events with locations on Google Maps
Monetize your website by creating a member-only portion of your site or by selling courses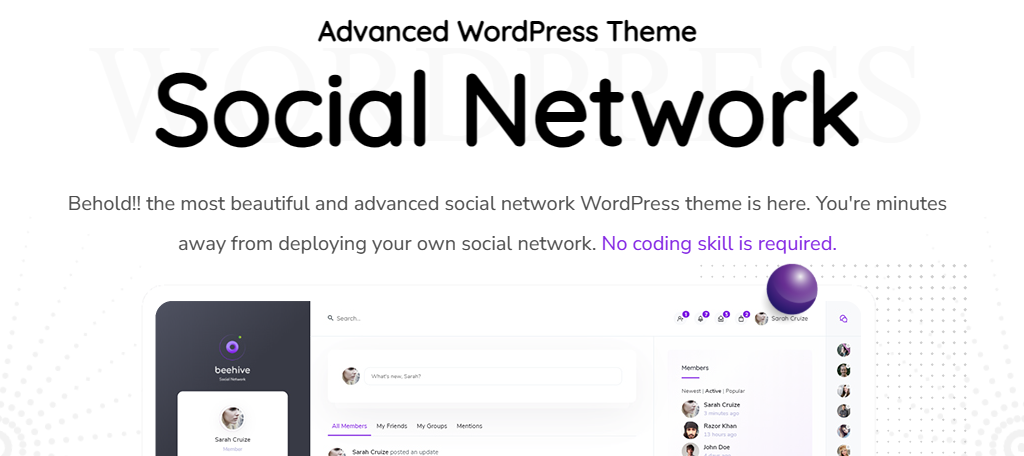 Beehive is another social network theme powered by BuddyPress that delivers an excellent user experience. It has all of the typical features you would expect from such a theme including user profiles, forums, live chats, and more.
All of it is brought together thanks to an excellent design that you can customize with the Elementor page builder.
This gives you an almost unlimited number of customization options to utilize when building. You'll also be able to choose from over 800 Google Fonts to find the perfect typography for your site.
You'll also gain access to a great selection of demo templates that you can customize to fit your needs. And yes, you can use Elementor to edit any of the templates that this theme provides.
Overall, it is a great BuddyPress theme for WordPress.
Benefits of Using Beehive:
Create a classified section for hiring employees with dedicated templates
Setup is incredibly easy with the installation taking less than five minutes
Choose from three different homepage designs
Create an unlimited number of color schemes for your website
Visitors can instant message any of their friends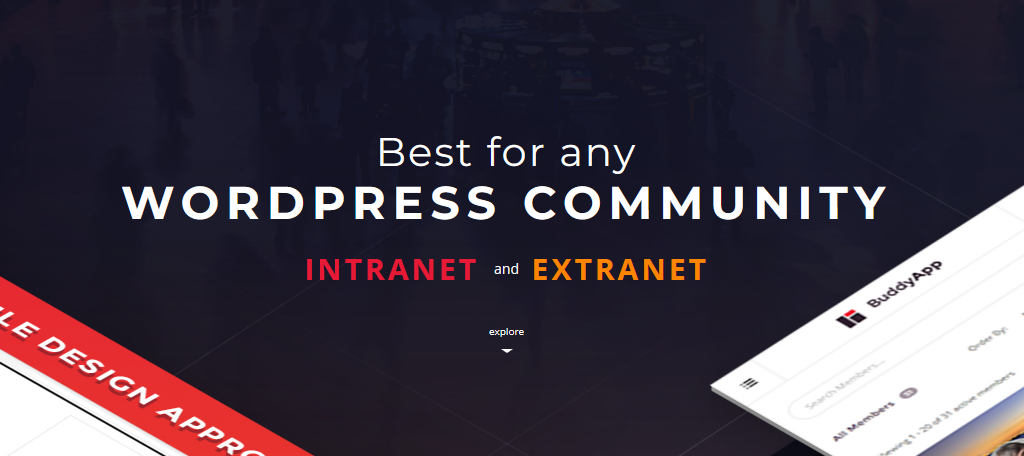 Smartphones have revolutionized the way we use the internet, and they make up the majority of users visiting a site today. As such, search engines like Google utilize a mobile-first policy, which just means they view the mobile version of your website when ranking it.
The BuddyApp theme is a mobile-first theme that focuses on building a community that is accessible from mobile devices.
That said, desktop users will have no issues accessing your website either. It has all of the features you would expect like live notifications for instant messaging, Google Map integration, forum support, and much more.
In terms of design, you'll gain access to a variety of template pages and a drag-and-drop builder to create your own. With over 600 Google Fonts to choose from, there really is something for everyone in BuddyApp.
Benefits of Using BuddyApp:
This theme is translation ready with RTL and WPML support
Install demo content in a single click
Allow users to log in or register using Facebook
Users can create media galleries with the images they upload
Utilizes an Ajax search function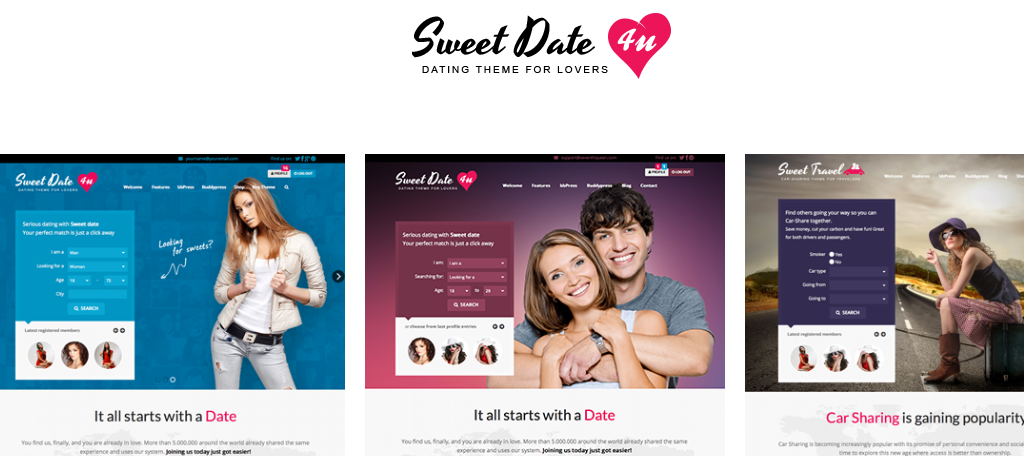 Are you planning on building a dating community? Dating communities are some of the most popular member-driven sites that can bring huge audiences and be monetized. If you want to build one in WordPress, check out the Sweet Date theme.
This theme utilizes the BuddyPress toolkit to power a dating website with user profiles, instant messaging, and other features.
When it comes to membership sites, you have two options. The first is the more traditional membership where everyone is either a member or not. Alternatively, you can add member tiers with different plans to accompany them for further monetization.
As such, you can lock content behind that tier of the membership.
For example, you can only view profile picks if you are a specific rank. It's a great way to get users to buy more expensive packages, but be careful as over-monetization can hurt the brand.
Benefits of Using Sweet Date:
Users will be able to log in using their Facebook profile
See notification when your dating profile gets new messages
View if users are online or offline with a simple display window
Integrates with WooCommerce to sell products or collect membership fees
Integrates with MailChimp for all of your email needs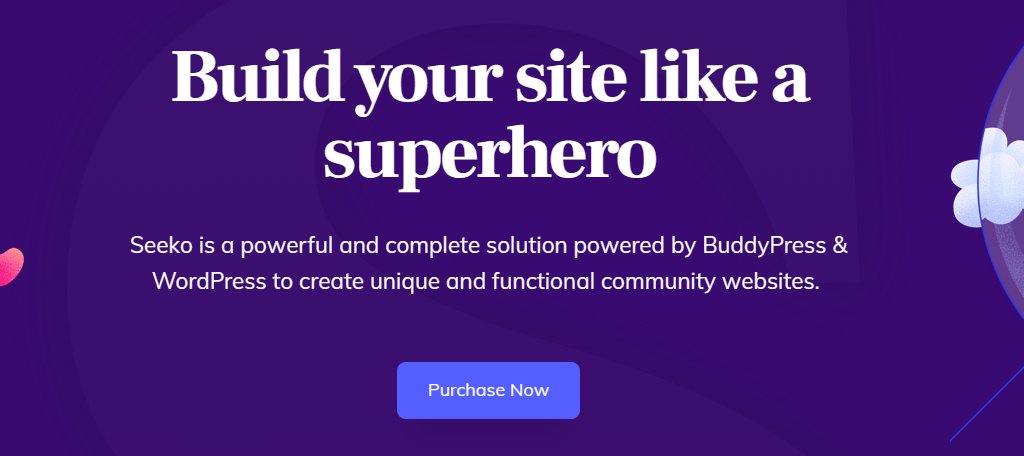 Seeko is a social media WordPress theme that is powered by BuddyPress. It allows you to build a social network with all of the features you would expect paired with excellent design options and performance.
Its main focus is on dating, but you can branch out to other fields if you desire.
With dating as the primary goal, it has a lot of features to help make your website stand out. For example, it can recommend matches and even show a percentage of how strong the match is based on profile data.
One of the more powerful aspects would be the search functionality. If you are looking for a specific type, you can search for profiles matching specific criteria such as specifying the gender, age range, dating radius, and more.
Benefits of Using Seeko:
Excellent performance with a 99% page speed score
Implements Lazy Loading to ensure pages load fast
Choose between size-based designs (small, medium, large)
Gain access to a dedicated support team that is standing by to help
Restrict access to content based on the membership level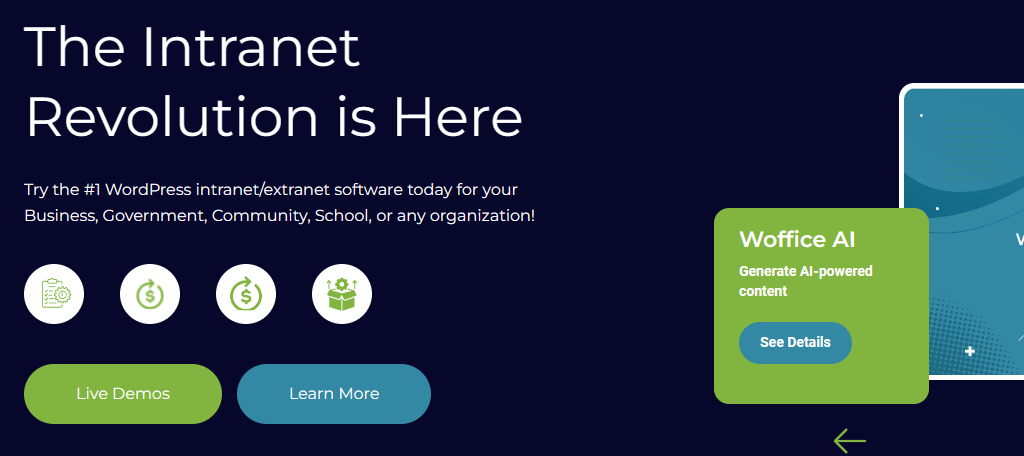 Closing out this list of the best BuddyPress themes for WordPress is Woffice. This theme focuses more on building a community that for businesses, schools, and other professional settings.
It's a great solution if you are looking for a way to get your office members more connected or for organizing online classes.
The theme utilizes BuddyPress to create a community where users can create profiles and chat with one another. You can create groups, which could be used for different departments at your business.
When it comes to design, Woffice provides a professional vibe, but you can fully customize everything by using the Elementor page builder. With it, you really don't have any limitations when it comes to design.
Benefits of Using Woffice:
Choose from a variety of modern layout options to suit your needs
Easily upload and transfer files between members
Compatible with LearnDash to help create online courses
This theme is translation ready with WPML and RTL support
Includes HR management options
Do I Need To Use A Dedicated BuddyPress Theme?
No, but you will definitely get better results from doing so.
BuddyPress is built to be used with any theme, thus it doesn't matter what theme you actually use. That said, a theme built for BuddyPress is going to outperform themes that are not.
Not to mention that they are typically easier to use as the UI was built specifically for that tool. If BuddyPress is the focal point of your website, using a dedicated theme is highly recommended.
Should I Use Premium or Free Themes?
WordPress has a great selection of themes to choose from that can typically be sorted into two categories, free and premium.
As such, many beginners wonder if it is worth paying for the premium version of a theme when free alternatives exist.
Generally speaking, premium themes offer more features, including access to premium plugins and higher levels of support. In many cases, premium themes often have cleaner coding that can allow them to run faster.
On paper, these typically make the premium theme the better choice, especially in the hands of beginners. Having access to a support team that can help you troubleshoot issues is a really powerful asset for inexperienced developers.
On the other hand, you may not need any of the extra features a premium theme offers or even need the help that support can provide if you are experienced. Thus, buying premium themes for BuddyPress may not be necessary.
The real difference nowadays would be the templates most premium themes provide. Templates are essentially pre-built web pages that you can use on your website. They are professionally designed, so they look great and can save developers a lot of time.
While there are free themes that offer templates, generally speaking, most premium themes will offer them for BuddyPress.
So, which should you use?
Honestly, since the price point of most premium themes will only set you back between $30 to $50, gaining access to more features, better performance, and higher levels of support seems like a really great choice.
Install These Themes to Make the Best BuddyPress Site
As you can see, WordPress has an impressive selection of BuddyPress themes to choose from. Each one brings something new to the table that you might find useful in terms of features or designs.
Finding the right theme for your website is critical for success, but it can be a real challenge when you have thousands of themes to choose between.
However, the theme isn't everything and you will need to combine it with a great web host.
Webhosting services rent the servers your website runs on. When it comes to BuddyPress, any WordPress hosting solution will do, but you want to ensure that the services provided can meet the needs of your website from a performance and resource standpoint.
Hopefully, this list has helped you narrow your search for the best BuddyPress themes.
What kind of website did you build with BuddyPress? Did you purchase a premium BuddyPress theme?