Businesses collect a lot of data on a day-to-day basis, and understanding that data is no easy feat. For this purpose, most businesses utilize some form of data visualization tools to help them simplify any data they collect. However, like most things, there are a lot of products to choose from.
Thus, I have assembled a list of the best data visualization tools for your business in 2023.
What Are Data Visualization Tools?
Data visualization tools are designed to present the information you collect in a visual format through the use of graphs, charts, and other visual imagery. These tools automatically generate multiple presentations of the data after you import or enter it into the software.
The more advanced the data visualization software is, the more possibilities it presents.
A big part of high-end tools is their data analysis capabilities. While the tools are intended to make the data easier to read, this type of software has also added a host of data analysis tools to its repertoire.
Thus, you can easily track down problematic trends and improve them.
It's also worth mentioning that free tools exist and they can definitely help out new businesses. However, the toolsets they offer are typically very limited and only deal with the most basic information and graphics. And in many cases, free tools integrate with paid ones.
Therefore, at some point, every business will want to move on to higher-end tools.
1. Microsoft Power BI
When it comes to releasing quality software packages, Microsoft is a name you can trust. Hence, it should not be a surprise that they offer one of the best data visualization tools on the market, Microsoft Power BI.
This tool is powerful, easy to use, and extremely affordable.
As a Microsoft product, you can rest easy knowing that data is easily transferred from excel documents. You can also import CSV files from other platforms like Dropbox. As a result, you can easily transfer all of your spreadsheets and collected data directly into Power BI in a matter of minutes.
In terms of visualization options, no other service offers more. There are over 300 free visualization add-ons you can add directly from the Microsoft app store. No other data visualization tool even comes close to the options available.
And of course, there are a plethora of analysis tools to aid you.
Benefits of Microsoft Power BI
It is perfect for beginners due to how easy it is to use
The low price point makes it perfect for a small business owner
The UI is similar to other Microsoft products
Price of Microsoft Power BI
Power BI Pro is $9.99 per month for individual use
Power BI Premium starts at $4,995 for enterprise use
2. Google Analytics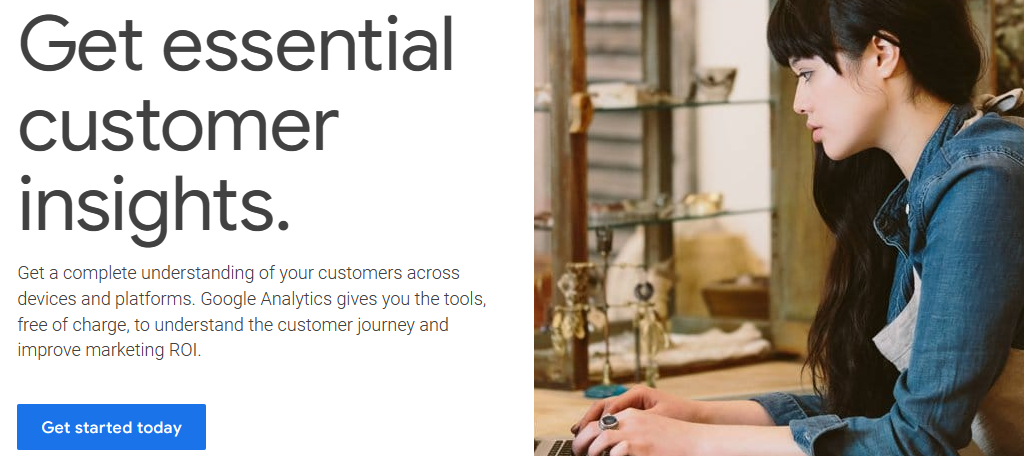 Google Analytics may not immediately come to mind when thinking about data visualization tools, but it does in fact qualify as one.
This tool allows users to import data from their websites or other Google services like YouTube, and view that information in a variety of graphical ways.
It's safe to say that Google Analytics is a tool that every small business should consider.
It is by far the most widely used analytical tool for websites to take advantage of. All of the data it collects can be viewed in a graphical format, most commonly in the form of a line graph, which is easy to read.
It also supports other graphs and charts, but only common ones.
Of course, if you are already using this service, you may be looking for additional options. If so, be sure to look for compatibility options from other tools.
For instance, there is an app for Google Analytics for Microsoft Power BI. This will allow you to view all of the information using all of the visualization options offered by Microsoft.
Benefits of Google Analytics
Easily view website statistics in graphical formats
Analytical tools can help your website grow
There are a variety of high-quality guides available
Price of Google Analytics
Google Analytics is a free tool
3. Whatagraph
 Besides having an awesome name, Whatagraph is an amazing choice for businesses looking to turn that data into easy-to-read charts. This tool was built for marketing teams to assemble their collected data and present it to clients in easier-to-read formats.
And trust me, they really nailed it.
First and foremost, Whatagraph has over 30 integration options available from top marketing platforms and tools. Some of these include Facebook, Google Analytics, Twitter, Mailchimp, Campaign Manager, and much more.
Even if there isn't a direct integration option, you can use Microsoft Excel as the middleman.
Since its intended audience is marketing specialists, it has multiple options for automatic report creation. This can help you quickly prepare reports for clientele with the smallest amount of effort on your part. As a result, you'll save a lot of time.
Benefits of Whatagraph
Allows you to easily compare reports from other platforms in one place
Customize reports to meet each client's needs
There is a wide variety of display templates to choose from
Price of Whatagraph
Professional starts at $223 per month
Premium starts at $335 per month
4. Tableau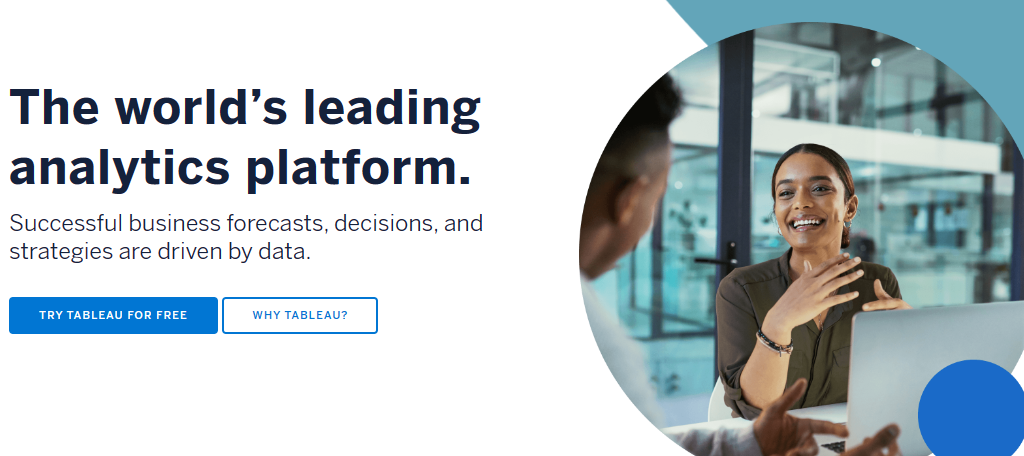 Tableau is one of the most well-known data visualization tools on the market for a good reason. It offers customers powerful visualization and analytical tools to help your business view information in an easy-to-read format.
Not only is it powerful, but it's simple to use.
One of its strongest benefits is just getting started. It can be intimidating to install and set up a new piece of software, but it shouldn't be for Tableau. Setup is easy, and you can begin adding your data immediately.
Data integration is also extremely smooth, which saves a lot of time.
This tool will help users view their information by providing recommendations on which graphs and charts work the best for the available data. This can really help those who are new to analytics because some graphs work better in certain situations.
Benefits of Tableau
Easily download all visualizations in a PDF format, great for reports
All of the data is viewable and interactable on a mobile device
The Tableau community is vast with over 1 million members
Price of Tableau
Individual plans start at $70 per month
Duo plans start at $140 per month
5. Workday Adaptive Planning
Workday Adaptive Planning was built to help businesses improve their analytical capabilities. After all, it's not easy running a business. This tool streamlines information into easy-to-read graphs that help businesses manage their finances and compare with previous years.
The presentation this tool delivers to businesses is one of the best. And a big part of that is the amazing dashboard.
Dashboards allow users to quickly view data after logging in or opening the software. A good dashboard can be the defining factor for many customers, and this has one of the best.
This tool also delivers amazing customer support by offering a variety of webinars to help improve your understanding of Workday Adaptive Planning. They also provide information on how to improve their planning for a variety of industries.
Benefits of Workday Adaptive Planning
The tools allow you to easily manage seasonal hiring, great for restaurants
Create revenue forecasts to help future plans
Easy to upload information with Microsoft Excel
Price of Workday Adaptive Planning
A free trial is available
Workday Adaptive Planning does not make its pricing public, thus you must contact them for a quote
6. Sisense
Sisense is another powerful business intelligence tool that can significantly make the data you collect easier to understand. It has a variety of powerful analytical tools that can help you view the information in the best way possible.
However, it is worth pointing out that it has a learning curve.
With that said, few other services can match the sheer depth its data visualization capabilities offer. It does try to correct this problem by providing a natural language query to help find what you are looking for. However, this function can only go so far.
The reports formed by Sisense allow users to quickly scroll down a report and view the information in a variety of forms. And as a result of the deep analysis, which the tool does automatically, it can help users find out far more than they ever intended, which is always a positive.
Benefits of Sisense
There are helpful tutorials to help you through the learning curve
Identify customer trends to maximize sales
Match high-value clients with your most talented sales representatives
Price of Sisense
Sisense does not make its pricing public. You will need to contact them to receive a price quote.
7. Infogram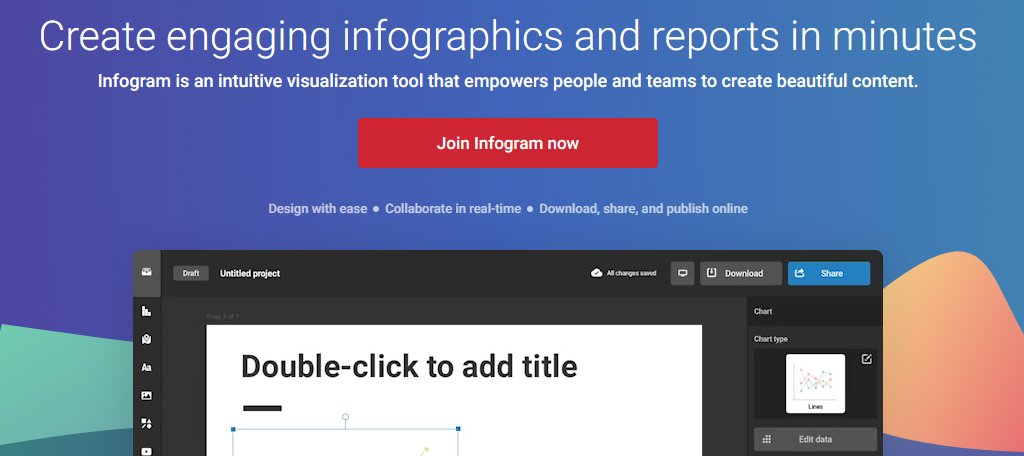 Are you looking for a tool to generate charts, graphs, maps, and everything in between? If so, Infogram is one of the best options you can find on the internet and there's even a free version you can use.
So what makes Infogram so special?
Well, its name is actually inspired by its specialty, infographics. The drag-and-drop editor allows you to build infographics of any kind, which can help your site become more shareable.
For those unaware, infographics are graphics that contain a variety of info. To be more specific do you recall seeing a graphic that contains a bunch of statistics? That's an infographic and you can build them with Infogram in minutes.
Benefits of Infogram
Create GIFs of your visuals
Embed the graphics as HTML
Easily add your brand to any graphic
Price of Infogram
A free plan is available
Pro plans begin at $19 per month
Business plans begin at $67 per month
Team plans begin at $149 per month
8. Zoho Analytics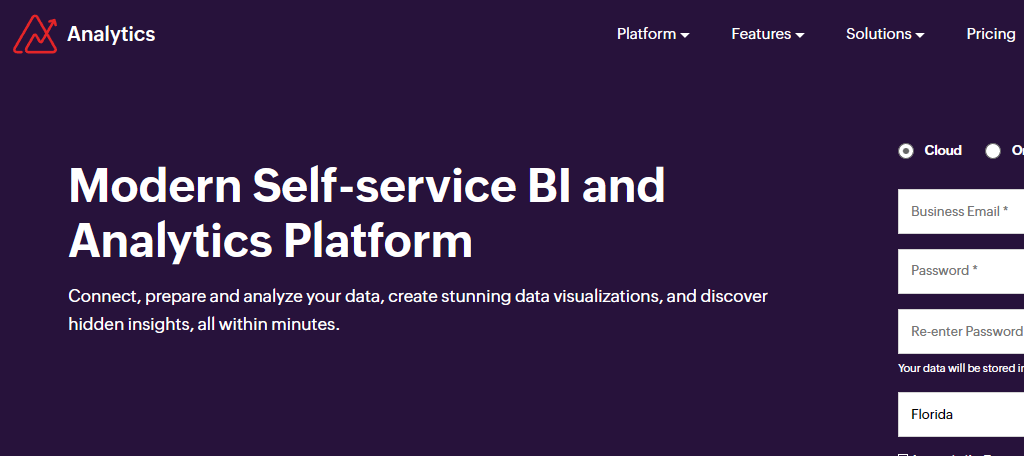 There are pretty good odds that your business uses a Zoho application, and for good reason, they are one of the best. So it shouldn't come as a surprise that Zoho Analytics is one of the best visualization tools you can try.
It allows you to put your business's data into a visual representation.
The most common uses include turning sales, profit, revenues, and costs into visual representations to present at meetings. The tool itself is tailored for business use and focuses on sales and marketing data analysis.
As a big name in the industry, you can expect Zoho Analytics to be compatible with the most popular sales-related software. This makes it easy to import any data from that program. If you are focusing on your business, this is the visualization tool for you.
Benefits of Zoho Analytics
Combine data from multiple sales tools
Consult with a smart AI assistant
Easy to collaborate on projects with team members
Price of Zoho Analytics
Basic plans start at $24 per month
Standard plans start at $48 per month
Premium plans start at $115 per month
Enterprise plans start at $455 per month
9. Datawrapper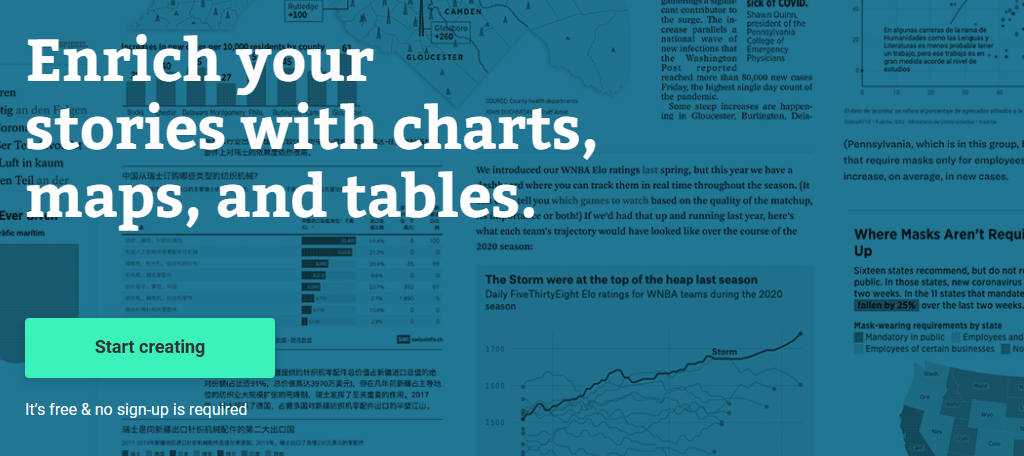 Are you looking for a visualization tool that specializes in creating graphics that are perfect for new stories? If so, one of the best options available is Datawrapper. It's ideal for any newspaper, magazine, or news website.
And one of the best parts about it is that you can use most of the features for free!
Now the only downside is that it will have one of those "Created with Datawrapper" messages next to it. The actual difference between that and the premium version is the message will not appear, but it does come at a hefty price tag.
In terms of actual features, you can use the tool to create graphics of any type and size. These include maps, bar charts, scatterplots, pie charts, and more. Just be aware that it lacks importing tools, so manual entry is necessary.
Benefits of Datawrapper
Exports all graphics as PDFs
Includes over 20 chart options to choose from
Gain access to a support team for additional help
Price of Datawrapper
There is a free plan
The Custom plan begins at $599 per month
Enterprise options are available
Understand Your Needs
Data visualization tools have a broad application that overlaps in many fields. However, many of these tools are built with a specific user base in mind. Thus, you need to understand what you are looking for before making a choice.
For instance, if you analyze data for other businesses, it's extremely important that you can provide clients with reports of your analysis. So, that may play a bigger role than the raw analysis itself.
After all, the entire point of this type of software is to simplify the data.
I strongly recommend researching these tools thoroughly and testing any free trials they offer.
Research How to Read Graphs, Charts, and Infographics
While the entire point of data visualization tools is to simplify how you view data, some of the graphic options are not easy to understand at a glance.
Typically when someone thinks of graphs and charts, they form a mental image bar graph or pie chart. While these are extremely simple and useful tools in their own right, there are far more out there than most people realize.
For instance, ever hear of a Mosaic or Mekko Chart?
These charts allow you to compare multiple variables across multiple subjects at the same time. For example, you could analyze two customers and compare their buying habits across multiple item categories.
These charts can be very useful in understanding customer habits and other information. However, they are not a common chart type most people know.
I highly recommend spending time learning about the different types of graphs, charts, and infographics, that are applicable to your specific industry. After all, each one is unique, and the best data visualization techniques are different for each field.
Save Time with A Visualization Tool
Data visualization tools are meant to make life easier for business owners by providing easy-to-read graphs and charts. They can also provide a number of analytical features to help you make better business decisions. And the information can be easily imported from existing Excel spreadsheets or other services.
Not only do these tools help you view information, they allow you to easily create customizable reports for clientele.
As a result of these tools, you can save a lot of time.
What data visualization tools do you use?