Video conferencing software used to be somewhat of a specialized utility. You may have used it occasionally in your work, but for most of us, it wasn't an everyday tool. Maybe you used Skype once or twice years ago, but you weren't on it every day.
Then in 2020, we were introduced to COVID-19, and everything changed. Virtually overnight.
California issued a stay-at-home order, and most other states quickly followed. Suddenly, millions of people who used to go into offices every day were working from home.
We all had to learn to deal with video conferencing software (and dressing for the office from the waist up).
What Is Video Conferencing?
If you haven't already been introduced to video conferencing, it's an online video connection between two or more people. Using your phone or computer camera, you can see, hear, and communicate with someone in another location.
Most video conferencing software also lets you share your phone or computer screen with the other person. Video conferences are not limited to two participants. These virtual meetings accommodate dozens of people at the same time.
But which conferencing software is right for you? There are a lot of choices, so let's look at the pros and cons of the most popular.
If you want to skip to the features of a particular choice, here's the list of what we'll be covering:
The Best Video Conferencing Software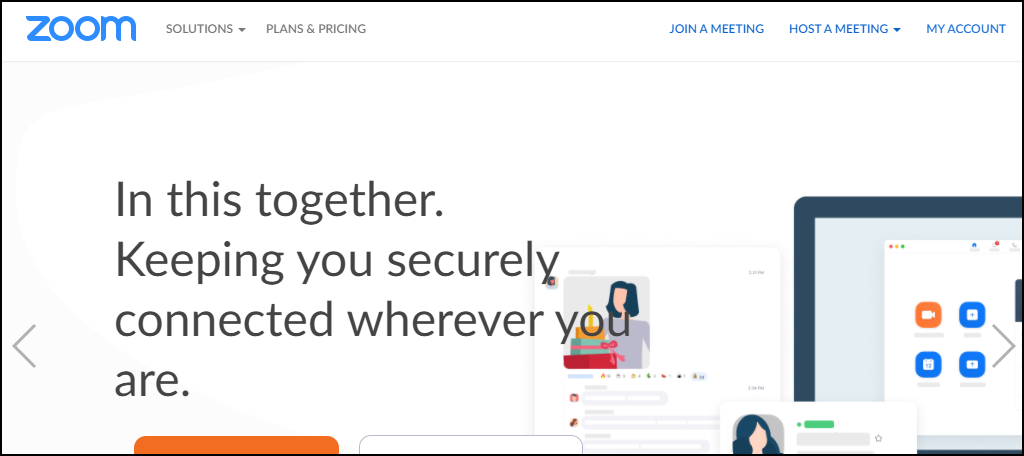 Zoom was up and coming before COVID, but in the months since, it's taken over and dominates the field. When Zoom became a verb ("We'll Zoom next Thursday"), you knew they were in the driver's seat.
The Skype team at Microsoft must be wondering how they lost their user base so quickly.
But Zoom made its way to the forefront by being easy to use and offering features most of us want. The paid tiers are affordable, though add-ons can quickly boost the cost. That being said, the free version will be sufficient for most of us.
Quick growth, like Zoom has experienced, can often lead to technical issues. For now, Zoom has been able to avoid any serious glitches. Whether that will continue remains to be seen, but so far, so good.
Key Benefits of Using Zoom
Multifunctional sharing screen
High-quality video and audio
People really seem to like the virtual backgrounds
Potential Drawbacks With Zoom
40 minute maximum meeting time on the free plan
Some people have display issues in video meetings with a lot of participants
Customer support can be lacking (due in part to rapid growth)
Zoom may have taken over the leadership role in video conferencing, but I'm getting a lot of invites to Google Meet. It's been around for a few years, but it's really blossomed during COVID. Tech companies and the nerd and geek contingent seem to be flocking to Meet.
And for good reason. A lot of Google products are ridiculously complicated (hello Tag Manager, I see you), but Google Meet is absolutely simple. And once you're connected, the service sort of fades into the background.
And that's a good thing. Technology that becomes "invisible" during use is the best technology there is. It may not be the best video conferencing software for people who need a ton of features or integrations. But if you're a fan of simplicity, Google Meet may be just what you've been looking for.
Key Benefits of Using Google Meet
Possibly the easiest to use video conferencing software available
Invite participants via Google Calendar
Easy to rejoin a meeting if you get disconnected
Potential Drawbacks With Google Meet
You have to share your entire screen, you can't share only a section
It can get glitchy when a conference has more than 15 or 20 participants
60 minute video conference time limit in free version
GoToMeeting is an established name in the video conferencing software world. It's feature-packed, reliable, and HD video-capable. And since it's been around for a while, many people are familiar with and feel comfortable using it.
Many companies use GoToMeeting to communicate with customers one-on-one (and have for some time). It's trusted by businesses large and small, which is as good a recommendation as you can get.
Key Benefits of Using GoToMeeting
Integration with a number of other platforms
You can schedule recurring meetings
Creates transcripts of recorded meetings
Potential Drawbacks With GoToMeeting
Not the best experience on a mobile device
Recent reports of long waits for customer service (likely COVID-related)
No free tier, just a free trial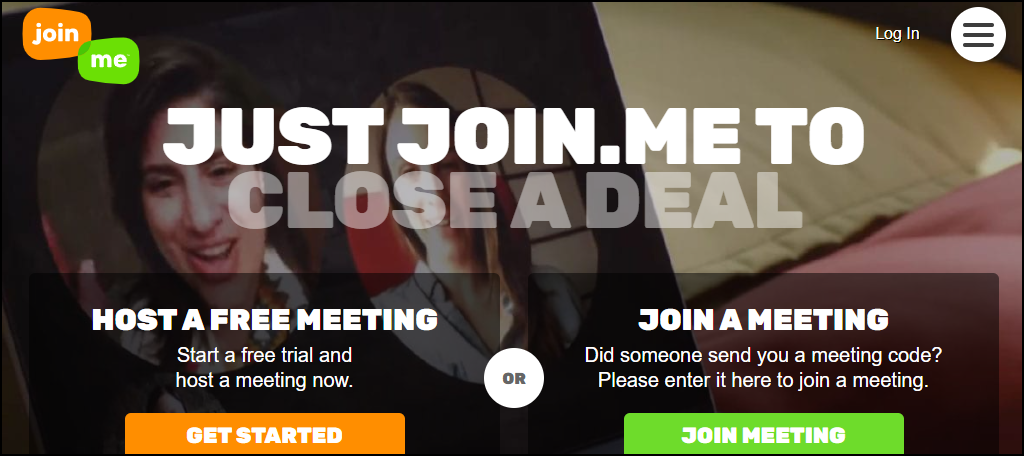 join.me has a reputation as one of the easiest to use video conferencing services. People who use it frequently swear by it and don't have many negative things to say.
join.me is a LogMeIn service (as are LastPass, GoToMeeting, and GoToWebinar), so they know what they're doing. But, you have to wonder how one company can make the best of so many different video conferencing software platforms. It seems like one (or more) of them might not get the same attention the others do.
Key Benefits of Using join.me
No plugin download necessary for attendees to join meetings
You can include international dial-in numbers for voice meetings
VPN support
Potential Drawbacks With join.me
It's not as widely used as some other services, so your attendees may not be familiar with it
Chrome extension tends to have problems when you have a lot of attendees
No free tier, just a free trial
Cisco Webex Meetings used to be called WebEx, and it was the go-to conference software for business. It was clunky and expensive, though, so while it seemed that everyone used it, no one liked it.
But since Cisco bought the company, they've made a lot of improvements. That isn't always the case when a big company absorbs a small one (see: Skype), but it is here. Cisco Webex Meetings is a big improvement on the old WebEx platform.
Key Benefits of Using Cisco Webex Meetings
You can join a Webex meeting with any device
Conference host can grant access to specific features to attendees
You can save recordings to your computer with the free plan
Potential Drawbacks With Cisco Webex Meetings
Meeting length limited to 50 minutes with the free plan
It can be a bit complicated for non-technical folks
Paid plans are pricier than some of the other services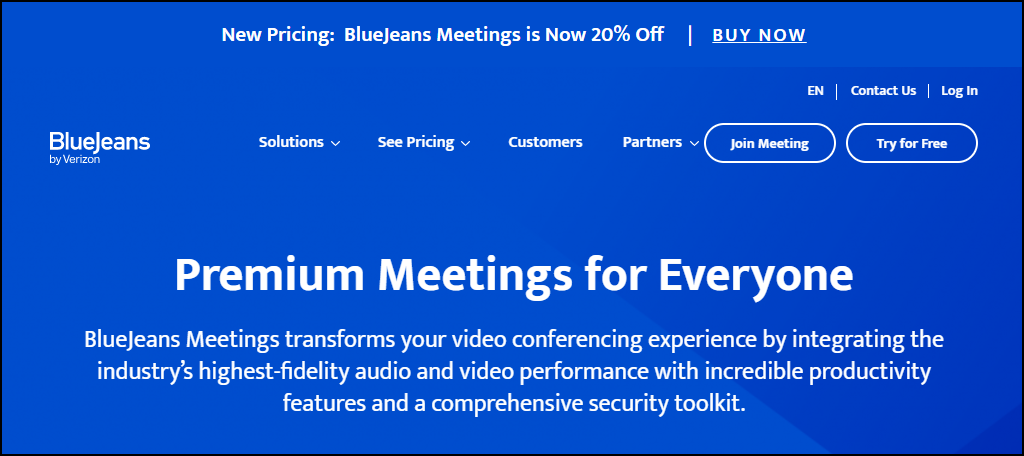 BlueJeans Meetings is an unfortunate name, but it's a good service geared toward business. They may provide the best audio of any video conference software, something lacking in other services.
You might think great video would be more important than great audio. But audio that doesn't sync or is choppy can tank your meeting quickly.
Verizon acquired BlueJeans Meetings earlier this year. It remains to be seen whether that will ultimately be a good or bad thing.
Key Benefits of Using BlueJeans Meetings
Remote desktop control and whiteboarding
Integrates with Google and Outlook calendars
You can store recordings of meetings
Potential Drawbacks With BlueJeans Meetings
No free tier, only a free trial
No registration option for joining meetings
Whiteboard isn't saved as part of meeting recordings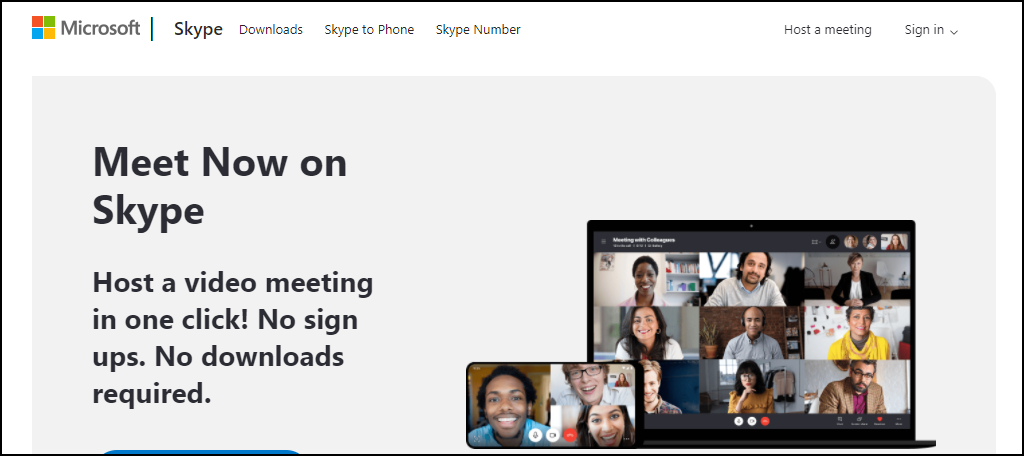 Skype was the first video conferencing program to gain widespread public use. When it was acquired by Microsoft (and newer conferencing software started to appear), usage dropped off.
But Skype is still used by a lot of people, and it's a safe bet most Windows users will have it installed. That's a big plus when you want to conference with someone who doesn't conference often.
Skype is free to use for video conferencing, as long as the other participants have a Microsoft account. But if you want to make calls to someone's landline (their what?), or a foreign country, you'll pay a monthly fee.
Key Benefits of Using Skype
Screen sharing
Easy to host multiple participants
Easy to install (it's already installed in most versions of Windows)
Potential Drawbacks With Skype
Video and audio quality are dependent on available bandwidth
May not be as secure as some other choices on this list
Service outages can happen more often than they should
There Are Even More Options out There
This video conferencing software list doesn't include big names like Microsoft Teams, Cisco Jabber, and Team Viewer because they're focused on large business use. And, accordingly, their prices are higher than anything on our list.
It also didn't include smaller video conferencing companies, and there are a lot of them. But the odds are the person or persons you want to conference with won't have that software installed. And if you tell them to go download Tixio, Interactio, or Jiminy, they're probably going to say, "Do what now?"
The software on our list is tried and true, and many of them are available for free. You can't really go wrong with any of them.
The Use of Video to Keep Us Connected Has Exploded
And it doesn't look like its use will slow down any time soon. Many businesses are learning that a remote workforce can be efficient, effective, and as a bonus, save the company money.
So even when restrictions are lifted, it's likely that Video Conferencing Software will remain a part of our lives.
If you don't use it now, you probably will soon. If not for work, school, or business, for keeping up with friends and family. Why not get familiar with it now and put it to work for you?