Ever thought you were missing key customer connections that only honest feedback can build? Here's where WordPress review plugins come in. They're your tool for gathering customer testimonials to power your growth.
The online business world is tough and unpredictable. Your success depends greatly on understanding your customers.
From a marketing standpoint, customer reviews play a crucial role. They're social proof, they boost SEO, and they help refine your offerings. But managing and putting them on your website efficiently can feel like a giant task.
This article is your guide to the best WordPress review plugins. It's here to help you sail through the waves of customer testimonials, turning them into a catalyst for your online success.
Our Picks for the Best WordPress Review Plugins
We've considered several major features when choosing the best review plugins for our list. These are:
Review Automation: The plugin should allow automatic sending of review requests or reminders to customers after a purchase.
User-Friendliness: It should be easy to install, set up, and use, even for non-tech-savvy individuals.
Customization: The ability to modify the review form or layout to fit your site's aesthetic is essential.
Review Moderation: It should offer features to approve, reject, or respond to reviews, giving you control over what gets published.
Photo Reviews: Allowing customers to include photos in their reviews can boost authenticity and engagement.
Review Analytics: Access to insights about customer reviews and ratings can help improve your products or services.
Compatibility: The plugin should work seamlessly with your WordPress theme and other plugins without causing conflicts.
Support: Good customer support for addressing any issues or questions is a must.
Below are the best review plugins that you should consider for your WordPress site.
Want to transform the way you handle online reviews? Starfish Reviews might just be the solution you need.
Known as one of the best WordPress review plugins, it captures testimonials directly from your website. This conveniently stores them in your site's database.
But Starfish Reviews offers more than just a testimonial-gathering tool. This software allows you to create robust review-generation marketing campaigns right on your WordPress site.
It's perfect if your business craves more positive, 5-star ratings, or if you're a marketer with clients in need of more reviews.
With the premium version, you can import reviews from different funnel destinations, like Facebook, Google, Trustpilot, and others. These reviews can be displayed elegantly on your website with Starfish's custom Collections Builder.
It's a feature that brings versatility and customization to the table.
Lastly, Starfish Reviews also addresses potential negative reviews intelligently. When users aren't happy with your product or service, the plugin encourages them to provide direct feedback to you, rather than posting a negative review for the whole world to see.
Benefits of Using Starfish Review
Improve your search engine ranking
Provides a convenient review funnel
Features customization and comprehensive review management
Has a comprehensive review dashboard to measure customer satisfaction
Can be integrated easily with any WordPress website
Drawbacks of Using Starfish Review
Automated asking for reviews is only available in the Pro version
For its free version, only the last five reviews are imported
No filter reviews feature in the free version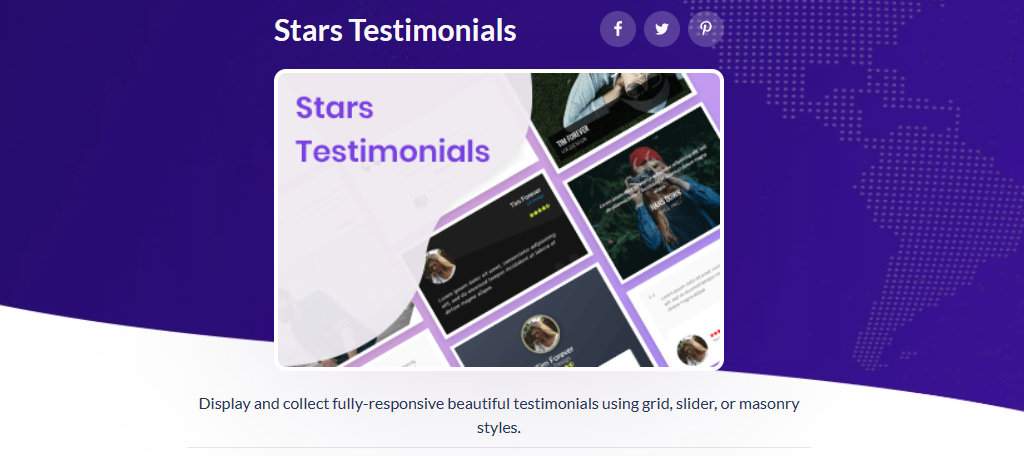 If you're scouting for the best WordPress review plugin, your search might just end with Stars Testimonials.
A surprising 84% of buyers read reviews before purchasing. With that in mind, Stars Testimonials focuses on boosting your brand's social proof.
The plugin allows seamless integration of customer reviews. Even its free version offers impressive features. You can add endless testimonials, star ratings, company names, and customer images.
It offers broad customization, too. Design a review widget or adjust its color – you're in control.
Furthermore, it's compatible with major WordPress page builders. This includes Elementor, Divi, Visual Composer, WPBakery, Gutenberg, and more.
Benefits of Using Stars Testimonials
The premium version offers extra features like a testimonial slider and wall
Includes a "Read More" button for long testimonials
Reviews are compatible with Google snippets
It provides 17 beautiful testimonial layouts for customization
The plugin is GDPR compliant, respecting user privacy
Drawbacks of Using Stars Testimonials
The free version lacks support for structured SEO data and requires an upgrade to the paid version
There may be issues with the SEO schema in the paid version as it sometimes affects product name, description, and review count
The documentation can be improved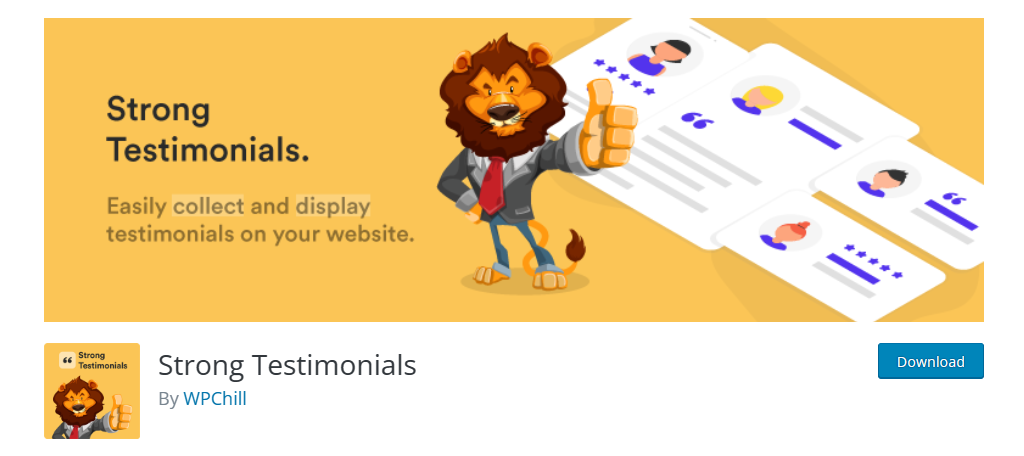 Get ready to give your reviews a powerful makeover with Strong Testimonials. As one of the best WordPress review plugins, it provides effortless integration into your site.
Themes define your style. Strong Testimonials embrace your site's style, inheriting your theme's elements. With basic style options, it offers a canvas for colors that reflect your brand's voice.
The plugin also shines with its testimonial submission form. You can tweak fields and send tailored notification emails to admins. The form works with plugins like Popup Maker, too.
Showcasing reviews with Strong Testimonials is a few clicks away. It replaces complex shortcodes with Views, presenting options in an intuitive editor. You can create views for different needs, like forms, grids, or slideshows, and implement them easily.
Strong Testimonial's flexibility extends to template customization. Its pre-made templates work well with most themes. For a personalized touch, you can copy any template to your theme and tailor it to your liking.
Benefits of Using Strong Testimonials
Imports reviews from platforms like Facebook, Yelp, and Google My Business
Provides a range of layouts such as grid, masonry, carousel, and slider
Offers color customization options with light and dark themes
Supports translations with popular language plugins like WPML, Polylang, and WPGlobus
Sends custom notification emails for real-time testimonial updates
Drawbacks of Using Strong Testimonials
Free version offers limited options
Preview may differ from the live version
Provides minimal protection against spam in its free version
How about displaying your Google reviews in just two minutes? With Widgets for Google Reviews, that's possible!
This WordPress review plugin takes your online reputation to the next level. It provides pre-designed, responsive widgets that are both attractive and adaptable. Create your own widgets, filter your reviews, and boost your SEO.
This plugin places customer feedback at the forefront of your business website. It features various styles and designs for the widget. This allows you to select the one that best echoes your brand.
Google reviews, due to Google's immense popularity, significantly influence consumer buying decisions. And this plugin is a valuable tool for showcasing the best reviews for your product.
Benefits of Using Widgets for Google Reviews
Offers over 40 widget layouts and 25 pre-designed styles
It supports multiple languages
All reviews can be stored in a WordPress database
Provides SEO benefits
The plugin ensures zero loading time
Drawbacks of Using Widgets for Google Reviews
The plugin lacks the option to adjust the number of slides or displayed reviews
It requires manual updates for new reviews
No customer support during weekends
For any travel-oriented business, TripAdvisor reviews are crucial. And with WP TripAdvisor Review Slider, highlighting these reviews are just a few clicks away.
Each review has a TripAdvisor icon right on it. This badge further helps boost your site visitors' trust and transparency.
Also, more than just a review page, these reviews can be displayed in a post, page, or widget.
WP TripAdvisor Review Slider offers a dynamic approach to presenting your TripAdvisor reviews. It supports various display styles such as sliders, grids, or rows. You can freely pick the one that suits your website's aesthetic.
Moreover, the plugin comes with the added advantage of filtering out negative reviews. This feature allows you to curate the reviews you display to your customers.
Benefits of Using WP TripAdvisor Review Slider
Automatic daily check for new submissions
Has the option to sort reviews by date or display them randomly
The plugin allows customization of each template including options like border-radius, show/hide date, show/hide star rating, and more, enhance visual appeal
It's possible to hide reviews that don't have text
Can display multiple TripAdvisor reviews per row and even multiple rows
Drawbacks of Using WP TripAdvisor Review Slider
The plugin is solely for TripAdvisor reviews
Customer support could be more responsive
Need to upgrade to a pro version to grab photos from your TripAdvisor page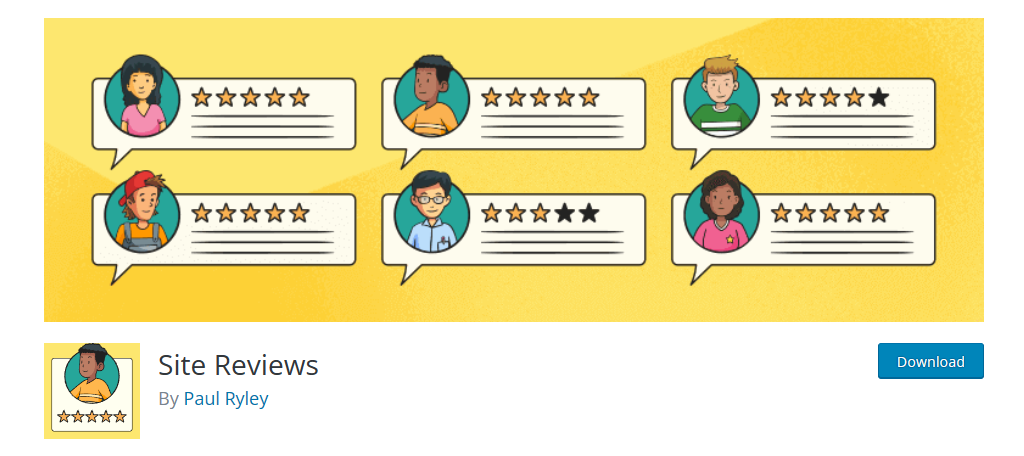 Bring your customer's voices to life with Site Reviews. As one of the best WordPress review plugins, it enhances your website by integrating customer feedback.
Users can submit ratings and write reviews, providing genuine insight for potential customers. Also, the plugin's flexibility allows you to require login before review submission.
You can also assign reviews to specific pages or posts for a more personalized website. Prioritize high-rated reviews to make a great first impression.
For added security, an inclusive blacklisting system is incorporated within the plugin. This blocks certain words, IP addresses, names, or emails to maintain your site's professionalism.
Site Reviews offers extensive options for displaying reviews while employing widgets, shortcodes, and blocks. The plugin also boasts features like pinning top reviews, marking reviews as verified, and requiring approval for new reviews.
Benefits of Using Site Reviews
You can respond to reviews directly
Limits users from posting multiple reviews per day
Five layers of SPAM protection
Customizable templates offer users control over the HTML in their review sections
Has date formatting options
Drawbacks of Using Site Reviews
Additional features for the plugin can be costly
Lacks an editing feature for reviews on the front-end
May have issues working on mobile devices
When you want to show off the best local reviews on your website, Plugin for Google Reviews can be your game-changer. This WordPress review plugin uses a public Google API. Its main function? To seamlessly display ratings and reviews from Google.
Its free version allows you to display up to five Google reviews. Nevertheless, an upgrade to the Business version brings down these walls. It grants you an all-access pass to unlimited Google reviews.
But the benefits don't stop there. This upgrade tosses in unlimited Yelp and Facebook reviews as well. It ties your accounts together, creating an automatic updating system for your reviews.
It even lets customers leave reviews on your website that are meant for other platforms.
Lastly, it allows you to handpick the order of the reviews, putting your very best at the top. And if you're after visual versatility, five unique themes are available here. You can display reviews using a widget, shortcode, a variety of page builders, or even Universal HTML/JavaScript.
Benefits of Using Plugin For Google Reviews
Fully GDPR-compliant for data privacy
Automatically updates all connected Google ratings and reviews
It features a responsive slider that functions on all devices, including mobile, tablets, and desktops
Comes with a 'Review us on G' button
Works on dark websites
Drawbacks of Using Plugin For Google Reviews
Styling options for reviews can be improved
The trust badge feature is only available in the business version of the plugin
Some users might find the plugin a bit confusing to use
Streamline your review process with the dynamic WordPress Review & Structure Data Schema.
This plugin takes review generation to a new level. It cleverly integrates feedback, social proof, SEO boost, and free advertising. The free version of this plugin enhances your Google Search Results, an important asset for any customer review website.
Unlocking more features with its Pro version brings versatility. It handles reviews for a broad spectrum of content, making it adept at providing structure for various kinds of data.
With this plugin, generating a new review and schema is just a few clicks away. The dashboard leads you to set up the necessary settings in the Review, Settings, Schema, and Style tabs. A few simple steps in your sidebar menu guide you through this process.
Importantly, this WordPress review plugin enables single or multi-criteria reviews. A single criterion offers quick and easy views, while multicriteria reviews allow detailed feedback. The choice allows you to pick what works best for your website.
Benefits of Using WordPress Review and Structured Data Schema
Allows customers to add product images with their reviews
Supports single or multiple criteria for reviews and can display lists of pros and cons
The plugin's reCAPTCHA functions verify that reviews are sourced from real users
Reviews are extended on posts, pages, and custom post types
Supports both star and numerical ratings for product showcasing
Drawbacks of Using WordPress Review and Structured Data Schema
Need to upgrade to the pro version to maximize its features
Purchase badge is only available in the Pro version
Video upload feature for reviews is only accessible to Pro users
A picture speaks a thousand words, and Photo Reviews for WooCommerce understands that.
This WordPress review plugin steps up the game of customer interaction to maximize product exposure. Nudge your customers to share their experiences with its review reminder emails.
Once a review is published, a token of appreciation is shared. This gratitude takes the form of a thank you email featuring a WooCommerce coupon code. It's the epitome of fostering a warm, reciprocal relationship with customers.
A standout feature of this plugin is the photo review option. It enables customers to post pictures along with their product reviews. You can also set parameters like the maximum picture size for customer ease and uniformity.
With its premium version, users can add titles to their reviews. This version also gives you the ability to organize review images better, as these can be moved to a specific folder you've created.
Benefits of Using Photo Review for WooCommerce
Filter reviews based on verified purchases and ratings
Has a system to reveal ratings, which enables customers to compare ratings easily on your site
You have the option to require photos for every review from customers
You can import reviews from AliExpress
Has advanced tools like email design for its free version
Drawbacks of Using Photo Review for WooCommerce
Not compatible with Translatepress
It forcefully displays the verified button
Setting the number of reviews per page is only available in its premium version
Get the ultimate social proof tool for your e-commerce site with the Customer Reviews for WooCommerce.
This tool harnesses the power of customer testimonials by prompting satisfied clients to leave reviews. Each transaction triggers an automatic, personalized email, nudging customers to share their experiences effortlessly.
As a result, their testimonies become a cornerstone for your brand's credibility.
Adding a new dimension to WooCommerce reviews, the plugin also introduces a Q&A section on product pages. This feature assures customers by addressing their queries that further facilitate their buying decisions.
Another distinct feature of this plugin is its multimedia support. Customers are allowed to add images along with their reviews and ratings.
Lastly, the plugin allows potential buyers to filter and search through reviews. With this, users can easily seek out specific information they're looking for.
Benefits of Using Customer Reviews for WooCommerce
Offers optional integration with an external service to verify customer reviews
Enables discount offerings in exchange for reviews
Integrated with Google Shopping
Localized support in over 40 languages
Eliminates review spam through reCAPTCHA
Drawbacks of Using Customer Reviews for WooCommerce
Cannot hide dates from reviews
The help and setup instructions could be clearer
Forms sent to the customers could have a better design
FAQs About the Best WordPress Review Plugins
What can a WordPress review plugin do?
A WordPress review plugin is a tool for collecting, managing, and displaying customer reviews or testimonials. It helps automate review requests, manage responses, and even reward reviewers.

The goal is to convert user experiences into powerful testimonials. This elevates your online credibility and gives insights to improve your products or services.
Are WordPress review plugins worth it?
Definitely. WordPress plugins, in general, can exponentially increase the functionality of your site. They offer a range of features, from enhancing the design elements of your website to managing your customer reviews.

And the best part? These plugins are added without the need for a heavy coding background.
Where is the best place to put reviews on a website?
The placement of reviews on your website should be strategic to draw the maximum visitor's attention. Key places can include directly on product pages, as part of your homepage, or even in a specific review section.

However, this isn't a one-size-fits-all solution, and the optimal placement can vary depending on the structure and content of your site.
What is a product review site?
A product review site is a platform dedicated to publishing the best reviews for various products. These sites offer detailed analysis, comparative studies, ratings, and real-world user feedback. The primary objective of such sites is to guide prospective buyers in making informed purchasing decisions.

Incorporating similar functionality, a WordPress review plugin allows you to create a mini product review platform right within your business site. If you're selling products or services, these reviews provide transparency and honest feedback to your potential customers.
Should I get a premium WordPress review plugin?
The choice to upgrade to a premium review plugin for WordPress depends on your website's needs and goals. If you need advanced features not available in the free version, upgrading could be a good move.

Features may include automatic review reminders, advanced moderation tools, detailed analytics, and more.

Also, premium versions usually offer dedicated customer support. This is crucial for technical issues or when you need help with the plugin.

Can review plugins slow down my website?
Review plugins, like many other plugins, have the potential to slow down your website. But it largely depends on the plugin's quality and features.

Well-coded plugins typically have a minimal impact. On the other hand, those that allow extensive media uploads can add to loading times.

External server requests and conflicts with other plugins can also affect speed. It's essential to choose reputable plugins, regularly update them, and optimize any user-uploaded media.

If you're concerned about speed, test your site before and after installing any plugin. Remember, the right review plugin won't affect your site performance.
Supercharge Your Business Growth Through Customer Reviews
Turn customer feedback into powerful marketing tools for your business. The review plugins mentioned above facilitate honest and transparent interactions with your clientele in WordPress. And this ultimately drives your business growth.
Remember, your goal is to harness the power of customer reviews and turn them into actionable insights. So don't wait! Choose a WordPress review plugin that suits your needs today.
It's time to take your customer engagement to the next level!