Keeping your online data safe has become a major concern over the years, and that's where VPNs come in. They encrypt your data to keep it safe, however as a side effect, you might notice your internet speed drop slightly. Thus, you need to find the fastest VPNs to use.
So you might be wondering why does a VPN affect your speed? A VPN takes your data and encrypts it before sending it to the server you are connecting to. As a result, you may notice slightly longer loading times, but that's a small price to pay for privacy.
What Is A VPN?
A Virtual Private Network or VPN provides users with online privacy by encrypting user data and hiding their location by creating a private network.
Unfortunately, a public internet connection can be viewed by just about anyone in a few steps. This can lead to data theft, data collection, your address being exposed, making your search history public, and much more.
As a result, not using a VPN is the biggest mistake you can make in 2020.
And while the importance of VPNs is easy to understand, there are a lot to choose from and their performances will vary. Most notably, VPN speeds can significantly impact your enjoyment, especially if it's for viewing video streams.
Thus, this list will help you find the fastest VPNs you can use in 2020.
Note: We also have a list of the best free VPNs if you are looking for a cheaper alternative.
The Fastest VPNs of 2022
When it comes to VPN services, there is no bigger name than NordVPN. It is one of, if not the largest VPN on the planet. And as a result of its thousands of servers around the globe, it is also one of the fastest VPNs available.
However, speed is only one of the many benefits NordVPN offers.
As you can expect from a VPN, it protects all of your internet data from unwanted eyes, but that is only a small part of what it offers. Other features include access to 5,400 servers around the world, IP masking, malware protection, live chat support 24/7, and so much more.
However, perhaps NordVPN's biggest selling point is that it works with almost every major streaming service. You can view regional specific content on Netflix, Hulu, HBO GO, Disney +, Amazon Prime Video, and more. As a result, your location will not determine what content you can watch.
Benefits of NordVPN
Supports almost every major streaming platform
Offers 24/7 live chat support
Allows you to choose from 5,400 servers around the globe
Price of NordVPN
The Basic plan is a one month package for $11.95 a month
The Plus plan is a 1-year package for $4.92 a month
The Premium plan is a 2-year package for $3.71 a month
2. Hotspot Shield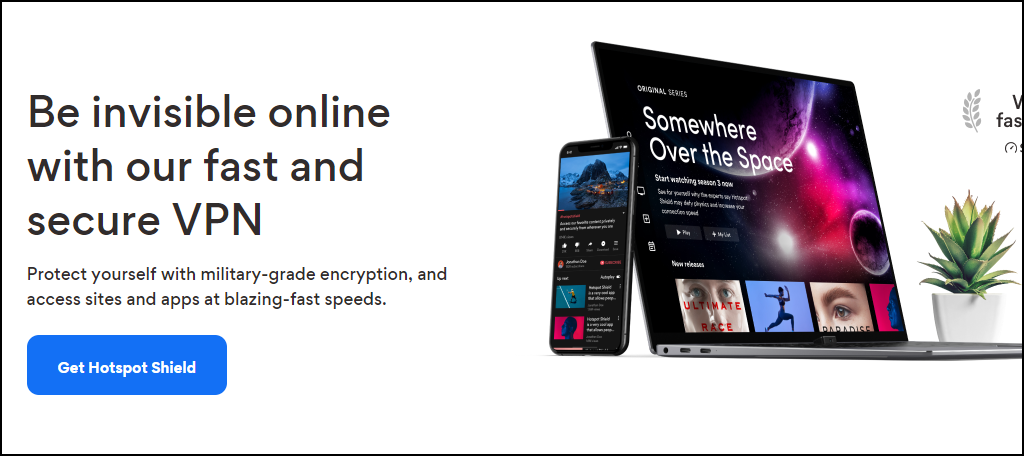 Hotspot Shield is a high-speed VPN that performs amazingly in almost every category. A big part of its terrific speed is its creation of the Catapult Hydra VPN protocol, unlike most of the other VPNs that use the standard OpenVPN.
As a result, it is one of the fastest VPNs available.
Hotspot Shield is feature-rich and comes with a variety of unique tools and features to take advantage of. Some of these include access to services like 1Password and Identity Guard, encryption technology used by the military and financial institutions, streaming service optimization (Netflix, Hulu, etc.) and 24/7 chat support.
However, the shining grace of Hotspot Shield has to be its interface. It has one of the sleekest and easiest to use VPN interfaces available. As a result, even if you have never used a VPN before, Hotspot Shield can get you exploring in just a few clicks.
Benefits of Hotspot Shield
Military-grade encryption technology
Bundles other subscription services for free (1Password)
Optimizations for streaming services like Netflix
Price of Hotspot Shield
There is a free plan, but only offers a 2 Mbps
The Premium plan covers 5 devices for $7.99 a month and supports 1 Gbps
The Family plan covers 25 devices for $11.99 a month and supports 1 Gbps
3. Surfshark
Surfshark is one of the fastest VPNs on this list and it's the only one that supports an unlimited number of devices. As a result, it is the perfect option for families that have multiple computers, phones, tablets, and any device that uses the Internet.
And trust me, that adds a lot of value when you compare it to others.
On top of supporting an unlimited number of devices at once, it has plenty of other features that make it worthwhile. Some of these include malware & phishing protection, WireGuard protocol, camouflage mode, whitelisting options, and much more.
However, the best part about Surfshark is its incredible upload speed. While most users generally focus on download speed, there are many instances where upload is more important. For example, live streams on Facebook or even Instagram stories.
Surfshark completely destroys the competition in this category.
Benefits of Surfshark
The best upload speed of any VPN
Can connect as many devices as you want
Clean interface that makes it easy to use
Price of Surfshark
1-month package for $12.95 a month
1-year package for $4.98 a month
2-year package for $2.49 a month
4. HMA VPN
HMA VPN (formerly known as Hide My Ass…yes, that was their real name) is an excellent choice if you are looking for a fast VPN. And with servers in over 190 different countries, it has some really good results.
And as I'm sure you expect, it has plenty of bells and whistles.
Some of these include DDoS protection, military-grade encryption, a kill switch (if you lose connection to the VPN, your data is still safe), IP shuffle, and unlimited install (supports 5 devices at one time).
HMA VPN also has plans for small businesses to take advantage of. If you are looking to increase the security of your office, this is the VPN to do it with and they will even customize the plan to meet your business's needs.
Benefits of HMA VPN
Unlimited installs for your devices (does not mean unlimited connections)
Multiple security features to keep your data safe
Business plans that are ideal for small business owners that need more security
Price of HMA VPN
They offer a 12-month plan for $4.99 a month
They offer a 36-month plan for $2.99 a month
5. ExpressVPN
You better believe with a name like ExpressVPN that they are packing some respectable speeds. And let me assure you, Express VPN is one of the fastest VPNs on this list and has one of the largest networks in the VPN industry.
This lets you can connect to 94 countries around the world.
As you might expect from one of the largest VPNs in the industry, it is feature-rich. Some of these include over 3,000 servers to use, bypass content throttling in schools and offices, 24/7 live chat support, and a host of other benefits.
Express VPN understands that now more than ever, customers are looking for more entertainment options. Express VPN supports almost every major streaming service and supports a variety of video games like Pokemon GO.
Benefits of ExpressVPN
Supports almost every video streaming service
Over 3,000 servers to choose from
Bypass your schools content throttling software
Price of ExpressVPN
1-month package for $12.95 a month
6-month package for $9.99 a month
15-month package for $6.67 a month
6. Encrypt.me
Encrypt.me is another VPN to consider if you are looking for speed and functionality in one package. And it really has a lot of options to choose from. It's so confident of its services that it even publishes its endpoint software on Github.
As a result, you can be sure that you will be getting an excellent experience.
Unlike other VPNs on this list, Encrypt.me is a true VPN and doesn't come bundled with anything outside of what a VPN needs. And that's okay because everything it provides is exactly what you need a VPN to do.
One of the most unique points of Encrypt.me is that it is the only VPN on this list that allows you to start a trial without a credit card. It cannot be stated enough how infuriating it can be to have to add billing information for a service you just want to test.
Benefits of Encrypt.me
No credit card required for the two-week free trial
It's open-source (find it on Github)
Connects to the servers that deliver the fastest connections
Price of Encrypt.me
The unlimited plan is $9.99 a month
The Annual plan is $99.99 per year
7. TigerVPN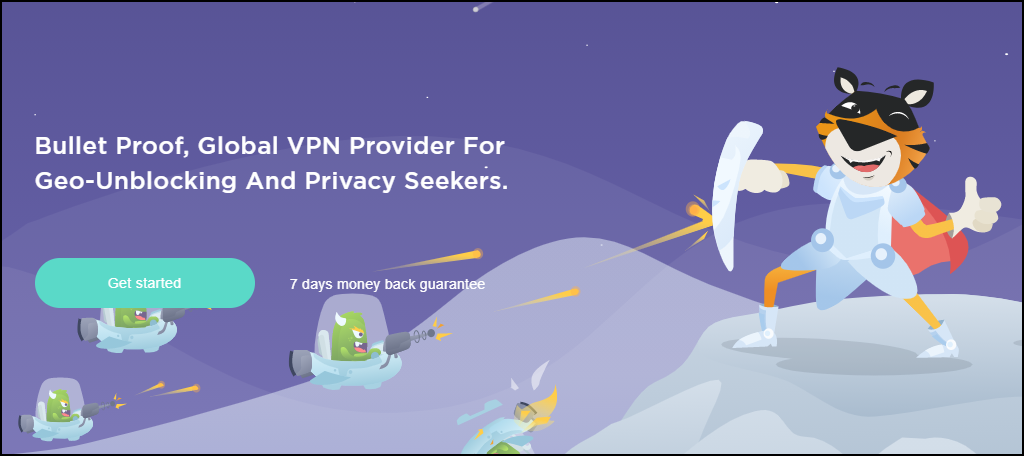 Closing out our list is TigerVPN, but don't let its placement fool you. In a sea of VPN services, it's speeds are really top of the line, which is exactly why it's on this list.
And let's be honest, tigers are awesome.
It has a host of features to take advantage of. Some of these include meshed IP, shielding from other VPN users, full DNS control, and automatic recommendations for the fastest connections.
While Tiger VPN is a smaller company compared to others on this list, it nails its server placement. Having a lot of servers to choose from often means better results, having them strategically spread around the globe can have amazing results.
And that's exactly what Tiger VPN does.
Benefits of TigerVPN
Servers are strategically spread throughout the world
Recommendations to help you get the fastest connections
Allocates more Bandwidth whenever necessary
Price of TigerVPN
1-month package for $11.99 a month
1-year package for $6.67 a month
3-year package for $2.75 a month
How VPNs Affect Media Content
While the primary goal of VPN services is to protect your data from prying eyes, there is another major advantage of VPN services.
One of the most well-known features of a VPN is masking your location and using it to make specific platforms think you are from another country. This can open the door to view other media streaming services or accessing different video game servers.
A great example of this is taking a look at Netflix. If you think Netflix is the same around the world, I can assure you this is not true. Netflix changes its content library on a country-by-country basis. As a result, you can view shows that are not normally viewable in your region.
And this can be applied to almost any streaming service, and it can allow you to access plenty of other things including storefronts.
Note: Keep in mind that some services or countries do not want you to use a VPN to access their websites. As a result, there are many instances where you can still be blocked even with a VPN.
Protect Your Data
The internet is not a safe place, and there is always someone after your data. Using one of the fastest VPNs can keep your data safe and have very little impact on your internet speed.
They can also open the door to shopping in different regions or allowing you to view region-locked media on streaming service. So, they're a great purchase no matter how you plan to use them.
What VPN are you using? What was the primary reason you purchased a VPN?