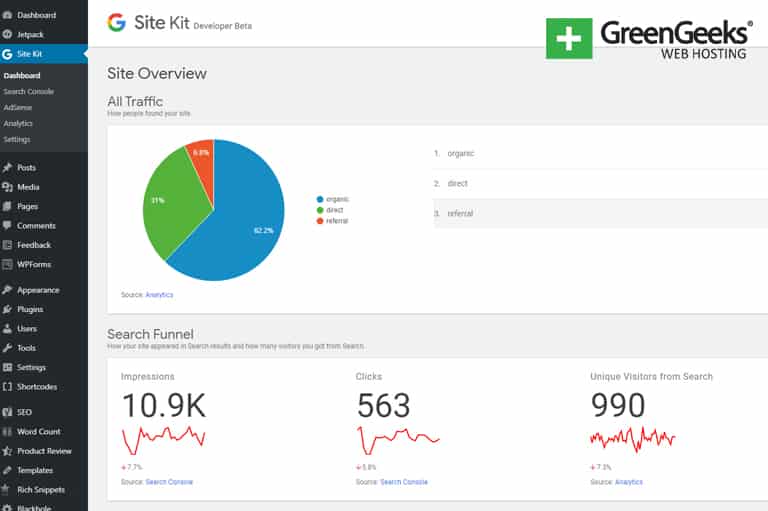 It is a little surprising that Google has not already released a WordPress plugin that allows you easy access to all its services. However, that has now changed as they announced Google Site Kit at WordCamp US 2018.
Google has been hard at work this year developing and updating many of its main plugins for WordPress. This includes major updates of Google AMP, which they have really been trying to push over the last year.
While Google Site Kit for WordPress is still in Beta, the full version of the plugin is on the way. It will offer some really easy to access Google WordPress tools that will present users with a lot of functionality. Let's take a look at Google Site Kit, what it is, and why you may want to use it.
What is Google Site Kit?
Google Site Kit is an all-in-one WordPress plugin that will allow users the ability to access information from 4 of Google's big services including:
The plugin will allow users to access all of these services right from their WordPress admin dashboard.
Site Kite will also provide other WordPress tools including authoritative and up-to-date recommendations from Google. The plugin is most ideal for WordPress users who want easy to understand and digest information about audience and revenue performance in one place.
Key Metrics and Insights From Four Google Products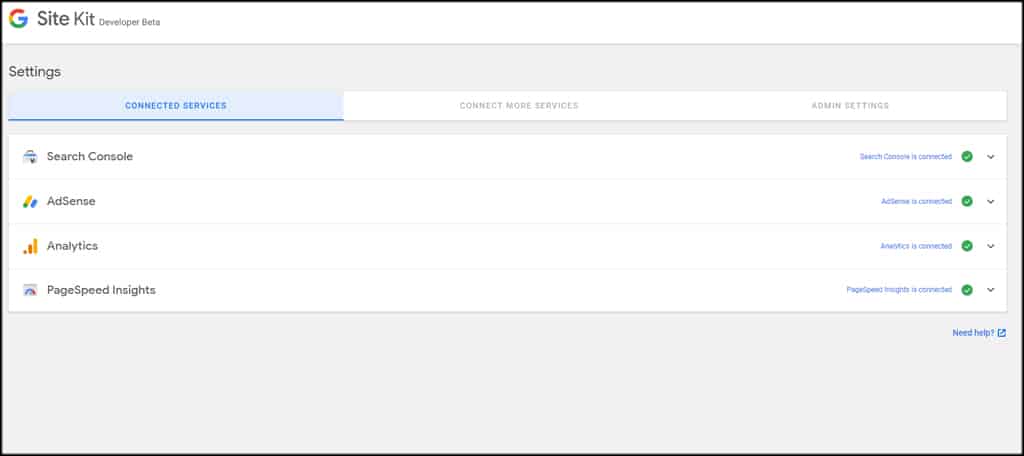 Once the Google Site Kit for WordPress plugin is fully developed and running, users will be able to gain key metrics and insights from four huge Google products straight from the WordPress dashboard. This will save time and present the user with an easy-to-use tool. When using Google Site Kit, users will access the following:
Search Console: You will be able to see and understand how Google's systems see and render your WordPress website pages. You will also be able to see how many people saw your website in search results and for what queries.
Analytics: See how your site users navigate your website, what they are looking at, how long they are staying on your site, and more. You will be able to see all analytics stats right from the dashboard, as well as see if your users are completing the goals you have set up as conversions.
Adsense: See all of your Adsense earnings and view how much each post and page is bringing in. No more trying to log into your Adsense account in a separate tab to view earnings.
PageSpeed Insights: Learn how your website pages are performing compared to other real-world websites. Improve speed, performance, view sitemap setup, and receive tips from PageSpeed insights. It's the speed-checking tool built right into WordPress!
Site Kit in Beta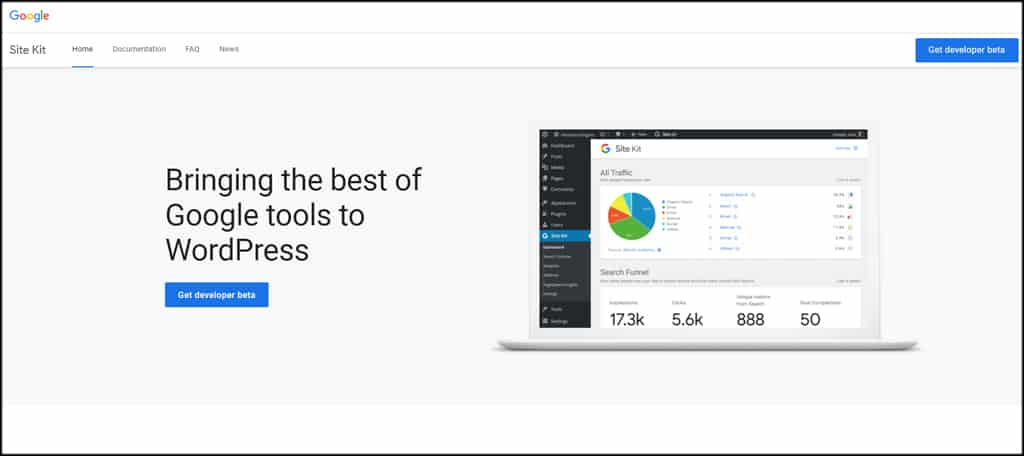 Google Site Kit for WordPress is still in Beta, so a lot of kinks are still being worked out. Obviously their goal is to make plugin generally available on wordpress.org and to all users. However, they are still working on a lot of aspects and there is no timetable for making it available in the WordPress plugin directory.
If you want to test the beta version of Site Kit, you can do so by downloading it from the GitHub repository. This will allow you to:
Allow developers to test drive the plugin on WordPress
Test Site Kit compatibility with your other plugins
Gather feedback and information to send to Google
Remember, since it isn't in the WordPress plugin repository yet, you will need to download it from the GitHub link and then manually install it on WordPress.
Other Google Site Kit Plugin Tools in Development
Google is also working on adding some other really great tools within the Site Kit plugin. Based on a lot of user feedback they have received already, the brand is working on also integrating the following Google WordPress tools into the plugin:
Site verification with Search Console.
Provisioning and configuration of Analytics, AdSense, Tag Manager and Optimize.
Simple aggregate and per-page reporting from Search Console, Analytics, and AdSense, to help you understand the full acquisition and monetization funnel.
Continuous site performance auditing and monitoring with PageSpeed Insights.
Insights they derive from across the products you've connected and surface on your dashboard to help you make sense of the stats.
Needless to say, this plugin is going to be packed full of helpful tools.
Why Should You Use Google Site Kit?
Once this Google WordPress tool is released, it is expected to be a very popular addition for website owners. But, why should you use Google Site Kit once it becomes available?
Access to Multiple Accounts on a Single Page: Aside from all the tools it provides, you will be able to access all accounts and tools from a single page within your WordPress admin dashboard. Instead of having to log into multiple accounts across Google, you can stay in one place and access everything.
View Combined Statistics: The plugin will allow you to view combined statistics for all your posts. There will be no need for you to keep track of total views, average click-through rates, and impressions. Users of the plugin will receive an alert each time a milestone is reached. You can view and monetize your entire network in one easy-to-use funnel.
Final Thoughts
The build-up for the Google Site Kit WordPress plugin has been very exciting. WordPress website owners are awaiting to see how easy it will be to use and how much time it will save them.
There is no timetable for the official plugin launch into the WordPress plugin repository. But, it will happen at some point. Keep an eye out for that launch, as we will be updating it here as well.