Video marketing is one of the most potent platforms for engaging people on the Internet. Statistically speaking, it is believed that video use will make up 80% of all Internet traffic by 2021. If you want to capitalize on this media, you'll need the best WordPress video themes to engage your traffic.
What does this mean for your website? Quite a bit, actually. There is a reason why sites like YouTube displays millions of hours of content on a daily basis.
I'm not saying that you need to turn your website into a video production platform, but it will help to use video themes for WordPress.
Below are 28 of the best WordPress video themes I could find on the Internet.
1. Inspiro
Inspiro is one of the most impressive WordPress themes available. It allows easy integration of YouTube and Vimeo videos directly into the heading of the website.
You've probably seen something like this on PayPal.com as the site seems to have a life of its own.
The only real downside to using Inspiro is the hefty price tag that is attached. However, you do get a wide range of additions such as widgets and slideshows.
2. VideoPlace
If you're looking for a free method to accentuate a vlog, VideoPlace may be the right theme. It's customizable and allows you to modify the appearance to fit your own design dynamic.
VideoPlace not only gives you the ability to customize the site's appearance, but you can keep it similar to the layout of YouTube itself.
With easy integration, all of your productions on that social platform can easily be placed on your website.
3. Videozoom
Another premium theme to consider is Videozoom. This theme has an elegant layout for those who want playable video content right on the home page.
One of the elements that makes this theme attractive is the ability to use self-hosted video using the native WordPress video player.
It's easy to customize and comes with a dark and light version as a base. Otherwise, fonts and colors can be adjusted in its own options.
4. Vlog
Vlog is a blog management theme that focuses content around video development.
It can easily integrate into ways to make money from your website as it connects to things like WooCommerce subscriptions and other paid-content platforms.
The theme supports Embed abilities as well as self-hosting videos. The premium version also comes with a customizable player.
5. The.Motion
The.Motion is a premium theme which helps users display their video content with easy. The live customizer tool lets you alter the appearance by adjusting colors and other details.
The theme is optimized for speed, which is important when considering the bandwidth video content can consume.
You'll also find a variety of video tutorials about how to get the most out of The.Motion.
6. Reel Story
Reel Story is one of the more engaging video themes for WordPress. Not only does it incorporate video, but it comes with a variety of animated images and plugins.
Users can change the color of those integrated graphics, take advantage of a page builder, add sliders and more. It's quite the versatile theme as it also implements the best search engine optimization practices.
7. Rock Star
I know not everyone wants to produce music. That's not why Rock Star is on this list. Although it was designed to help musicians get noticed, it's the integration of parallax and video response that makes it intriguing.
This theme has a range of options from editable slider controls to overall layout design and video additions.
8. Rock N Rolla
Another musical theme, Rock N Rolla has potential to be much more. The layout is perfect for those who want to integrate systems like Mixcloud or Spotify while delivering an excellent method for displaying YouTube video.
The theme features a large slider above the fold with the ability to customize its appearance. This means you can easily take this theme to different genres other than musical.
9. Superstar
What can I say, music and videos go hand in hand. Superstar is not only geared for musicians, but it can easily promote any kind of video content. It has a built-in gallery that is primed for both images and video embeds.
This theme has been optimized for speed and comes with two different blogging layouts. It also has its own built-in ticket system whether you're a performer or hosting a charity event.
10. BlogMaster
BlogMaster is quite a flexible system, as long as you purchase the premium version.
While the free version gives you SEO optimization, a slider and custom backgrounds, buying it opens the doors for automatic lazy loading and other useful additions.
The theme works well for those who want to share multimedia whether it's video or imagery.
11. Magazinum
Magazinum is an impressive theme when it comes to responsive layout and design. It comes with custom widgets that let you integrate a variety of media including direct videos.
The featured slider can also handle videos as the homepage can be configured in a variety of ways.
One of the best features of Magazinum is the video API integration for slideshows and carousels. The slideshow will automatically pause as soon as a visitor begins to play the content.
12. Sculpture Responsive
I've featured themes designed for music, but what about actual video? Sculpture Responsive was developed with the vlogger and video sharer in mind.
It comes with all the goodies that make customization excellent in WordPress including filtering portfolios and various sliders.
To add even more flare, Sculpture delivers a nice parallax appearance within its easy-to-use interface.
13. Vidiho
Vidiho is another theme that was built specifically for showing off video content. Using an HD slider for video content, the theme is fully responsive while delivering crisp content to visitors.
It has been optimized for SEO and comes with a variety of content widgets to add more depth to the site.
This theme is supported by various page builders such as Elementor and Divi while including Retina Ready support.
14. Online Movies
The Online Movies theme for WordPress is an excellent demo of combining the elements of parallax design, lazy loading and embedding video.
Which are some of the best web design practices to build the brand…and your audience.
Not only do visitors have access to video content directly from a gallery view, but the theme is optimized for speed as elements are only loaded as necessary.
To add more flare to your posts, Online Movies also includes access to more than 600 Google Fonts.
15. Lenscap
Although Lenscap has a bit of a minimalist appearance, it has great potential for everything from sharing multimedia to eCommerce.
What sets this theme ahead of many others is the use of a lightbox when showing videos to visitors. This is quite immersive and makes for a great viewing experience.
Videos can be included from Vimeo or YouTube quite easily. The simple layout is what makes the site easy to use whether it's a visitor on a desktop computer or using a smartphone.
16. Artwork
Artwork is an incredibly immersive theme for WordPress. Not only does it make extensive use of parallax design, but it incorporates video playback within the scrolling feature itself.
Visitors can then choose to view the actual content on the site or simply continue watching videos.
The layout of the theme itself is minimal in design. Although you do have some customization options, Artwork may work better as a portfolio of sorts whether it's for video or imagery.
17. Portfolio Press
Portfolio Press is another one of those themes that is simple yet effective. It's great for those who want to show off artwork, photography or even video production.
It does have a few nice customization options available, and the interface is easy to understand when selecting your options.
The theme also has an option for full width, which expands the gallery while removing the sidebar from view for the visitor.
18. Suarez
Although not as expensive as other premium themes in this list, Suarez is no less engaging. It comes with a wide scope of features you'd expect from a well-developed theme with the support for HTML5 video.
Suarez also enforces the best search engine optimization practices as well as implements a blog category visual slider.
19. Betube
Betube is a grand video theme for those who plan on creating a lot of content. It comes with a long list of layout options as well as supporting video shrinking when scrolling through text.
Sliders, headers, customization menus and even profile page layouts are all available. This gives the creator an excellent platform for building portfolios or simply sharing his or her video content on the web outside of YouTube.
20. Sentio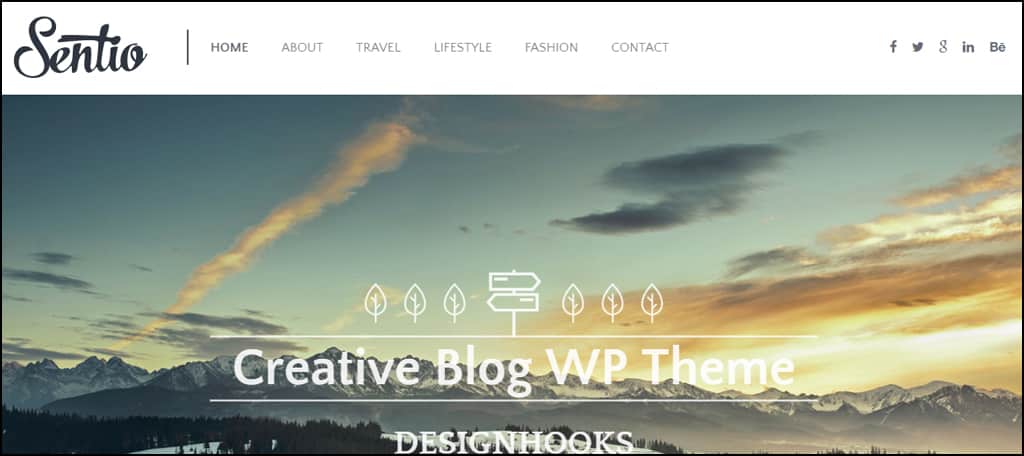 Sentio is a theme available for free from within WordPress. It has a basic layout, but is great for those looking to market the website to mobile users. Its larger areas, easy to tap images and video integration make it ideal for those on smartphones.
If you want to spring for the "Pro" version, you will have access to portfolio and additional customization options.
21. VideoBlog
VideoBlog is a free theme available that accentuates visual elements of a website while having excellent control of video embedding. Users are able to feature the top five categories of the website complete with images and the theme comes with a special sidebar location for advertisements. This helps you make money from the website.
It is a somewhat basic theme, but it handles including video content well. Since it's free, you have nothing to lose if you want to try it.
22. OS Media
For those looking for basic but functional for video sharing, OS Media may be something to consider. It is a child theme based on the Twenty-Fourteen theme released in WordPress.
Its layout makes it perfect for video-on-demand by immediately displaying available content.
If you're not familiar with Twenty-Fourteen, it's a basic theme that doesn't have a lot of bells and whistles behind it. However, it can still serve the purpose of sharing video content quite easily.
23. Event
Event is a basic theme for WordPress, but it incorporates a lot of functionality when it comes to its slider.
For one thing, you can easily add video content to your homepage. Those videos will then open in a popup to play while pausing the slider from scrolling.
Making use of parallax design, this theme is great for those developing galleries whether it's video content or amazing photographs.
24. Nisarg
Nisarg is a free theme you can install that supports various post format types including video. Using Bootstrap 3, it is ready for mobile devices and has a variety of options available in the WordPress customizer.
While this is perhaps one of the more basic themes on this list, it can be quite useful when sharing video content. Users have all the customization options seen in other themes while choosing from seven different accent colors.
25. Relive
Relive is an attractive theme that uses full header images while offering an interactive element. The theme was designed to be responsive by using large featured images as buttons to read content.
It comes with a visual composer and integrates video content well.
This theme is built with cross-browser optimization as well as implementing FontAwesome 2 and Google Fonts.
26. VideoBox
One of the things that sets VideoBox aside from others is its support for embedding video content. It can help incorporate content from a wide range of platforms ranging from Facebook to YouTube.
With a couple clicks of the mouse, you can embed video content and use its thumbnail as the featured image.
27. Magician Responsive
While the demo seems more geared towards illusionists, the Magician Responsive theme is quite versatile. It incorporates a large number of visual elements including support for large videos to be displayed on the home page.
Custom post types, more than 80 additional shortcodes and a wide support for languages make this quite a flexible theme.
28. EDigital
What if you simply wanted to sell video content? EDigital is a great eCommerce system to make money. The platform has been designed to be highly customizable as well as responsive. It has been tested with various browsers to ensure a great experience for everyone.
This may be a great alternative to systems like WooCommerce if you only focus on selling digital content such as videos, music and images.
Engagement through Entertainment
Entertainment can come in a variety of forms. Whether it's through laughter or educational content, it's all relevant to the right audience. The best WordPress video themes have potential to improve your WordPress hosted website by giving the visitor something else to do other than read text.
Discover the power of video development for yourself and see how powerful even the most basic of videos can become.