Getting traffic is the purpose of any website. Otherwise, why have one? Unfortunately, just throwing a site up on the Internet won't guarantee a flood of visitors. In most cases, it's all about the headlines of your articles.
Well, that and amazing content to follow.
In any case, you want headlines to be attractive as well as informative. After all, you want people to visit the website. In which case, you can use a headline generator.
Why Headlines Matter
Think of headlines as an introduction to your content. It's the first impression potential visitors get regarding the topic. If it's plain or mundane, you may find it more difficult to generate clicks.
This is especially crucial when sharing posts on social media. In reality, about 41% of people will actually click a link that is openly shared on sites like Facebook.
A headline's purpose is to engage the audience. A lot of the time, this is done through "emotional" terms or "power" words that are found as effective for prompting a person to click.
The better you are at connecting with an individual, the more successful you'll be at generating those clicks. And the right content with the headline could help drive it to become viral.
What's the Difference Between Titles and Headlines?
In many instances, the title of an article is the headline. However, you can separate the two using something like a title tag in HTML.
Confused? It's understandable.
For example, let's say you're using WordPress to create content. You give your new post a title. Without making any modifications, both your website and search engines will see this title as the article's headline.
Now let's take that same WordPress article and add a new title tag using a plugin. At that point, your website would use the title as the headline, but Google will retrieve the tag instead.
A lot of experts will create separate headlines and titles to expand optimization by including different, but relevant, search terms in each.
For the most part, the terms title and headline are almost interchangeable. It all really depends on how you have your website set up for SEO and what you use for titles.
Don't Deliver "Clickbait"
Before I continue, let me urge you not to create headlines that are viewed as "clickbait." This is when you create a title for the sheer purpose of getting someone to click but lack solid content to provide support for the title.
For instance, if you use a headline like, "12 Ways Guaranteed to Help You Lose Weight," you better have strong support regarding weight loss. Otherwise, you will anger visitors and draw ire instead of delight.
This often includes statistical information or scientific case studies that help support the claim.
Why is this important? Because seeming clickbaity can hurt your online reputation and prevent future visits. And given the competitive nature of the Internet, this will greatly reduce your online success.
So, how do you write a good headline? Perhaps some of these article headline generators will be of use. In fact, I use several of these tools on a regular basis.
1. Prozely
For a quick and easy headline generator, give Prozely a try. You submit your keyword and click the "Go" button. You'll then receive five results at a time. If you want more titles, just click the "More Titles" button.
I'm not sure if there is a cap or limit on how many titles you'll receive. I know I clicked the button for more titles more than 20 times. I do know the list seems to be randomly generated.
I came across similar titles several times. However, each did have a slight variation to it.
2. Topical Brainstorm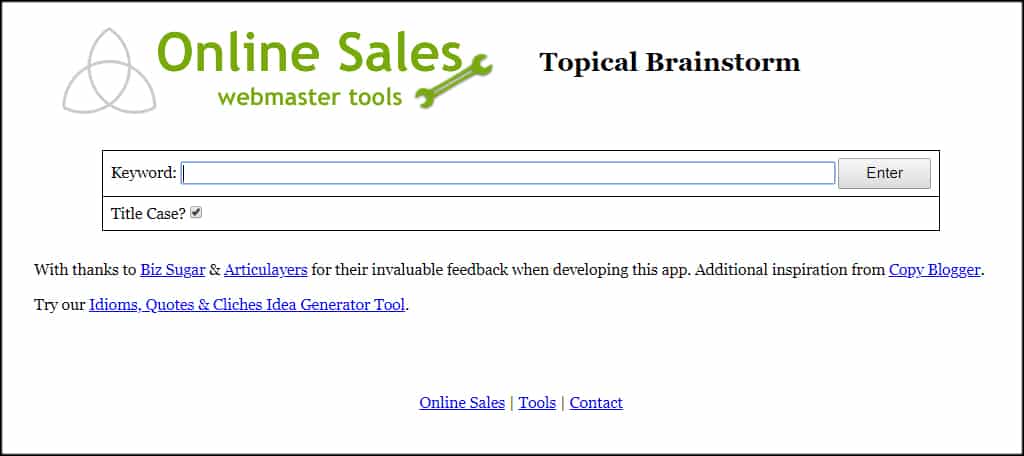 If you want a basic, yet huge, list of titles, Topical Brainstorm might be a good pick. After entering your topic, you can select whether the titles are title case or not. When clicking the "Enter" button, you'll see a long list of ideas.
A lot of the results are essentially title starters. For instance, with a keyword of "Chicken," you'll see results like "Where Chicken" or "Warning: Chicken." These incomplete titles can inspire you to finish for yourself and create something unique.
Topical Brainstorm also provides a list of the results you can copy and paste to your own Word or Notepad document for later use.
3. HubSpot Blog Ideas Generator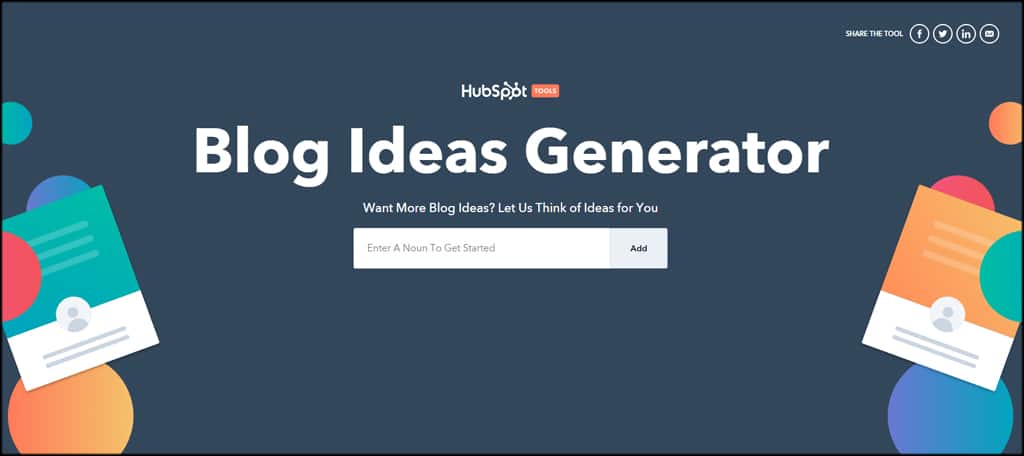 Another one of the more popular headline generator tools is HubSpot's Blog Ideas Generator. The system uses a lot of the same analytical data as other high-quality tools and is super easy to use.
All you need is to plug in the noun of your subject and click "Add." You can add up to five different nouns before receiving your results.
The free version of HubSpot will provide you with a week's worth of ideas and titles which really isn't a lot of results when compared to other systems on this list.
However, the ideas that are delivered make sense in terms of grammar and flow.
If you want the year's worth of ideas, you need to sign up with HubSpot and download the list.
4. Answer the Public
Answering search questions is one of the top methods for driving clicks. It demonstrates authority in your site while offering something of value to the visitor.
Answer the Public is a great platform for developing headlines for this purpose.
The system uses an extensive database of the most asked content regarding your topic on the Internet. Then, it breaks down the data into segments such as writing content regarding "how" or "where" in relation to the subject.
For instance, using the term "fitness" reveals questions like:
Can Fitness Trackers Measure Blood Pressure?
Answer the Public also provides things like prepositions, comparisons, keyword search terms and phrases as well as the most common related terms to the topic.
5. Impact Blog Title Generator

Impact has a nice blog title generator as it requires a bit of interaction from yourself. By inserting the topic, you're presented with a fill-in-the-blanks kind of platform to help inspire ideas.
For example, let's say you want to write about "fitness." After putting in your topic, Impact will then show something like:
The _____ Survival Guide to ______
You then fill in the blanks with your own keyword, one of which would be "fitness."
If you don't like the suggestion, you can click the refresh button to try another. But if you like one of the headlines, you can click the heart icon to save it in a list which you can email to yourself.
6. Content Idea Generator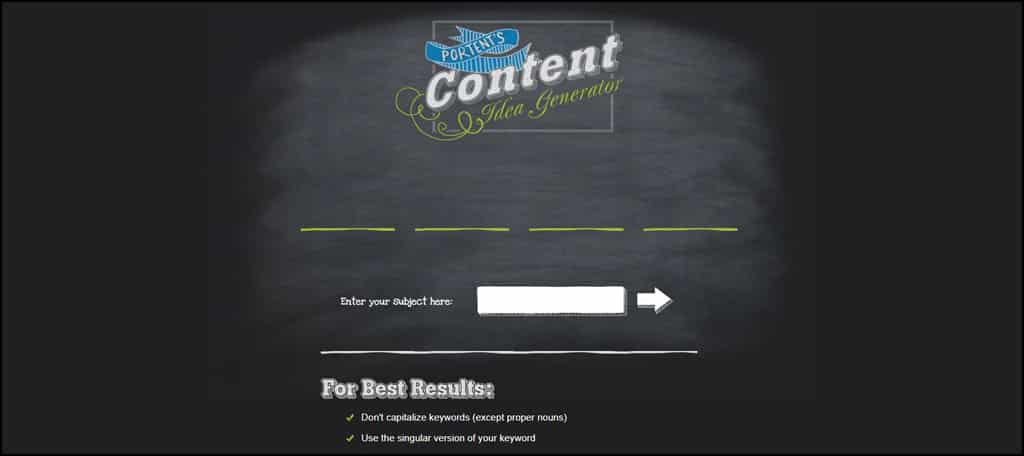 Portent's Content Idea Generator is another good platform for headlines and titles. Simply plug in your topic and the system will do the rest.
And if you don't like the title, click the refresh button to receive another.
One of the downsides to using this tool is the randomizing. Sometimes you don't get the most stellar results. For instance, if you use the term "fitness," you could receive a headline such as:
18 Problems with Fitnesses
In this instance, "fitnesses" isn't considered grammatically correct – or even proper English.
However, sometimes you'll come across a gem that may inspire your own variation of the headline.
7. Kopywriting Kourse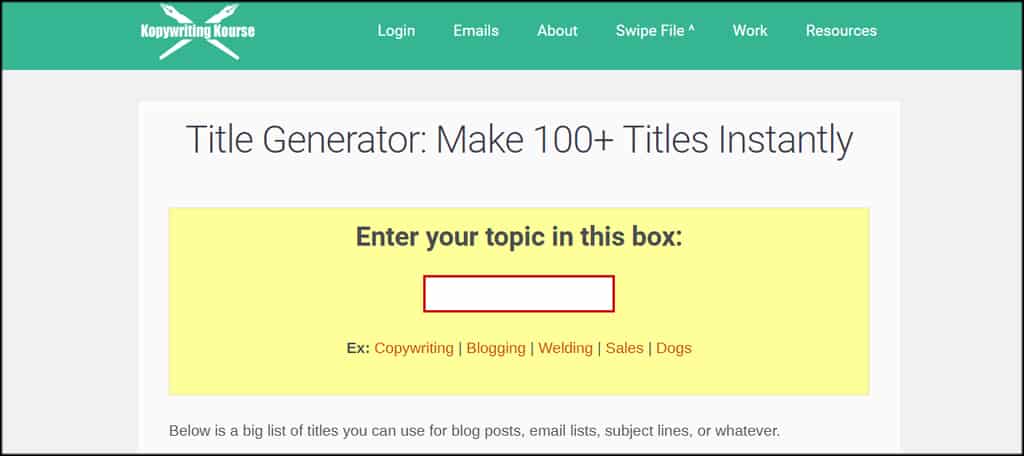 Kopywriting Kourse is a free system that will generate more than 100 titles. As you type, each title is updated with your keyword or topic.
The list of title ideas isn't all that bad. The only problem I have with the system is how the titles don't change. For example, if I refresh the page, I still see the same 100+ titles from earlier.
In reality, it's a good tool to get you started. However, I don't know if it's something that would offer longevity. After a while, you'll exhaust these ideas and have to move onto the next.
On the other hand, the list might change periodically. In one screen shot I saw online, there were different titles than what I was presented with.
It's something to explore, anyway.
8. SumoMe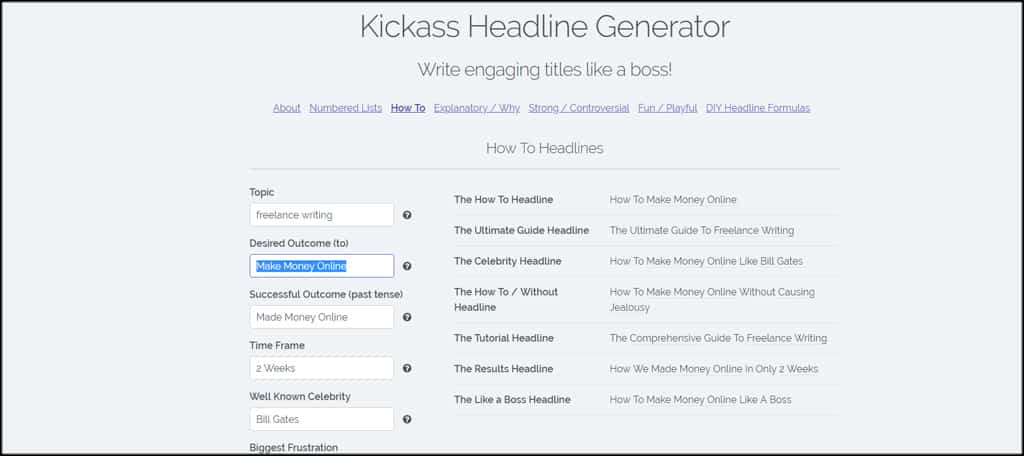 SumoMe has a fun headline generator that is interactive with what you need. You click a link along the top tool bar regarding what kind of content you want to write and then fill in the spaces on the left.
Then, SumoMe will provide a series of titles in real-time on the right side of the screen.
For instance, let's say I wanted to write a how-to article on freelance writing. I would click the "How To" link on the top and then put "freelance writing" in the topic section.
I can also add celebrities, frustrations, power words and more to deliver different results.
9. Headline Wizard
Headline Wizard is a free tool that will generate titles based on your information. After filling out a four-question form, the system delivers results it thinks are the most ideal for your specific situation.
This tool is one of those which is geared more towards business and product sales. While some of the results will work in a personal setting, it appears the majority center around a company presence.
But, it's a free tool that you can use as often as you like. Headline Wizard will deliver a long list of ideas as well as a fill-in-the-blanks form at the end for even more ideas.
10. Quandary Content Idea Generator
Quandary is a bit different as a headline generator. It bases its results off of a questionnaire you fill out regarding your brand or company. Which means it's not all that efficient for those who maintain a personal blog.
However, you can fill in the information as best as you can and receive literally hundreds of results. And the more information you provide, the better.
Unfortunately, you need to register to use the tool. Then, you will complete a survey regarding the company or product and what you're trying to accomplish.
Afterward, you can copy and paste the results into a text file on your computer.
11. Linkbait Title Generator
Linkbait Title Generator isn't as nefarious as it may sound. I know I said to watch creating "clickbait," but remember it's all in the content. This tool simply provides titles you can use to catch someone's attention.
Essentially, Linkbait takes some of the most effective terms for generating clicks and delivers titles…nothing more. It doesn't have all the bells and whistles as others on this list, but the titles are interesting nonetheless.
You can use this system as much as you like for free.
12. SEOPressor Blog Title Generator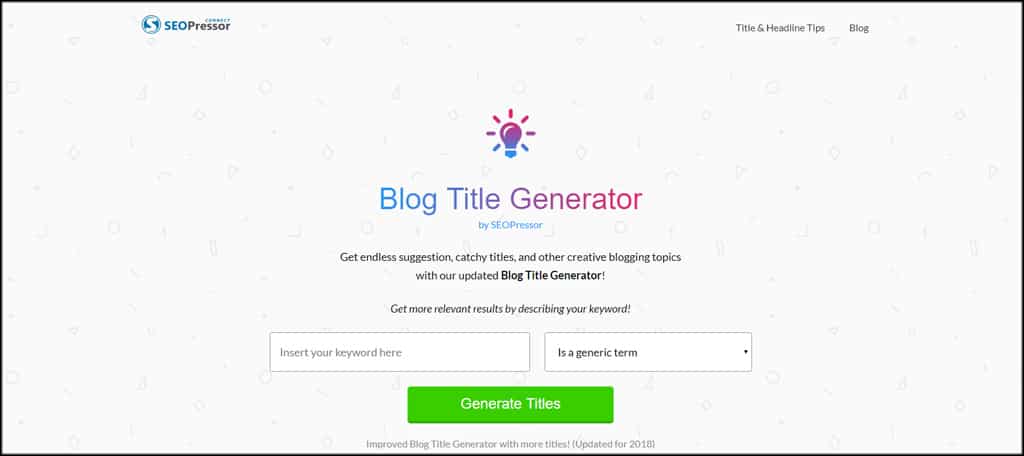 Perhaps one of the more popular headline generator tools, SEOPressor is an effective system to use. One of the things which stand out the most for me is how the generator is updated regularly.
You simply insert the keyword and determine whether it's a generic term, brand, event, industry, location, person's name or skill. This ensures you receive headlines that are finely tuned to your purpose.
For instance, let's say you want to blog about "Fitbit." You would select "brand" and click the button to generate titles. You'll receive a list of titles that are geared towards the brand of Fitbit.
If you don't like what you see, just click the button to generate more titles.
13. Tweak Your Biz Title Generator
Tweak Your Biz offers another platform for generating headlines while focusing the results. In this tool, you'll enter your keyword or topic, determine whether it's a noun or a verb and choose the type of title case.
This means the results are more accurate for what you're trying to create.
If you take a verb, such as "cook", you'll see results like:
Failures Make You Cook Better Only If You Understand These 8 Things
The system provides a range of styles, though. How-tos, business, motivation and other topics are generated from your keyword.
14. FatJoe
FatJoe is a title generator that offers a free, unlimited platform. All you do is add the keyword to the system and you're presented with 10 results. But if you want to get up to 100 titles, you need to register on the website.
However, you can simply click the "New Topic" button and try your luck again with a set of new titles for the same keyword.
It's a very easy platform to use, and most of the titles I've seen are well developed. Of course, some may not sound grammatically correct depending on the keyword or topic. But that's easy to modify on your own.
It's a good place to get started, anyway.
15. Inbound Now
Inbound Now is a premium marketing platform that comes with a variety of tools. One of them is the free Blog Title Idea Generator. It's a basic function where you simply click a button to generate a new headline idea.
Like some of the others in this list, it has one inescapable flaw: these are the same titles provided to everyone else who visits. The only difference is they are randomized.
This means your articles are going to look similar to others on the Internet…especially if your direct competitors are using the exact same blog headline generator.
However, Inbound Now can serve to give you ideas regarding your own variations. You don't have to use the headlines provided, and it may serve to inspire writing your own.
It's All About Quality
The headline of your article is just as vital to success as the content itself. Whether it's search engine optimization or engaging a human visitor, it's the first thing accessed. Tools such as a headline generator are beneficial for this purpose.
Just make sure your content is just as effective.