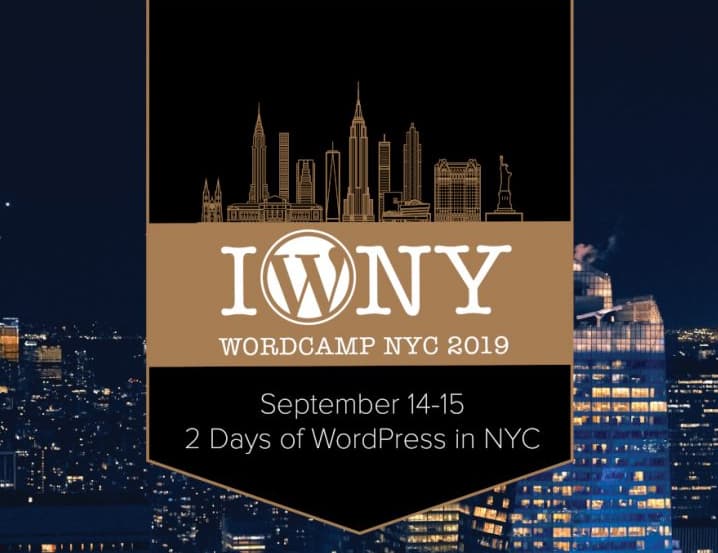 This September 14th and 15th, don't miss out on WordCamp New York 2019! And while you're there, stop by and meet up with our own Patrick Henderson. He will be there ready to meet you while handing out some fun GreenGeeks swag.
Come and join us for two days of WordPress awesomeness as a long list of speakers brings their expertise to the community. It's sure to be an amazing weekend full of information and networking.
What to Expect at WordCamp New York
From Gutenberg blocks to business and marketing, this WordCamp has a lot to offer anyone using WordPress to power a website. This includes anyone who operates a nonprofit organization.
This year, you can find talks such as:
There are so many awesome talks going on at WordCamp New York that I am quite jealous of Patrick. Not only does he get to hang out in the Big Apple, but he'll also have access to a myriad of great speakers.
Fun Facts About New York
New York has a very long history in the United States. Not only is it one of our biggest cities in the United States, but it's often the backdrop of many movies and television shows.
So while at WordCamp, don't forget to take a few moments and explore the massive city.
Some things you might find interesting include:
The first bridge to use cabling made from steel, the Brooklyn Bridge is among the longest in the World. And it's common to see it in a variety of movies; too many to mention in a blog post!
Established in 1803, the New York Post is the longest still-running newspaper in the US. Although the print version isn't as popular as it once was, the website is thriving.
If you're looking for culture, New York has 155 museums and about 400 art galleries. This includes the renowned Guggenhein Museum. You could spend weeks exploring Museum Mile, which runs down 5th Avenue between 70th and 104th streets.
New York is one of the most prominent places in the US for tourism whether you live in America or are traveling from across the globe.
See You in New York!
This camp promises to have a lot of great information and amazing people in attendance. So don't miss out on meeting up with Patrick and grabbing something from our table.
As always, I would like to take a moment to thank all of the organizers, volunteers, sponsors and attendees for helping to make this an amazing community.
WordCamp New York is just another shining example of what we can do together.