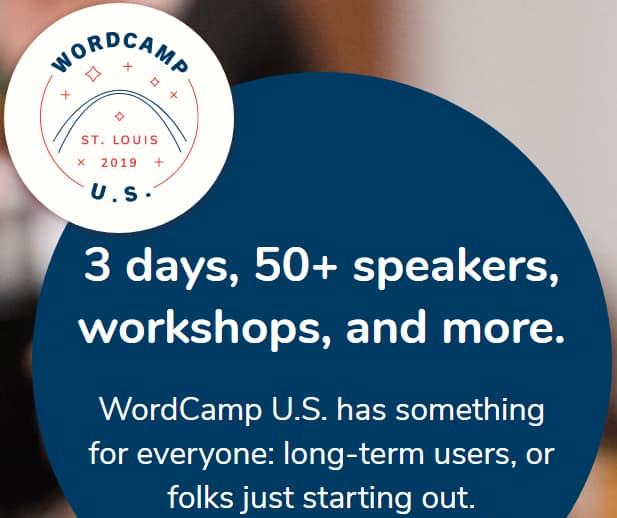 WordCamp US 2019 was truly a fantastic camp! This year's US camp was held at America's Center Convention Complex in St Louis, MO.
This was my first WordCamp US ever, but the 6th camp I attended this year. And my very first time in St. Louis!
Our setup time for GreenGeeks was Thursday, October 31 at 2 pm. So, Ericka, Marco and I flew into St. Louis the day before to make sure we would be there for the setup and attend the Sponsor/Volunteer Party which was held on Thursday night.
Arriving in St. Louis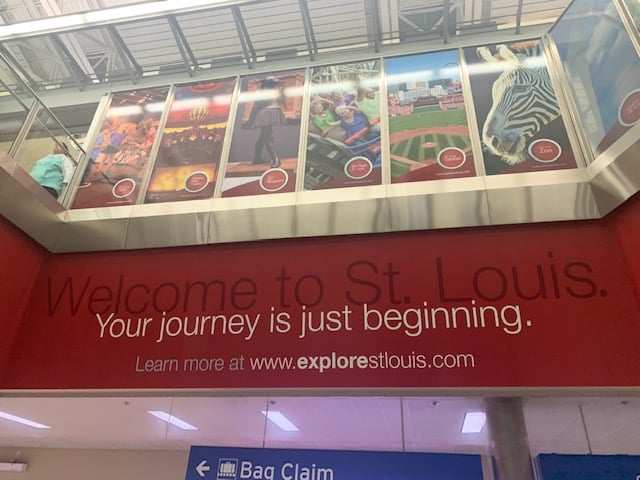 My flight from LA was almost three hours and I made it to St. Louis in the early evening.  Soon after I checked in, I got in touch with Ericka and Marco and we met up in the hotel lobby.
This was my first time meeting Marco and the second time meeting Ericka (I met Ericka for the first time at WordCamp Orange County) and I was really excited to be with them for this special event.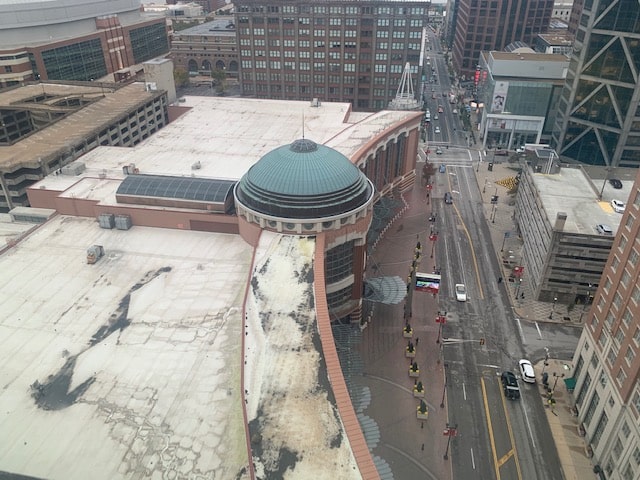 Getting Out into St. Loius
What do you do on your first night in St. Louis when it's cold and raining? You go eat baby back ribs of course!
We walked to Sugarfire Smokehouse, which came highly recommended by reviewers as well as the hotel staff.  It was just a few blocks away. We huddled under the rain and cold, walked over and enjoyed a really nice dinner in the warm casual dining room.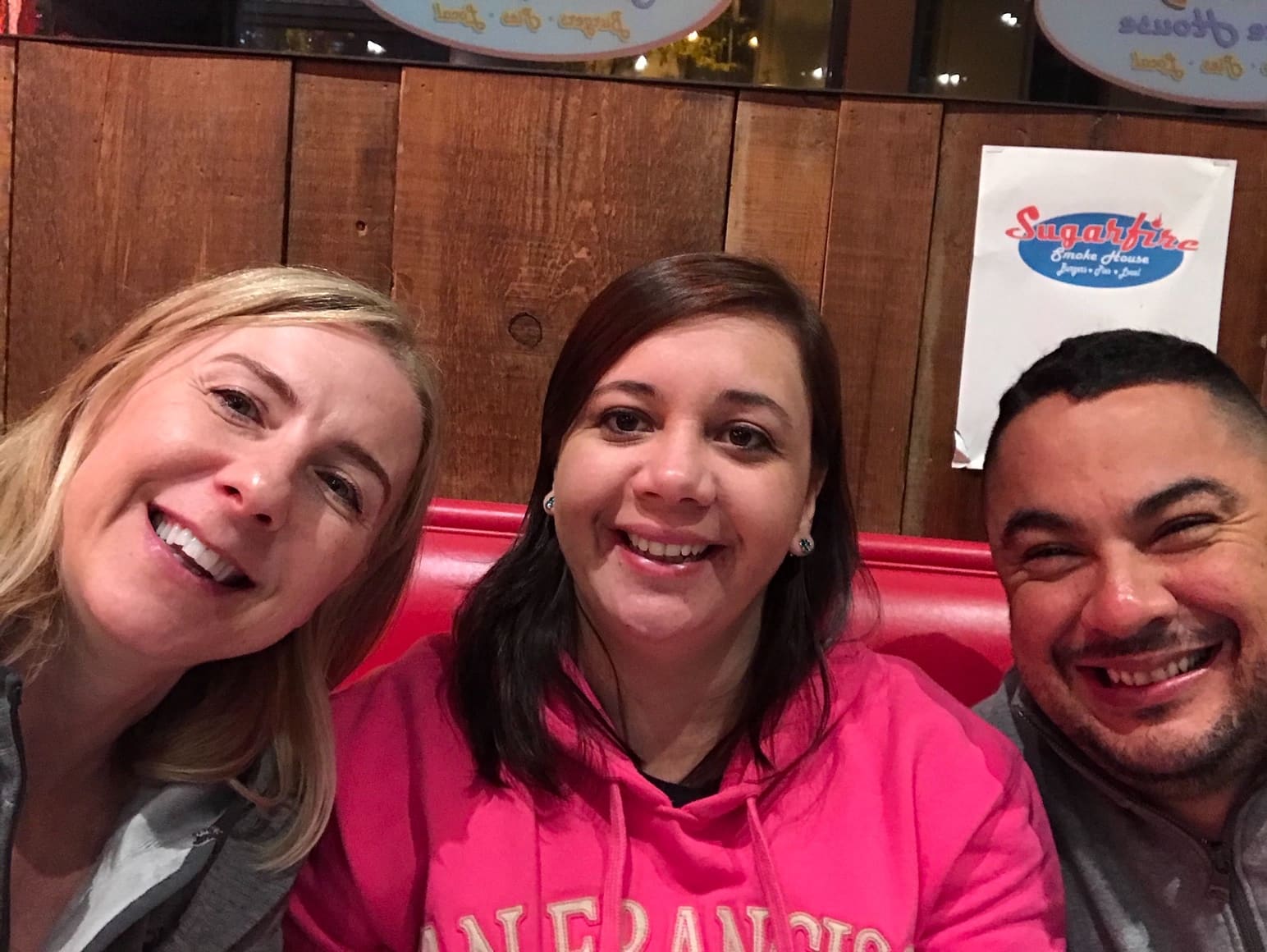 After dinner and some more talking in the hotel lobby, it was time for us to go back to the rooms and get some needed rest.
The next morning we had a wonderful visit planned to the Gateway Arch!
Visit to the Gateway Arch
After visiting the museum at the Gateway Arch, which shows some interesting stories of the Native Americans, explorers, pioneers, and rebels who made America possible, we got on the tram ride which took us all the way to the top.
The Arch is  630 feet high and is America's tallest man-made monument. We learned that it is a symbol of the Westward expansion of America. From the observation deck, we could see great views of the Mississipi River to the East, as well as the Courthouse and other interesting landmarks to the West.
When we got back to the Museum level, the staff at the Arch handed us a picture of the three of us we took earlier with a very cool background!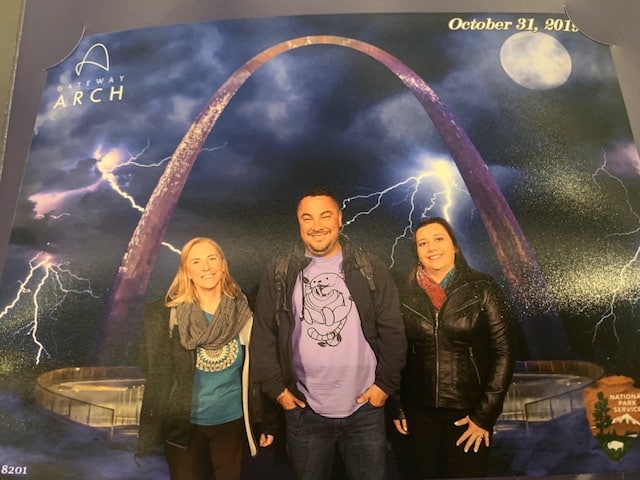 After an awesome visit to the Arch, it was time for us to have lunch. We enjoyed tacos at a nearby restaurant called Gringo Tacos and Burgers in Downtown St. Louis.
After lunch, we walked into the America's Center to get our WordCamp US 2019 badges.  Many of the organizers and volunteers were already there helping with registration.
I met William Jackson who is one of the Organizers for WordCamp US as well as the Organizer for WordCamp Jacksonville.  William and I had been connected on Twitter but had never met in person before!
That's one the many great things about WordCamp US; you are going to meet people in person that you only connected to via email or on social media. At the same time, you are also going to see old friends from other camps you attended.
Setup Time
Our setup was at 2 pm, so we went into the venue and looked for our space.
We had 20 boxes waiting for us! The team started unboxing swag and setting up two tables. The atmosphere was full of excitement and energy.  Many organizers came by while we were working to check if we were ok, which was also very nice.
Our own Philip Crout just flew in that afternoon and came over to join at setup. Although I have been working with Philip for years, I had never met him in person!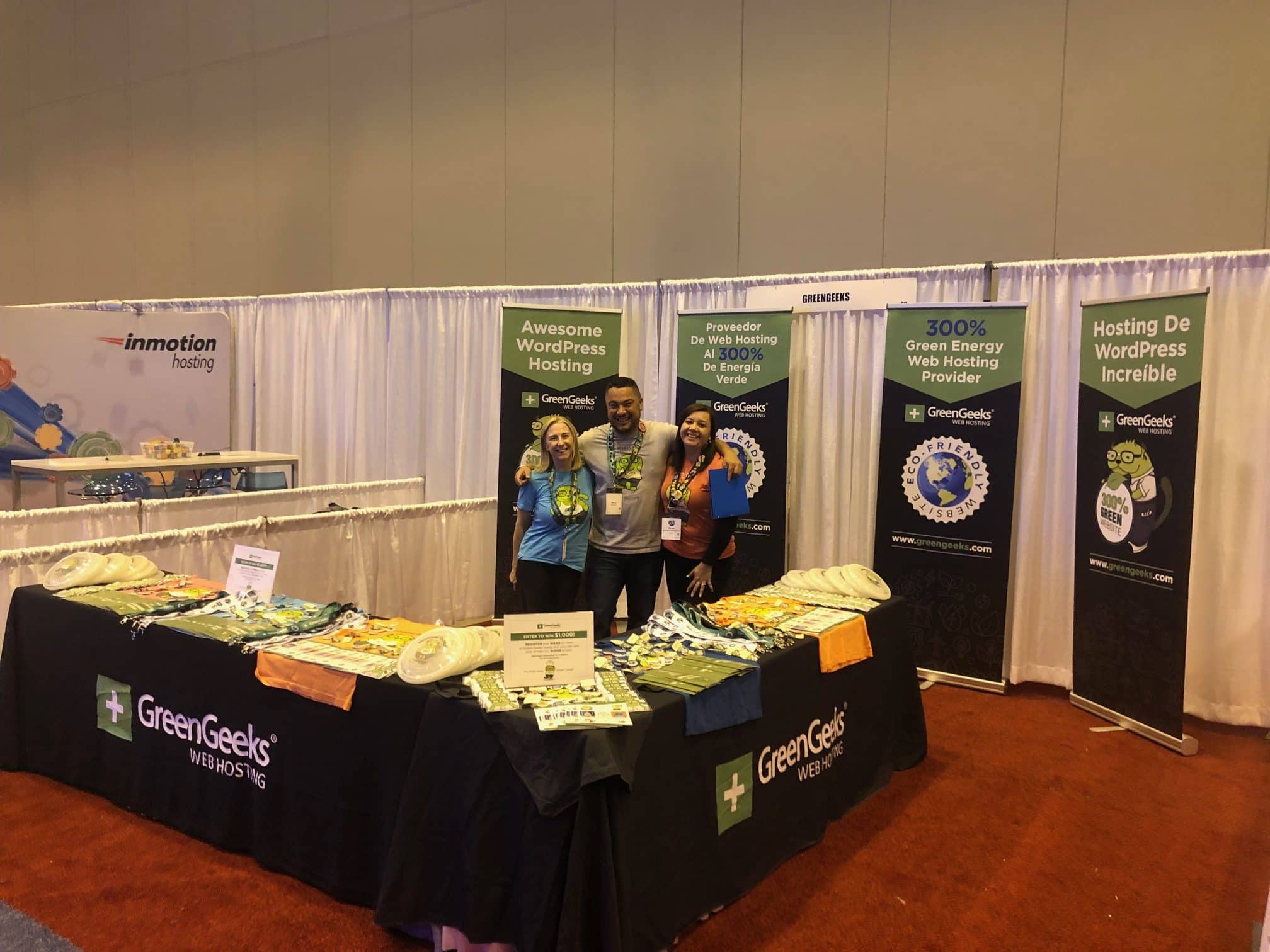 Sponsor-Volunteer Dinner
The Sponsor-Volunteer Dinner was held on the second floor of the same venue and some people were wearing costumes since it was Halloween night.
I came across a lot of people who I had met at other camps, such as Bridget Willard.  And I met up with several people who I had only worked with via Slack, such as Cami Kaos and Courtney P.K. It is nice to finally put a face and person to a name!
Day One of WordCamp US 2019 in St. Louis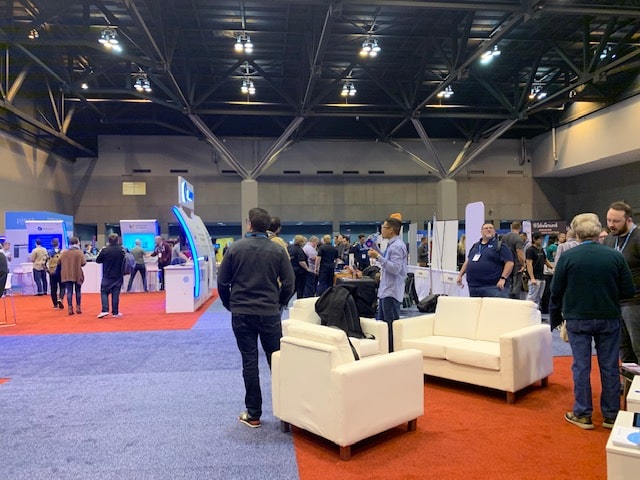 On day one, our CEO, Trey Gardner, joined us at the booth. Right away, we started talking to people coming to us and asking about GreenGeeks.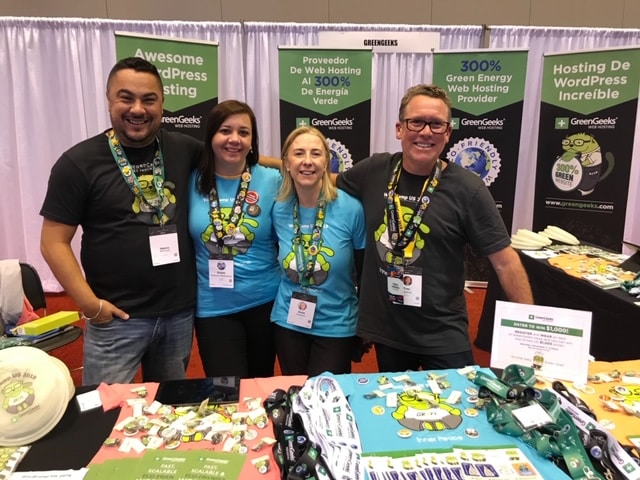 I went to visit the Volunteers table and thanked them for all that they do.  We all know how important they are to the success of a camp.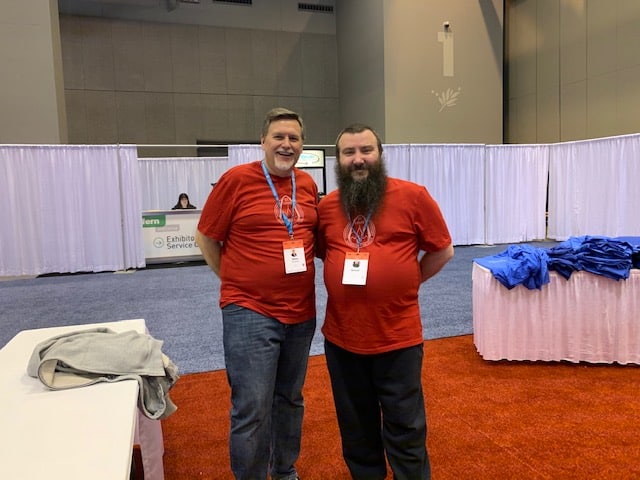 While the team was hard at work, I went around and said hi to some of the other sponsors with whom I did other camps. This included Adam Warner from GoDaddy, Kathy Zant from WordFence and Mark Maunder, the CEO of Defiant.
I also met new friends from other sponsor tables, such as Stacy Carlson with TextExpander and Gregory Karelitz from Hubspot. Alex Juchniewicz  and Dan Maby from WP&UP came to the booth to say hi. I had never met Dan (nor Alex) but had talked to him on the phone many times as GreenGeeks supports the WP&UP cause.
It was great to meet both of them in person.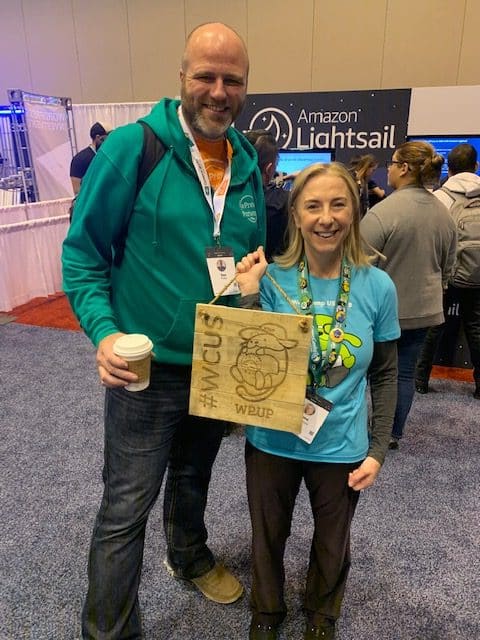 Here are some thoughts Dan shared with me:
"Some of the WP&UP Team has the honor of spending time with the WordPress community at WordCamp US  2019.  It was particularly exciting because it allowed us to spend time with members of the GreenGeeks team, people we had been working online with for nearly a year, and this was the first time meeting in-person.
The event was particularly special for myself, as it was at this WordCamp in 2018 that I had the pleasure of meeting Trey. Since the initial meeting, GreenGeeks has been an integral part in the development of positive mental health support within the WordPress Community.
We look forward to continuing our relationship and helping to build a healthier community together, as we move forward".
Meeting More People at WordCamp US 2019
As the morning continued, Roger Williams and Brady Hale from Pressable came to the booth. I had met Brady at WordCamp Orange County and Roger at WordCamp Denver! They introduced me to  Nick Adams with WP Buffs.
Later Jessi Gurr, the Minneapolis Organizer also came to our booth to say hi. I had only exchanged emails with Jessie, so it was nice to meet her in person.
Before leaving the venue, I saw Joe Simpson, the Santa Clarita WordPress Organizer whom I met in Orange County and then again at WordCamp Long Beach. I also saw Francesca Marano from SiteGround, whom I met at WordCamp Orange County.
Francesca and I spoke Italian for a little bit and discussed some of the local Southern California camps.
We had some catching up to do.
Leaving St. Louis
Unfortunately, I had to leave early during the first day of camp to return to LA. It was really sad to say goodbye to my team and everyone at the camp… and I did not even get to meet Kaumil Patel who was flying in that afternoon.
I decided to ask Marco to write about his experience of the camp from the moment I Ieft.
In the meantime, I really want to personally thank the Organizers and the Volunteers and everyone who made WordCamp US 2019 a success.
And here's Marco.
Marco and Day 1.5
So we said goodbye to Anna and she didn't write about herself. But what is there to say about Anna? She is a fantastic person to be with. I was ecstatic to meet her because of all the people that have been there for me at GreenGeeks, she is the one I cherish the most. But we understood why she had to go.
Sorry to all my other 90+ GreenGeekers out there. You are all still among my favorites.
The Camp continued and people were really happy with the swag. They had absolutely no issues in telling us how much we've improved in that regard.
The swag is just awesome!
Once again Trey and Anna did a great job making sure there was lots of it and that it was special and unique. I obviously collected my very own GreenGeeks WordCamp US T-shirt, which is now part of my wardrobe alongside the other WordCamps I've been to.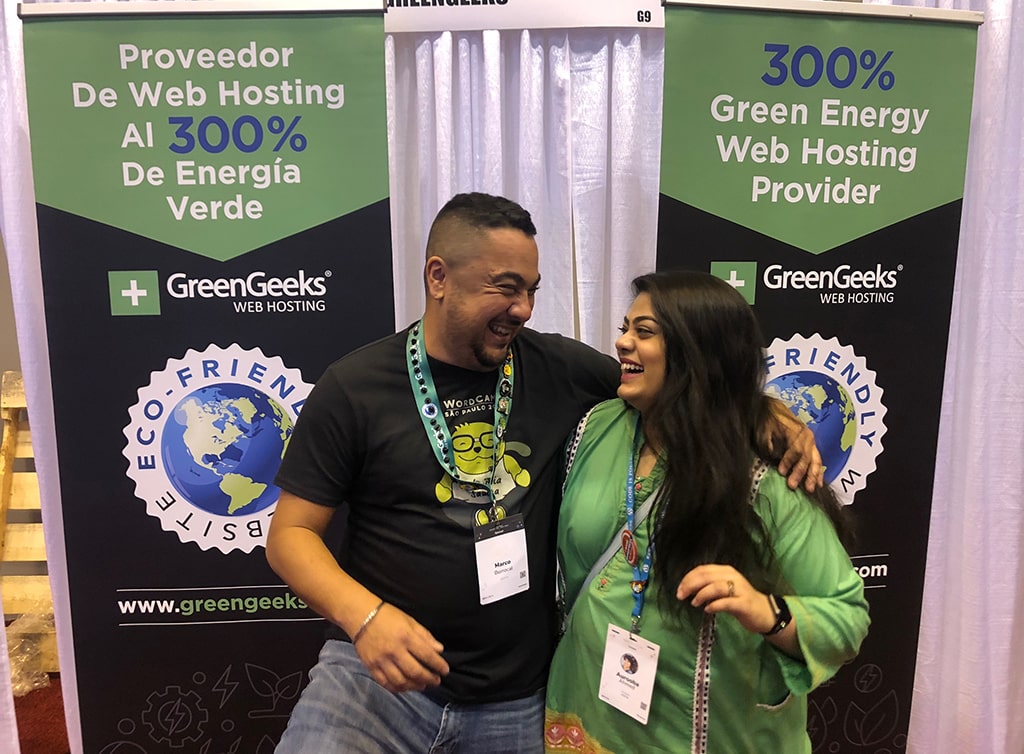 As the Camp unfolded, many people came to our stand. Swag came and went, and overall, I think attendance was quite high. Lunch on the first day was in this huge hall and it was pretty much the same setup as WordCamp US of last year in Nashville.
Unfortunately, I wasn't able to attend the workshops or talks, which are one of the things I like about WordCamps. But what I loved about this one was to see so many familiar faces and now new ones I had reached out to over the year.
I speak with them from both sides of the same coin: a) organizing and being active within the WordPress community, and b) working for a web hosting company that loves to help out, such as…well, us!
Before I knew it, it was 5 pm and day one was over. It was time to head back, charge some batteries and hit the after-party.
After-party Time
This was by far the most unusual after-party I have been to. It was held in the City Museum, which is like 10 blocks from the America's Center Convention Complex.
To say this museum is strange is an understatement. I figured it was a standard museum where we would eat snacks and drink cocktails.
Man, was I wrong.
This museum is in an old shoe factory that was bought and converted into a museum full of caves, huge fish tanks, hand-sculpted tunnels, tree houses, vaults, tons of safety deposit boxes, hamster wheels, a Ferris wheel on the top floor, school bus hanging on the top floor, slides that go down multiple floors and much more.
Of course, there was room to host all of us. The party was just wild. I stayed with Phil Crout (who is a great guy), Ruth Kalinka from Philly, my bro Jessi Gurr (Gurrrrrrrrrrrrrrrrrrr), Laura Bryant from MN and all who are part of the WP Community.
I lost track of my great and bright WordPress maniac, Aurooba, who came in from Calgary for WordCamp US, alongside the other organizers from WordCamp Calgary.
Like I said, it's such a joy to hang out with fellow WordPress community organizers.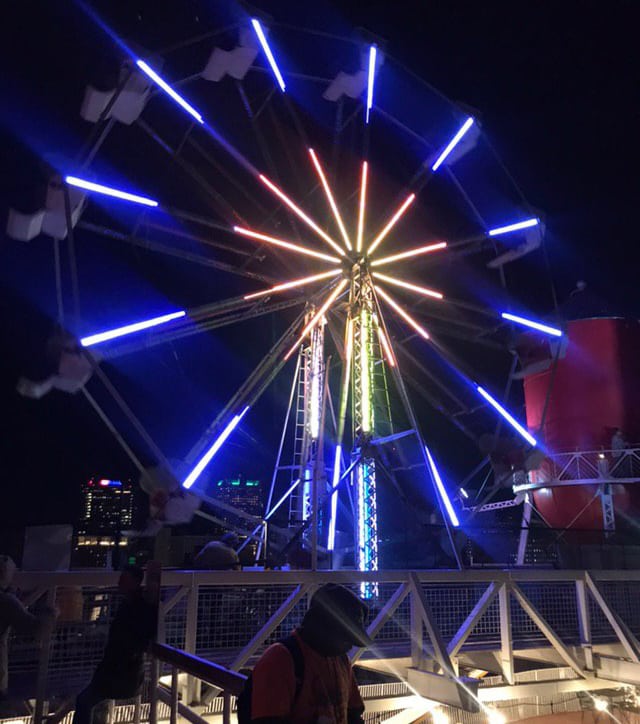 There were a lot of people at the party. But since the place is so big, they were scattered all over the place. The food was good, the vibe was great and the party finished at about 11 pm. But of course, as WordPress geeks that we are, the party must go on.
So on to the after…after party.
The after….after party was at the hotel right in front of the venue, the Marriott. So we sat there at the hotel bar. There were plenty of us, however, I sat with the lovely Jessi Gurr, Laura Bryan and Phil.
We had a few beers and went back to our rooms to get ready for day two.
Day 2.0 of WordCamp US 2019
On the second day, we were joined by Kaumil, our COO here at GreenGeeks. It was great to see him again as I had met him at WordCamp Nashville last year while I wasn't working for GreenGeeks at that time.
We had breakfast (Trey, Kaumil and myself) whilst Ericka and Phil were at the venue. It was good to speak business and our plan of approach on the second day of the Camp.
Kaumil and Trey have come a long way being they are the founders.
On the second day, and we forgot to mention this, we upped our WordCamp US 2019 giveaway. Initially on day one, we announced we would do two winners, each getting $1,000 for wearing any of our swag and being there.
On day two, Trey upped and doubled the offer which went for $2,000 each. But this time, you had to tag us on social media and be there wearing our swag.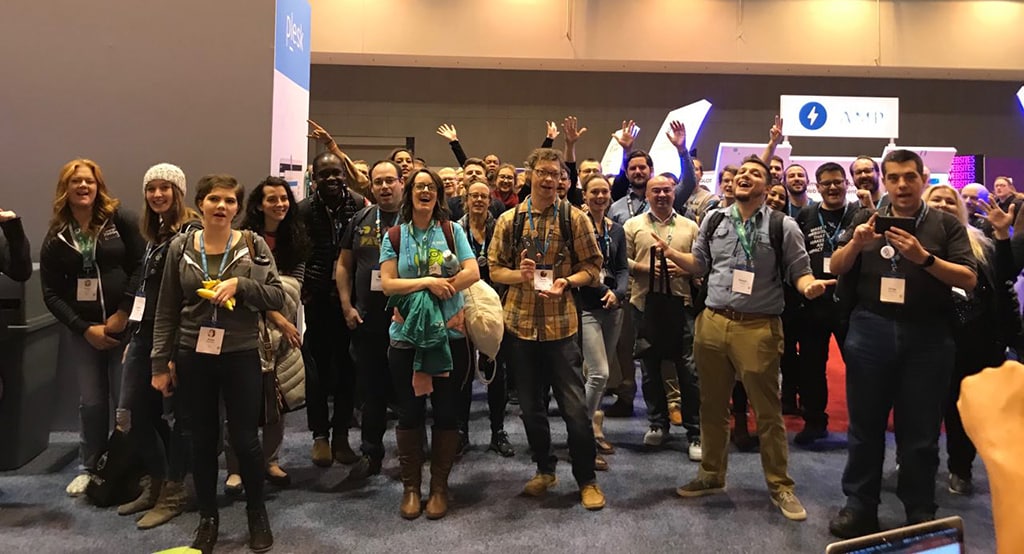 The Day Continues… with Giveaways!
So as the hours went by, and we were giving away swag left and right, talking to everybody and taking pictures, LOTS of pictures, WordCamp US was winding down.
So at 3:30 pm, we did the raffle.
We gathered tons of entries and started to call out names. I won't say who, but man a LOT of people missed out on money by not being present.
Unbelievable! We did get winners, though.
Bob Stark won $1,000. Sorry, we couldn't make it after the camp! I know you invited us to dinner and the casino after the camp. Hope you enjoyed it!
Our second winner is someone we were really happy about who had won. Winfrid Theolus attended WordCamp US 2019 representing an eCommerce site and organization where they help small immigrant business owners sell their stuff online. In the meantime, the organization gives sellers knowledge about WordPress and what not.
This was a really nice backstory to take away and we were extremely happy he won. Since he had the hashtag and picture on social media, he won $2k in cash. Congrats Winfrid!
Our last winner was a fellow Brasilian. We didn't have to give this one out, but what the heck, we are a company that's just full of surprises! Parabéns pra você
Small Get Together and Goodbyes from WordCamp US 2019
After wrapping things up in record time, or our stuff would be left behind, we packed our bags and decided to rest a bit in order to have dinner. So the last of us (Ericka, Trey, Phil, Kaumil and I) went to have dinner at the Missouri Athletic Club, which was like going back to the Mad Men days.
All that was missing was a Donald Draper. And Joanie.
But nevertheless, it was fantastic to be there and recap what the year has been as far as WordCamps as this was the last one for a few of us. And we discussed briefly our plans for the next year.
I felt this was a very nice thing to do as we are in the final stretches of 2019. Before you know it, it's February and we are back at it.
This being our first year of being a global sponsor for WordCamps, we can tell you that it has been a great experience for all of us. We are going to work really hard to make the second year even better.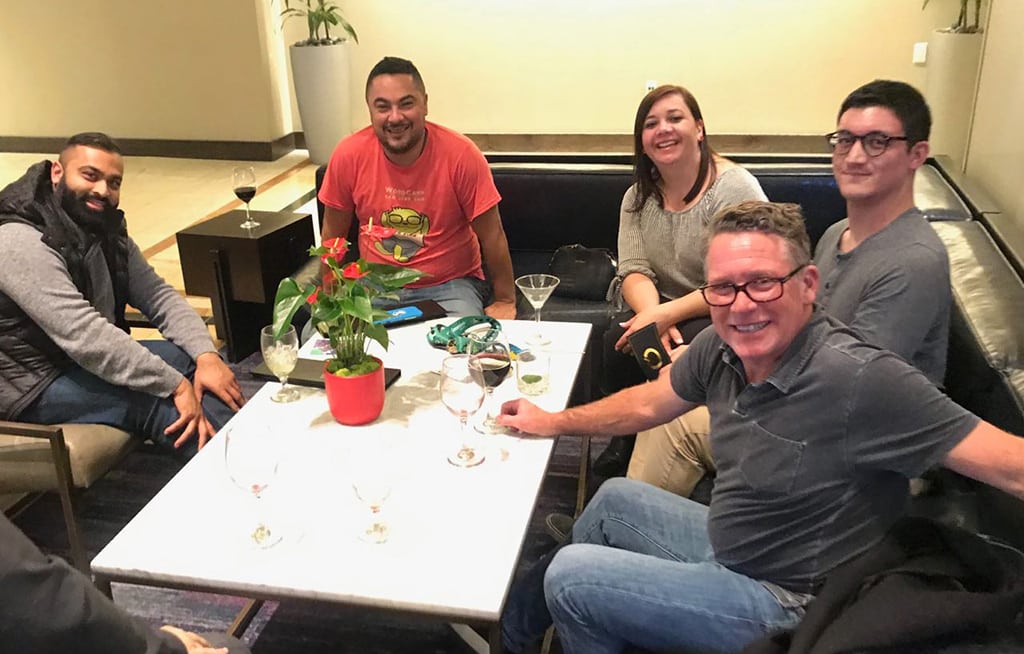 After we had dinner, we went back to Marriott, which is where everybody was located. I got to share a few more drinks with our crew before Trey and Kaumil decided to rest and begin their journey back home.
Phil, Ericka and I stayed until, well, we got tired too. After that, I gave them all a huge hug and told them I would see them again soon. It was special to have Phil with us as he is the most senior of us all…and the youngest.
And then, it was time to go home. A huge thank you to the organizers, volunteers, attendees and speakers, for making this a fantastic WordCamp.
See you all soon!