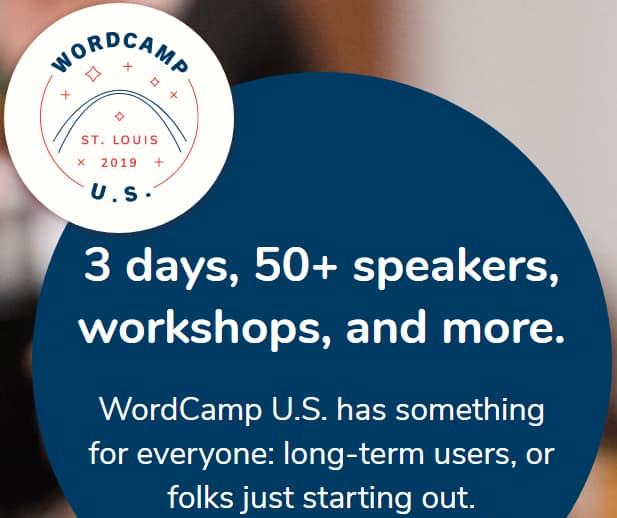 From November 1st through the 3rd, be part of the biggest camp of them all! WordCamp US 2019 kicks off at America's Center Convention Complex in St Louis, MO. And to top it all off, GreenGeeks is going to be there ready to hand out some swag!
Stop by and meet up with Trey, Anna, Ericka, Marco, Phil and Kaumil as they ready themselves to answer questions and hand out some memorable stuff.
Sadly, I won't be attending this camp. I have a charity event that weekend, but don't let that stop you. The GreenGeeks A-Team will be there and look forward to meeting up with you.
This three-day event delivers an incredible number of speakers covering a wide range of topics. So whether you're new to WordPress or a seasoned developer, this is the camp you'll want to attend.
What to Expect at WordCamp US 2019
Being the largest WordCamp of them all, you can bet that there will be a great deal of amazingness going on. Join thousands of others in networking and attending the informative and engaging talks available.
For instance, you'll come across sessions like:
And this doesn't even scratch the surface of WordCamp US 2019. There's also a ton of other talks, workshops and a wide scope of sponsors all ready to help you learn more about the WordPress experience.
Starting from 9 am that Friday and running through to Sunday, you'll be hard-pressed to attend all of the incredible talks at this camp.
And to top it all off, Matt Mullenweg, heart and soul of WordPress will deliver the closing of the camp! Make sure you attend this as Matt shares his thoughts regarding the "State of the Word."
Fun Facts About St Louis, MO
Although WordCamp US will probably take up a lot of your time, don't forget where you are. St Louis has a lot of fun things to do and is rife with history.
For instance, did you know:
St Louis is home to the Missouri Botanical Gardens, which is among the top three botanical gardens on Earth! So if you love the outdoors and nature, you might want to stop by and check it out.
The Gateway Arch, the tallest in the United States reaching 630 feet tall, was built in St Louis. And this is probably one of the most recognized arches as it's appeared in movies, games, television and a vast array of other media.
When it comes to Mardi Gras, St Louis is only outdone by New Orleans in terms of hosting the celebration.
The arch itself is one of those landmarks that many people would love to snap a picture of while traveling in the US. I know I'm one of them.
So, if you manage to take an amazing shot of the Gateway Arch, don't forget to tag me on Twitter. I'd love to see and share the experience.
Have an Awesome WordCamp, St Louis!
My biggest regret is that I won't be able to attend WordCamp US this year. As I said, I have a charity event planned for that weekend. It was a very difficult choice to make as this camp is sure to have some amazing experiences.
Don't forget, we'll have a full team there this year ready for your needs. Stop by and say, "Hi" to GreenGeeks and grab some of our awesome swag.
I'd like to thank the organizers, sponsors, volunteers and attendees for making WordCamp US the best and largest camp to attend. It's your commitment to the WordPress community that makes these events possible.
Be safe and have fun, St Louis!