This year, GreenGeeks is noted as a sponsor for WordPress Accessibility Day. This event starts on the 27th of September and is a 24-hour global event. That means you can attend the live talks regardless of what time zone in which you live.
Registration for this event is free unless you want to donate. Although donations aren't necessary to enjoy the event, they are helpful in making sure events such as this continue in the future.
Plus, you can add a bit extra to your donation to receive a shirt specific to WordPress Accessibility Day.
Personally, I rather enjoy memorabilia and merch from events such as this. In fact, my daughter still walks around with one of our WordCamp shirts from four years ago.
What is WordPress Accessibility Day?
Started in 2020, WordPress Accessibility Day is essentially a day of recognizing those with disabilities using the Internet. This includes those who suffer from various visual impairments, hearing loss, mobility complications, epilepsy, dyslexia, and a host of other complications.
As roughly 16% of the world's population has a significant disability, a more accessible way to use the Internet is ideal for everyone. This event helps bring to light the importance of accessibility and why it's vital for online success.
The event is held online as attendees are able to register for free and watch the live streams during Zoom webinars. And because WordPress Accessibility Day is a 24-hour event, attendees can watch live streams regardless of where they live across the globe.
If you miss a specific talk, don't worry; recordings are available on the WordPress Accessibility Day's YouTube channel.
I like the idea that recordings are becoming more apparent today. There have been a lot of talks I would have loved to see but were in a WordCamp on the other side of the world. This lets everyone enjoy the content at their leisure.
What to Expect from WordPress Accessibility Day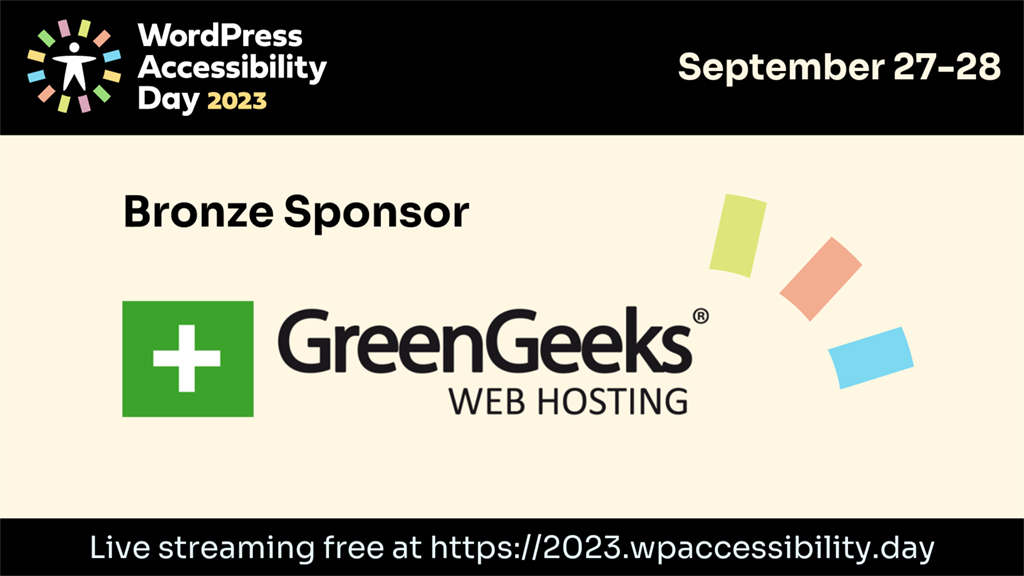 The event starts on September 27, 2023, and begins at 14:45 UTC with opening remarks from Amber Hinds, Co-lead organizer. Afterward, you can attend more than 20 webinars covering a variety of topics.
Some of the talks that stand out most to me include:
These are just a handful of the talks you'll have access to on WordPress Accessibility Day. Others include everything from accessible email methods to creating animation pause buttons.
Regardless of the type of website you build with WordPress, there are topics for virtually everyone…figuratively and literally.
Register for Free!
Don't forget that registration is free. This one-day event has a lot of great webinars, available, and you don't want to miss out on the information provided. And if you miss a few because of timing, you can also access them on YouTube, as I mentioned earlier.
I'd like to end by thanking all of the organizers, attendees, volunteers, and sponsors for helping maintain the WordPress Accessibility Day event. You all demonstrate how an amazing community can bring together so many creative and awesome minds.