Starting a WordPress dropshipping business is a great way to make money online. However, it can be a daunting task when starting out. But don't worry, this guide will show you the basics of getting started.
In reality, a website built for dropshipping isn't very complicated to design if you know what you need. In particular, you will need reliable and fast web hosting for the site. And, you will need a theme that is built for dropshipping, plugins to support your website and a marketing plan.
While these may sound obvious, I assure you they are no less important.
What Is Dropshipping?
Dropshipping is a very popular and profitable business model for online stores.  Unlike retail, where a store will own the product and sell it to a visitor, the online shop will buy it from a third party and have them ship it.
This means that starting a WordPress dropshipping business has very few start-up costs.
This is because you do not actually ship anything yourself and only buy the stock when a sale is made. This makes the model extremely profitable.
Free WordPress Dropshipping Themes
A WordPress theme changes the appearance of your website and how they are designed can affect business. For that reason, it is important to select a WordPress dropshipping theme first.
Any theme you choose should include the following traits:
Speed
Mobile Friendly
Optimized for Conversion
Great Support
Here are 3 free themes that I recommend. But since this will drastically affect the design of your website, it is a good idea to explore multiple options.
1. WooCommerce Storefront
The WooCommerce Storefront theme has the advantage of being the official layout for the plugin.
It was built to be SEO friendly, responsive, eCommerce focused, and accessible to beginners.
Since it is maintained by the core developers of WooCommerce, it has deep integration options with the plugin and you never need to worry about an update causing problems.
On top of these advantages, it is completely free to use. However, it is worth noting that there are premium add ons you can purchase for additional features.
2. Da Vinci
The Da Vinci theme was designed and is maintained by the same developers behind the AliDropship plugin. This makes the theme the perfect choice for websites that choose to set up an Aliexpress dropshipping website.
It has a host of features including multi-level menus, grid product layout, promotional countdown timer, payment icons, and much more.
On top of this, it is free to use.
3. Astra
If you plan to run a multifaceted website, the Astra theme will serve you very well. It is a multipurpose theme that you can build almost any kind of website on.
This makes it a great choice for developers that may only want to dedicate a small part of their website to dropshipping.
While it may not be made for eCommerce ventures, it can handle them just fine. It has extremely fast load times, is completely customizable, and accessible for developers of any skill.
Note: To download it for free, scroll down the pricing page to find the "Download Free Astra Theme" link.
Consider Premium Themes
While free themes are great to start with and can be customized to scale up with your website, it's not a bad idea to consider using a premium theme.
These themes typically come with higher levels of support, which are great for beginners. On top of this, they have many built-in features that can save you time.
Flatsome | Multi-Purpose Responsive WooCommerce Theme
If you have done any research at all for finding the perfect theme for your dropshipping business, I am certain you have seen this one.
Flatsome is an extremely powerful, yet user-friendly theme that allows you to build a stunning website. On top of being extremely customizable, it has wonderful support options available and it is lightning fast.
Arguably the best part about this theme is how easy it is to use. Thanks to this trait, it is the perfect theme for both seasoned veterans of dropshipping and beginners.
WordPress Dropshipping Plugins
WordPress is an amazing platform and part of what makes it so popular is the wide variety of plugins it offers. Plugins are a small piece of software that enables your website to perform an additional feature.
By itself, WordPress is just a blank slate for blogging.
Thus, if you want to turn a WordPress website into an eCommerce powerhouse, you are going to need to install a few plugins.
If you are completely new to this, it is important to remember that you want to use as few plugins as possible. Every plugin that you add to your website will slow it down, which is bad for business and SEO.
1. WooCommerce
WooCommerce is without a doubt the most integral part of any eCommerce driven website. This plugin transforms WordPress from a blogging focused platform into any kind of store you want.
In 2018, WooCommerce held 21% of the global market share in eCommerce. That's 1 in 5 websites!
Part of what makes WooCommerce so amazing is the enormous reserve of additional plugins you can choose from. Many of these plugins rely on WooCommerce to work.
This means if you choose to not use WooCommerce, you are losing access to amazing plugins that can make or break your store.
This is definitely the first plugin any online shop should install.
2. WooDropship
Odds are if you are planning on starting a dropshipping business, you will be using AliExpress to select products.
WooDropship makes it easy to select and add products from AliExpress. Once you select a product, it will be added to your WooCommerce store automatically.
Some of the key features include order auto fulfillment, daily product sync, pricing automation, in-app image editing, and more.
If you are interested, give the 7-day free trial a try.
3. AliDropship
AliDropship works very similar to WooDropship. It allows you to select products and import them automatically to your WooCommerce store.
Its key features include search & import, automated order, image editing, a cashback system, product reviews, and much more.
If you are planning to sell AliExpress products, this plugin is very feature-rich.
4. Abandon Cart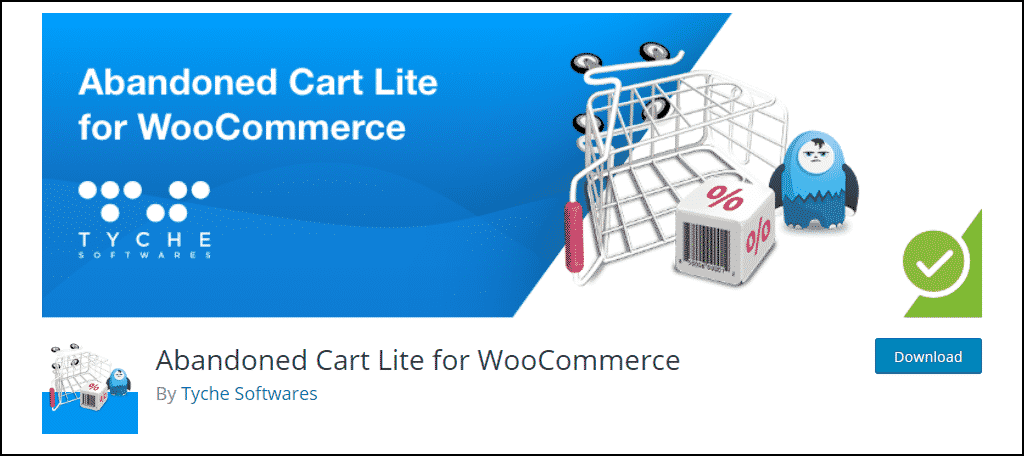 While the goal of every online store is to actually sell products, visitors are more likely to not buy anything. In reality, they are going to add an item to their cart and then change their mind.
For this reason, your visitors are going to need a way to abandon their cart.
The Abandon Cart plugin makes it easy to clear out a visitor's shopping cart, but it does much more than that.
It will send out email notifications to visitors who have emptied their cart, reminding them about those products.
This is a great tool to use to bring back customers and entice them to make a purchase.
5. Live Sale Notifications
Shoppers are very susceptible to peer pressure, and that is no different when it comes to online stores.
The Live Sales Notification plugin allows you to display a message every time an item sells on your website.
The plugin makes customers aware that other shoppers are making the same purchase, which helps them justify buying the item.
On top of this, it also helps customers feel safe on your website.
Let's be honest, there are a lot of shady websites out there. Seeing other customers shopping on your website makes others feel safe.
Marketing Strategies
Getting your store set up with a theme and some helpful plugins is only the start. If you want to actually make money, you need to sell items and that means you need customers.
It's no secret that eCommerce is extremely crowded and it doesn't help that the average person will immediately think Amazon when they shop online.
You need a way to stand out from the competition. And that starts with picking your marketing strategy.
1. Blogging
Blogging is an amazing way to create content for your website that can drive traffic and boost your SEO. There is a reason that most websites have some form of blog content available for visitors.
It drives traffic.
You cannot sell products to an audience that doesn't exist. Thus, the hardest part of any online store is to build an audience.
You can create a blog about anything, literally anything. Although I do recommend keeping it in line with what you are selling.
For example, if you are selling clothing products, create fashion articles and reviews.
On top of creating content, it makes your brand look like an authority on the subject matter.
And the best part is WordPress dropshipping makes blogging incredibly easy. Everything is already set up and ready to go.
2. Social Media
Let's not beat around the bush. Almost everyone reading this has used a social media platform like Facebook, Twitter, Reddit, or something similar.
Facebook alone gets over 2.41 Billion monthly visitors in the second quarter of 2019. These platforms are extremely popular, to say the least.
You need to have a presence on these platforms and use as many as possible. Growing your social media profiles is no easy task, but the rewards justify the means.
3. Create a Deal
Deals are a great way to attract visitors and you can boost sales by making it seem like there is a great sale going on.
In truth, the sale doesn't even have to be that good. However, a sale will certainly bring in customers. This is a great material to write about in blogs and share in social media posts.
For example, let's say it is the Fourth of July.
You could create a blog about your favorite barbeque and mention that you are running a sale at the end of it. While at the same time, posting pictures of the barbecue on Twitter.
Simple, but effective.
4. Offer Customer Good Service
Unfortunately, many beginners do not understand the importance of customer service.
Customer service representatives can help push buyers into sales and keep them coming back for more. It's what they do.
However, if you have really good customer service, you can get people talking about it. That word of mouth will translate into more visitors and greater revenue.
For instance, using WordPress dropshipping gives you access to a myriad of plugins. You can easily add a live chat system to engage customers.
5. Order Samples
This might sound like a weird one, but hear me out. You can usually order sample products to test out, but you can go even further than that.
Sometimes a stock image does not do a good job portraying an item in use. And as we all know, a picture is worth a thousand words.
In the hands of a creative photographer, you can create some really good product images and even share them on social media platforms to drive traffic and sales.
On top of this, you can write your own product review, in a blog format, to highlight how you use the product in your everyday life. This is a great way to generate shareable content to boost traffic and all it takes is one sample.
It's Not Easy
A large misconception is that creating a successful WordPress dropshipping business is easy. What's easy is actually starting the business, but making it successful is a different story.
You could create a great website with an excellent design, but in the end, it might not matter. To be successful, you need traffic.
It's the same for retail stores. Ever wonder why there are no shoe stores in the middle of a forest?
Because there isn't any foot traffic (okay, pun intended).
If you are feeling stressed out at the start, it is completely normal. You simply need to keep trying until you find the right business model.