Guest authors and bloggers are great to help generate content on your website. It's a symbiotic relationship where everyone wins; they get a link back to their website while you get another article to pique the interest of readers.
But how do you add a guest author to WordPress without setting up an account or registration? If you want guests to come back and continue writing, most of them will want some kind of recognition.
In this tutorial, I'll show you two simple ways of using WordPress to add an author without an account or website profile.
But first, you need to make sure you allow guest posts in WordPress. There are a few ways you can set this up, so it all depends on how you want external writers to create content for you.
Personally, I prefer using front end type of forms. It's easy to set up and let's you accept draft posts without the writer creating an account on your website.
Method 1: Using the Guest Author Plugin
Today, we'll use the Guest Author plugin. It's relatively new compared to others, but it's a very simple system that doesn't take much to include a guest author name as well as his or her URL.
It's one of the quickest WordPress guest author plugins you can use.
Install the "Guest Author" plugin in WordPress. Because so many plugins will show when searching for "guest author," make sure you install the one by Belal Sejouk.
Go to Settings and click, "Guest Author."
The only settings you can change are whether to show the tool in posts, pages or both. This is all personal preference regarding how you want to operate the website.
For this tutorial, I'm going to leave them at default. This means I can modify the author in both pages and posts.
Click the "Save Changes" button if you make any modifications.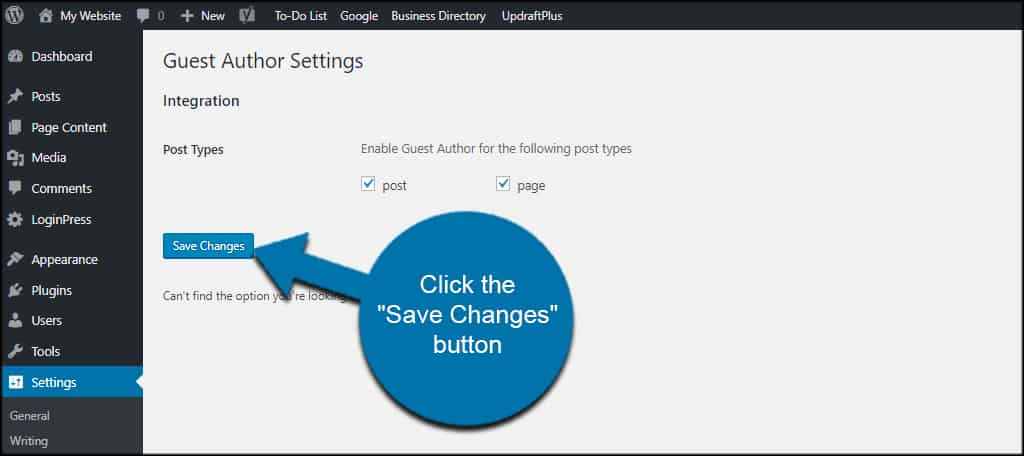 Add a new post to your site.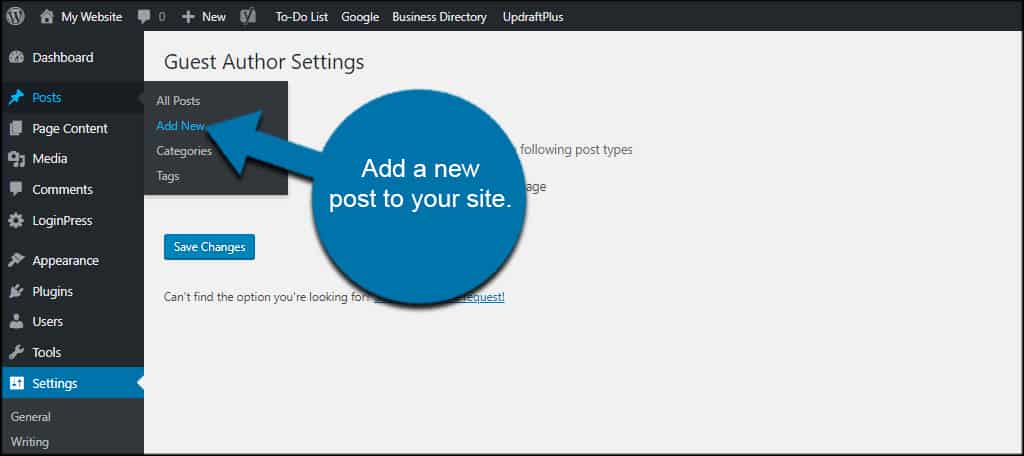 Go to the "Author" section by scrolling down the post. It may be one of the last things in the post creation screen.
By default, WordPress adds the author to posts according to logged in users. If the post isn't from a guest blogger, you'll want to keep this as default.
Click the "Guest" tab if you're adding a guest author's content.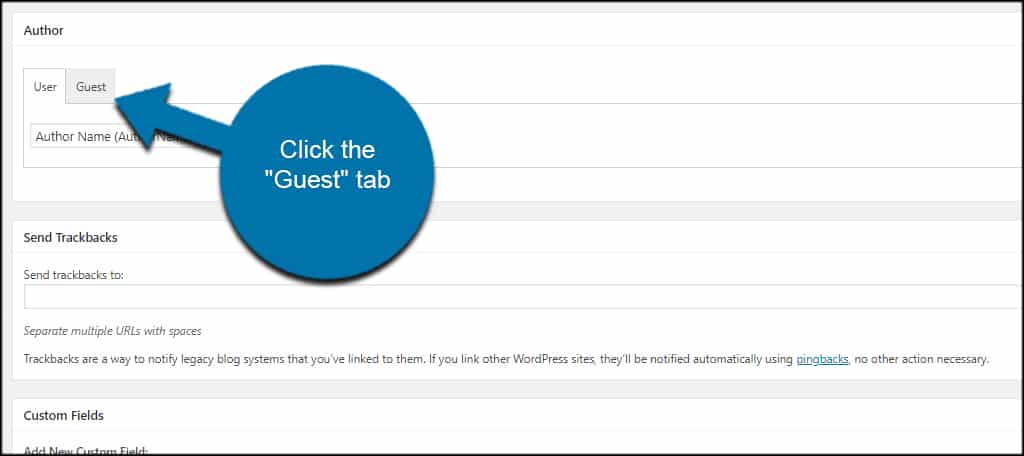 Enter the author's name.
Input the author's URL if there is one. This could be a website, social media profile or anything else the guest author wants to be associated with the name.
Add a description of the author. This is kind of like a short bio section.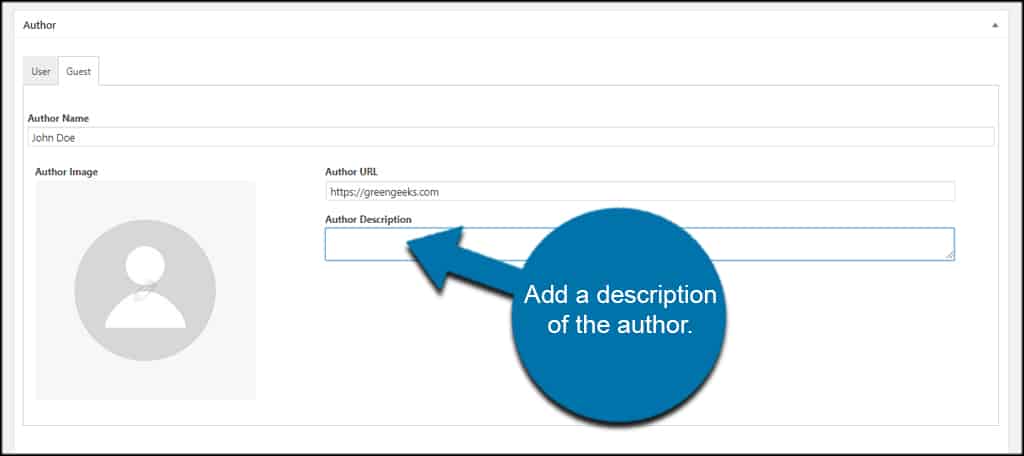 Click the box to add an "Author Image."
This will open your WordPress media library. Just select or upload an image like you normally would to the website.
Once you publish the post, the guest author box will appear.
The URL of the author is attached to his or her name in the byline of the post. The name in the author box is not the link.
Known Issues
As this is a newer plugin, it's still in development. Unfortunately, it doesn't work well with various themes. For instance, the image does not appear when using the ColorMag theme. However, it works perfectly in the ColorNews theme.
So it's a bit of hit and miss at the moment for support. However, you can modify the posts yourself to include the data in the theme.
Use the Custom Fields section in the post to fine-tune how the box appears.
For instance, you may have to add the custom field for author images manually for your theme. You may also want to consider modifying the code of your theme to use the custom fields listed.
Method 2: Using Custom Fields and Manual Coding
The second method to set WordPress to add an author to a post is by coding it manually. You will need to use custom fields in order for this to work, though.
Edit your theme's functions.php file. You can do this with FTP programs like FileZilla, using File Manager in cPanel or through the WordPress editor. For the sake of this tutorial, I'm just going to use the cPanel option.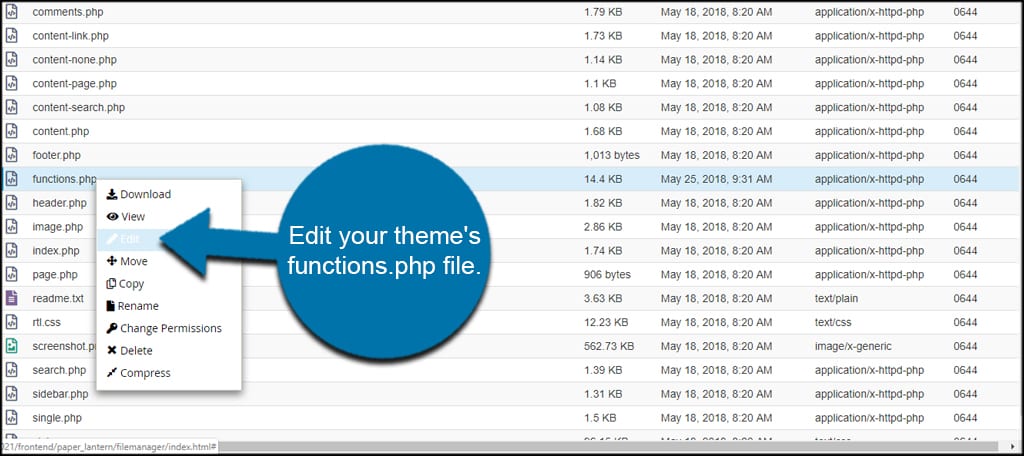 Paste this code into functions.php: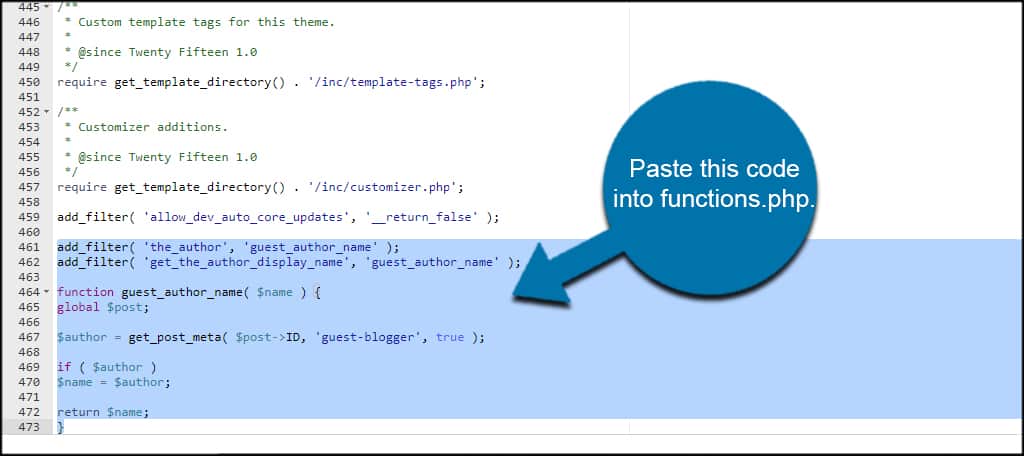 Once you save your changes, the theme will allow a new custom entry for the guest author name.
Take note of the "guest-blogger" portion of the above code. This is the name of the custom field you will use when adding the author's name. Simply set the value of this custom field to the name itself.
Give Guest Authors Support
Supporting your guest authors and bloggers is a great way to improve networking and mutual recognition on the Internet. Find the best methods that will help you promote those who create content for your site.
How often do you allow guest authors to create content? What kind of an impact have guest authors made on your site?
Michael has been in the tech industry in some form or another since the late 1990s. He's built a variety of websites using HTML, Joomla and WordPress. Starting his freelance writing career in 2012, he's completed thousands of projects world-wide covering a wide scope of topics. Michael is currently the Content Marketing Team Lead. Today, he manages a team of writers to create tutorials, blog posts and support content for customers. Outside of GreenGeeks, he manages a YouTube channel that helps others learn how to become freelance writers, bloggers and overall professionals.