Are you looking for an easy way to sort and search for images in WordPress? WordPress comes equipped with an easy to use media library that will meet most website's needs. Unfortunately, if your website focuses on images as the main source of content, you will find the lack of organization and the ability to quickly search a serious issue.
To compensate for this, you can use the Media Library Assistant plugin to add taxonomies to your images. Taxonomies include things like categories and tags. These will help you search and sort your WordPress images. Today, I will demonstrate how to use Media Library Assistant to add taxonomies to images on your WordPress website.
Why Do Taxonomies Help Image Organization
Naturally, WordPress lacks any type of sorting feature for the images you upload to the media library. This is a very big issue for most web developers who have websites that use images as the main source of content. Tags and categories are the most popular WordPress taxonomies. The plugin allows for to use and search for images that contain these taxonomies. You can also search for the image name as well.
This will save your staff precious time when they need to find an image. Saving time and reducing the workload on your staff is essential to running a website efficiently.
How to Add Taxonomies to Images in WordPress
Today, I will demonstrate how to use Media Library Assistant to add taxonomies to images on your WordPress website. This plugin is very easy to use and will take no time to master. For example, you may have a lot of images about animals, it would be a great idea to create a tag or category for each animal. This will make it easy for anyone trying to find a specific animal image. Of course, if you remember the name of the specific image, you can search for that name.
Installing Media Library Assistant
Let's start by going to Plugins and click on the "Add New" option.
Search for Media Library Assistant in the available search box. This will pull up additional plugins that you may find helpful.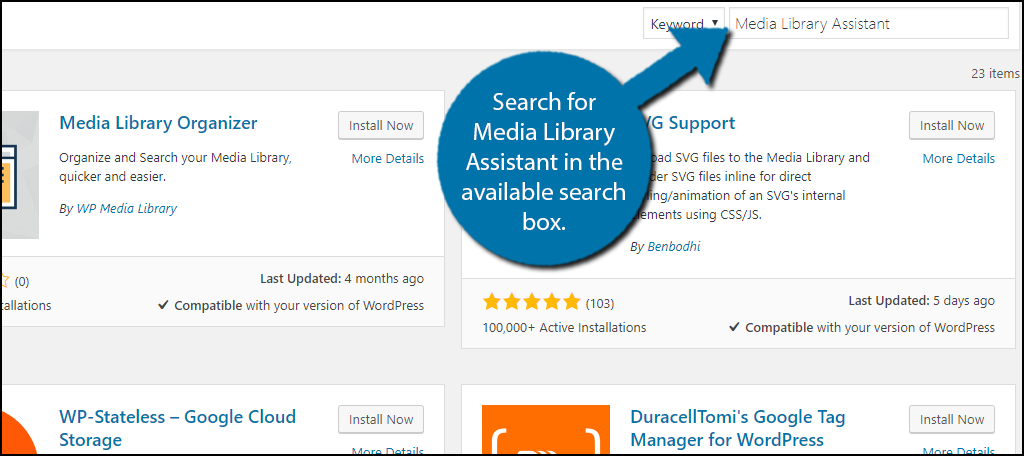 Scroll down until you find the Media Library Assistant plugin and click on the "Install Now" button and activate the plugin for use.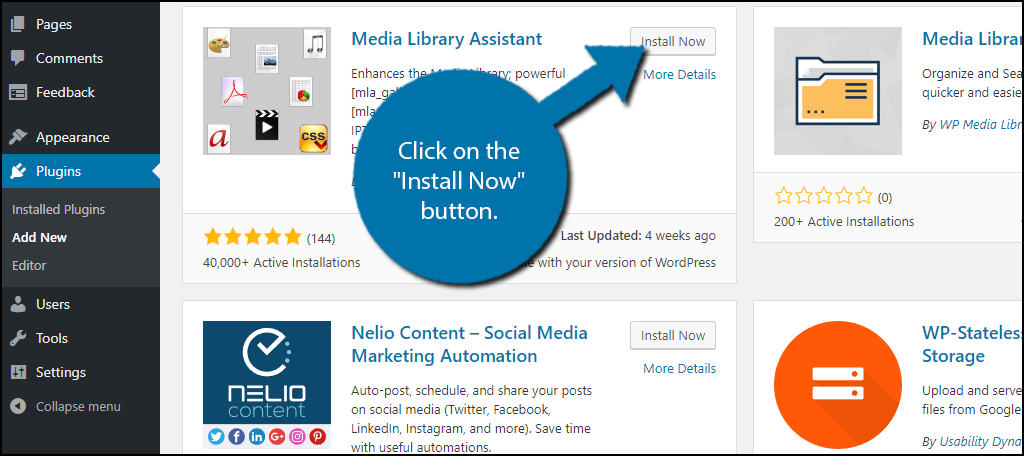 On the left-hand admin panel click on Media and select the Att. Category option. This will pull up the main settings page.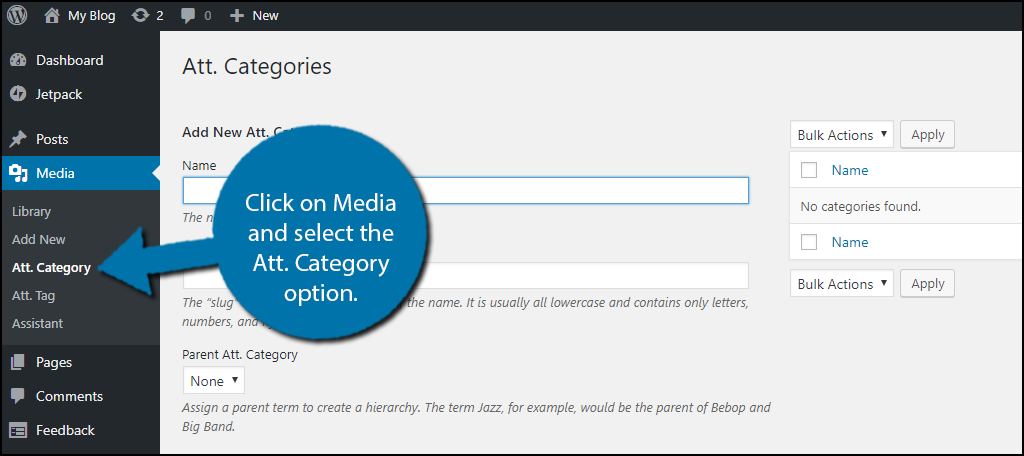 Adding Categories and Tags to Images
It's time to start adding categories and tags. You will, of course, need to create tags and categories to use. It is not necessary to use both and they can be used almost interchangeably. To set up categories, click on Att. Categories and to set up tags, click on Att. Tags. The process is the same for both.
Fill in the Name text box with the name of the tag or category you wish to make. You can also create a slug and a description. Click on the Add New Att. Category or Add New Att. Tag button.
Add as many categories or tags that you feel necessary. You can add them at any time. You now need to spend the time adding categories or tags to your images. This can be very time consuming if you have and want all of them organized, but I recommend only adding them to your most recent one or most used ones. Click on the Assistant option.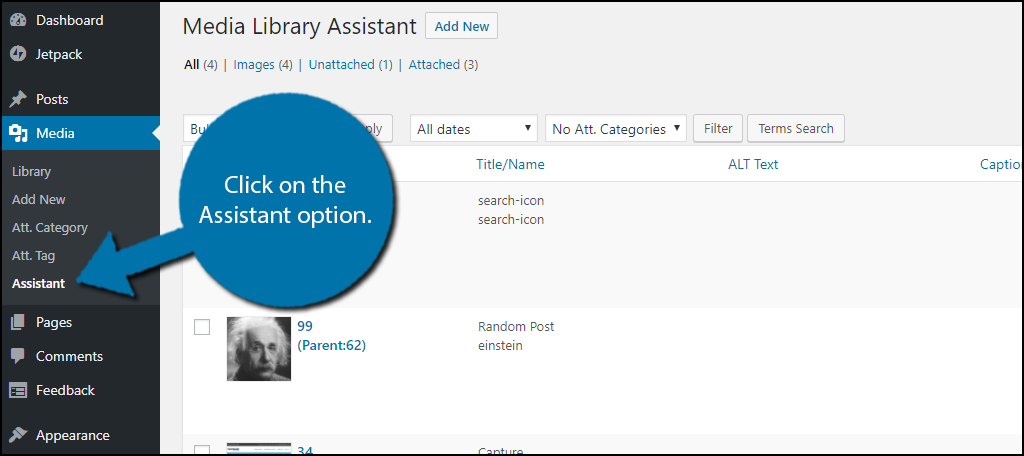 Here you will see all of your images in a list view. Click on the Quick Edit option underneath the image.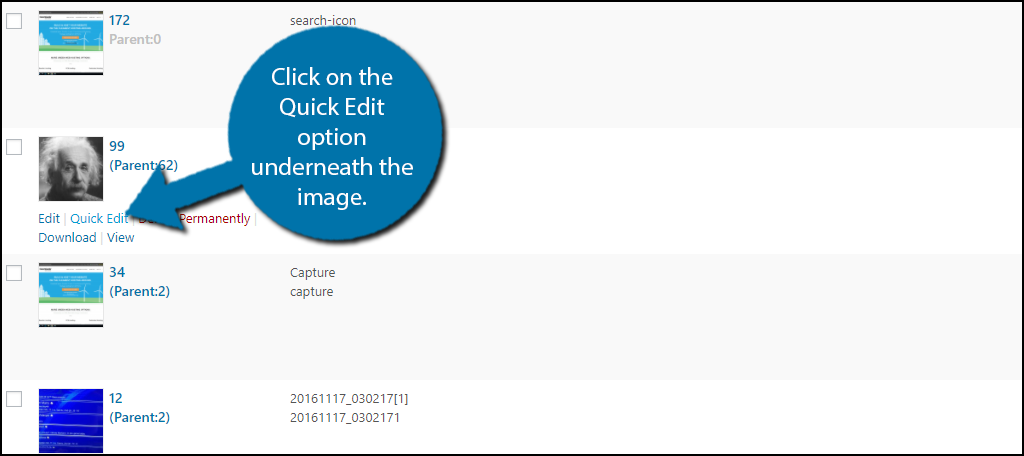 Add the tag or category to either the Att. Tag or Att. Category text box. You can add multiple tags. For example, you could add an Animal tag and a Dog tag because both are correct. Click on the Update button when you are done.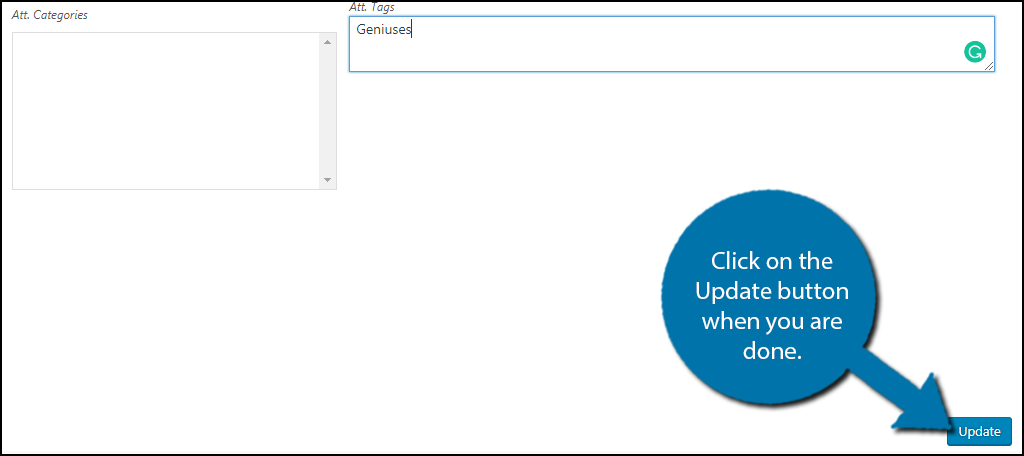 Click on the Library option.
The first thing that should stand out is the search box the plugin adds. Here you can search for the name of an image. This is an extremely powerful tool for websites that have thousands of images uploaded. Click on the Terms Search button.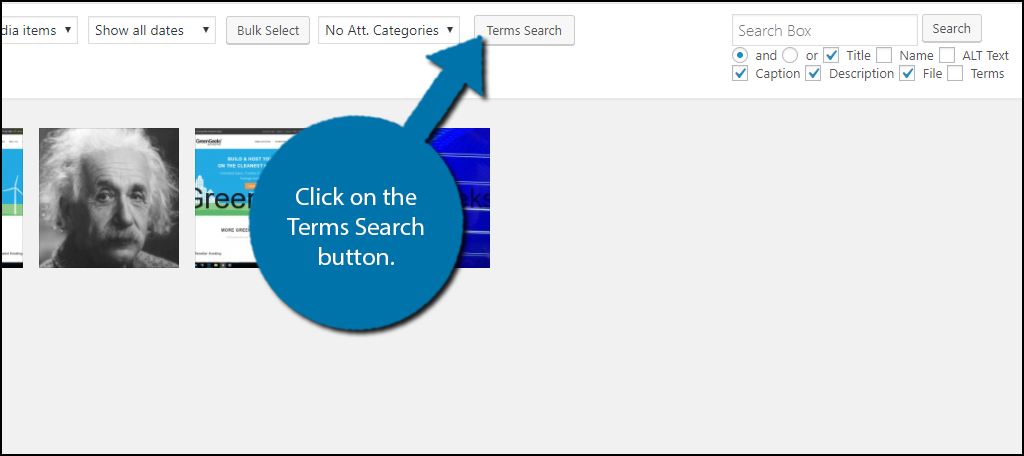 Here you can type in the category or tags you have created. Click on the search button and your results will appear.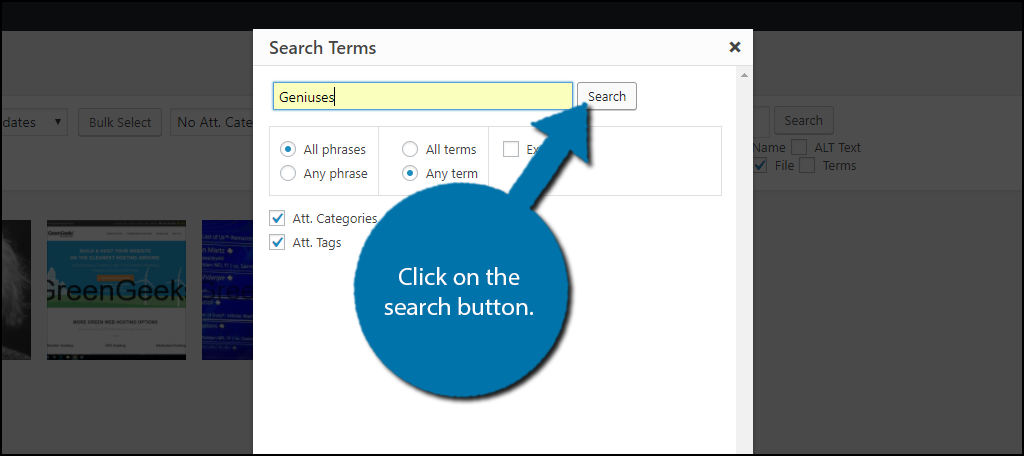 Note: I did experience an issue when testing the plugin. If you search using the search bar and pull up no results, the Term Search will also pull up no results regardless of if it should. You need to reenter your media library to fix the issue.
Congratulations, you have successfully learned how to search and sort your WordPress images by adding taxonomies to them. This is a great tool for websites that focus heavily on adding images to their website. Make sure to actively add all of your new images to categories or tags.
Improve WordPress to Save Time
WordPress is a terrific platform to build a website and that is exactly why it is the most popular platform to do so. However, WordPress is not perfect, it has shortcomings and this is one of the biggest. Websites can potentially be uploading hundreds of images per day and there is no way to organize them or search for one by default.
Have you added categories, tags, or both to your images? Do you feel like your images will be better organized now?
Robert has been writing tutorials about WordPress and other CMS for over 3 years since joining the GreenGeeks marketing team. Thanks to this, he has had the opportunity to research and master several areas of WordPress including plugin usage, SEO, website design, and social media integration. When he is not creating content for WordPress, Robert is digging up new content ideas for environmental pieces. These range from the pollution in our air to the danger's wildlife face. And with a bachelor's degree in electrical engineering, he is always eager to discuss the way our technologies are affecting the environment, especially when it comes to solar energy.