If you are a graphic designer, creating a graphic design portfolio website is a must! Unfortunately, it can be difficult to learn how to make a graphic design portfolio website from scratch. And due to the nature of the website, it needs to look good.
Today, I will demonstrate how to build one using WordPress.
How to Create A Graphic Design Portfolio
Everything begins with one thought, and a website is no different. Formulate a mental image of what your website will look like and what features it will have. As a graphic designer, you might even want to make a sketch of it!
Ask yourself who the website is for and consider how you can best reach that audience. After all, graphic design is a very broad term and not everyone is catering to the same audience.
For example, a logo designer and a flash designer are both graphic designers, but they are very different. Thus, they are trying to reach a different audience.
And write some of this down! Even the silliest idea in a brainstorming session can pan out if you are creative enough.
With a plan in place, you are ready to create a graphic design portfolio.
Step 1: Find a Webhost and Pick a Domain Name
No matter what type of website you are building, the first step is to always find a web host and pick a domain name. The quality of the web host you select will directly affect the performance of your site.
Thus, you need to make sure you pick the best one.
Here at GreenGeeks, we strive to deliver the best customer experience possible by giving our customers superb speed, strong security, 24/7 support, and web servers that are optimized for WordPress.
And all of this comes at an affordable price.
However, we separate ourselves from our competition through our commitment to the environment. The web hosting industry has an emissions problem and we aim to be part of the solution. To do this, we carefully calculate how much energy we use and purchase three times that amount in wind energy.
which means your website is actually reducing the amount of carbon used in the electric grid.
You will need to pick a domain name. It is the URL of your website and should be easy to remember, reflect what your website is about, and be available when registering the site. When you sign up with GreenGeeks, your domain name is free for the first year.
Step 2: Pick A CMS (WordPress)
The next major decision you need to make is what CMS you will pick. If you're completely new to web design, a CMS is a platform you use to build your website.
I cannot recommend WordPress enough. Due to the enormous number of customization options available, it can do just about anything.
And the best part is you can do it all without writing a single line of code.
This makes it ideal for beginners, but customizable enough for experts. With over a 34% market share, it is dominating the competition and for good reason.
For graphic design portfolios, WordPress offers an unmatched lineup of plugins that can help you display your graphics to visitors. The media library makes it simple to upload images, and there is plenty of room to expand your site.
So, I strongly recommend installing WordPress.
Step 3: Pick the Best Plugins and Themes
Without a doubt, picking the best plugins and themes are essential in WordPress. There are thousands to choose from and some are better than others. However, if you are new to the platform, you are probably wondering what exactly a  plugin and theme are.
A plugin is a piece of software that adds a specific feature or set of features to your website. Normally you would have to use code to achieve the same results.
A theme is a collection of templates that you can use to customize the appearance of your website. However, they are not just purely cosmetic as many of them provide unique features.
Both of these come in free and paid versions. When just starting out, free plugins can easily get the job done. However, as your website grows, you may need to upgrade to the premium version. They offer a wider set of features and are sometimes better optimized.
Here are 5 themes and plugins that are perfect for a graphic design portfolio:
Designbiz
Designbiz is a premium theme created with a focus on displaying graphic designs in a professional setting. Some of the features include built-in gallery support, testimonials, and it has everything needed to add a blog. And like most premium themes, you can rest assured that there is a support team waiting to help.
ePortfolio
ePortfolio is a free theme that is optimized as a multi-purpose WordPress portfolio theme. Some of the portfolios you can create include photos, graphics, videos, arts, and much more. The big appeal is the minimalistic approach the plugin utilizes. Meaning it has everything you need to start and nothing extra.
Envira Gallery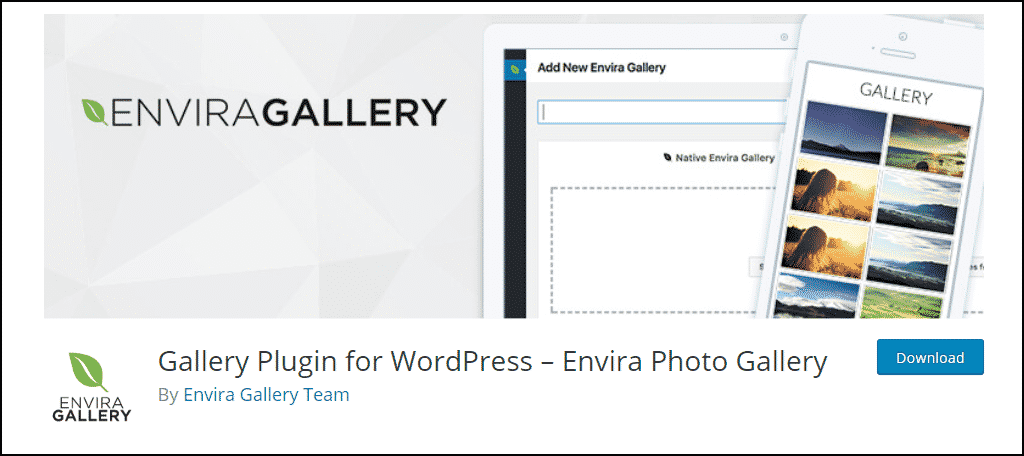 Envira Gallery is one of the best gallery plugins available on WordPress, which makes it a must-have for any portfolio website. With a drag and drop format, it's easy to use at any skill level. Some of the other core features include mobile optimization, social media integration, responsive, Adobe Lightroom sync support, and many more.
Contact Form 7
Contact Form 7 is the most popular contact form plugin on WordPress. The entire point of creating a portfolio is to show off your creations to help you find work. Using contact forms is a great way to ensure potential customers can reach you. You can even use them to create work order forms!
Step 4: Share Your Graphic Design Portfolio
Obviously, a graphic design portfolio is intended to show off your proficiency in the subject. Potential customers will see the work. If they like what they see, they will hire you.
However, you will certainly find that marketing to your intended audience is no easy feat. It takes a lot of work and involves advertising on a variety of sites. And there is no shortage of ways to go about it.
Social Media Accounts
Paid Advertisement
Email Subscriptions
These are just some of the ways to do it. Some are more specific to a graphic designer include platforms like Behance, Dribble, Coroflot, and any others that focus on helping customers connect with graphic designers.
However, if you really want to get a lot of traffic, consider adding a blog to your portfolio. Not only do blogs make you seem like an expert on the topic, they allow you to create SEO-friendly content.
This will help you rank higher on search engines like Google, which is where the majority of website traffic comes from. However, the Google algorithm is constantly changing and as a result, information becomes outdated fast.
Thus, you need to make sure to only follow the latest SEO tips.
It's Not Easy, But It Is Rewarding
Making an online portfolio is no easy task and it can define your entire business. Thus, your website needs to properly represent your skillset and proficiency in graphic design. However, you will quickly realize that properly marketing your portfolio is the real challenge.
As a graphic designer, your website portfolio is your resume.
Robert has been writing tutorials about WordPress and other CMS for over 3 years since joining the GreenGeeks marketing team. Thanks to this, he has had the opportunity to research and master several areas of WordPress including plugin usage, SEO, website design, and social media integration. When he is not creating content for WordPress, Robert is digging up new content ideas for environmental pieces. These range from the pollution in our air to the danger's wildlife face. And with a bachelor's degree in electrical engineering, he is always eager to discuss the way our technologies are affecting the environment, especially when it comes to solar energy.