So you have posted some great articles on your WordPress website but engagement has been limited. You would like some comments but oftentimes readers don't want to leave them because they are too public. In this article, I will show you exactly how to get WordPress article feedback from your readers.
Different Types of WordPress Article Feedback
User engagement is of utmost importance on your articles. You write them for a reason and you want the reader to engage and be a part of the content. Article feedback also shows other readers that your content is being looked at, is relevant, and that others are interested enough to interact with it.
While getting actual comments may be difficult, there are a number of ways you can get feedback and engagement.
Blasting your post out to all your social media channels, putting a rating's system in place on your website, and adding Facebook social sharing buttons to your article are all excellent examples of ways to gather feedback from your WordPress article.
All that said, let's take a look at a click-based setup using a WordPress feedback plugin that you can install and employ to garner you some feedback on your articles.
Using the Helpful Feedback Plugin
Today I am going to show you how to do this using the Helpful feedback plugin. This is a simple little WordPress feedback plugin that gives site users the ability to leave a thumbs-up or thumbs-down feedback prompt with the quick click of a button.
Install and Activate
From your WordPress dashboard head over to plugins, search it out, then install and activate the plugin.
Once you have done that go to the settings page for the plugin and let's take a look at the available settings.
General Settings
The Helpful feedback plugin comes with a pretty extensive set of general settings. These allow you to display a number of different content settings that range from headline, button styles, before and after widget text and much more.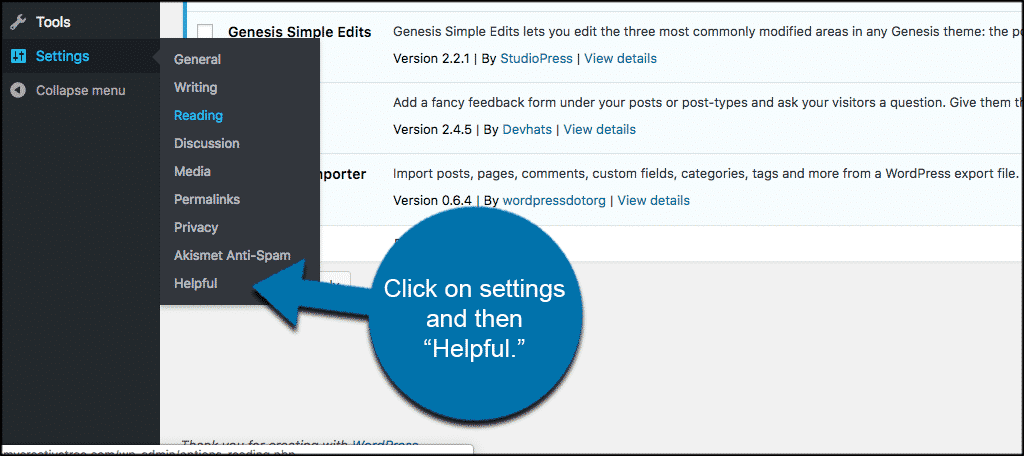 Let's go over a few of the settings available in the general settings area. First up is headline and content. Helpful lets you plug in any headline and text content that you want site users to see.
Next, you will see the button and column settings displayed. You can put in whatever text you would like on the buttons and in the columns.
After that comes the boxes to display the text you want after positive or negative votes. Just fill the box with text of your choice and that is what will show after a feedback vote.
There are a number of other settings as well available under the general settings tab of the Helpful plugin. Some of the other things you can set include:
Select Post Type
Already Voted (shows if site user has already voted)
Vote Counter
Show/Hide Helpful Credits
Dashboard Widget
Most Helpful
Least Helpful
Recently Helpful
Recently Unhelpful
Number of Entries
As you can tell there is a nice little layout of functionality available to you within settings.
Design Settings
Unlike other article feedback plugins, Helpful gives the ability to choose a theme design and then also add custom CSS to make it flow with the look and feel of your website.
If you are familiar with custom CSS, go ahead and lay some code in so that the layout and look of the plugins flow well with your site look and feel.
System Settings
Finally, the plugin comes complete with a system setting's area. Here you can reset the plugin if needed. Be careful, resetting everything will affect the database table.
How It Looks
The layout will look different depending on the settings you choose. Things like placement, text generated, and even colors (custom CSS) will all be affected depending on what you want.
I went ahead and picked a theme, and then checked off just about every setting box so you could see all that could be displayed if you wanted it to. Again, this will vary based on how you decide to set it up.
Will It Work With WordPress 5.0?
Yes, the plugin has been tested with version 5.0 and will work on 4.6 and above.
More Features
Along with the settings listed and described above, the WordPress article feedback plugin also features:
Fully Changeable Texts and Questions
Custom Post Type Support
Disable for Users Who Already Voted
Dashboard Statistics
Page, CPT Overview Statistics
Custom CSS
3 Additional Themes
Custom Feedback Box After Voting
Go ahead and give the plugin and setup a look. I think you will find that it is very easy to use and that the settings available allow for several customizations within the settings page.
Using Feedback As a Form Of Reviews
This is another great idea. Use this plugin as a form of reviews on your site… depending on the type of content you have. We know this is important, as about 70% of people will leave reviews when asked.
Getting WordPress article feedback can be difficult at times, especially if you are trying to just prompt people to leave comments. Sometimes you need a fresh, new way to accomplish something and this plugin helps you do exactly that.
I hope this article gave you a fresh outlook on feedback and how you can easily generate user interaction with your content.
Have you used this plugin? Did it work well for you or not? What other techniques and/or plugins have you tried while pursuing article feedback?
Growing up in Hawaii, Jeremy started his freelance writing career doing resumes, business plans, article writing, and everything in between. He now specializes in online marketing and content writing and is part of the Content Marketing Team at GreenGeeks.