A floating footer bar can be very effective to boost interaction with your visitors. This often contributes to increasing newsletter subscriptions, promoting purchases or even sharing other posts on the website. It adds an active element to the site which many developers have found to be helpful.
This is just one method in which internal marketing can improve the effectiveness of your WordPress hosting account. While external links, ads and social media posts may help drive traffic, floating footers and headers work hard on the inside of the site.
In this tutorial, I'm going to show you how to add a floating footer bar in WordPress whether it's for lead generation or sharing content. If you want to improve the number of email subscribers you have, it may be worth the time to read this.
How does the floating footer bar help you?
You may have seen websites that have a footer that seems to appear or disappear on its own. Often times, these will share some breaking news story or have the option to opt into a newsletter from the website.
Essentially, this footer bar brings attention to important aspects of the site the visitor may have yet to see. It makes accessing specific items much easier and is deliverable on every post and page.
For instance, some may not pay attention to the "subscription" link in the right sidebar of a website. However, a floating footer that appears with a suggestion to "opt-in" is harder to ignore.
Developers can also use a sticky footer bar in WordPress to share announcements regarding anything from content to industry news. If you have something you feel is ultimately important to all of your visitors, this method is how you can reach them all.
Building a landing page that converts is greatly beneficial. Installing a floating footer bar that connects to that content is also helpful in driving traffic without costing you a dime. It's a great method for marketing virtually any aspect of the website.
Using Icegram to Install Floating Elements
Today, I'm going to demonstrate using the Icegram All in One plugin. It's a tool that has a great deal of customization options available and can be effective in getting the attention of your visitors. It's a great way to add a call to action link or even share a landing page with anyone regardless of what post he or she visits.
To use Icegram:
Go to the plugins area of WordPress and click the "Add New" button.
Search for "floating footer" in the available text box.
Scroll down until you find the Icegram plugin. It will have a long and descriptive name. Install and activate the plugin once you find it.
Once activated, Icegram will take you directly to its Docs & Support page. If it doesn't, this can be found in the left admin panel of WordPress under "Icegram." Click on the "Add New Campaign" on the left.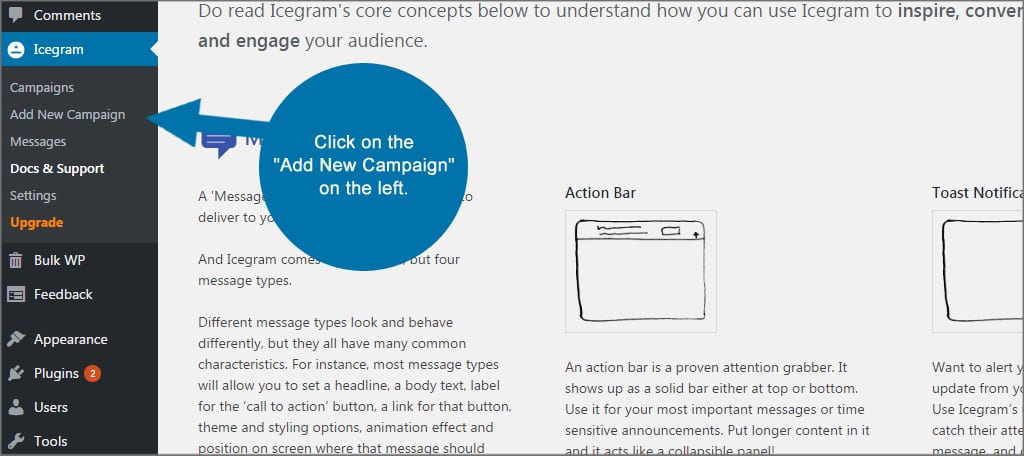 Set up your message display and rules. First, you want to input a title. I'm going to label it "Subscription" as I am making an email opt-in footer.
Next, click the drop down box to select the type of message you want. Since I am making an email opt-in function, I want the "Action Bar." This will load additional settings to customize the appearance. You can change many different parts of this message including timing, themes, animations, message body, adding links and the location of the message itself whether it's on top or bottom.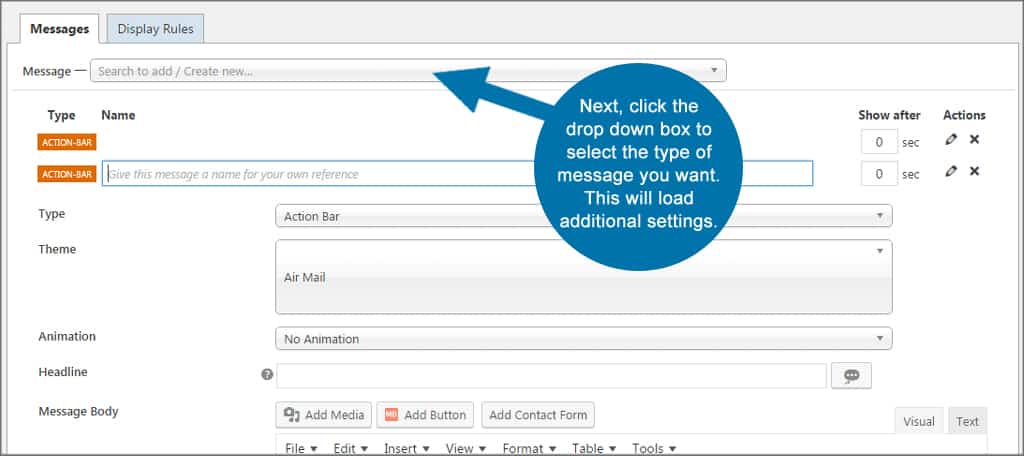 Once you've made your selections, click the "Save Draft" button on the right.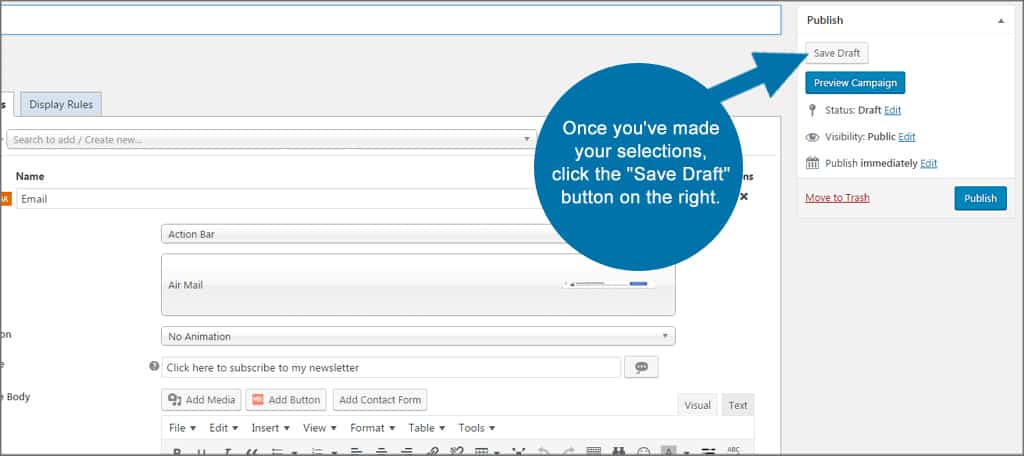 Next, click on the "Display Rules" tab. This will open a window that lets you control what areas of the site this floating footer bar in WordPress will appear, when, on what kind of devices and for whom. For example, you can choose to set the floating footer to appear on the homepage and only for logged-in users on desktop computers.
Once you've made your selections, click the "Publish" button on the right.
That's all there is to it. You now have a floating footer ready to engage your audience.
What Makes Icegram Such a Great Addition
The above tutorial only showed you how to install and the basics of setting up a floating footer bar in WordPress. However, Icegram can go into much greater detail when showing off this information. For starters, it uses the same editing system post and pages use for WordPress. This means you can add all kinds of content and functionality to the pop-up.
Let's say that we wanted to bring someone's attention to an important article we just created. People who are visiting the site right now might not see the new piece. By using the editor, we can grab their attention while giving them the link directly to the post.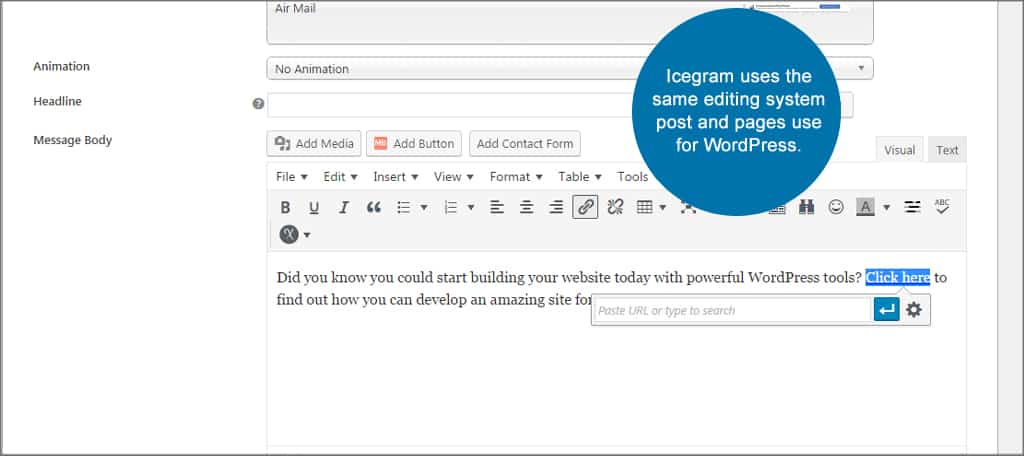 Icegram includes adding forms for email subscriptions. It can also be used to display shortcodes from other form plugins or through using the Icegram Rainmaker plugin. It's an easy way to create email lists with a seamless transaction.
You will need the shortcode or form HTML to use this feature, but it can be plugged directly into the footer itself.
Perhaps one of the features I like most about the Icegram plugin is that it features "Lazy Loading." This means it is optimized for speed and is cache-friendly. Because speed plays a big part in search engine optimization, it's a tool that won't hurt page ranks in Google.
I also find the ability to use buttons in the footer to be quite useful. For example, you can use the MaxButtons plugin to create a button in the floating footer to link back to a product page or service you offer. This adds functionality and is a great way to inspire a call to action.
Other Footer Plugins to Note
YITH Footer Banner is a simple system that lets users add a floating graphic to the bottom of the website. It provides a new function in the appearance section of WordPress so users can easily edit how the layout will appear on the front end. It has a large number of customization options available and can be easily set up to use with newsletters.
If you need something simple, Advanced Floating Content lets you build sticky footer and header bars for showing information, links or even video content. It has the capacity to be used with social elements. This plugin also comes with the ability to edit basic HTML coding through the use of the WordPress content editor itself.
Perhaps one of the more popular pop-up and lead generation plugins for WordPress, OptinMonster is full of options and customizable fields. This plugin is actually part of a much larger series of products that intertwine to build a powerful system for managing email. This could be a great addition to any marketing campaigns you may be considering.
Keep the Site Engaging
Whether you're looking for something to create WordPress lead generation or just want a floating footer bar to share important snippets of information, this process can easily boost engagement. Most visitors want to interact with websites rather than simply read them. A floating footer bar in WordPress is a great way to give them what they want while helping various aspects of the site.
What kind of things have you added to your WordPress website to engage your audience? How long does it usually take for a new piece of content you create to actually start seeing traffic?
Kaumil Patel is the Chief Operating Officer of GreenGeeks and has over 13 years of experience in the web hosting industry working for and owning web hosting companies. Kaumil's expertise is in marketing, business development, operations, acquisitions and mergers.