Image galleries can offer a lot to a website in terms of generating interest and sharing visuals with visitors. Whether you're creating an art portfolio or showing off your staff, images improve engagement. But what if you want to add links to images in a WordPress gallery?
By default, the system doesn't have this option available. Perhaps you want each image to link to a different page. Instead of trying to force it through code, you can actually use a pretty simple plugin.
In this tutorial, I'll show you how to add a custom link to an image in WordPress galleries. With a quick install, you can create additional fields when creating a WordPress photo gallery on your site.
Using WP Gallery Custom Links
Today, I'll demonstrate the "WP Gallery Custom Links" plugin. It's an easy-to-use addition to the system and has more than 70,000 active installs around the world.
Install and activate, "WP Gallery Custom Links."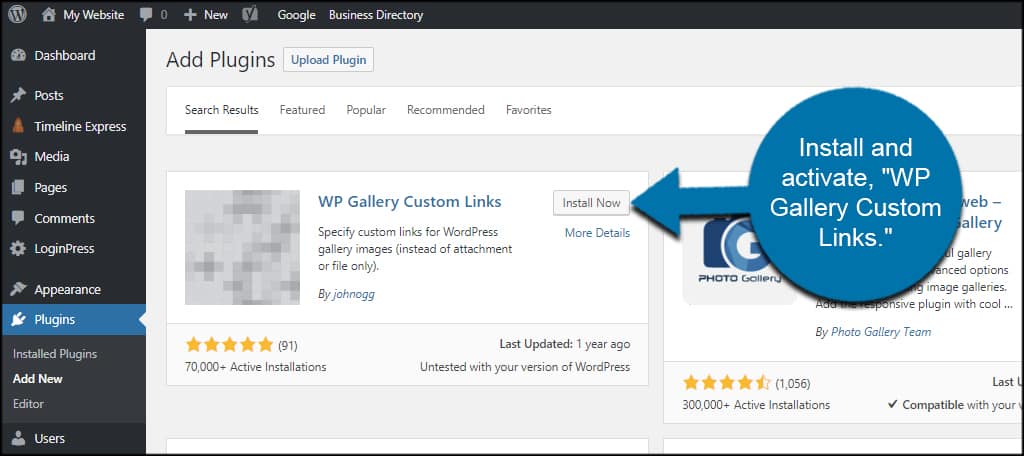 This will automatically add a new feature when you create a new WordPress photo gallery on a post or page.
Linking Your Images
With the plugin installed, let's create a new page to build the gallery. Of course you can use an existing one if you wish.
In this page, click the "Add Media" button to begin creating the layout.
Click the "Create Gallery" link on the left.
WP Gallery Custom Links adds four new features to the gallery view.
Gallery Link URL
This is the web address of where you want the image to link. For instance, this could be a bio page for a team member if you're showing pictures of staff.
Gallery Link Target
The target option lets you choose whether you want the link to open in the same window or open a new tab.
Gallery Link OnClick Effect
From the OnClick Effect option, you can remove filters and effects that happen when an image is clicked. For instance, if you have a lightbox plugin installed, you can choose to remove the effect for the purpose of the link.
Gallery Link Additional CSS Classes
If you plan on using custom CSS for the style of the gallery, you can assign classes to specific images for further customization.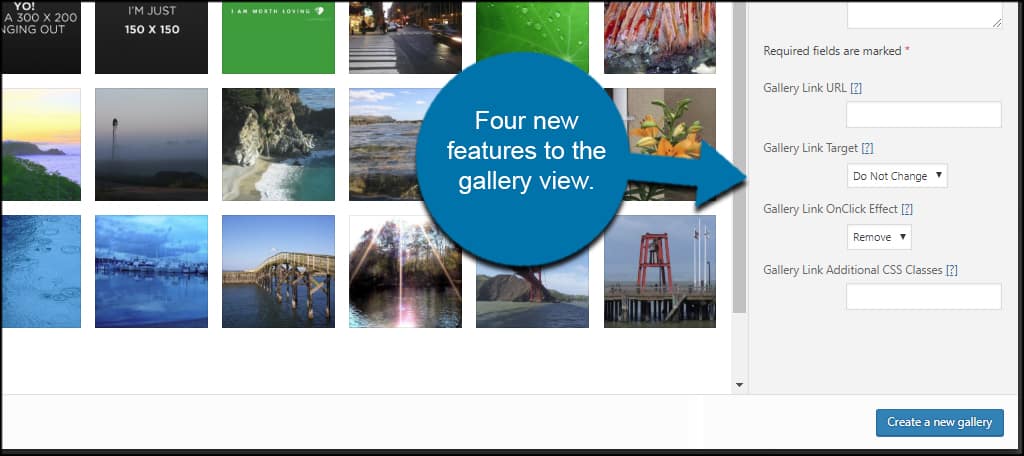 After making your adjustments to each image, click the "Create a New Gallery" button.
Verify your layout for the gallery as you would normally and then click the "Insert Gallery" button to place it into your page.
Your shortcode will be added to your gallery page. All you need to do now is click the "Publish" or "Update" button and your gallery goes live.
Ideas for Using Custom Links in a WordPress Gallery
Linking to staff profile pages and personal artwork are two of the most common reasons to link images in WordPress. However, there is far more that you can do with this ability.
Directory Listings
Perhaps you are showcasing businesses in a directory page. Each photo of a store front could lead to the company website or social profile. This could work as a sponsorship layout, especially if you put it on the front page.
Affiliate Sales
You can add the affiliate link to images of products you're selling from other companies. This is among the best ways to make money from your website.
For example, you could show a picture of an item and use your Amazon affiliate link to earn a commission on the sale.
Promoting Landing Pages for Items
Affiliate marketing isn't the only way to make money selling goods online. Maybe you want to showcase your own products and link to landing pages to boost sales.
For instance, a landscaping business can show off previous projects in a gallery with links to specific services used in those jobs.
Improving Interaction
Adding photos increases the value of your content. But including links to images in a WordPress gallery adds to the engagement factor. It expands the possibility of interaction with visitors and keeps them on your site longer.
After all, every second they're not on your website is one that potential customers spend at a competitor's site.
How would you use an image gallery? How often do you use image links to pages on your WordPress website?
Kaumil Patel is the Chief Operating Officer of GreenGeeks and has over 13 years of experience in the web hosting industry working for and owning web hosting companies. Kaumil's expertise is in marketing, business development, operations, acquisitions and mergers.