When you want to add a new feature to your WordPress website, you don't need to learn how to code. In reality, a new feature could be a simple widget away. All it takes is to find the one that works perfect for your needs. Depending on what you're looking for, this may take some time. However, it's worth the effort to add widgets to WordPress to give it more life and attraction. After all, visiting your site should be considered an experience to remember.
What is a WordPress Widget?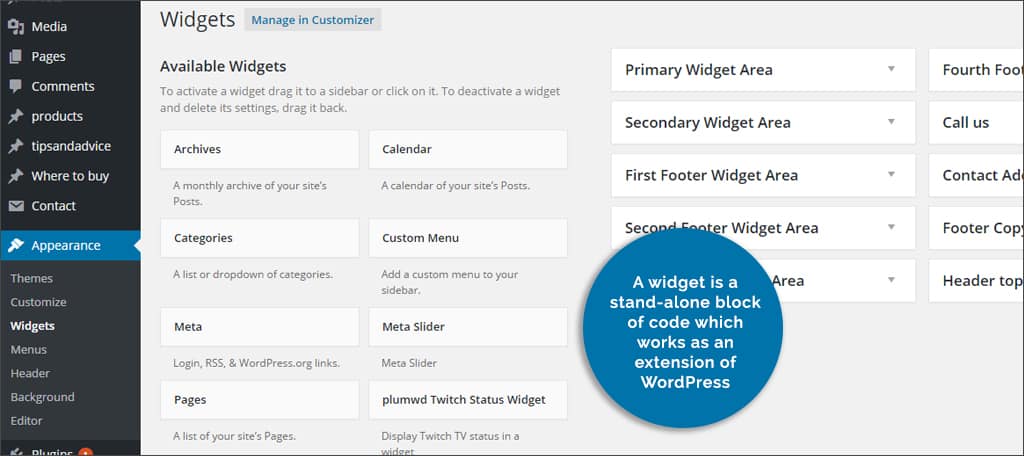 A widget is a stand-alone block of code which works as an extension of WordPress. In essence, they are website-ready applications that offer greater functionality. You can position them in a variety of locations and may consist of almost anything you need for the site. For instance, the Google Analytics Dashboard plugin provides a widget that will display your traffic stats.
How to Add a Widget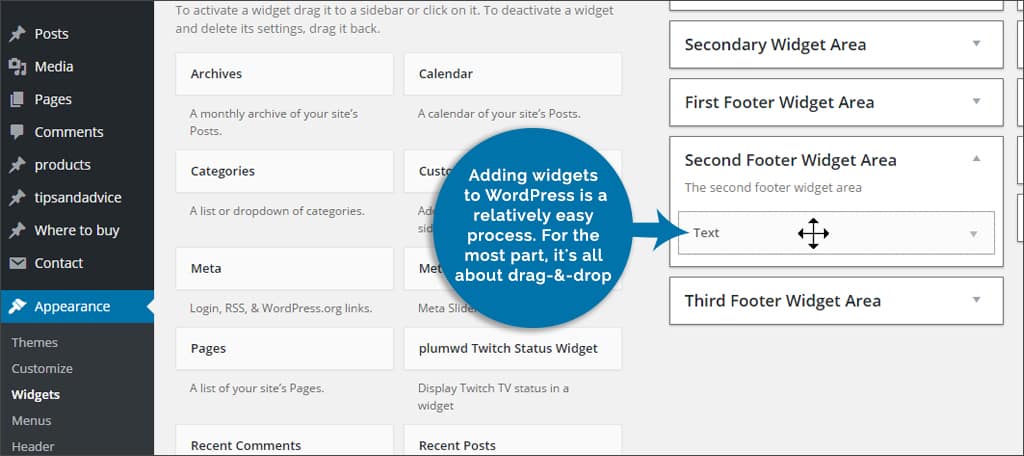 Adding widgets to WordPress is a relatively easy process. For the most part, it's all about drag-and-drop. Most of these will be active on the website as soon as they're put into position.
Accessing the Widgets
Go to "Appearance" from your WordPress dashboard. From here, you'll see an option for "Widgets." Once you click into that control, you'll see a page with "Available Widgets" on the left and "Sidebars" on the right. Here is where the fun begins.
Getting More Out of Themes
Each theme has its own list of sidebars. However, nearly all will have the "Right Sidebar" available. This is perhaps the most common location for widgets. Some themes also have left, footer, header and front page content sections, such as the ColorMag theme. All of these locations can support a widget.
Some themes will also provide a list of their own widgets you can use. As in the example earlier, the ColorMag theme will provide advertisement and featured post widgets to add more to the layout. These are all specific to the theme, which will be removed from your list if you change it.
Adding the Widget
When adding widgets, you simply drag the one you want and drop it into the sidebar of your choice. Once the widget lands in the sidebar, it may give you custom settings to adjust. For example, the Knews Subscription widget offers requirements for names, label positions or even customized messages. Once you make the necessary adjustments, you click "Save" and the widget is live with your new settings.
The Impact of Plugins
A lot of plugins will provide widgets to enhance its usefulness. In fact, it's safe to assume that most plugins offer this functionality. This means you can greatly alter the appearance of your site by adding a new plugin. However, be careful not to have too many plugins installed  on your site.
Changing Visibility
Perhaps you don't want a certain feature to show on the front page. Maybe you want a widget that only appears when someone views content of a specific tag. When you click the "Visibility" button next to save, you can modify when the widget appears or if it hides from view. Some professionals use this ability often if they want to incorporate more features related to specific information. For example, you can show advertisements of a certain brand if the viewer is reading content from a particular category.
How to Remove a Widget
Sometimes you'll come across a widget that you'll want to remove to make room for something else. Perhaps the feature is no longer needed on your site. There are two ways you can remove the widget from being active: 1) click the "Delete" option in the widget itself, or 2) drag it off of the sidebar.
Gone, But Not Forgotten
When removing a widget from the sidebar, it's important to note that you can drag it to the "Inactive Widgets" on the bottom of the screen. When you do this, the feature will be removed from your site but it will keep its settings. This is ideal if you just want to temporarily remove a widget or if you're testing to see what the website looks like without it. If you want it back, you drag it from inactive back into position on the sidebar.
It can be quite addicting when you add widgets to WordPress. Each one could have so many features ideal for what you want to create. However, experts believe you should limit the number of widgets to keep from cluttering the website. It's true when they say, "Too much of a good thing can be bad." Add features to your site and engage visitors on a deeper level with the right widget.
What kind of features would you like to see on your website? Have you tried to use a custom feature by putting HTML in the "Text" widget?
Kaumil Patel is the Chief Operating Officer of GreenGeeks and has over 13 years of experience in the web hosting industry working for and owning web hosting companies. Kaumil's expertise is in marketing, business development, operations, acquisitions and mergers.