Google is one of the most recognized names on the Internet and for a good reason. Their services are extremely versatile and it is the most popular search engine. Many websites grow by following SEO tips to get ranked higher in Google searches. Google Forms allows you to create fully customizable forms that can range from surveys to party invites. The best part is they can be shared through multiple websites and managed all in one place.
The main advantage in using Google Forms over other WordPress exclusive form creators is that it's easy to share and completely mobile friendly. Google Forms for WordPress is not a plugin and is quite easy to set up in the text editor on any page. Today I will demonstrate how to embed Google Forms in WordPress.
How Google Forms Can Help Your Website
Google makes many of their services available on almost any platform, which is how they have become so well known. This includes WordPress and Forms can really help make your website look and feel more professional. They are extremely easy to share between multiple websites and very mobile friendly as well. The best part is this is all accomplished by using your Google account.
Forms have a lot of customization options that help you make each one feel unique. The best part is you can easily view all of the information gathered through the forms, from how many people are going to a party to survey results. Google Forms is widely used and can help make any website feel more professional.
How to Embed Google Forms in WordPress
Today I will demonstrate how to embed Google Forms in WordPress. It is very easy to accomplish and will simply require a bit of copy and pasting. You will need a Google account before beginning this tutorial. Keep in mind there are many plugins available to create forms within WordPress, but only Google Forms will allow you to share them easily on multiple platforms.
To start this process go to the Google Forms page. From this page, you can select the other popular services like Google Docs, Google Sheets, and Google Slides. Click on the "Go to Google Forms" button to continue. Remember you need a Google Account to use this feature and they are free to make.
You will now be on the page that will show you templates of forms and forms you have created. You may choose to either create a template from scratch or modify an existing template. For this tutorial, we will be using the Contact Information form. Click on the Contact Information form to continue.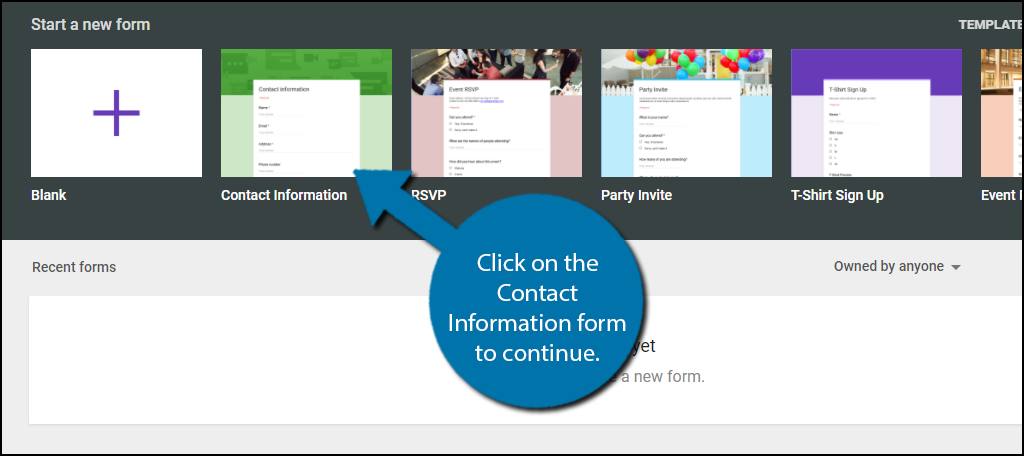 If this is your first time entering a form, you will be offered to take a tour. I highly recommend taking the tour. It will show you everything you will need to know to make the most out of Google Forms. Click on the "Take Tour" button or the "No Thanks" button to continue.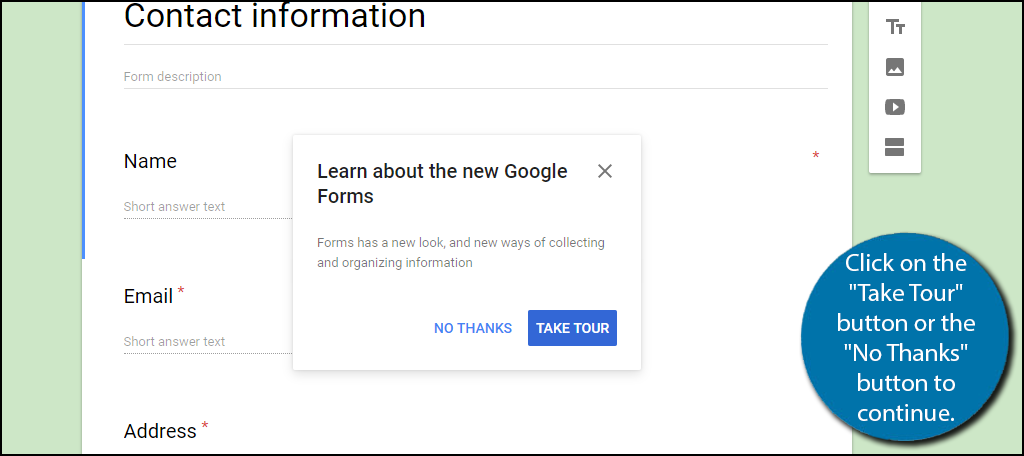 You may now edit the form however you want. If you followed the tutorial in Google Forms you will know how everything works. Once you have edited the form to your liking click on the "Send" button.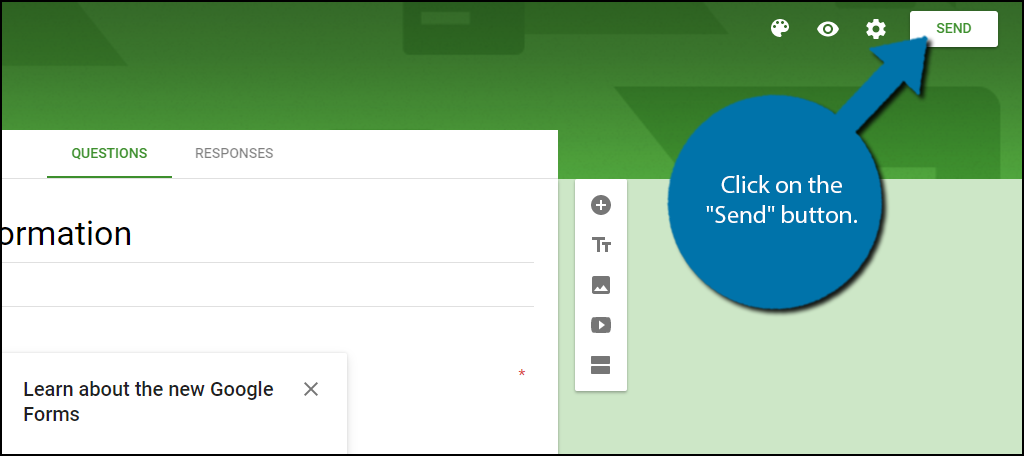 You will now be on the send menu. You have many options of where to send it to, but the goal is to embed it on WordPress. To do this click on the "Embed" button.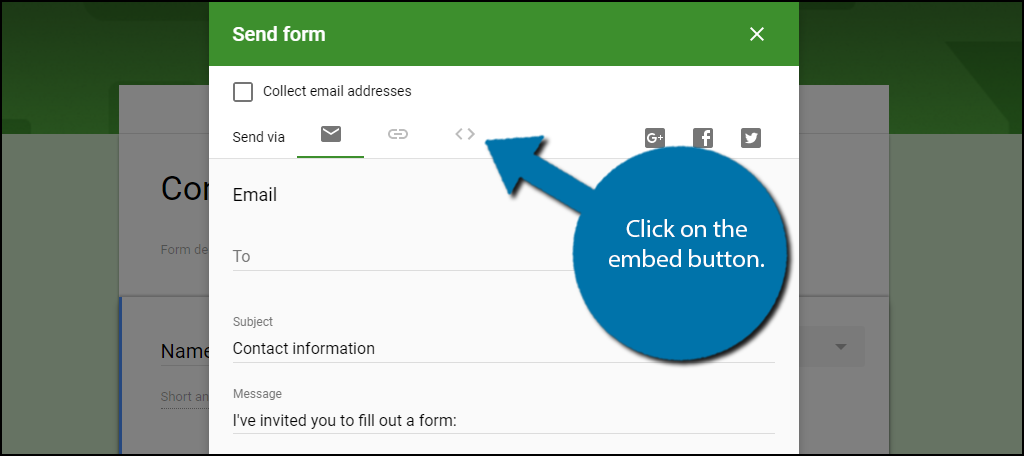 Google Forms will generate an Embed HTML line for you. Click on the "Copy" button. You will need this line to embed the form on WordPress.
You are now ready to go to your WordPress websites dashboard. On the left-hand admin panel click on Pages and select the "Add New" option. You can alternatively open up an existing page and insert the form in there instead.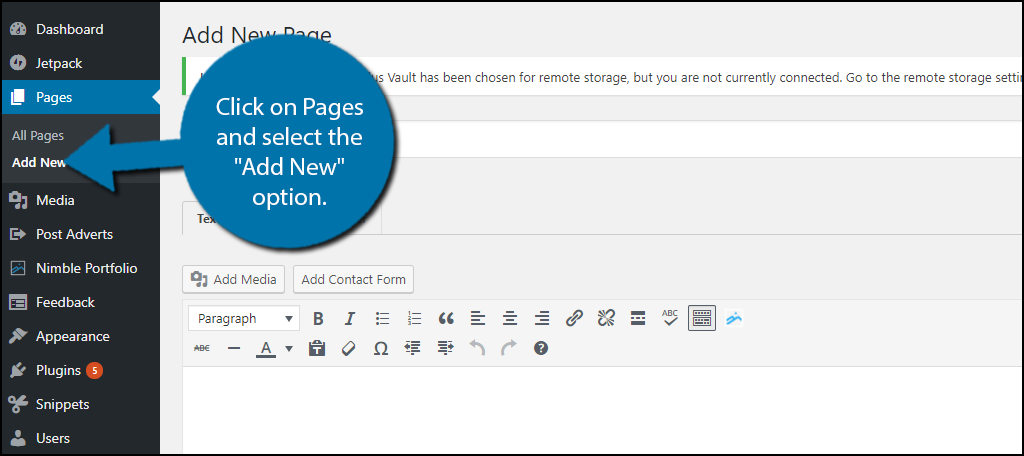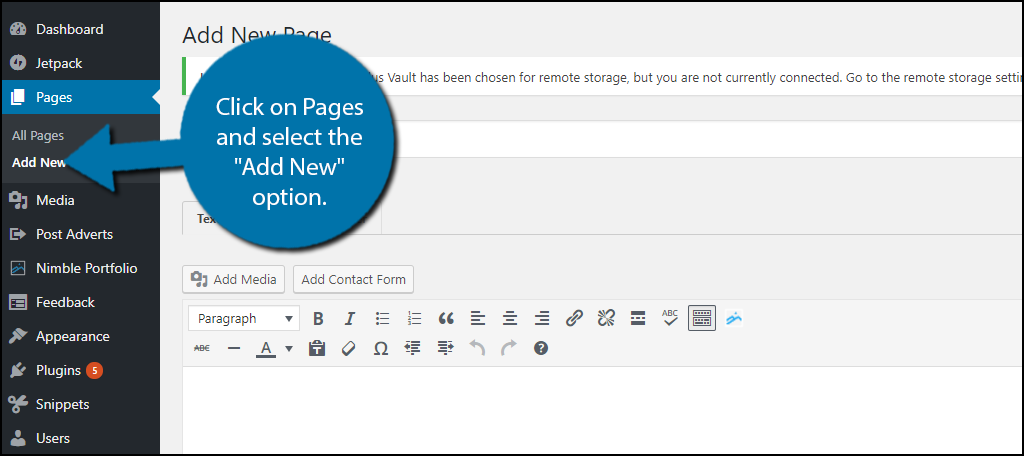 You will now want to switch you editor from visual to text mode by clicking on the Text tab.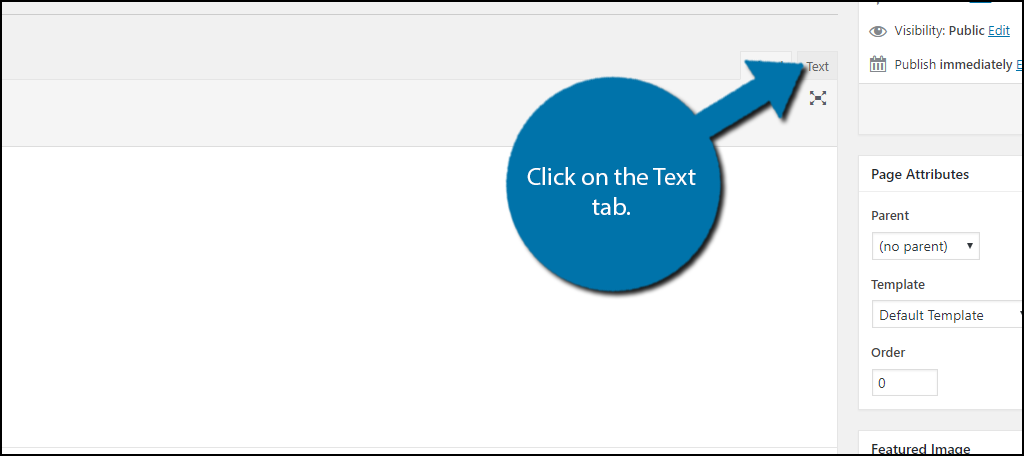 All you need to do now is paste the Embed HTML code where you want it to appear.
Once you have inserted the embed HTML line into the text editor and are happy with its location. Click on the "Publish" button to make it go live on your website.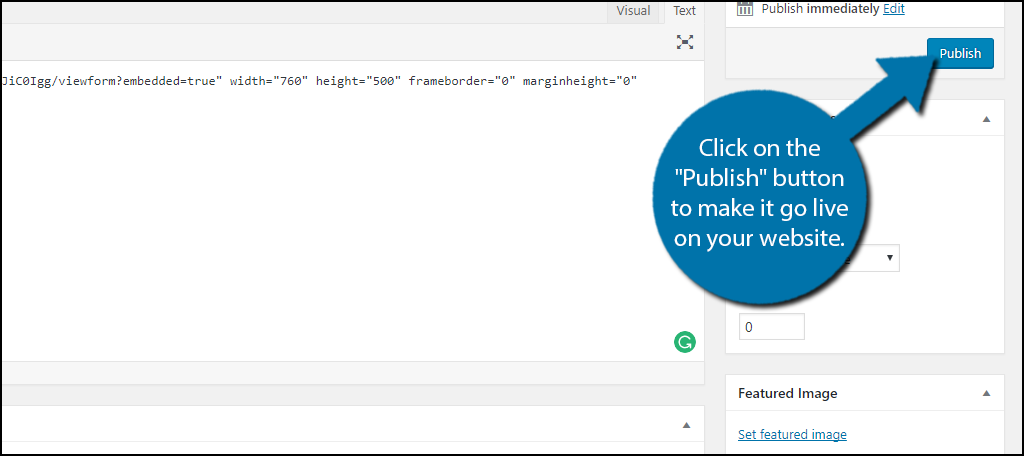 Congratulations, you have successfully added Google Forms to your WordPress website. You can follow these steps to add as many forms as you want to your website. Remember to customize the forms to fit your website and only ask for necessary information.
Other Form Plugins Through WordPress
Forms are an integral part of most websites. They allow you to collect information from visitors and WordPress has many plugins that can do everything Google Forms can. Here are some plugins that I can recommend trying out.
Contact Form 7
Contact Form 7 is the most popular plugin for forms with over 3 million active installs. One of the main reasons it is so popular is that it can create forms for free and has many customization options to compete with other plugins. It is a great plugin that is widely used and is definitely worth trying.
WPForms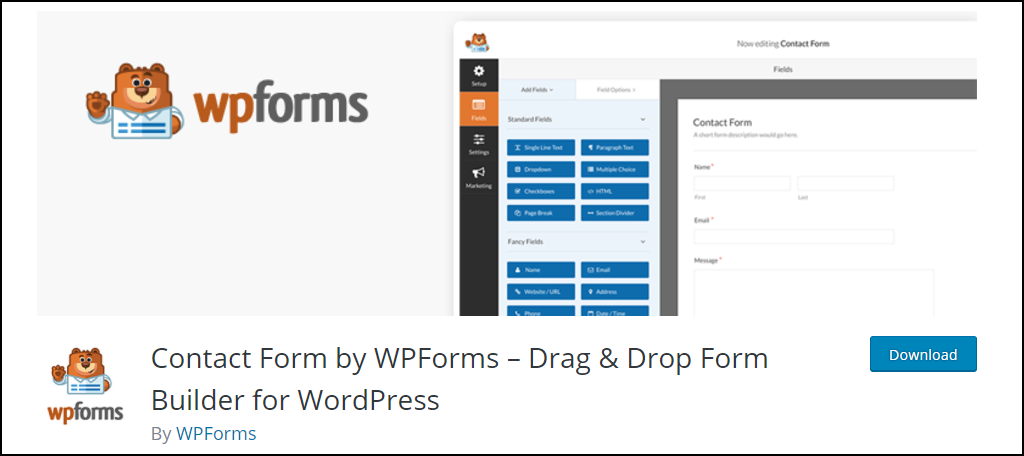 WPForms is a very popular plugin with over 400,000 active installs. It has many great features and is one of the best plugins for WordPress for creating forms. You will need to upgrade to the premium version to truly get the most out of this plugin. It is a great plugin and definitely worth trying if you don't find Google Forms helpful.
Contact Form Email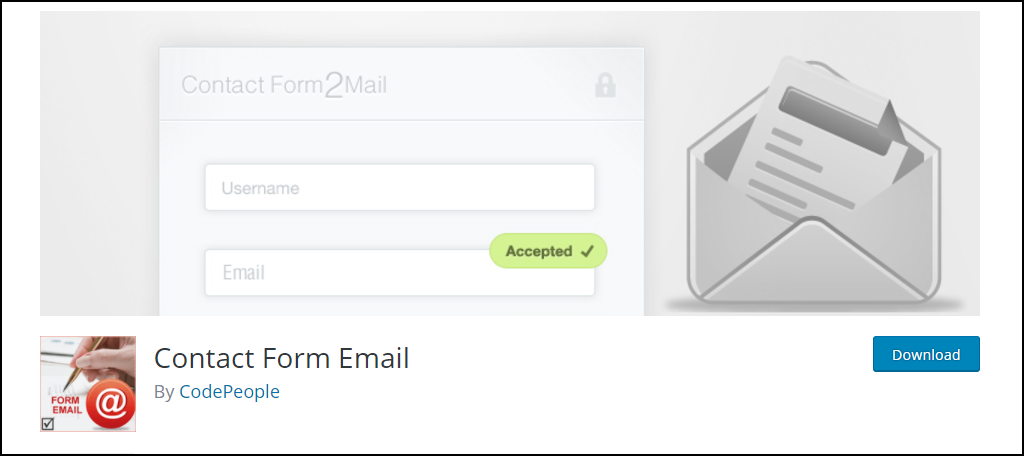 Contact Form Email is another great plugin for introducing forms to your website. It specializes in email delivery and notifications. This is extremely handy when you want to send visitors emails about certain topics. It allows for you to collect information even when they are not on your website. If this sounds useful to your website, then give it a try.
Keep Your Website Organized
Google Forms brings many advantages to your website and most important,  it improves your site's organization. The forms are very neat and can be made to look however you may want them to. This will let them seamlessly blend into your website and help keep it organized. It is especially nice to track all of the information through Google.
Being organized will help visitors navigate your website and having neat and concise forms is important. Forms are used to collect information and if they are organized it will help visitors fill in information. Remember, forms can be used for a wide variety of reasons and if you are creative you can make the most out of the forms to make your website really shine.
Do you find using Google Forms more convenient than other form plugins in WordPress? Have you found it easy to collect information from visitors by using Google Forms?
I currently work for GreenGeeks as a Support Technician. My primary roles are supporting our VPS and Dedicated server clients, as well as performing site migrations. With experience in the web hosting industry since 2009, there is rarely a question I can't help answer. In my spare time, I enjoy gaming and working on cars as an automotive enthusiast.