Search engine optimization is an important part of any website. Although it's possible to generate traffic without SEO practices, it's more difficult. After all, you can bet that your competition is doing everything possible to appear in the top of the results page.
Awesome WordPress Web Hosting
Free SSL Certificate, Site Migration & Domain Name. Get Amazingly Fast, Secure & Eco-Friendly WordPress Hosting with 24/7 Expert WordPress Support.Starting from $2.95/month.
BBB A+ Rating - EPA Green Power Partner - 30-Day Money Back Guarantee
Engaging the customers in sites like Google is why SEO is key to the growth of your online store.
Magento web hosting alone isn't going to guarantee success. There are things you need to do to give it the best chance possible.
In this tutorial, I'll help you improve Magento SEO for better visibility in engines like Google and Bing. Keep in mind that these are only a few things you can do to enhance how search engines crawl your site.
You may also want to see about exploring CDN capabilities such as CloudFlare for speed. This can greatly influence your search engine ranking.
Search Engine-Friendly URLs
One of the first steps you should do after installing Magento is setting up search engine-friendly URLs. This will improve how engines like Google and Bing crawl the website from the very beginning.
Click on the "Configuration" settings in the Store section of Magento.
Click the "Web" tab in the General category.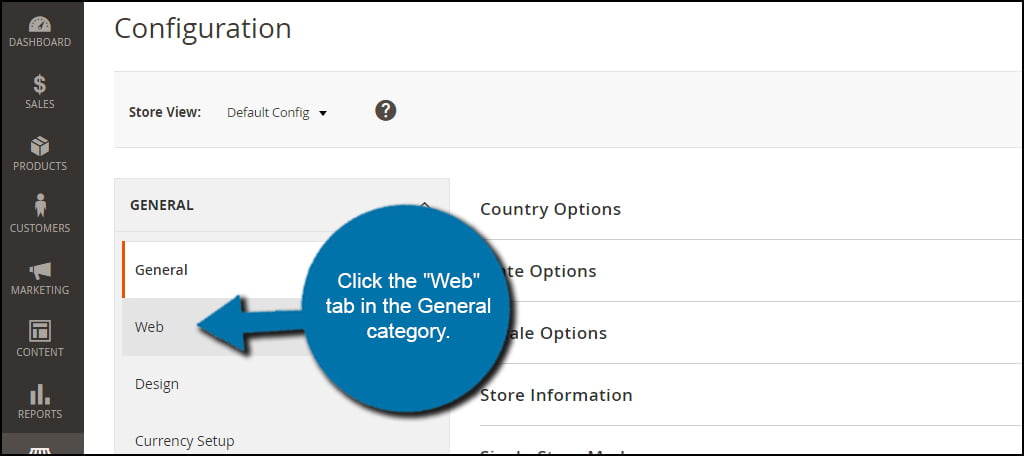 In the Search Engine Optimization setting, you'll see a control for "Use Web Server Rewrites." Make sure this is set to "Yes" and click "Save Config." This may already be set by default, but it's better to be sure.
Site Meta Title and Descriptions
The next thing you should do before you import your product list to start selling is set up the meta information. This is how the data search engines collect to show in the results page as well as categorize your site.
In the Content section, click the "Configuration" tool.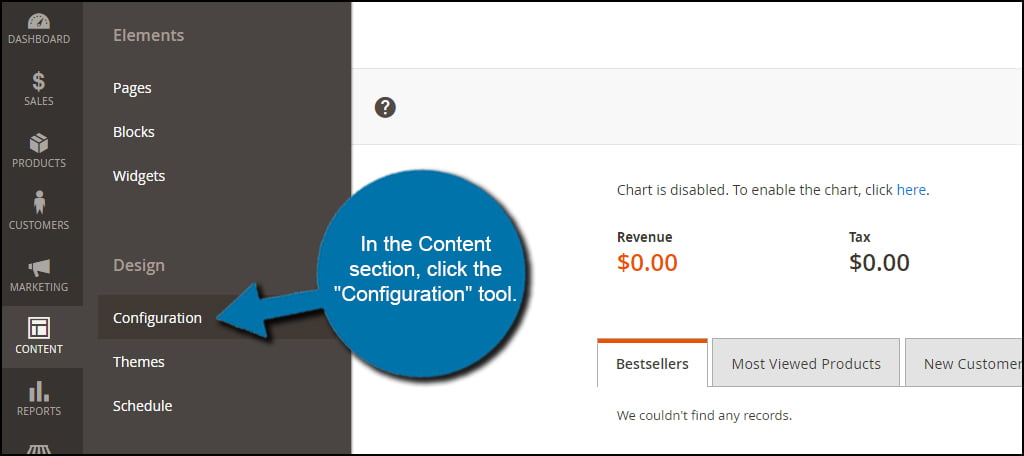 Click the "Edit" link in the Action column of the theme your website is using. Because I have this one set to Magento Luma, I am going to click the top one. The changes made in this "global" setting will be shared among all of the Luma themes.
As Magento can be used in a multisite platform, you'll need to pay attention to what domain you're editing. If you want to edit just one website, click the link next to the theme for that particular domain.
Expand the HTML Head section and make your changes. The important areas to keep in mind are:
Default Title: The name of your online store.
Default Description: A short one or two sentence long description of your website. Keep it under 255 characters.
Default Keywords: Use keywords relevant to what you sell. Now, some search engines don't put a lot of emphasis on keyword meta data today. However, some companies use them anyway to be on the safe side.
Once you're done with your changes, click the "Save Configuration" button.
Magento will request that you flush the cache after it saves the data. Follow the link the message provides and click the button to flush the cache.
SEO for Products
When you're adding products to Magento, you'll have the opportunity to fine-tune the SEO much like you did for the entire site.
From the Products section, click the "Catalog" link.
In the product window, whether you're creating a new one or editing an existing item, you'll see a feature for Search Engine Optimization when you scroll down. When you expand the function, you'll be able to access the meta title, keywords and description of the item.
This is very much similar to the site data I showed you above.
Enter in the title, keywords and description of the item and click "Save."
Again, Magento may request that you flush the cache.
Product SEO needs to be done to each and every item you sell if you want Magento to maximize the potential for making sales.
Improving Magento SEO for Success
Optimization vastly increases the potential for the online store to engage consumers. There are several things you can do to the site that will improve SEO. Start with the tools that Magento gives you and work your way up from there. Every moment you wait is another customer you give to the competition.
Kaumil Patel is the Chief Operating Officer of GreenGeeks and has over 13 years of experience in the web hosting industry working for and owning web hosting companies. Kaumil's expertise is in marketing, business development, operations, acquisitions and mergers.