Ready to start your own podcast from your WordPress website? Podcasts are a popular format, whether you're producing an informative show or just want to entertain listeners.
They can also be used to develop a revenue stream and make money from your website. If you can grow a popular show, you can get support from advertisers.
Although there is a great deal that can go into developing a podcast, the reality is, starting one isn't as difficult as you might believe. You could be marketing your podcast from your site before the end of the day.
In this tutorial, I'm going to show you what is necessary to get your podcast integrated into WordPress.
What Do You Need to Start a Podcast?
Starting a podcast is easy, but it can quickly become an involved process. A lot of work has to go into a podcast if you want it to be engaging and successful.
This tutorial is about integrating your podcast into WordPress, but there are a lot of good overall podcast beginner tutorials out there.
Recording Equipment and Software
While it's true that any microphone will work when developing a podcast, there is a distinct difference in quality when you invest some money into a good microphone. Every podcaster has their own preferences, but all of the successful ones will tell you that a quality microphone makes a difference. The best way to see what works best with your voice is to try as many different microphones as you can.
As for software, a lot of people use Audacity. It's a free application for the computer that records audio in a variety of formats while providing simple tools to create a professional sound. If you decide to stick with podcasting you may want to upgrade to a more sophisticated Digital Audio Workstation (DAW) to edit your show. Programs like Adobe Audition and Hindenburg Journalist are popular, as are music production DAWs like GarageBand or Reaper.
Podcast Hosting Services
One of the biggest things you'll need to consider when setting up WordPress podcast hosting is the hosting service. While it's possible to use your web host to serve your podcast, there may be issues that arise. For one thing, the bandwidth use can quickly slow down your site if the show becomes popular.
However, that can be offset by using a CDN or using one of the hosts that specializes in podcast media hosting like Libsyn or Blubrry.
Integrating the Podcast With WordPress
The next thing you'll need is to integrate WordPress with your podcast hosting. That will give you the ability to market the podcast while offering your visitors something more from your site. Even if your shows are served from a podcast host, you can still play them from pages and posts you create.
Using WordPress Podcast Plugins
There are several ways you can distribute a podcast. For instance, listeners may be able to search iTunes for your content. However, you can make your website work for you, even more, using a WordPress podcasts plugin.
In this article, I'll show you how to use the Blubrry PowerPress Podcasting plugin. It connects your site directly to various systems such as iTunes and Google Play while also providing a system for marketing on your website.
To use PowerPress. log in to your WordPress admin panel.
In the left column navigation mouse over the "Plugins" link and click the "Add New" link.
In the "Search plugins…" box, enter "PowerPress."
Once you have located the plugin, click the "Install Now" button.
When the plugin has been installed, click the "Activate" button.
Configuring PowerPress
In the left column navigation mouse over the "PowerPress" link and click the "Settings" link.
NOTE: These options are also available in the "Settings" area of WordPress under PowerPress.
In the settings screen, enter the title of your podcast.
Next, set up the information for sending the podcast to iTunes.
iTunes Program Subtitle
It's not necessary to add a subtitle unless you think it helps describe the show.
iTunes Program Summary
Think about keywords here, which words an iTunes user might search when you want your podcast to appear in the results. Be sure to work the keyword(s) into a natural-sounding description. Apple will not add your show if your description is spammy. (leave "Wrap summary values with tags" unchecked).
iTunes Category
If you see date information (as in the screenshot here), ignore it and enter the same category into each field. There are not a lot of categories, and if there's nothing that applies specifically to your show, choose the closest alternative.
iTunes Explicit
It's important to select "Yes – explicit content" if you think you may ever use any language someone might consider "adult." If you set the show as not explicit and then drop f-bombs every five minutes, Apple will remove your show from iTunes.
iTunes Email
If you have an Apple account, use the same email here. Otherwise, any email you have will do.
iTunes Type
Choose "Episodic" if it doesn't matter what order someone listens to your episodes. Choose "Serial" if the episodes should be heard in a certain order.
iTunes Image
Image size is minimum 1400px x 1400px, maximum 3000px x 3000px. Blubrry says to use a .jpg, but if your logo doesn't contain photos, it's better to use a .png file.
So This Plugin Will Get My Podcast Onto iTunes?
The plugin will let iTunes know that you have a podcast. But there's no guarantee that iTunes will add your show based on the notification from the plugin. Create an Apple ID and submit your podcast through iTunes Connect for the best results.
In the "Blog Posts and Pages" area, you'll see the default is to show media and links of the podcast "Below page content." That can be changed depending on your website design needs, but I'm going to leave this as default for now.
In the advanced settings, you have control over other aspects to set a podcast in WordPress. Most of these are optional, depending on your strategies for using the podcast on your website.
Link your Blubrry account if you have one. That allows you to pull those podcasts directly from the Blubrry system.
Once the first page of PowerPress is complete, click the "Save Changes" button at the bottom.
Configuring the Audio Player in PowerPress
Click on the "Audio Player" control in PowerPress.
Choose which audio player you wish to use in WordPress. By default, MediaElement.js will be the one selected.
Click the "Activate and Configure Now" link to change the settings of the player.
Each player will have its own settings to control things like the width of the player on the site and the icons used for playing the file.
Once you modify the player, click the "Save Changes" button on the bottom.
Posting a Podcast
Create a new post in WordPress.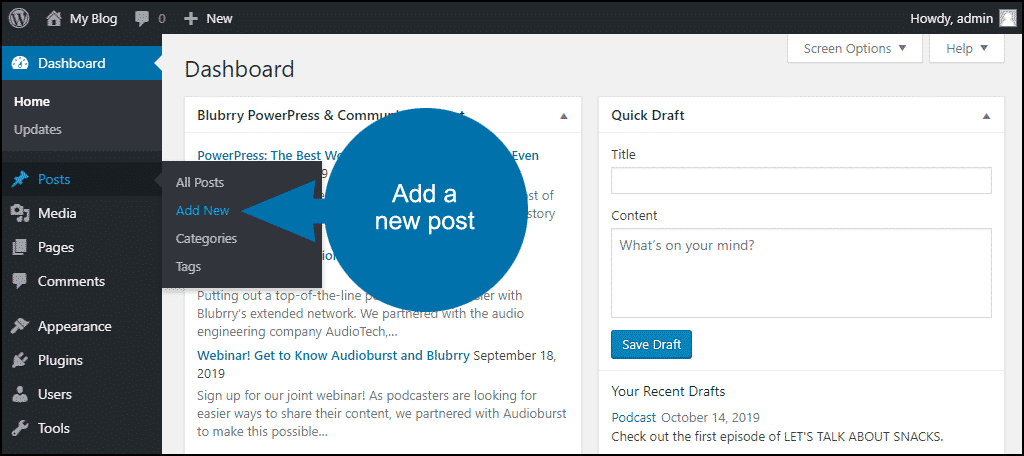 Name the post something related to the podcast.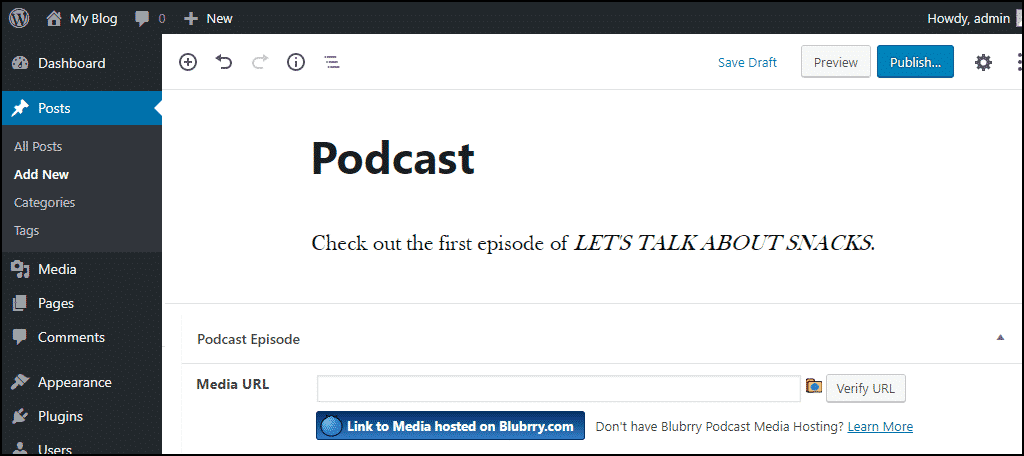 Create a short post about the content of the podcast. That can be anything from a synopsis of the material to even the transcript if you'd like. Some developers will use this area as a teaser for the podcast.
Scroll down until you see the window for "Podcast Episode."
Fill in the information regarding the podcast. If you use a third-party to host the podcast, use the URL of the exact location of the file.
Click the "Verify URL" button to ensure the link is active and accessible.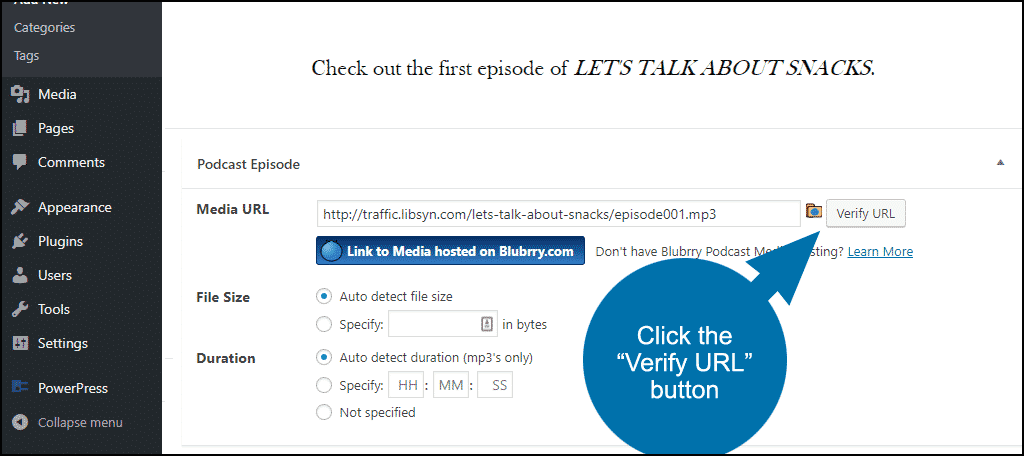 Once you've finished creating the post and adding the podcast, click the button to publish.
PowerPress comes with a feature for Podcasting SEO. These settings are located under PowerPress in the left admin panel and are used to fine-tune optimization of the feed. That includes data for both audio and video objects.
PowerPress can also import podcasts from other hosting accounts and plugins. This control is found under the PowerPress settings.
Can You Use a Podcast Player Other Than PowerPress?
There are several podcast players you can install for WordPress that will work with PowerPress. (If you use a different player, disable the option for "Display Media & Links" in the PowerPress settings.)
A good podcast player replacement for PowerPress is Podcast Player. It's easy to use, just insert a widget or shortcode where you want the player to be displayed.
To install it, log in to your WordPress admin panel.
In the left column navigation mouse over the "Plugins" link and click the "Add New" link.
In the "Search plugins…" box, enter "Podcast Player."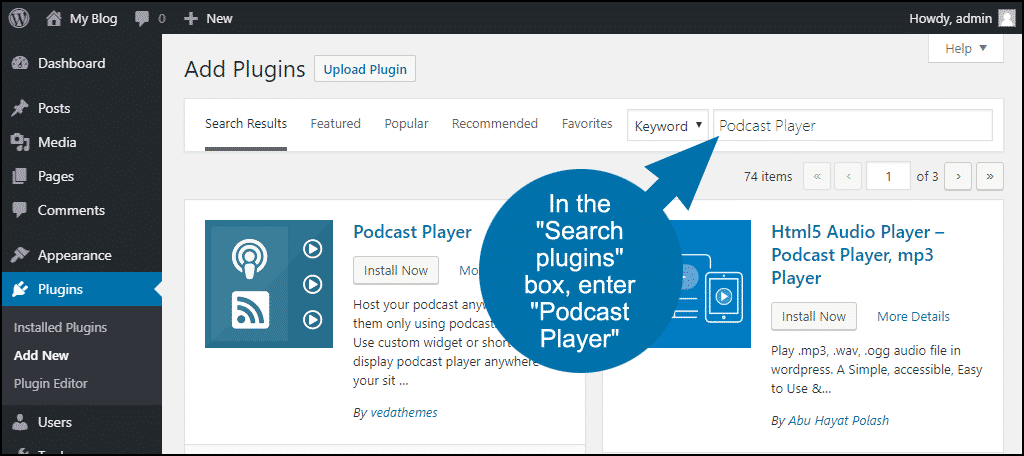 Once you have located the plugin, click the "Install Now" button.
When the plugin has been installed, click the "Activate" button.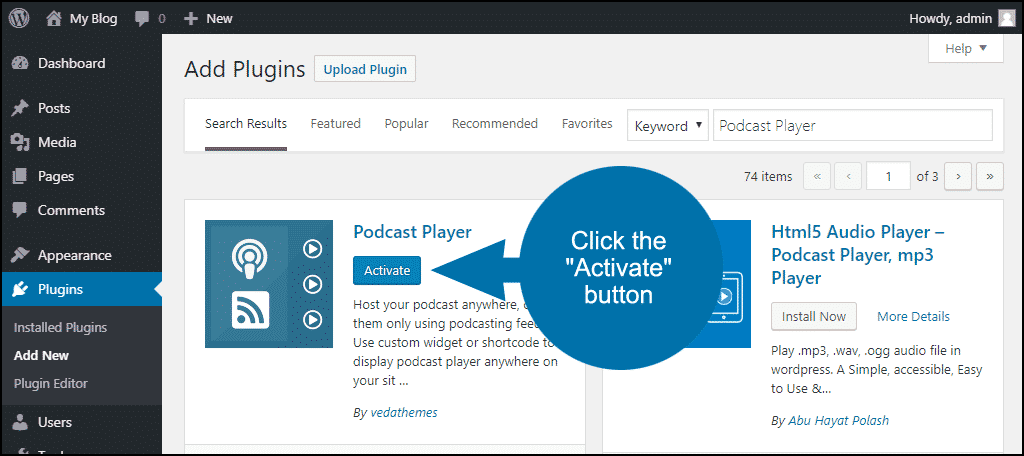 Configuring Podcast Player
There's no configuration necessary for Podcast Player. Once the plugin is installed, you can insert the player into a post or page using a shortcode.
It will work without any variables:
That will show the default display.
Replace the bold URL with your own podcast feed URL. You can see that I used the feed for a show that isn't mine. Since the plugin is really just formatting an RSS feed, you can display any podcast on your site using the plugin.
But if you want further control, you can add variables to the shortcode.
For example, to display more episodes in the scroll before the "LOAD MORE" link shows up, we could add the "number" variable.
Or display the podcast description above the list by adding hide_description='false'.
You can even change the color of the player with a hex code.
A full list of options is available on the plugin site.
Using Podcast Player as a Widget
In the left column navigation mouse over the "Appearance" link and click the "Widgets" link.
Scroll down and find "Podcast Player" and add it to the sidebar where you want it to appear.
Add the podcast feed URL to the widget (and any optional configuration you want to do), and click the "Save" button.
Get More Visitor Engagement with a Podcast and WordPress
Setting up a podcast in WordPress opens the doors to a whole new world of possibilities for your website. That lets you expand beyond text content and engage the audience in a whole new way. If you produce a weekly show to accompany your site, it has the potential to make a big difference in traffic and brand recognition.
Do you have plans to set up a podcast from your website? What kind of show would you produce if it meant gathering thousands of fans?
Kaumil Patel is the Chief Operating Officer of GreenGeeks and has over 13 years of experience in the web hosting industry working for and owning web hosting companies. Kaumil's expertise is in marketing, business development, operations, acquisitions and mergers.