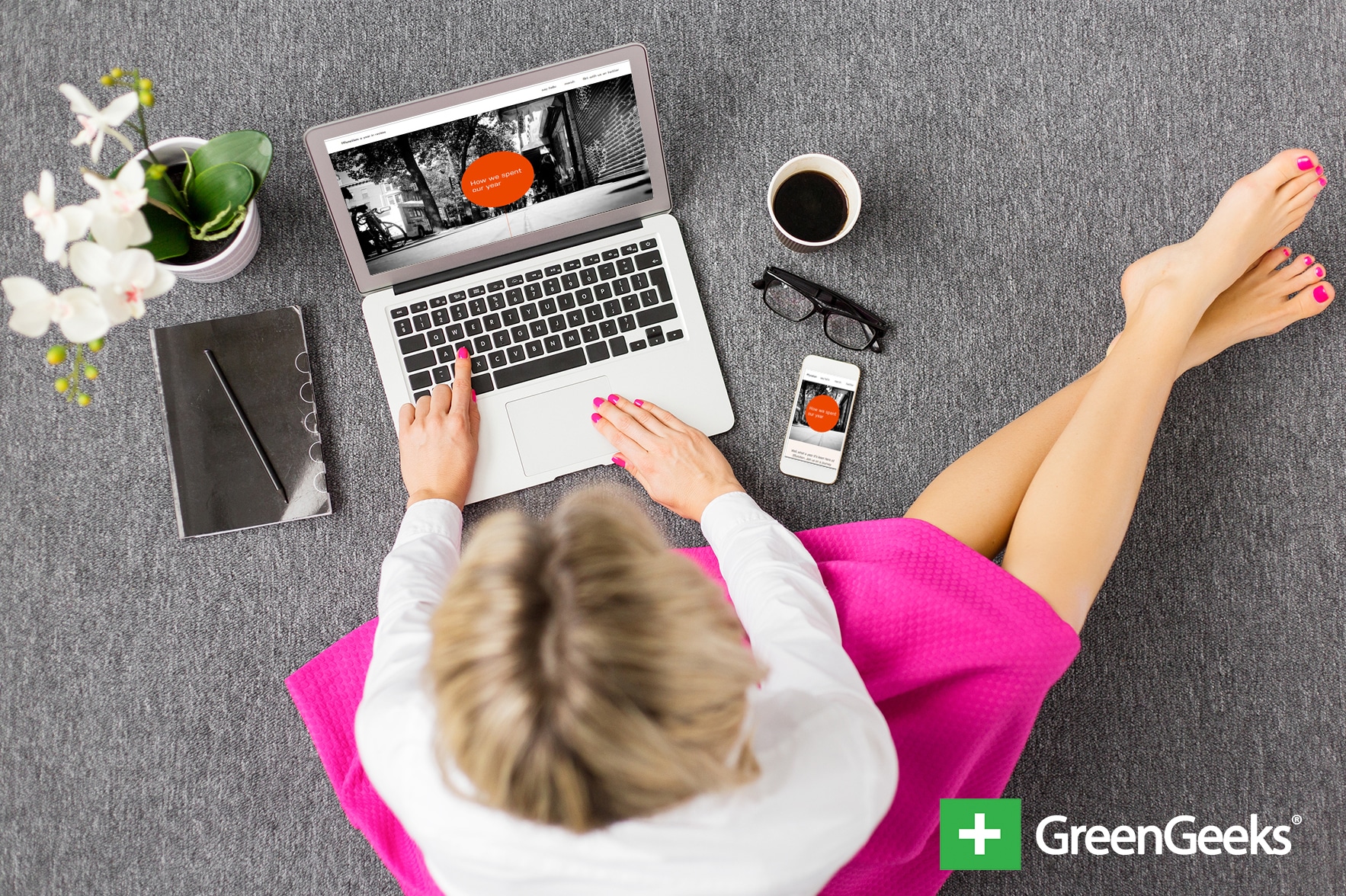 An easy-to-use menu can make all the difference when visitors are looking for specific content. These need to have a logical flow and be well designed. Otherwise, guests can become frustrated and leave the website.
A WordPress menu is more than just a listing of your content. It's a tool that is used to help visitors. You wouldn't give someone a screwdriver if they needed to put in a nail.
In this tutorial, we're going to show you how to set up a functional menu your visitors may love.
Are menus really that important?
While a large part of your visitors will be accessing your website from search engines or content you shared on social media, all of them will need to be able to find your material. Showing the most recent posts or the most popular may be nice, but it's not enough.
If you cover a lot of topics in your website, having a logical menu hierarchy can be greatly beneficial. At a glance, people will be able to see what you have available and how to access it. Keep in mind that if a site is too difficult to navigate, users will often leave.
Creating a WordPress Menu that Works
The first thing you need to consider is that you have several ways to create a robust and functional menu. You can either do this from the customizer for your theme or through the WordPress admin panel. Even then, the theme can pull menus directly from WordPress to be used.
In a way, you can use a unique menu as a way to further customize a theme in WordPress. In fact, there are some plugins available that can help with this.
However, not all themes support various types of menus. For example, one theme may be able to deliver a top-bar menu while others may have two or three places to set them.
Let's take a look and see what your theme supports.
Step 1: Go to "Appearance" from the admin panel on the left.
Step 2: Themes should be the default section. If not, click on it to see the themes you have installed.
Step 3: Find your theme and click it.
Step 4: On the bottom middle, you'll see a button for "Customize." Click this to launch the WordPress Customizer.
Step 5: Your specific theme will have a variety of options you can modify on the left. Find the option for "Menus" and click it.
Step 6: You should see an option for "Menu Locations." Under it, there will also be a button to add a new menu. For now, click the menu locations link.
Step 7: This screen will tell you how many menus are supported and possibly where they are located. Many of the free themes on WordPress will only support the single top-bar menu.
Step 8: Click the "x" on the top left to close the customizer.
Now that you know how many menus the theme can support and where they are located, it's time to build them.
Creating a New Navigation Menu
There are several parts to the navigation menu that can be created. Although it may sound intimidating at first, it's actually quite easy.
Step 1: Go into the appearance area for WordPress and click the "Menus" link.
Step 2: Now, there may already be a default menu stored. In this example, we're creating a new custom menu. Click the link available labeled, "create a new menu."
Step 3: Name the new menu. This can be anything you wish as long as you'll remember what it's for. You can give these names to make them more specific if you intend on creating more than one for different purposes. For this example, though, let's keep it simple and call it, "Home Nav."
Step 4: Click the "Create Menu" button on the right.
Step 5: The first thing we're going to add is a "home" link. Look to the left under the window for "Pages." If you have a home page already in this list, click the check box next to it and click the "Add to Menu" button.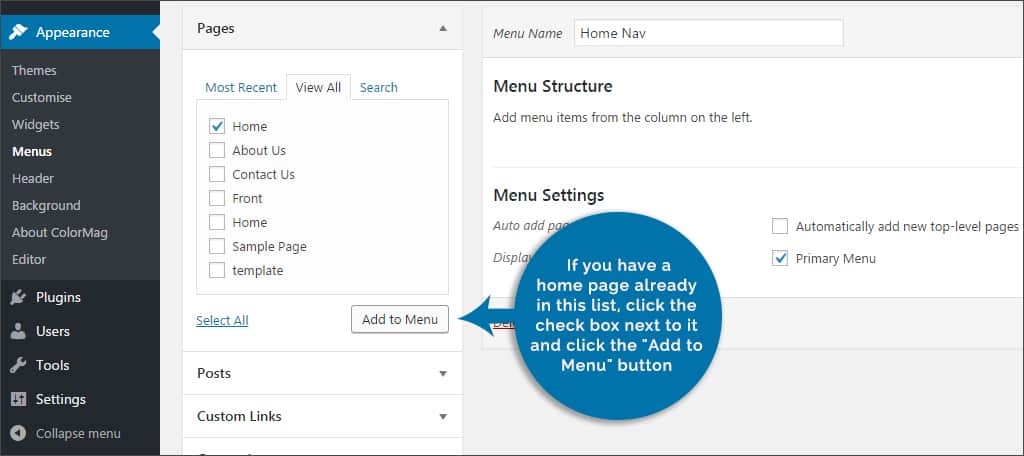 Step 6: If you don't have a specific home page, click the window for "Custom Links" to expand it. Type in the URL of your website and enter "Home" as the link text. Click the "Add to Menu" button.
Step 7 : Click the "Save Menu" button on the right.
Step 8; Click the "Manage Locations" tab near the top of the menu screen.
Step 9: Here, you will see a drop down box next to "Primary menu."
Step 10: Click the drop down and select the one you just created.
Step 11: Click the "Save Changes" button.
This will place your new menu in the primary location of the website. Your theme may have different areas, so you'll have to decide the best places for what you're trying to build.
Now, it's time to add a bit of functionality. Go back to the "Edit Menus" tab.
Adding Pages to Menus
One of the first things you'll want to do once the menu is saved is start adding your important static pages. These are usually reserved for things like contact forms, "about us" and other information that takes only one page to show.
In the "Pages" window, click the check box of all the titles you wish to add to the menu. Once these are all checked, click the "Add to menu" button. This will immediately place all of those pages into the menu space.
From here, you can use drag-and-drop to move the pages about to change their order, click on each to change a few settings on the right or even place them as a sub-item under another page within the screen.
Adding Posts to Menus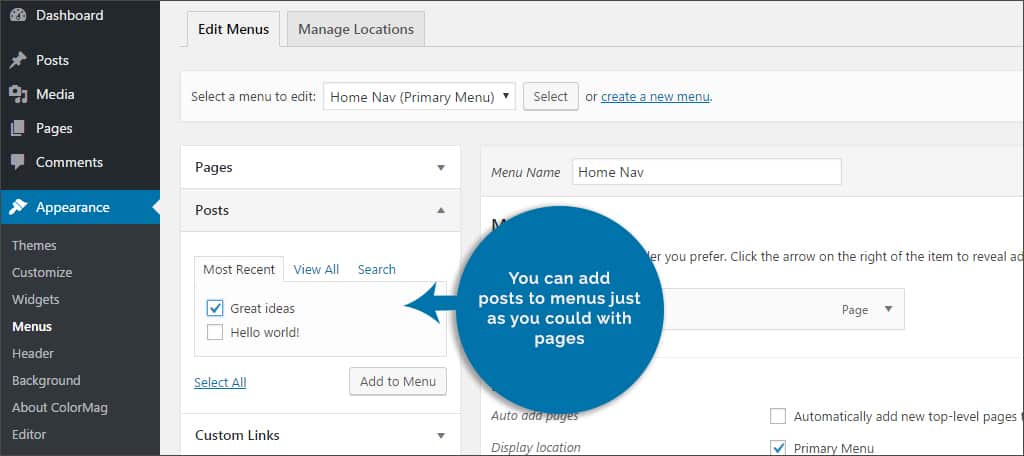 You can add posts to menus just as you could with pages. If you have a brilliant piece of content or an important post that you don't want to turn into a page, you can add it to menus using the check box as before.
This can be useful if you want to create a collection of specific posts for a topic and don't want to change its category or move the post around. You can create a page with the title of the topic and then add posts under it as sub-items.
Adding Custom Links to Menus
We covered custom links a bit earlier when you made "Home" in the beginning. However, custom links can have more uses. For example, you can create links to specific pages or even custom layout landing pages.
If you're operating a blog from WordPress and own a secondary website as eCommerce, you could put a link from here back to that site.
As long as you have the active URL, you can create a link from here to anything.
Adding Categories to Menus
If you have important categories that you want to highlight for your visitors, placing them in menus might help it get more exposure. Although you might have the widget on the right for the categories, the menu item is usually one of the first things people see. You can bring their eyes directly to that specific topic of content.
Just click the check box on the side of the category you wish to add and click the button to add it. This can also help you create a more in-depth hierarchy of content if you have a large number of categories full of materials. Instead of using a long category box on the right, you can condense it into a drop down from your menus.
Custom Menu as a Widget
WordPress allows you to add menus as a widget that can be placed in sidebars and any other place specifically for widgets. Go to the appearance area of the WordPress admin panel and click on "Widgets." From there, find the widget, "Custom Menu." Drag it over to the sidebar and drop it where you want the menu to show.
When you click into it, you're provided with options to name the box and select the menu you want to display.
A WordPress menu can be very useful for visitors to find precisely what they're looking for. Spend time to create one that makes sense and is easy to follow. Why not make it simple for your guests to find the content you write?
How many menu items do you have set up on your site? Do you use menu enhancement plugins to give your site more flare?
Kaumil Patel is the Chief Operating Officer of GreenGeeks and has over 13 years of experience in the web hosting industry working for and owning web hosting companies. Kaumil's expertise is in marketing, business development, operations, acquisitions and mergers.