You need a better, faster web host.
Free Site Migration, Amazingly Fast, Secure & Eco-Friendly WordPress Hosting with 24/7 Support.
Check Out Our Hosting Plans
Creating a page for recent comments in WordPress has potential to engage an audience. It shows current activity and gives visitors a chance to see what others think as well as your responses.
After all, comments are known to increase the chances of discussion with an audience. And that improves the likelihood of return visits and sharing the brand with others.
Today, I'll show you how to set up a page for recent comments in WordPress. Using a comments display plugin, you can use messages from your visitors in a variety of ways.
What Can You Do with a Page for Recent Comments in WordPress?
One suggestion for setting up a comment page in WordPress is to use it as a shared element in social media. You could post something like, "here's what our guests think," and then attach the link.
A common method is to use the page as a menu item in the top navigation bar of the site. This gives visitors quick and easy access and may inspire exploring the website.
Perhaps you have a landing page and want to promote engagement. Using a WordPress comments shortcode lets you place the recent messages directly into that landing page. It may boost interaction with your target audience.
These are only a few methods of using a recent comment page to improve the engagement potential of your content. This is especially true if you actively respond to visitors.
Using Better Recent Comments
In this tutorial, I'll use the Better Recent Comments plugin. This tool will provide a widget and shortcode to display the messages from visitors. You can also change the format, avatar sizes and determine excerpt lengths of the comment.
The only real downside to this plugin is the lack of setting control in the WordPress admin dashboard. So if you want to modify how recent comments appear on the page, you'll need to manually add those elements in the shortcode.
However, you can find all of the shortcode adjustments in the WordPress.org page for the plugin.
Install and activate, "Better Recent Comments."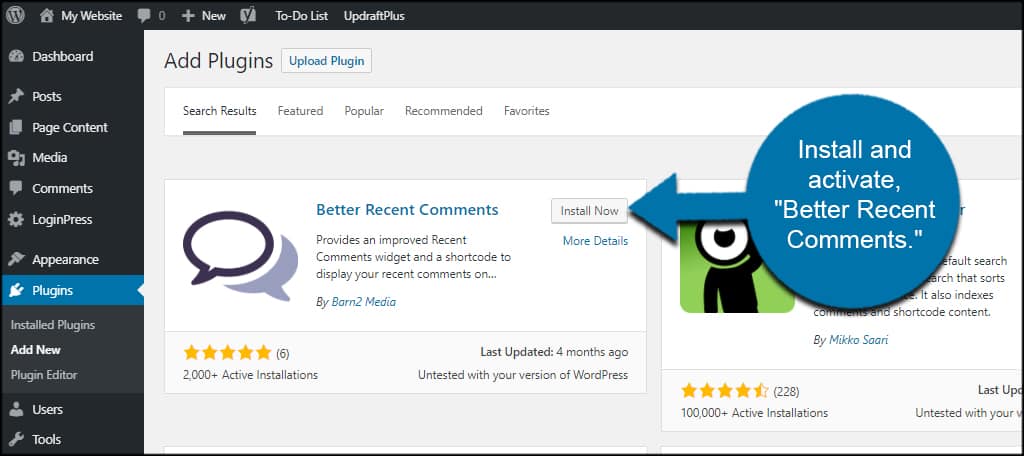 Go to Pages and click, "Add New." You can also use a page you already have saved in WordPress.
Paste this shortcode into the page: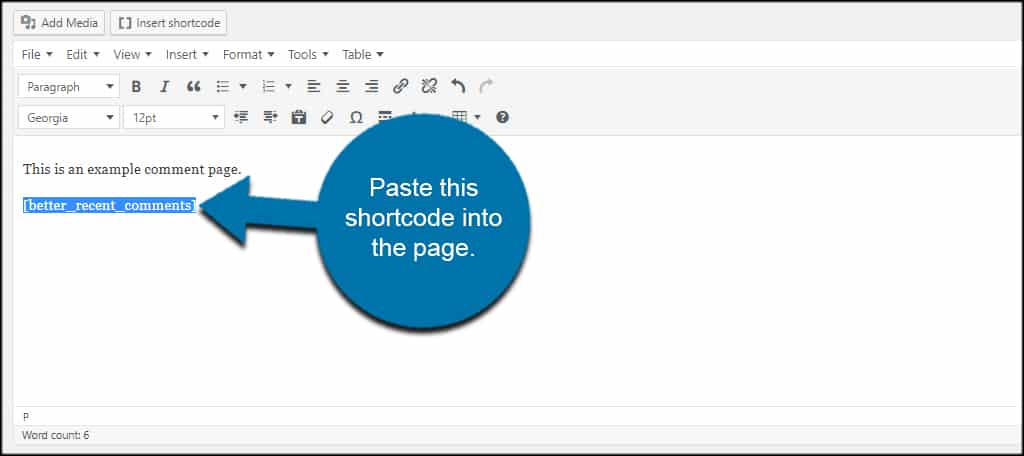 If you're using the Gutenberg Editor, you can also add a shortcode block to keep it separated from your actual content.
Once you publish or update the page, the most recent comments will appear.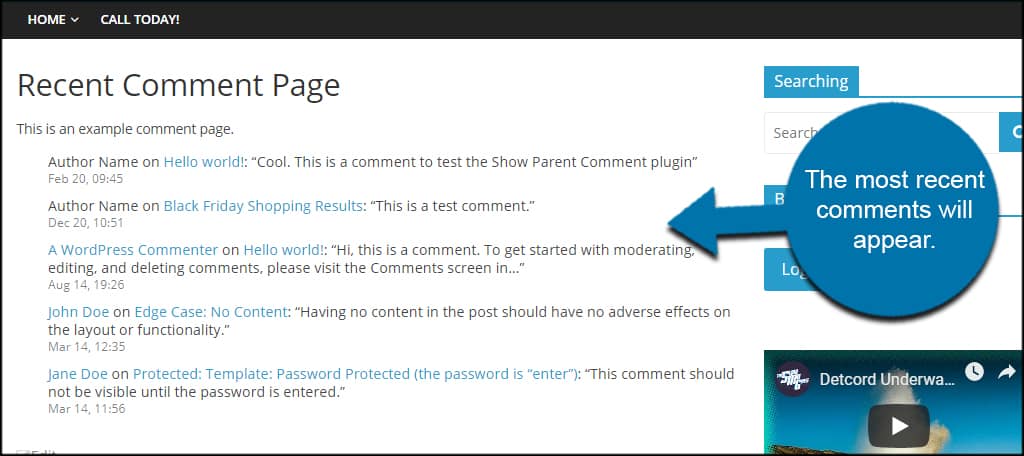 Showing the Full Comment
By default, Better Recent Comments limits excerpts to 20 words. But what if you want to show the entire comment?
Add excerpts=false to the shortcode. So, your code would look like this to remove word limits:

Remember, a list of what you can do in the shortcode to customize it is on the plugin's page in the WordPress repository.
Adding the Page as a Menu Item
Having a recent comments page now gives you a link to share. But what if you want visitors to have easy access? Adding the page as a menu item can help guests easily find the page.
That is, unless you just added the shortcode to a page you already have in use.
Go to Appearance and click, "Menus."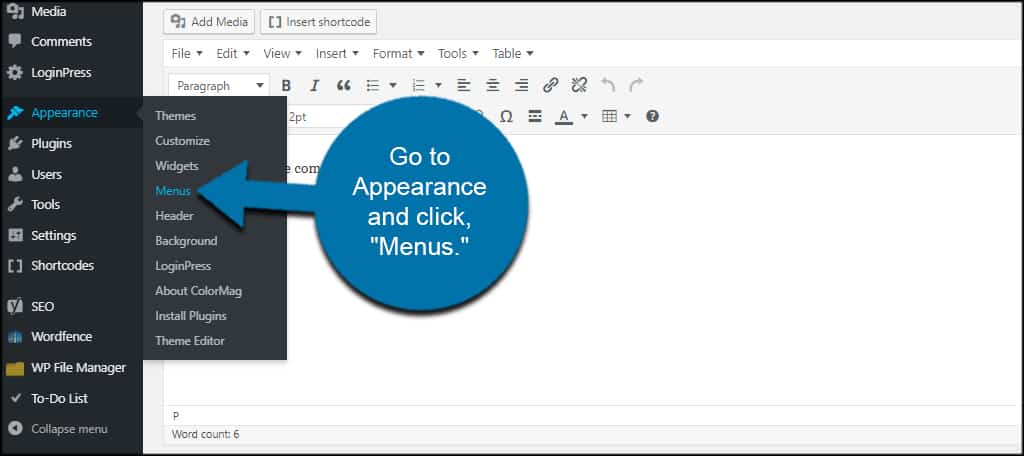 Select the menu of which you wish to add the page. Depending on whether you've created custom menus in the past, your navigation bar may already be selected.
Check the box for the page under Most Recent and click, "Add to Menu."
Use the drag and drop feature to place the page where you want it to show in the menu.
Click the "Save Menu" button.
The recent comments page will show in your menu.
Other things You Can Do with this WordPress Comments Plugin
The shortcode gives you the option to place recent comments virtually anywhere on the website. You can add them to posts, pages and most custom post types.
This tool also comes with its own widget in the event you want to add it to the sidebar. The widget itself is a bit easier to manage than the shortcode simply because it includes options such as showing avatars, post links and more.
However, the widget doesn't give you a few of the other options such as removing the excerpt limit.
Add Interaction with a Solid WordPress Comments Plugin
Better Recent Comments is only one of many plugins to offer visitor engagement through discussion. In fact, you could easily spend hours looking for the perfect one to fit your needs simply because there are a lot of excellent comment tools in WordPress.
Accentuate your content and engage your visitors. It may help you turn one-time guests into long-term fans.
What are your favorite plugins for visitor engagement? How active are you in the comment section of your website?