Managing file downloads can be a difficult task sometimes. There are a couple of great ways to accomplish this. You can use something like WooCommerce to manage file downloads, or you can use WordPress only and manage files using WordPress Download manager.
In this article, I will show you how to use WordPress Download Manager to manage all your WordPress file downloads.
WordPress Download Manager
This method is best for users who want a dedicated download manager for their website. WordPress Download Manager allows you to manage both free and paid file downloads.
The first thing you want to do is install and activate WordPress Download Manager.
Once you have installed and activated the WordPress plugin you will automatically see WordPress Download Manager thank you page. It will look like this: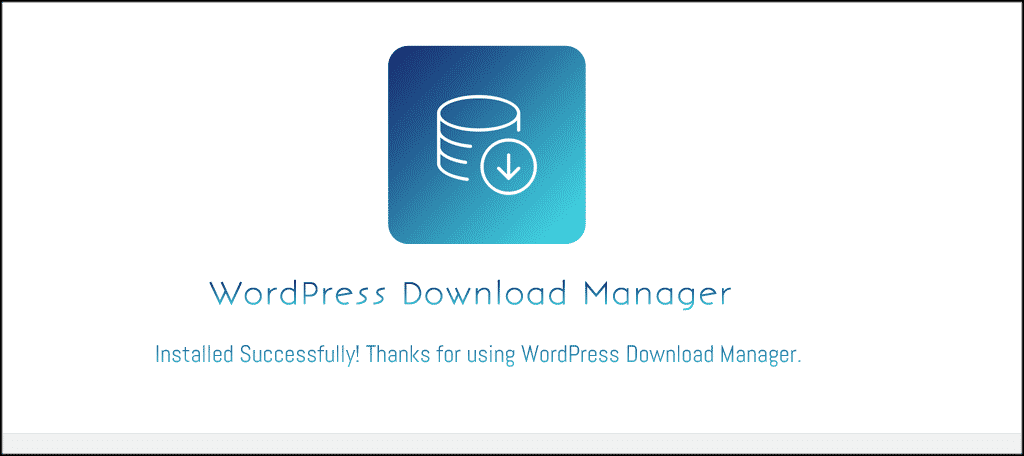 From here, or anywhere else on the site, you want to click on Downloads > Add New so you can add a new download file.
Provide a name and a description for your download, then click on the "Select File" button located on the right to add your download file.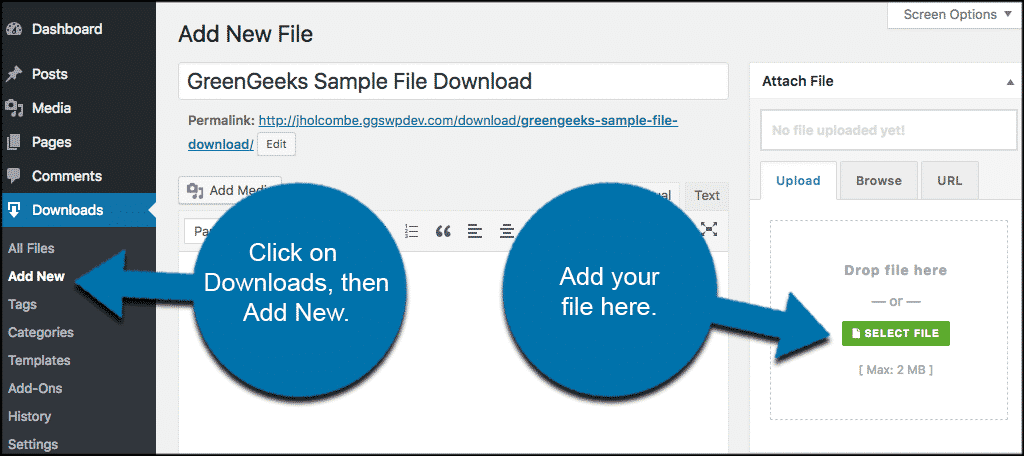 When you are done with that go ahead and scroll down to the "Package Settings" section. This section enables you to set different settings for the file download. Fill them out how you see fit.
After that click on the "Lock Options" tab and you will be able to set different rules to restrict file downloads. You can see that by default the plugin allows you to set rules and set download restrictions to users agreeing to terms, a password lock, or a recaptcha lock.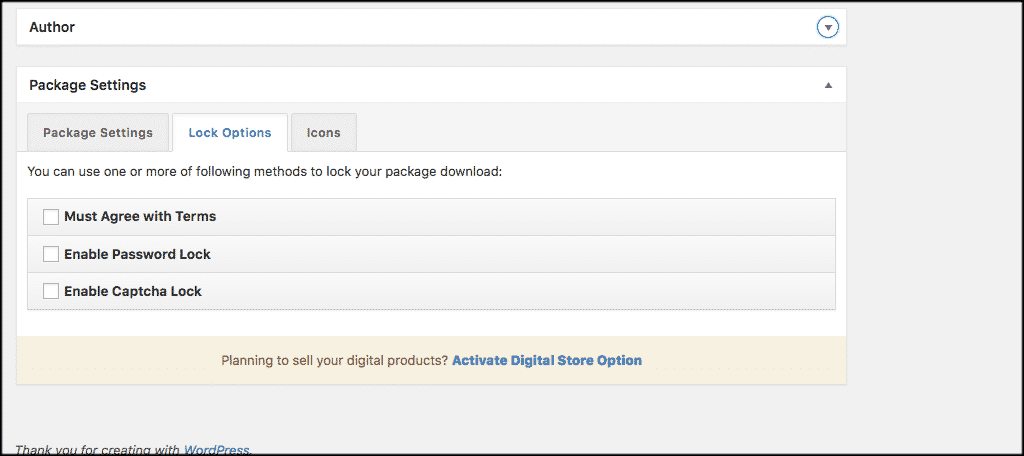 Finally, when that is complete to your liking you can click on the icons tab to select an icon to display next to the file download.
When all of the above is done to your liking you can go ahead and publish the post.
Adding the WordPress File Download to a Page or Post
The WordPress Download Manager plugin makes it easy for you to add WordPress file downloads to any post or page of your website. All you have to do is click on Downloads > All Files and copy the shortcode that is listed next to the file you just added.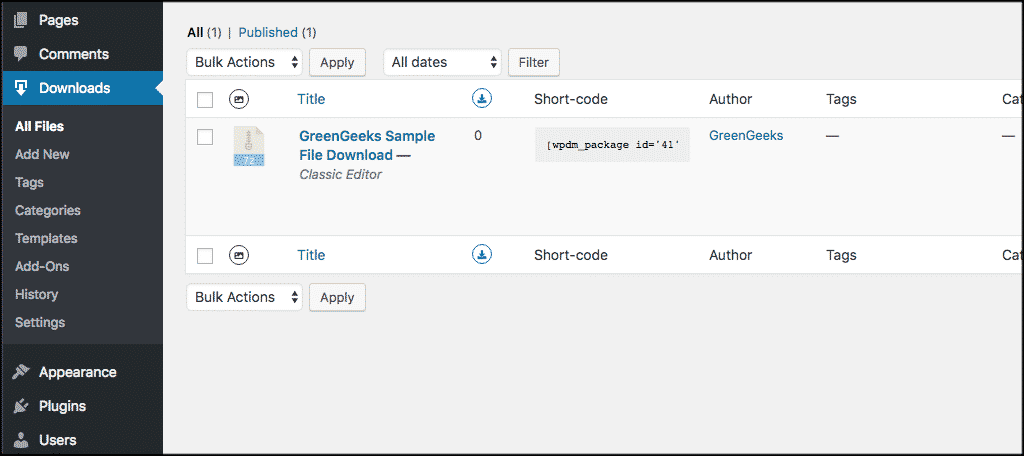 Take the shortcode you just copied and paste it in any WordPress post or page content where you want to show the file download button and make it available.
When you are all done click on the publish or update button and go visit your live post to see what it looks like. This is where you will see your digital files made available.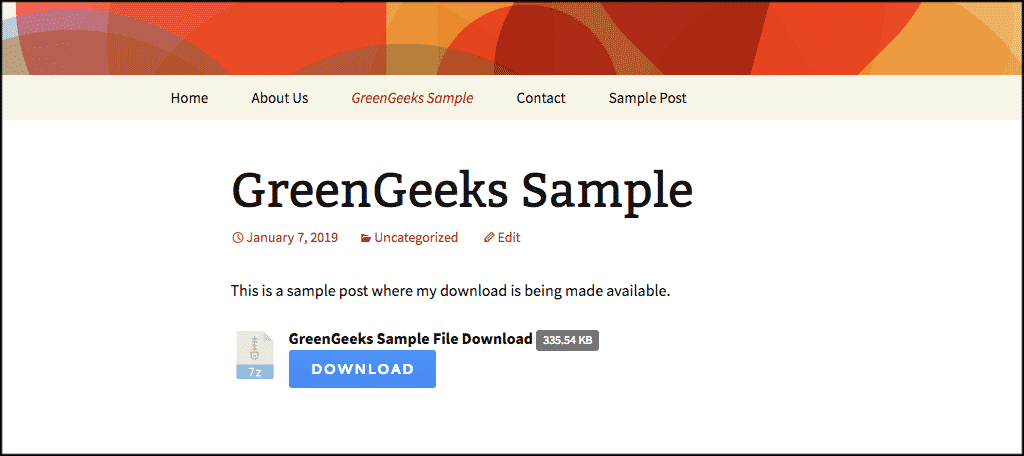 Note: WordPress Download Manager also allows you to add paid WordPress file downloads to your website. To do this you need to click on Downloads > Add-Ons and locate the "Premium Package – WordPress Digital Store Solution" add-on, then install and activate it.
Once the package has been installed you will pick a payment process and then the rest of the steps are identical. However, now you will have the ability to add pricing to your downloads and make them available for purchase.
I hope this article showed you an easy way to manage your WordPress file downloads.
Do you have another solution that you use? Have you found that your customers find this option easy to use?
Growing up in Hawaii, Jeremy started his freelance writing career doing resumes, business plans, article writing, and everything in between. He now specializes in online marketing and content writing and is part of the Content Marketing Team at GreenGeeks.