Do you want to prevent spam bots from registering on your membership site? Spam registration can inflate your numbers and make it look like your website is doing better than it actually is. While this may sound like a good thing, it is not. Websites that do not realize that they have a lot of spam registration may think about expanding.
Expanding under a false notion of growth could have serious financial consequences. For this reason, it is important to prevent spam registration in WordPress membership sites, Today, I will demonstrate how to prevent spam registration in WordPress membership sites by using the Stop Spammers plugin.
Why Prevent Spam Registrations in WordPress
The main reason it is so important to block spam registrations is that they give you false website statistics. Imagine you see a 20% increase in new accounts registered. You probably are on the verge of a heart attack and are rushing to make plans to expand your operations, but what you should be doing is checking if they are spam bots. Spam in WordPress is never a good thing and there are always ways to prevent it.
Unfortunately, a lot of these ways tend to impact users in small ways. For example, one of the best spam blockers is CAPTCHA, however it also affect users. It may seem insignificant to ask your registered users to have to enter a few letters, solve a math problem, or select some pictures, but all this takes time and nobody wants to waste time.
How to Prevent Spam Bots From Registering in WordPress Membership Sites
Today, I will demonstrate how to prevent spam registration in WordPress membership sites by using the Stop Spammers plugin. This plugin is extremely easy to use and utilizes powerful spam prevention techniques to guard your website. It is fully compatible with Akismet and works in conjunction with it. All you will need to do is install it and select what the plugin will do with a few easy selections.
Before you begin it is important to note that this plugin is not compatible with the Jetpack Protect feature. You will need to deactivate Jetpack Protect or the plugin will not work, but the rest of Jetpack is compatible.
Installing Stop Spammers
Begin by clicking on Plugins and selecting the Add New option on the left-hand admin panel.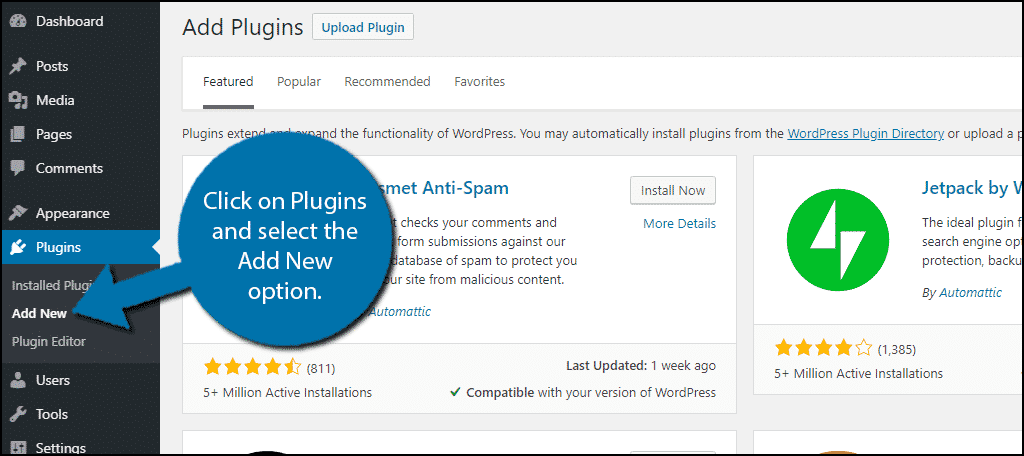 Search for Stop Spammers in the available search box. This will pull up additional plugins that you may find helpful.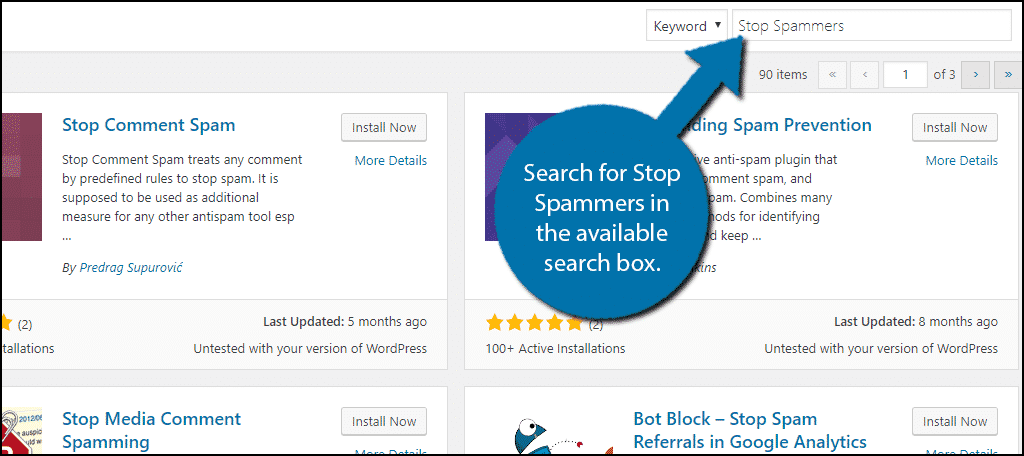 Scroll down until you find the Stop Spammers plugin and click on the "Install Now" button and activate the plugin for use.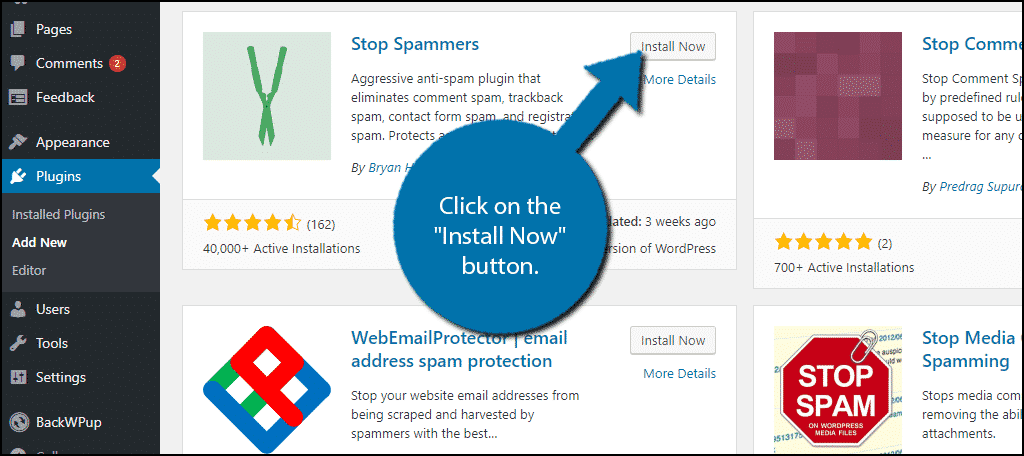 On the left-hand admin panel click on Stop Spammers and select the Protection Options option. This will pull up the main settings page. If you did not disable Jetpack Protect, you will see a message indicating that you must disable it to use the plugin.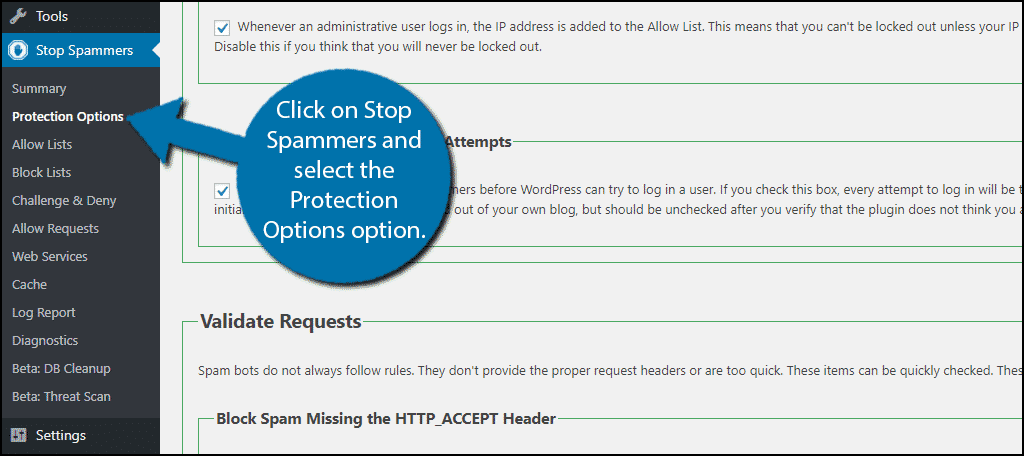 Using Spam Blockers
This plugin has a lot of customization options to choose from. The default option will most likely be enough for your website, but you can definitely fine tune what the plugin does and doesn't do to block spam. This is all done on this page.
All of the options are explained directly on the page. You can choose to enable a specific setting by checking the box or disabling a setting by unchecking the box. Go through this page and read what each setting does and select which ones you want to use.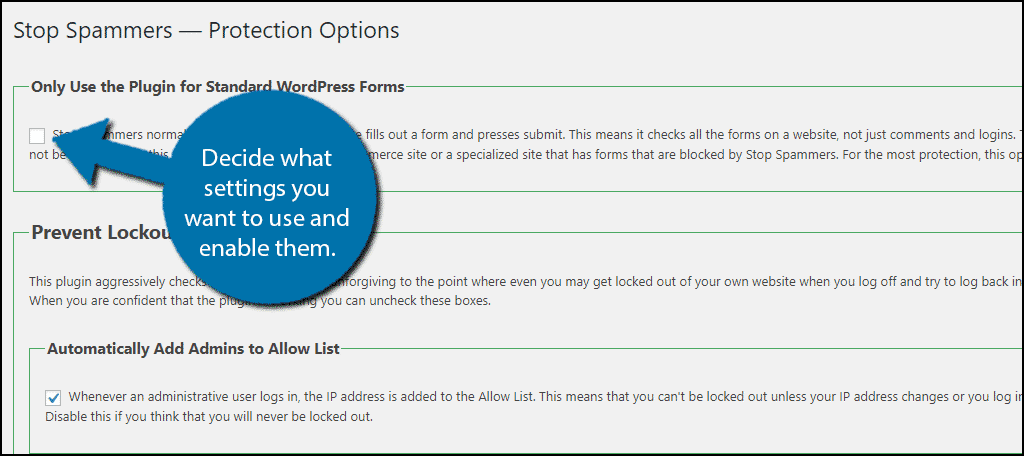 If at any point while reading the descriptions, you're not quite sure what it does, I'd recommend not changing the default settings.
At the bottom of the page, you will see a Block Countries section. This is a very powerful tool for websites that know exactly what regions they want to do business with. You can block websites that you are not planning on doing business in and this will prevent all spam bots from that country from accessing your website. However, you are cutting off an entire country from your website, so make sure you are positive before doing it.
Once you have reviewed all of the settings and made your changes, click on the "Save Changes" button at the bottom of the page.
Congratulations, you have successfully configured the Stop Spammers plugin for your website. You can change these settings at any time by visiting this page again.
Take Spam Threats Seriously
Many web developer beginners do not take spam seriously enough. Spam bots can take over your email subscriptions, comment sections, and registrations. These will give you a false sense of the traffic on your website and eventually your website will be full of spam. Spam does not benefit your website at all and you need to make sure you take the proper measures to guard against spam.
One of the best options is to use the Akismet plugin. It is the most popular spam blocking plugin with over 5 million active installs. It is fully compatible with the Stop Spammers plugin, so don't be afraid to use both. Keep your website spam free.
How easy do you find the plugin to use? Have you noticed a significant reduction in spam registrations on your website?
Robert has been writing tutorials about WordPress and other CMS for over 3 years since joining the GreenGeeks marketing team. Thanks to this, he has had the opportunity to research and master several areas of WordPress including plugin usage, SEO, website design, and social media integration. When he is not creating content for WordPress, Robert is digging up new content ideas for environmental pieces. These range from the pollution in our air to the danger's wildlife face. And with a bachelor's degree in electrical engineering, he is always eager to discuss the way our technologies are affecting the environment, especially when it comes to solar energy.