Do you need to reset your WordPress website's database to its default settings? The database contains a lot of valuable information about your website and how it works. Things like your login information, posts, pages, comments, and dozens (or hundreds) of pieces of data that you never see.
Of course, you may wonder why anyone would ever need to reset such an essential part of a website.
Many web developers use cloned websites to test significant changes. Clones or staging sites are used so your live website is not affected by any changes or testing. Making changes on a clone or staging site ensures that your live site doesn't experience any downtime. When the testing is complete, you may want to reset your cloned website's database, for a fresh start next time.
Today, I will demonstrate how to reset WordPress database settings to default using the Advanced WordPress Reset plugin. We'll also take a look at the WP Reset Database plugin.
Keep a Backup of Your Database
Regardless of whether your intention is a full database reset or resetting a single table, you should keep a backup. The last thing you want to do is lose everything on your website, even if you're going to start over.
Website experiments or testing can be a valuable learning tool. You may even want to use some of that content again if it was not a test website.
Even if you are not resetting your database, backups are always essential. They allow you to quickly recover from some of the common WordPress error messages you will encounter as well as any mistakes on your part (we all make them).
Downtime for a live site is something we all want to avoid whenever possible. Minimizing downtime should be the goal when it is unavoidable.
If you're experiencing downtime due to your web host, it may be time to find a new home for your WordPress site. GreenGeeks hosting is optimized for WordPress. Known for its speed and reliability, GreenGeeks is also powered by renewable energy. It's a win/win!
Before We Reset
Resetting a WordPress database is appropriate when you want to revert to the default WordPress setup. But if you're trying to fix a sluggish database, and intend to keep some WordPress content, you may want to consider doing a database "clean up" before resetting.
The Advanced Database Cleaner plugin will fine-tune your WordPress database, removing a lot of unnecessary data. It can delete old revisions of posts and pages, auto drafts, trash posts, spam and trash comments, pingbacks, and trackbacks.
It can also remove a lot of "orphan" data. Things that are no longer linked from your site, but remain in the database—orphan metadata from posts, comments, users, and terms. You can view and verify specific data types before performing a cleanup.
Resetting the database should be a last resort and only done when you want to start from scratch. If that's your goal, let's carry on with the reset.
How to Reset the Default WordPress Database Settings
As I mentioned, we're going to cover two different plugins. First, we'll reset the default WordPress database settings using the Advanced WordPress Reset plugin.
The plugin will completely reset your WordPress website's database. The site will be as it was after installing WordPress for the first time. It's perfect for test websites, but can also be used on live websites if the need arises.
Remember to make a backup before you begin because you will lose all the information in your database.
Installing Advanced WordPress Reset
Start by clicking the "Plugins" link and selecting the "Add New" option.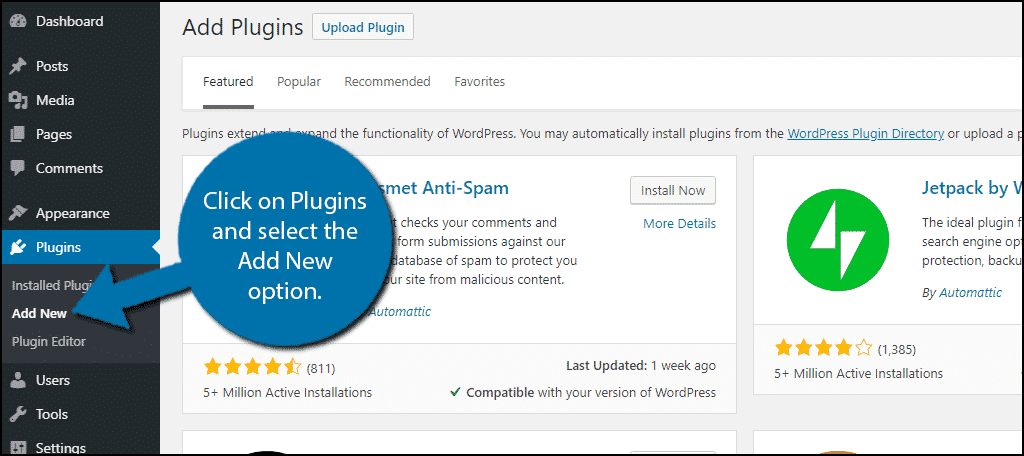 Enter "Advanced WordPress Reset" in the search box. That will also list additional plugins that you may find useful.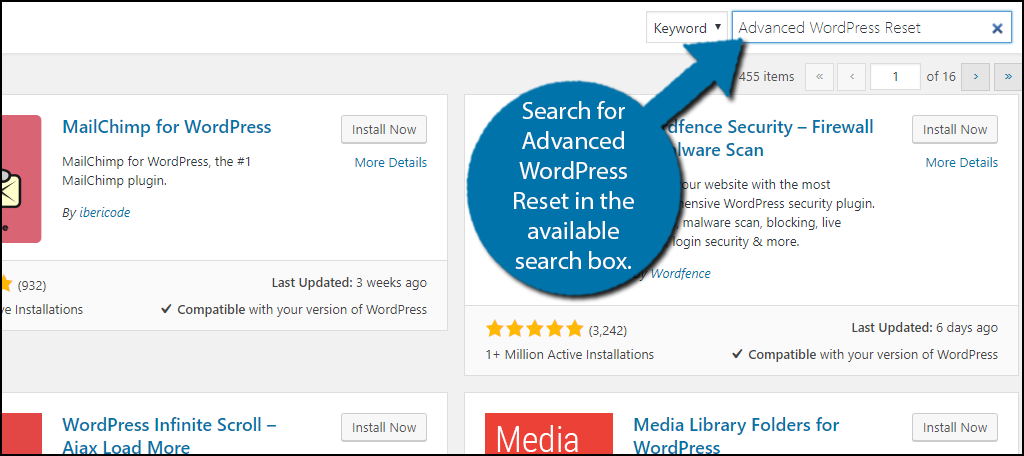 Find the Advanced WordPress Reset plugin and click the "Install Now" button. Then activate the plugin for use.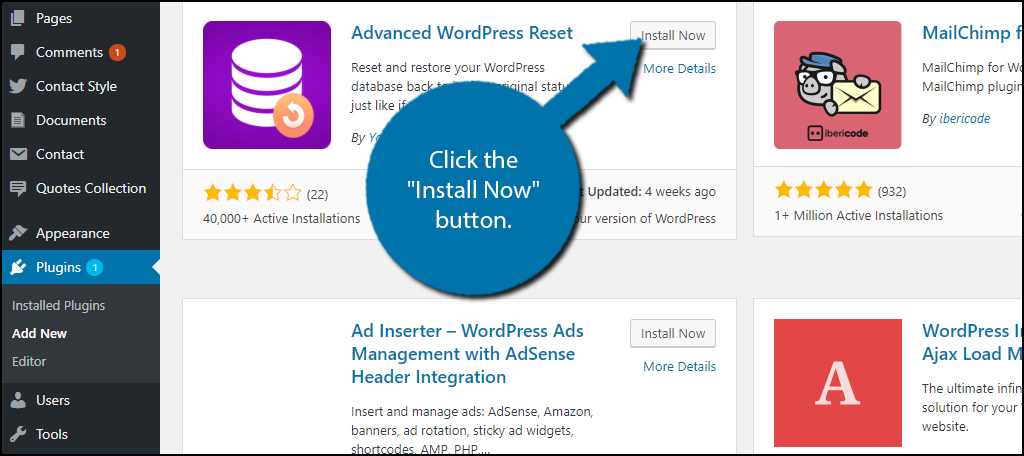 In the left-hand admin panel, click "Tools" and select the "Advanced WP Reset" option. That will open the main settings page.
Using Advanced WordPress Reset
The plugin is straightforward to use, but remember that you will be resetting the entire WordPress database to default, with one notable exception. Your current administrator account will be recreated with the same login information.
That will make it easier for you to rebuild your test website. If you do not have an administrator account, resetting could cause an error and lock you out of the website. If you don't have one, create an admin account before you begin.
To reset your database, you need to verify that you want to proceed by typing "reset" into the text box.
After the word "reset" has been entered, you are ready. This is the point of no return! Create a database backup now if you have not already done so.
Click the "Reset database" button to begin the process.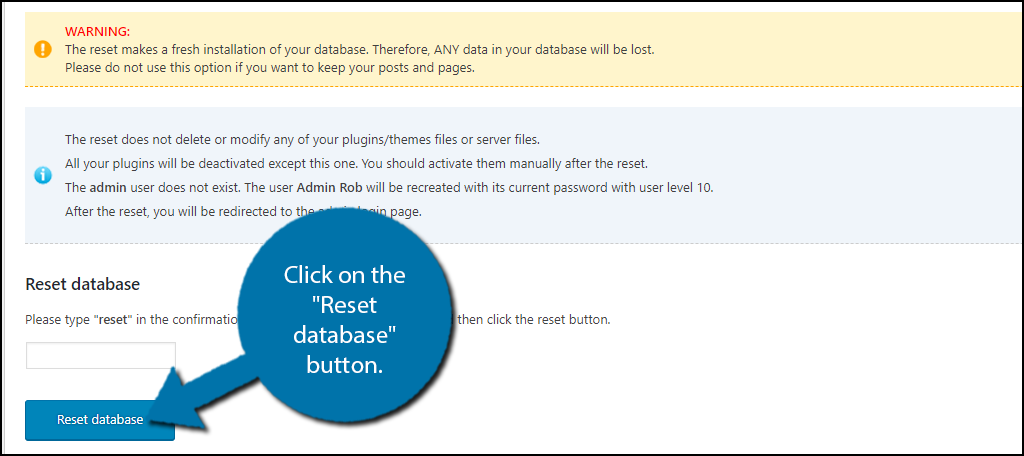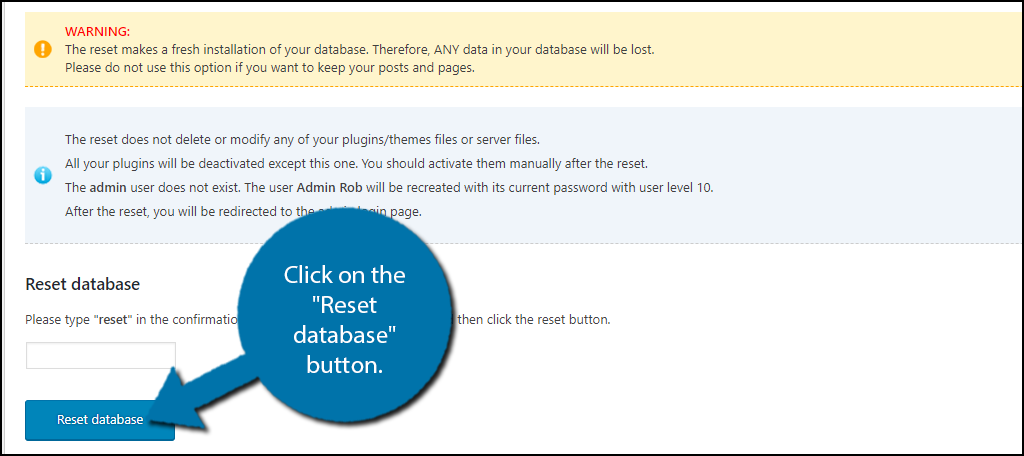 Your website's database should now be resetting. It may take several minutes. How long the process takes depends on the size of the website.
Once the plugin runs, there's no going back unless you created a backup of the website and database.
Reset WordPress Database Using WP Database Reset
Another reliable tool to reset WordPress with a plugin, you may want to try is the WP Reset Database plugin. It allows you to quickly and easily reset any or all database tables to the default settings. The tool is straightforward to use, and you do not have to modify any files.
Install WP Database Reset
To use the plugin, it needs to be installed and activated. Do that the same way we installed the first plugin, from the plugins page in your WordPress admin dashboard.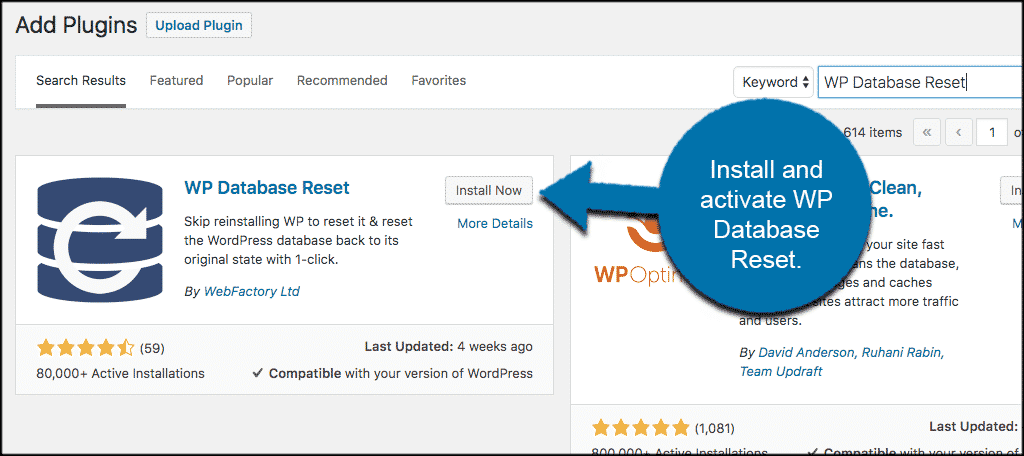 Once the plugin has been installed and activated, click "Tools" > "Database Reset." That will take you to the database reset page. From there, you can select tables and perform WordPress database resets with a single click.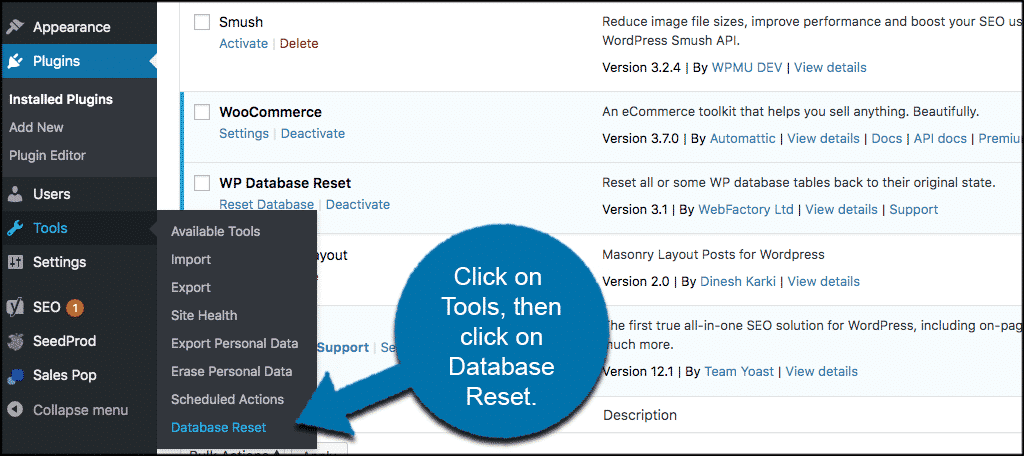 Using WP Database Reset
When you get to the database reset page, you'll see that the process is straightforward.
Select the database you want to reset. You can select any or all of them.
Enter the security provided code.
Click the "Reset Tables" button.
That's it. You have reset your chosen tables back to default.
The plugin does not create backups! So make sure you have created your own backup copy if necessary. Having a backup that you never use is better than needing a backup you don't have.
Test Everything First
Knowing how to reset WordPress is an essential tool for any website developer. Testing new features and designs is vital for all websites. It may be fine to test a new website on a live platform if the site doesn't yet have an audience. But as you grow and gain visitors, you should avoid testing on the live site.
The best way to test new ideas is on a test site since it will not affect your actual live content and layout. You can create a clone of your website and work out your ideas there. It's better to work out experiments and updates were no one can see them. Your live site should never have a broken page or function.
Knowing how to reset a test website is crucial because not every idea will work. You may also want to test different versions of the same idea. Regardless of the reason, the day will almost certainly come when you need to do a database reset.
Why do you want to reset your website? How often do you use a clone or staging site to test ideas for your live website?
I currently work for GreenGeeks as a Support Technician. My primary roles are supporting our VPS and Dedicated server clients, as well as performing site migrations. With experience in the web hosting industry since 2009, there is rarely a question I can't help answer. In my spare time, I enjoy gaming and working on cars as an automotive enthusiast.