Sharing content on social media has great potential for driving traffic and engagement. But what about older pieces you created some time ago? These articles may be able to serve you again by sharing old WordPress posts automatically in social media.
This is especially effective if you have a lot of still-relevant and evergreen content available.
In this tutorial, I'll show you a simple way to set up a way to automatically republish old posts from WordPress.
Why Share Old Posts in Social Media?
You have access to a lot of incredible social media tools to help drive website traffic. A lot of these focus on sharing a newly created piece of content with followers.
But as time marches on, you will undoubtedly get new fans and followers. It's a good chance these new visitors don't know about your older pieces of content which might help them.
Sharing an older post gives new people a chance to see what you have available. When you repurpose your old articles, you give them a chance to bring in additional traffic.
Another point to consider is how not everyone following your social profile may see the post in their feeds. This is because a social content feed like Facebook and Twitter is often filled with an incredible amount of posts.
Fans may not really catch something from you in which they may have an interest.
Using the Revive Old Post Plugin
Today, I am demonstrating a bit of what Revive Old Post can do for your WordPress website. The plugin gives you a lot of customizable options from choosing the number of posts to share to including specific hashtags.
It's a popular WordPress plugin to repost old posts directly from your website. While the free version does have its limits, you may still find it useful and decide later to buy the pro tool.
Install and activate the "Revive Old Post" plugin.
Click the "Revive Old Posts" option from the left panel of WordPress.
In this screen, you'll see all available social accounts the plugin manages.
Adding a Social Account
Click on the social media button you want to add on the bottom.
Revive Old Posts supports Facebook, Twitter, LinkedIn, Tumblr, and Pinterest at the time of this tutorial. However, the free version of the plugin will only allow for one Twitter and Facebook account.
Luckily, this is enough for many who want to see if this tool is worth the extra money to access the other social sites.
Before you can use this social auto poster WordPress plugin, you have two options to add account details to the plugin.
The first is to simply sign into said account and accept that the plugin will post on your account. Alternatively, you can enter the API keys for the specific platform.
You can obtain these through the various platforms available, and most of them are free.
For instance, you can access the Twitter developer site to set up your own API key. Keep in mind the application process for Twitter can take a bit of time.
Click the social hub you wish to add to Revive old posts. For this example, I am going to connect Twitter to the website. This means the plugin will retweet old posts from WordPress.
Input the API key or accept the app for the social site you've selected.
Once you sign into the system, you can then begin to modify the settings to make WordPress auto post to social media.
General Settings Tab
The General Settings tab of the plugin is where you will select how the tool functions. You can set the minimum and maximum age of posts as well as the minimum interval for sharing.
This means you can choose articles that are more than four months old but not older than two years if you'd like.
You can also input the type of taxonomies you wish to include or exclude such as specific tags and categories.
Post Format Tab
In the Post Format Tab, you can modify the specifics of how your content is shared on certain social media websites. This includes the number of maximum characters, custom fields, hashtags, and more.
For example, you can choose to create hashtags from your categories and tags in WordPress or add your own for general use.
Personally, I prefer using the tags from WordPress as I generally try to keep them similar when posting content.
Custom Schedule Tab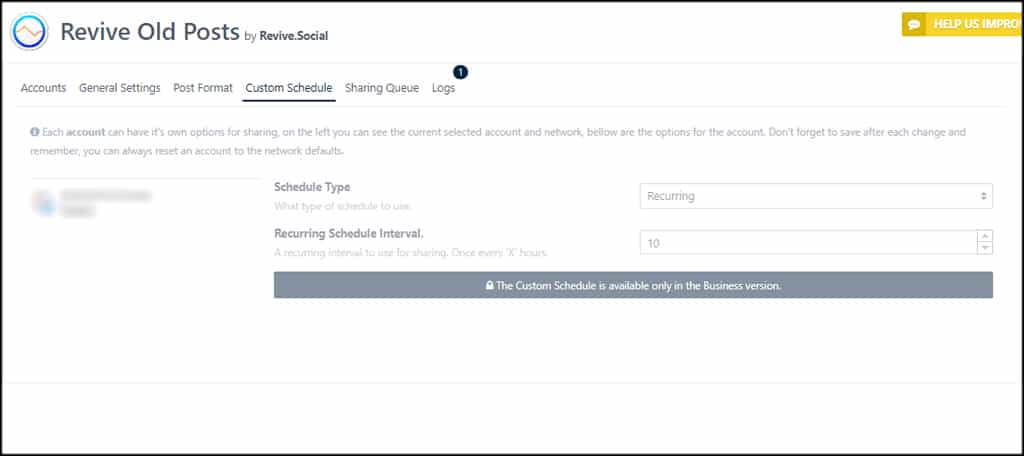 Unfortunately, the Custom Schedule settings for this plugin are only available in the Business version. Should you choose to upgrade, it is here where you would customize the type of schedule as well as its interval in terms of hours.
This gives you a bit more control over when this social auto poster will trigger…especially if you have a lot of content on the website.
Sharing Queue Tab
The sharing Queue tab will simply display all of the posts your site is getting ready to post. This will only have information in it once the plugin begins to pull older posts from your archives.
I recommend checking this often to help avoid awkward situations. For example, it would be really weird to promote an old Halloween decoration guide the week before Christmas.
Thus, this section is all about seeing what is coming up and when it will launch.
Excluding Specific Posts from Auto Sharing on Social Media
Revive Old Posts gives you the ability to ignore specific pieces of content. This is helpful as you might have some articles that were time-sensitive but still valid for SEO.
For example, you wouldn't want to share a news event article about something that happened in 2016 as new.
Another example of content you might not want to share is if the platform no longer exists. A great example of this would be a Google+ guide.
Click the "Exclude Posts" option from the left.
You can search for specific posts in the field at the top. When you come across something you want to exclude, hover of the post and click the "Exclude this post" option.
Once it's excluded, the post will change a shade of pink. This signifies the selected post will not be used by the auto social updater plugin.
You can also choose specific post types and taxonomies to exclude as well. However, choosing post types is limited to the pro version. If you upgrade, you can choose to exclude any custom post type you use on the website.
Revive Your Old Content to Boost Traffic
When you share old WordPress posts automatically in social media, there is potential to increase your target market. It's a practice many experts will use to increase a fan-base as well as target new fans and followers.
And your website should not be an exception to the rule.
Don't discredit even the oldest of articles. After all, even a Google search will show articles more than 10 years old depending on the terms and popularity of the content.
Thus, adding more links to them on active social media accounts can help boost traffic.
How do you revitalize older pieces of content on your site? How often do you scan through Google Analytics reports to find old articles that are slipping in visits?
Michael has been in the tech industry in some form or another since the late 1990s. He's built a variety of websites using HTML, Joomla and WordPress. Starting his freelance writing career in 2012, he's completed thousands of projects world-wide covering a wide scope of topics. Michael is currently the Content Marketing Team Lead. Today, he manages a team of writers to create tutorials, blog posts and support content for customers. Outside of GreenGeeks, he manages a YouTube channel that helps others learn how to become freelance writers, bloggers and overall professionals.