Have you switched web hosts recently and need to fix those pesky 404 pages? The 404-page error occurs when visitors try to access your website through your old URL. Tracking and redirecting these pages is one of the most important and first things that should be done when switching. Keep in mind that you should use other mediums to get the word out about a URL change.
Seeing a 404 error as a visitor is not a good thing and will generally make visitors look elsewhere for content. Another thing to consider is your website's SEO, which determines how well you rank on search engines like Google. 404 pages are a normal occurrence, but when it happens, the URL is removed from Google's search index. Today, I will demonstrate how to track and redirect 404 pages in WordPress using the Redirection plugin.
Why Are Tracking and Redirecting 404 Pages Important
Switching your website from one web host to another is not an easy task. There is a lot of work that goes into it and redirects should be one of the first thoughts. This will ensure that visitors who visit your old URLs will be redirected to the new ones. Unfortunately, no matter how well you prepare and let your visitors know about a change like this, many will not listen.
Redirects are the only surefire way to make sure they visit the correct page after a switch, but it doesn't mean you shouldn't try other ways. For example, utilize your social media accounts to spread the word of all major changes. Facebook, Twitter, and Instagram are huge platforms that allow you to stay connected to your community. Informing your community of these changes is essential to building a sense of trust for your website.
How to Track and Redirect 404 Pages in WordPress
Today, I will demonstrate how to track and redirect 404 pages in WordPress using the Redirection plugin. The redirection plugin has over 900,000 active installs and gets the job done. The best part is it's completely free and makes it easy to do that at the same time. Keep in mind that if you have hundreds or possibly thousands of 404 pages, you will be spending a lot of time, but individual pages only take less than a minute.
Installing Redirection
Let's begin with clicking on Plugins and selecting the Add New option on the left-hand admin panel.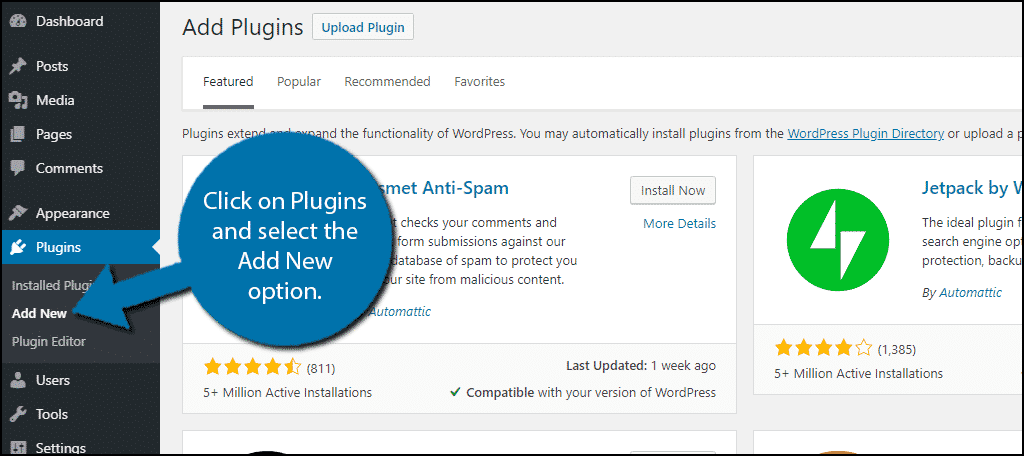 Search for Redirection in the available search box. This will pull up additional plugins that you may find helpful.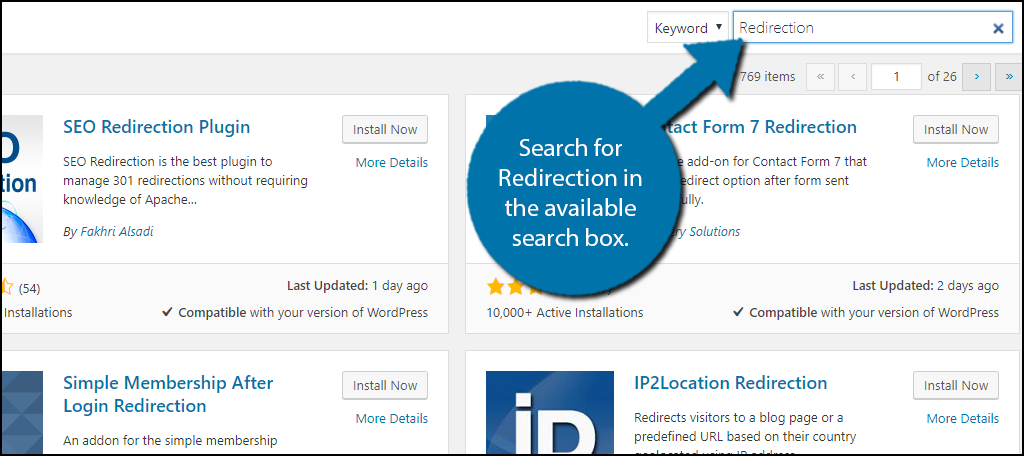 Scroll down until you find the Redirection plugin and click the "Install Now" button and activate the plugin for use.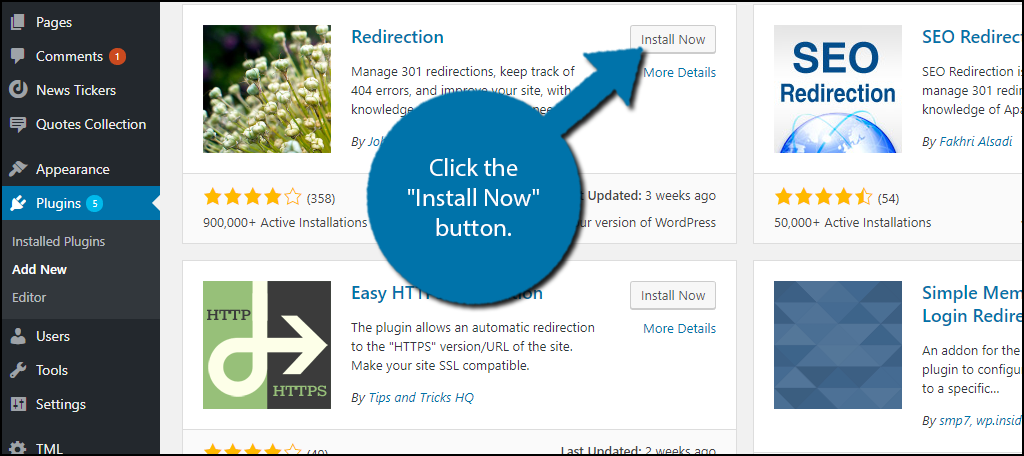 On the left-hand admin panel click on Tools and select the Redirection option. This will pull up the main settings page.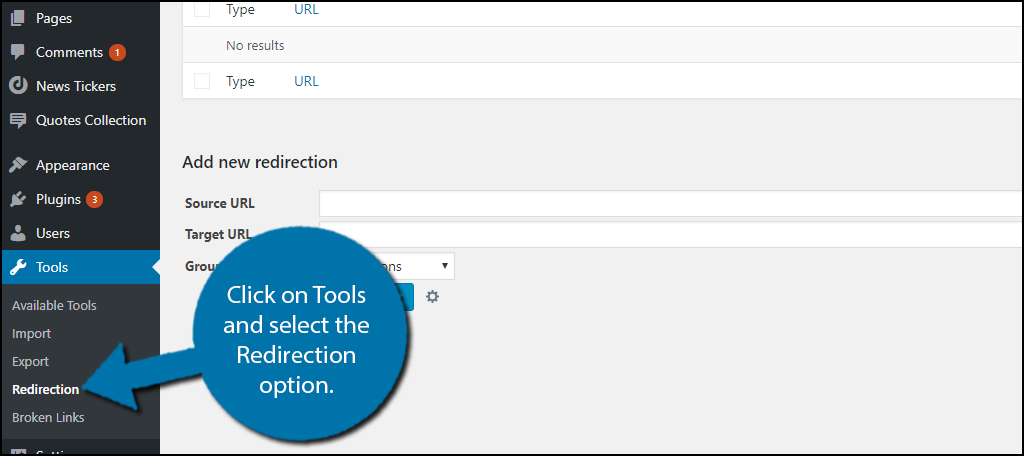 Tracking 404 Pages
404 pages are a common occurrence when switching web hosts, moving content, or deleting older content. You will most likely not have many 404 pages at once and they will appear at different times. The Redirection plugin will track whenever a 404 page is encountered. You can find this information by clicking on the 404s tab.
If you had any 404s, they would appear here. Unfortunately, not all of these will end up being true, which is why you should test the link in question before setting up a redirect.  Of course, you should also make sure you are listening to feedback from your community. They may discover the issue before you notice it.
Setting Up Redirection
Setting up Redirects is very easy, but it can be confusing the first time. All you need to set one up is the URL of the page that has the 404 message and the URL of where you want them redirected to.
The Add new redirection section is where this information is entered. The Source URL is where you enter the 404 page. The Target URL is where you want to send your visitors. Once the information is entered, click on the "Add Redirect" button.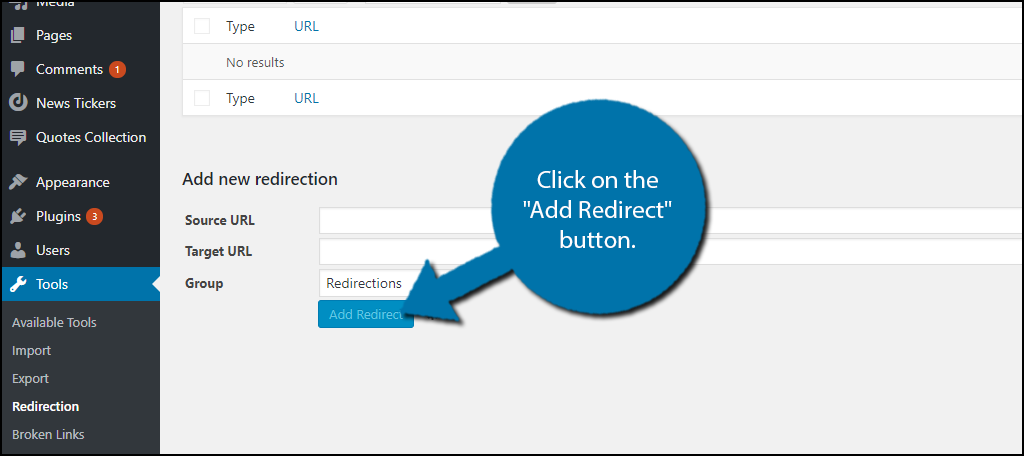 Congratulations, your redirect will be set up and working after the button is pressed. You can change it at any time by clicking on the Edit option next to the redirect. You can set up as many redirects as necessary, but you will need to create each one individually.
Make Sure Your Visitors Find Your Website
Moving a piece of content, deleting a piece of content, or moving an entire website will definitely lead to a 404 page. This is normal for a web developer and whenever one of these occurs, you need to be ready to set up a redirect. Most visitors are not loyal and if they experience a 404 page, they will look elsewhere.
Redirects are an essential part of running a website. There are plenty of pieces of content that are no longer necessary and will get deleted. The important part is how fast you react. Every 404 page encountered is one view lost for your website and that can be very frustrating for struggling websites.
How many redirects have you set up? How easy have you found the Redirection plugin?
I currently work for GreenGeeks as a Support Technician. My primary roles are supporting our VPS and Dedicated server clients, as well as performing site migrations. With experience in the web hosting industry since 2009, there is rarely a question I can't help answer. In my spare time, I enjoy gaming and working on cars as an automotive enthusiast.