There has been a huge uptick in trading platform use over the last few years. With platforms like Robin Hood and WeBull, more and more developers are trying to launch trading platforms. Having a stock market website can make you money if you do it right.
You don't have to build a full trading platform, you simply need to learn how to make a stock market website so that you can offer up information, articles, quotes, charts, and more. There are all sorts of things you can offer if you build and design a stock trading website.
In this article, I will show you how to start a stock market website by giving you a step-by-step look at what it takes to get it done. Follow the steps in the order they are presented and you will be on your way to having your own website for stock trading in no time at all.
What You Need to Build a Stock Market Website
Everyone is different when it comes to the process they take when designing something. However, when you are building a website for stock trading, it is a good idea to have a few things in place before you start the actual build process.
The first thing to start with is a checklist. When you have a checklist in front of you, it helps you narrow down the items you need to have done before building the actual stock market website.
You may already have some ideas. If so, great! If not, here are some items to add to your checklist. Having these things done or having an idea of what you want to add will make the entire process much easier.
Stock Market Website Checklist
Will you add a trading platform
Live market quotes
Content (have some ready)
Create a posting schedule
Newsfeed
Come up with a website name
Create a professional email
Decide on a domain

(below)
Find web hosting (below)
User registration
Your checklist may include some or all of these. Either way, this is a great way to store your ideas and make them a reality.
Choose a Domain Name and Web Hosting
The first step to take after you have your website checklist in place is finding a domain name and then getting a good web host for your site. Something you might want to remember when you are choosing is that you may not be able to get the exact domain name that you want.
Remember, there are already millions of websites online. For this reason, oftentimes the exact domain name or extension may not be available. There is, however, a way around this.
If the domain name you want is not available, then try searching related terms, or names with different domain extensions. At this point, there are so many different domain name extensions available, that there is a very good chance you will be able to find one that you are comfortable with.
Once you have a domain name, it is time to choose a web host. You want to pick a web host that has everything you need to help you get your website for stock market trading up and running.
GreenGeeks not only gives you all the tools you need to build a fantastic stock market website, but they also provide the very best customer service around. An added bonus is that you can also get a domain name through them.
Having your domain name and web hosting in one place makes tying it all together, building your site, and managing it over the long run much easier.
Use WordPress as Your CMS
There are actually several really good CMS platforms (Content Management System) available for you to choose from. Everyone has a different opinion, but I suggest that you use WordPress to build your new site. There are a few great reasons behind this choice.
First off, WordPress is an open-source CMS. This means that thousands of developers are able to contribute to it. The system is user-friendly, secure, and continuing to grow in popularity. As of right now, it is the most popular CMS in the world, with over 40% of the sites online using it.
Since the platform is so popular, you won't have to look very hard to find WordPress tutorials and resources, as there are communities and message boards all over the place. These will help you through just about any issues you have.
WordPress security is also top-notch. The CMS is built on solid code and is very secure right out of the box. There are also a lot of things you can do the strengthen the security of your site.
Finally, WordPress installation is very easy. You have two choices; you can install it using the one-click Softaculous installer that is provided in your web host cPanel, or you can install it manually. Either way, you will be up, running, and ready to create very quickly.
Choosing WordPress Themes and Plugins
WordPress has no shortage of great themes that you can use to build and design your new stock market website. This is also true when it comes to plugins. There are literally thousands and thousands of both free and paid themes and plugins that you can access when using WordPress.
That being said, it is never a bad idea to try and find a theme and plugins that are niche-specific. In this case, you are building a stock market website. So, try and find a theme and some plugins that will work perfectly with what you are trying to accomplish.
Also, there are certain plugins that every site should have in order to run smoothly. However, try and find some that are a perfect fit for your niche to help engage your audience.
You may already have a theme and some plugins ready to roll. If not, here are some suggestions for you that will fit perfectly with websites for stock trading.
Financity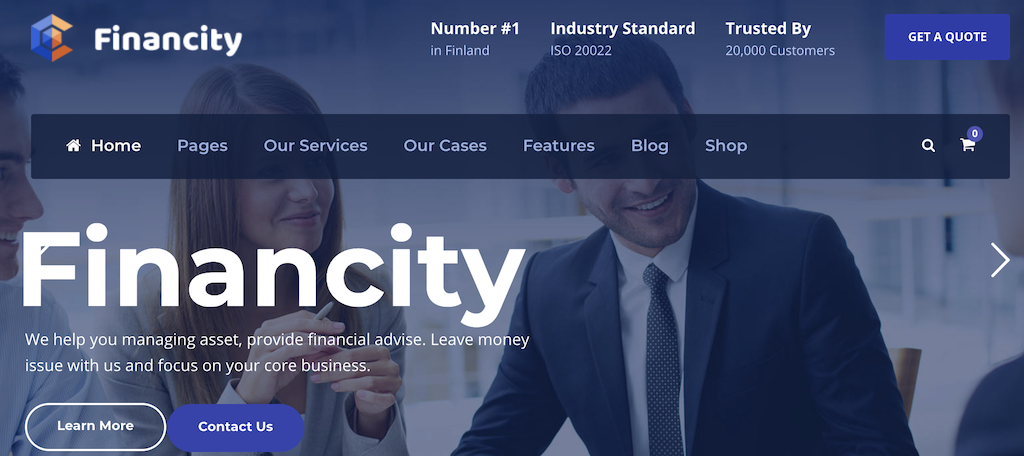 Financity is a financial theme that is perfect for someone who wants to build a stock market website. it provides tons of layers to build on, multiple page layout options, and plenty of pre-built theme styles and pages.
You can use the built-in tools to help create a fantastic website. There are also countless color and style combinations available directly in the theme. The theme gives you access to a built-in GDPR tool that is ready to go, along with a page builder.
Give this theme a look for your stock market site.
Finance Experts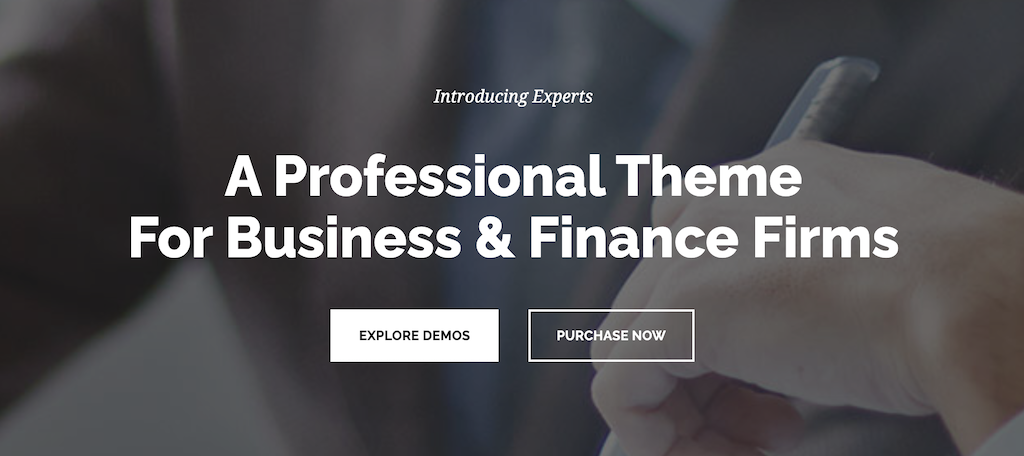 Finance Experts is a very flexible and professional finance-based WordPress theme that is also perfect for building a stock market website. There is excellent support and documents within the theme. It also comes with powerful tools and functionality.
This theme provides you with over 28 pre-built demos and other page layout styles. It comes complete with the WP Bakery Visual Composer page builder, it is WooCommerce ready, and also has Slider Revolution to help you build slides and layouts.
All in all, this is a fantastic theme to use.
Stock Market Overview
If you are looking for a free, powerful, professional plugin that provides you with a ton of stock market information, then Stock Market Overview should be part of your website. Once downloaded, you have both a widget and a block option for Gutenberg.
Both options allow you to display a categorized list of equities, market indices, currencies, and commodities with their prices and variations.
With over 65 different stock exchanges and a large number of market indices, currencies, and commodities supported, this plugin should be a must-have for any stock market website.
Stock Portfolio Tracker
The Stock Portfolio Tracker plugin is a great addition to any stock market website that allows user registration. Your users can input their portfolio data and they can track how it is doing right from your website.
Users will have the ability to track their portfolios not at the end of the day, but in real-time. They can also share portfolios across social media and interact with other users.
If you have a stock market website that allows user registration, then this is a perfect plugin to add.
Marketing Your Website
So, you have your domain name, web hosting, CMS, theme, and plugins. You should be at a point of deciding the final steps to take once your site is ready to go live. The main thing to consider at this point is how you are going to market your stock market site and get it out there to the masses.
Marketing your website can be daunting if you don't have a purpose in place. That being said, if you are able to come up with some good marketing ideas, then getting your site out there for people to see and interact with is a lot easier.
There are actually quite a few fantastic website marketing options below for you to consider. Implement some of these and you will find that your site will start gaining traction a lot faster.
Use Social Media and Share
Run Ads Online and on Social Media
Build Social Profiles for Your Stock Market Website
Add Social Sharing Buttons to all Posts
Build a Newsletter Email List
Spend Time in Trading Forums
Guest Post on Relevant Sites
Allow Others to Guest Post on Your Site
Run a Giveaway or Content
Add a Forum to Your Site
Conclusion
There are all kinds of different tools and steps you can use to build a stock market site. Hopefully, the methods, tools, and steps above give you a great starting point and a solid structure.
Try to follow the steps above in the order they are given. This way, you will be able to create your stock market website in the easiest way possible. Remember, the checklist is very important, as it will give you some good options to consider during the site-building process.
Good luck on your journey! Drop us a line and let us know how the process worked for you.