Is there a major event in your life about to happen? Perhaps you want to highlight a specific event for your brand. If so, you can create your very own countdown website to let the world know exactly when it is happening.
While these are simple in nature, you are still building a website, thus there are a series of steps you must take to be successful.
Today, I will explain how to build a countdown website from scratch.
What Is A Countdown Website?
A countdown website is a site that exclusively displays a countdown timer for a specific event. It will sometimes also include information about the event such as time, date, location, ticket sales, and other essential information.
Once the event comes to pass, the website is either retired or it is altered to accommodate a new event.
The events you create a countdown for can be pretty much anything. For example, you could create a countdown for a family gathering and distribute the website details to family members. Of course, it doesn't always have to be a live gathering.
Another common use is actually entertainment mediums. It is very common to see a countdown website for a movie or video game. For example, a lot of gamers will add a countdown timer for the Extra Life charity event every November.
In some cases, these websites are difficult to find because the date hasn't been revealed yet. Instead, it's like an Easter egg hunt for the community to find it.
Thus, these types of websites come in all shapes and sizes.
How to Build A Countdown Website in WordPress
Step 1: Pick A Web Hosting Company
Every website needs a web hosting company. In case you are unaware, this is the company that will rent you a server where you can store your website on.
As you can imagine, your web host will have a direct impact on your website's performance. Thus, you need to pick one that is fast, reliable, affordable, and matches the environmental values of your company.
And that's exactly what we do here at GreenGeeks Web Hosting. We deliver lightning-fast speeds, reliable web servers equipped with SSDs, keep prices low, and ensure that our websites do not have a carbon footprint. Instead, they are actually carbon negative.
We accomplish this by carefully calculating how much energy we use to host websites. We then take that value and multiply it by three. And that's how much clean energy we purchase.
Thus you can rest easy knowing your part of the solution when it comes to climate change.
Step 2: Choose A Domain Name
When you are signing up with your web hosting company, you will need to pick a domain name. This is the URL that your visitors will need to type into their web browsers. As you can imagine, this is a big decision.
Typically, you want to pick a domain name that is short, easy to remember, and reflects what your website is all about.
However, depending on the nature of your countdown timer website, you may not want to follow that rule. For example, I mentioned how some entertainment sources may try to hide the countdown website behind a series of clues.
If that's the case, picking something that's short and easy to find is counterintuitive. Thus, it really comes down to the purpose of your website, which you should have a firm grasp on at this point. If not, take some time to consider your options.
Step 3: Choose A Platform to Build On
You are also going to need to choose a platform to build your website on. While there are a ton of choices, I'll save you some time and tell you to use WordPress.
WordPress is an open-source CMS platform that you can use to create any kind of website for free. The only cost associated with building a website with WordPress is the web hosting services, but that's true for any CMS.
Even more important than it being free is that it is easy to use. You won't need any coding knowledge to build with WordPress. Instead, the platform utilizes themes and plugins to add features and change the design.
For the most part, you will just be going through the settings to get everything looking and running the way you want it to.
Thus, it's the best platform to build a website for as a beginner, yet, it's also robust enough to keep experts happy.
Step 4: Choose A Theme and Pick Plugins
Once you install WordPress, the first order of business is choosing a theme for your website. A theme is a collection of stylesheets and templates that dictate how your website appears. Sometimes they also include specific tools and features.
In this case, I can't really recommend a theme because it really depends on the nature of your website. Instead, what I can tell you is to make sure the theme is responsive (mobile-friendly), built for speed, and match the overall design ideas you may have.
You can find themes in the theme directory. Just search for the topic you are going for and I'm sure you will find something.
You could also use something like Elementor to build an event page that is more custom to what you want.
Next, you will need some plugins for your website. In this case, you are going to need an actual countdown plugin, which WordPress has a lot of options. Here's one that I recommend checking out.
Countdown Timer Ultimate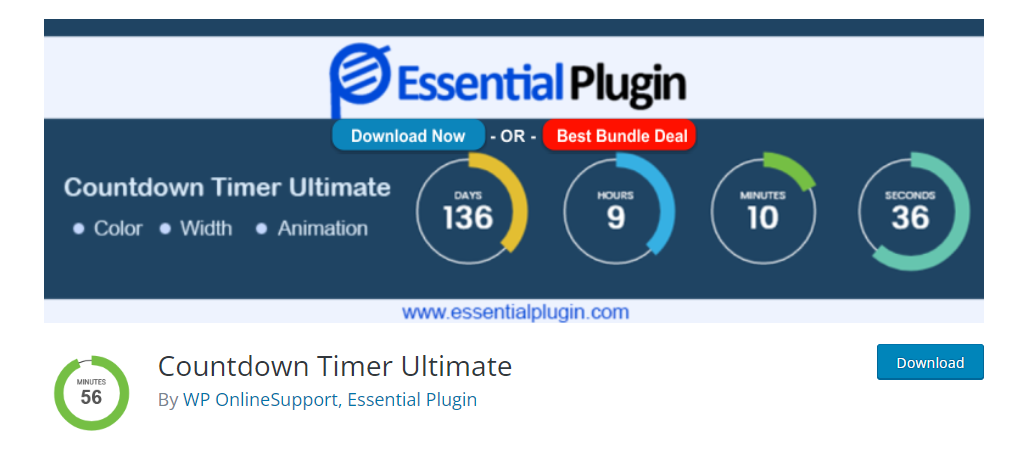 As the name suggests, Countdown Timer Ultimate adds a countdown to your website and can be added to either your posts, pages, or even the sidebar. This is a free countdown timer for your WordPress website.
All you'll need to do is create the timer, which just boils down to selecting the end time and customizing the colors used. Then you just need to add the shortcode to the corresponding post or page you wish to display it in.
Countdown Timer Ultimate uses your website's timezone. So, if you want to correctly make sure the timer is accurate, ensure your site is correctly set. You can find this information in the General Settings of WordPress.
It doesn't get any simpler than this.
Step 5: Market Your Website
All that's left is to actually market your website. And again, it really depends on what you are actually counting down.
For example, if this is a family gathering, you're not going to be marketing to random strangers on the internet. Instead, you are probably sending invites through the mail, or more realistically setting up an RSVP on Facebook.
On the flip side, if you are intending to reach more people on the internet, well, you need to find the platforms that allow you to reach your target audience the easiest.
Taking advantage of social media platforms like Facebook, Twitter, and Reddit can really speed up the process.
There are a ton of ways to go about marketing, so, you really just need to do research for your individual niche.
Step 6: Sunset Your Website Or Get It Ready For the Next Event
Eventually, whatever you are counting down to will reach zero, and that really means your website may no longer serve a purpose.
Thus, you are going to need to sunset your website. This just means getting your website ready to be taken offline. After all, you don't want to pay for something that doesn't serve a purpose anymore.
Of course, this might be a yearly event, in which case, you probably need to take the time to get the website ready for the next event. This just means resetting the timer for the new event and updating any event information like dates, times, and location.
You may even need to pick out a new theme to better match the next event.
Start Counting Down Today
And with that, you know everything you'll need to start your very own countdown website in WordPress. While the website is simple, it's still building a website. Thus, even a simple one can be a big undertaking.
The good news is that designing one can be a lot of fun, especially if it is to help out your family or a community you're really into.
What is your website counting down to?