Featured images become the thumbnail of your post content in WordPress. As a result, they are incredibly important, but it can be easy to forget to place them. That's why you should add a featured image column to WordPress.
Normally, you need to visit that post or enter the editor to see if it has a featured image. As such, it's easy to not realize a post doesn't have one. A featured image column fixes this by adding it to your view when checking out the post list.
Today, I will demonstrate how to create a featured image column in WordPress using the Featured Image Admin Thumb plugin.
Why Add a Featured Image Column in WordPress?
Featured images and thumbnails are a crucial part of any website. This is the image that visitors see before they click on a post. As such, it is also the reason why many users click on that post in the first place.
In fact, a good thumbnail can make or break a post. If the thumbnail is generic, you are less likely to get a click.
That said, even a bad thumbnail is better than no thumbnail, which brings us to why you should add a featured image column in WordPress. It makes it easier to spot any posts that do not have a featured image at a glance.
Correcting such a simple mistake can have a huge impact on the views that the post receives.
It's also important to point out that a thumbnail isn't just important for on-site users. You see, when your post content is shared on social networks like Facebook, Twitter, and so on, it will also display your post thumbnail.
As such, having an interesting thumbnail that can stand out on social media and can attract tons of users to your website.
Users on these networks are not going to click on a random link in 2023, so you'll need to create a thumbnail.
How to Create a Featured Image Column in WordPress
Install Featured Image Admin Thumb
The Featured Image Admin Thumb is a very simple plugin that does one thing, it adds a Featured Image column to your WordPress post list. As such, you will be able to see which posts have a featured image and which don't.
There is no complicated setup with this plugin, in fact, there is no setup whatsoever. Instead, after you activate the plugin, the featured column is added to your site.
It really just takes a minute to implement.
Note: It is possible to add WordPress admin columns by editing your site's code, but a plugin is recommended for beginners.
Let's start by clicking on Plugins and selecting the Add New option on the left-hand admin panel.
Search for Featured Image Admin Thumb in the available search box. This will pull up additional plugins that you may find helpful.
Scroll down until you find the Featured Image Admin Thumb plugin and click on the "Install Now" button and activate the plugin for use.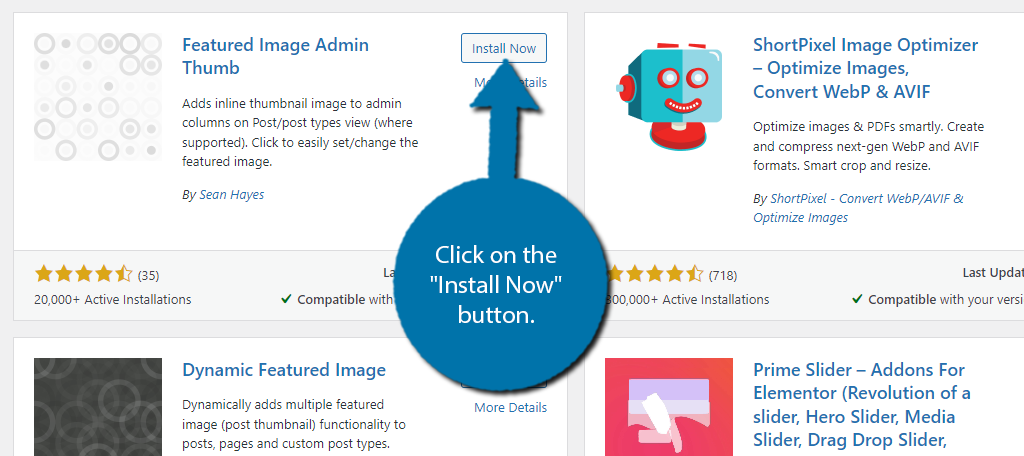 After you activate the plugin, the featured image column will be added to your post section in WordPress
View the Featured Image Column
All that's really left to do is to show you what the column looks like. Click on Posts and select the All Posts Option
On the right side of the post list, you will see your new featured image column which is titled Thumb.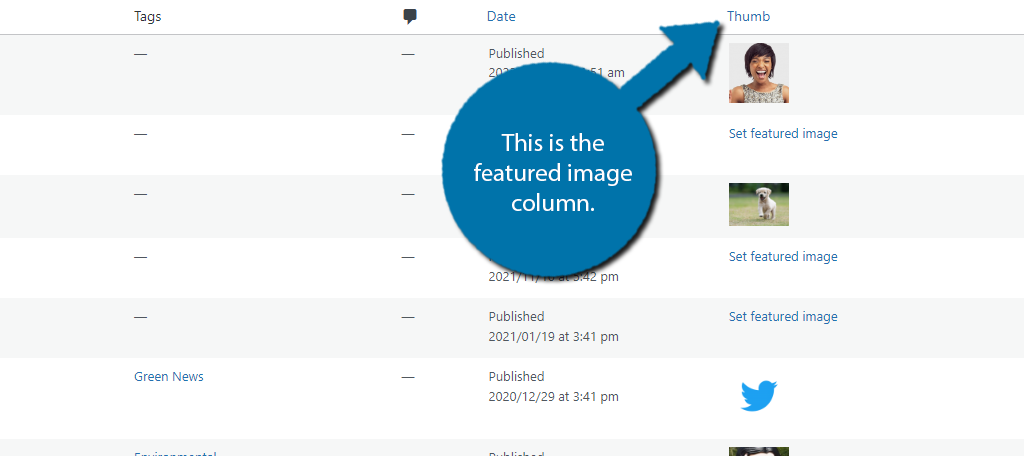 The best part about this plugin is that you don't need to enter a post to add the featured image. You can do it directly from the list.
If you see a post that does not have a thumbnail, simply click on the Set featured image link to add one.
And that's everything you can do with this plugin. Congratulations on adding a featured image column to WordPress.
Making sure every post has a thumbnail can dramatically increase the traffic you receive.
FAQ
Can I Upload Images to the Media Library?
Yes. This plugin allows you to upload new images to your media library and set them as the featured image for post content directly from the post section of WordPress.
Can I See the Image Dimensions?
Yes. If you click on the image, you'll be able to view how large the height and width of the image are. From here, you can also reupload a featured image to replace it if the dimensions are incorrect.
A Post Does Not Show An Image or a Set Featured Image Link, What Do I Do?
This will happen if a featured image is set to the post, but that image is no longer accessible. Or in other words, it has been removed from your media library. You'll simply need to upload a new one and set it.
Can I See If A Draft Has a Featured Image?
Yes. This plugin does support drafts. As a result, you can see if a draft does or doesn't have a featured image. It works identically to live posts.
Does This Plugin Work With Page Content?
Yes. The same featured image column is visible in the page section of WordPress and works identically. It is less common to see thumbnails for pages, which is why most sites focus on post content.

However, don't let that trick you. You should include featured images for your page content because of social media. Similarly to post content, when pages are shared on social networks, their featured images are displayed as thumbnails.

It can significantly improve your content's click-through rate by adding an image.
Alternative Plugin: Admin Columns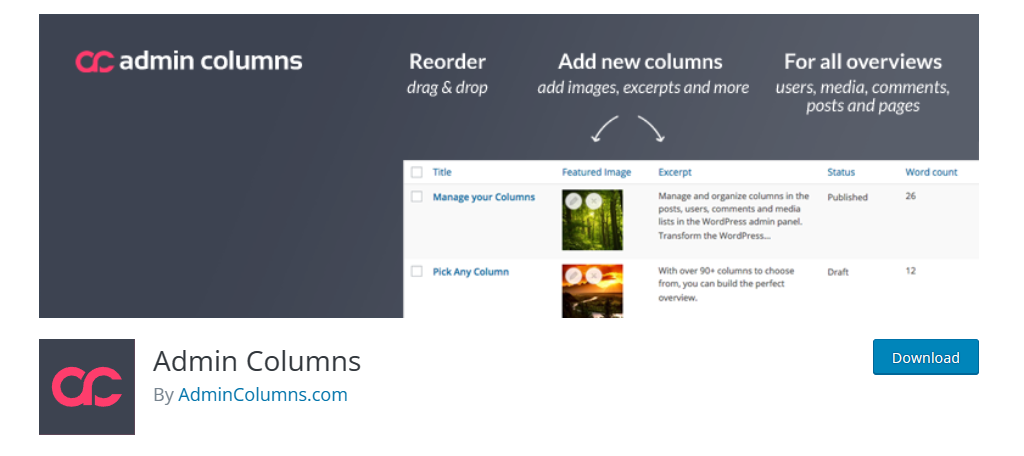 A great alternative to the Featured Image Admin Thumb plugin we just covered is Admin Columns. This one goes far beyond just adding a featured image column to your post or page lists.
Instead, you can customize what kind of columns are on display like featured images, excerpts, word count, and more.
As such, it is easily the best plugin to add admin columns in WordPress. It's worth pointing out that you can add even more functionality with the Pro version of this plugin.
With it, you can add unique columns to your WooCommerce products.
For instance, you could view detailed information about the product. It's a really strong plugin that is a great addition to any website looking for more information.
Benefits of Using Admin Columns:
Control column placement of new and existing columns
All of the columns you add support sorting and filtering options
Compatible with other plugin columns like Yoast SEO
Includes over 20 different types of columns for WordPress
This plugin is translation ready, so it works in any work environment
Make Your Website Convenient For You
Oftentimes, beginners focus solely on the visitor. While this isn't a bad thing to do, it's also important to improve the efficiency of your work area.
In this case, being able to quickly add featured images to your posts is a pretty awesome feature.
For example, let's say you changed the font you include on your thumbnails. You may want to look at older posts and update the images accordingly.
Going through each post to see which ones need to be changed could easily take hours on larger sites. This plugin could significantly reduce the amount of time it would take to look through your post thumbnails.
Why do you want to add a featured image column in WordPress? Do you think WordPress should have a featured image column by default?