A live blog is when you create a single post and are able to quickly add content during an event without using revision updates. This means you can add content on-the-fly and keep readers apprised of how those events are unfolding.
Given the mobile nature of WordPress, live blogging is quite effective for those who are away from computer systems. For example, let's say you are attending a concert and want to report live about what is going on. This gives you a chance to post new content as it happens directly from your mobile device.
Why Use a Live Blog Style in WordPress?
If your website centers around news, current events, or some other time-sensitive content, live blogging in WordPress may be a good option. Because content is time-stamped, you can easily be one of the first to report on almost any situation.
This style of blogging also allows your readers to see things in real-time, as they happen. This keeps them up-to-date on events, sports, and other news that you may be reporting from your website.
In this tutorial, I'm going to show you how to use a live blog in WordPress.
Today, I'm demonstrating how to easily live blog from WordPress using the 24liveblog plugin. It's a simple system that doesn't take a great deal of effort to use. Let's take a look at the plugin together and see what all it has to offer.
24liveblog
24liveblog is a very popular live blogging tool that allows you to publish content in real-time for all of your website users. The platform actually works with any type of website.
The plugin comes packed with features. However, even though it is a robust plugin with plenty of options, it is smooth, and will not slow your site speed.
Some of the main features of 24liveblog include:
Real-Time Blogging
Embed on Any Website
Unlimited Events
Unlimited Page Views
Concurrent Users
Statistics in Real-Time
Social Media Integration
Audio and Video Recording
Native Mobile Apps
Unlimited Even Contributor
Group Chatting and Comments
Custom Template and Theme
SPAM Control Moderation
All-in-all, the platform will deliver everything you need to do a live blog in WordPress whenever you want. Let's get the plugin up and running on your site so you can begin live blogging.
Note: There are a couple of pro version pricing options available for this plugin. They will give you access to other data and tools. However, the tutorial below is based on the "Forever Free" plan that 24liveblog offer.s
Set Up a Live Blog in WordPress
Step 1: Install and Activate the Plugin
In order to start live blogging on your WordPress site, you first need to install and activate the 24liveblog plugin. You can do this very easily by heading over to the Plugins page in the WordPress dashboard.
Simply use the available search field and search the plugin by name. When you see it pop up, go ahead and install and activate it right from there.
Step 2: Go to the 24liveblog Plugin Page
Now that the plugin has been installed and activated, you need to head over to the 24liveblog plugin page. To do this, click on Settings > 24liveblog, located on the left side menu area of the dashboard.
You will see this is now an option because you activated the plugin.
Step 3: Create a 24liveblog Account
Once you arrive on this page, you will see the option to sign in to your 24liveblog account. If you have one, skip this step. If not, head over to the website using the link provided on-screen and sign up for a free account.
Step 5: Log In to Account
Once you have signed up for your account and it is activated, come back to the page above in WordPress and sign in.
You will see the message below when you sign in successfully. This actually attaches your account from their website to yours.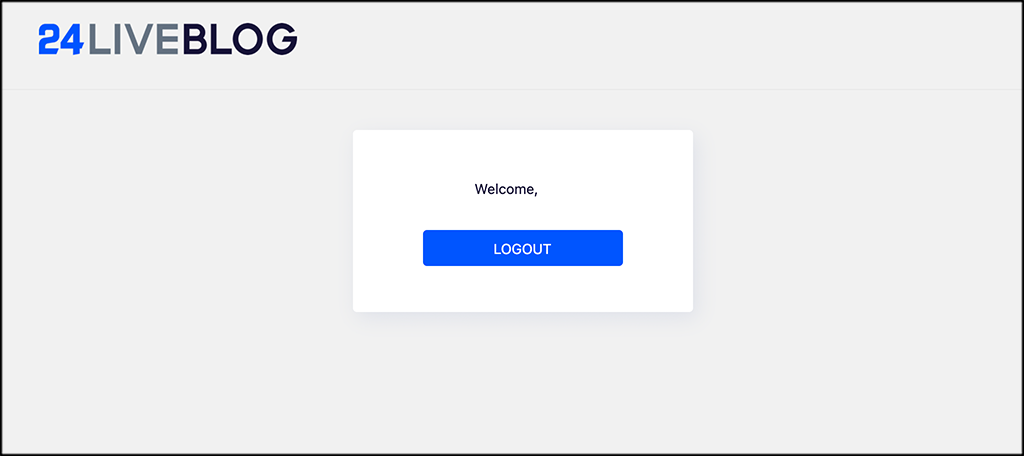 Step 6: Log In to 24liveblog Website
Now, head back over to the 24liveblog website and go ahead and log in with the same credentials.
Step 7: Familiarize Yourself With the Dashboard
At this point, you are logged in to your account on both your WordPress site and the 24liveblog site itself. You will see the main dashboard that will populate with all the things you do overtime. Go ahead and look through it and familiarize yourself with the layout.
You can see that there is plenty of functionality, and you can customize your dashboard with the items you want.
Step 8: Create a Live Blog Event
Let's go ahead and create a live blog event. Click on the "Create Event" tab you see on the upper right of the main dashboard page.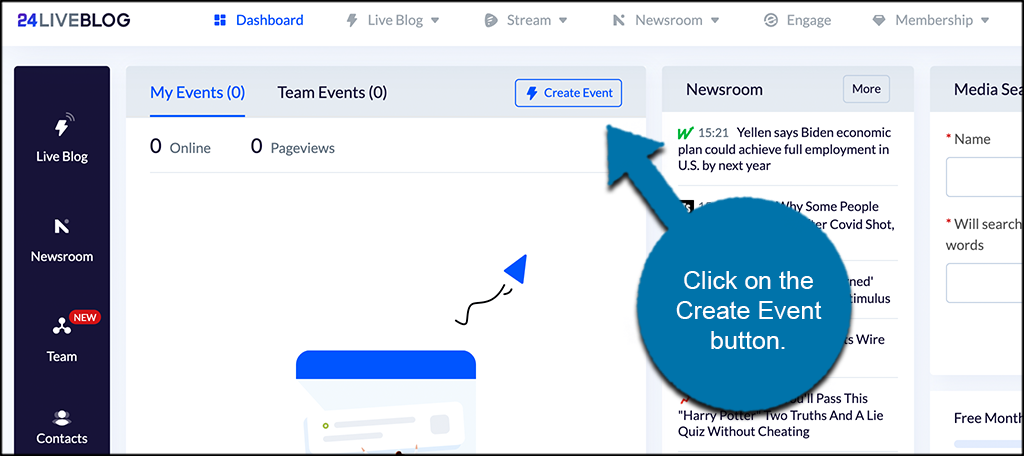 Now, select the live blog option from the squares listed.
This brings up the main configuration tabs for creating an event. Go ahead and go through them all and fill them out as needed. Let's take a quick look together.
Event Details
Fill out all the event details needed. Make sure you add the URL of the page you want your live blogs to run in WordPress.
Configuration
Set all the event configurations you want here. These will be up to you, so feel free to experiment.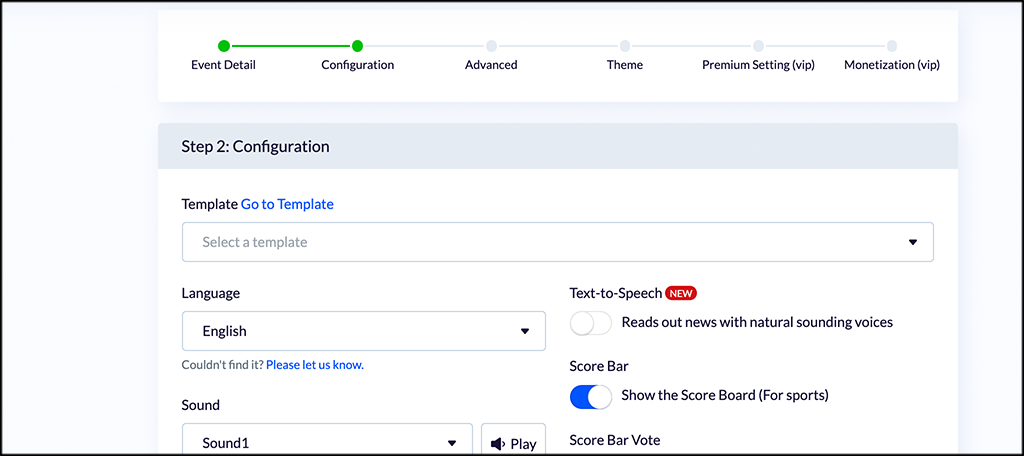 Advanced
Set any advanced options you would like here.
Theme
Pick the event theme info here.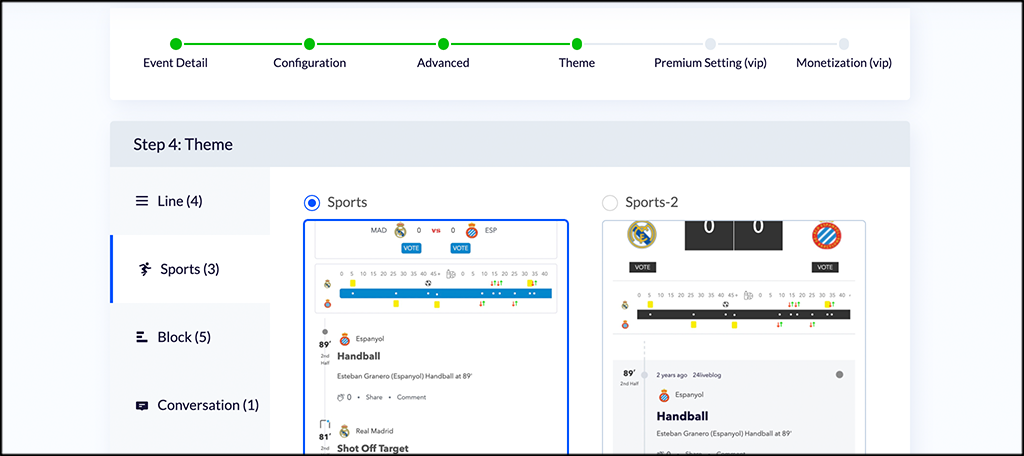 The last two tabs are both available to premium members only. Go ahead and skip to the end and click on the "Start Your Live Blogging" button when you're ready.
Step 9: Embed Code
When your event is created, you will be given the code that you need to embed on your site. Go ahead and select from the code options and copy and paste this code into the site page you want it to show.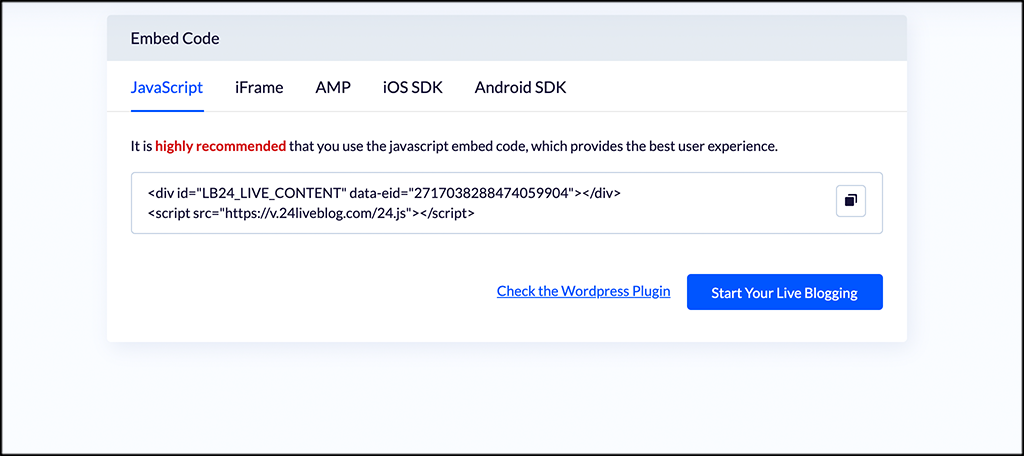 Step 10: Start Live Blogging
When the code is embedded, click on the "Start Live Bloggin" button on the bottom right and you are all set for this particular event for your site readers.
The event template will pop up and you can start your journey in the editor. Repeat all the steps above to create as many events as you want to for live blogging in WordPress.
Ideas for Live Blogging
A great way to take advantage of live blogging is by using your hand-held device while on location. While you may have to rely more on using your thumbs to type, it's much easier if you are limited in space. Realistically, how many reporters have you seen carrying around a laptop to write content live during an event?
Does your business attend regular expos? A trade show is a great method for marketing to local consumers, and live blogging from the event may even inspire people to attend themselves. It's all about networking and making sure your consumers are aware of the business.
Anything "live" may drive them in.
Connecting social sharing tools like Jetpack's add-on, "Publicize," will inform followers of the event about to take place. As soon as you hit the publish button on the post itself, your connected social profiles are updated with the post's title unless you edit and change the message.
Another way to get some attention to the live blog post is to use push notifications during the event. For example, you can use tools like OneSignal to send a message to all those who follow your blog through notifications that you're going live.
Trade shows are not the only events that may inspire shoppers to visit. You could run a live post from your business and encourage locals to come in for a sale or special discount. Perhaps you're supporting a local charity event and want visitors to know about it.
Expanding What You Can Do
Live blogging in WordPress is only one of many ways you can market your website. Depending on who follows your blog, it can be a great way to include others in your experiences. Not everyone has access to live streaming apps or supported wireless bandwidth when out and about. This may be a great alternative to give your website "life."
What kind of engaging things do you offer visitors which encourage them to return? Do you use any kind of "live" media when developing your site such as videos?