We have all been there. Shopping online and we see an item we like. However, there is no specific product size chart to help us narrow down if the item we like will fit or not.
This leads to lost sales and is the main reason why you need a WooCommerce product size guide displaying on your store products. When setting up an online store, it is important to have all the necessary items available for your customers.
Little things like adding a product size chart will help drive more sales to your WooCommerce store. You can easily accomplish this by adding a size chart for WooCommerce plugin to your site.
Let's take a look at the size chart plugin we will use today.
Advanced Product Size Charts for WooCommerce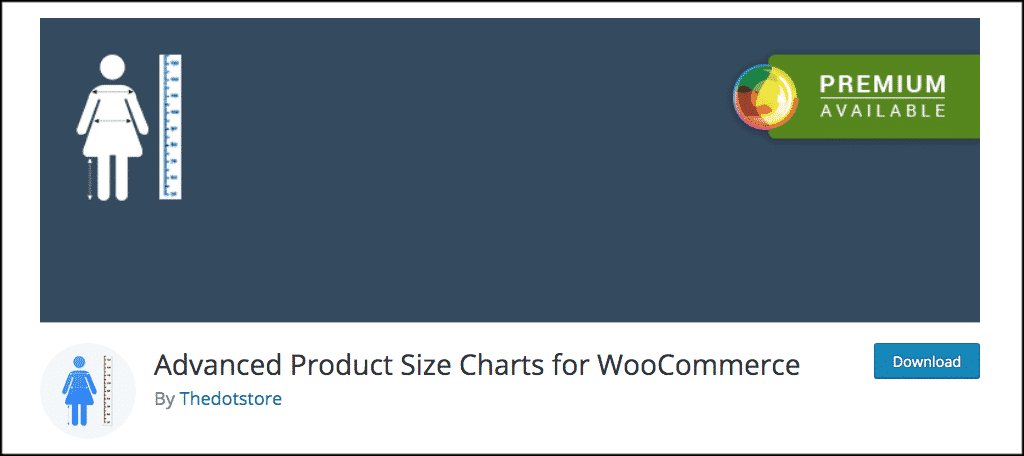 There is a great add-on plugin for your online store called Advanced Product Size Charts for WooCommerce. This plugin allows you to easily create custom size charts for all the products you have available. You can also assign the already-built default size chart templates to products.
Either way you choose gives you an easy option for adding sizes to your WooCommerce online store. This size chart plugin for WooCommerce has default templates for shoes, clothes, and more. You can also display the chart in a number of ways based on where you want it to show during the shopping experience.
Let's take a look at how to install and setup this WooCommerce product size guide plugin.
Install and Activate
In order to display a product size chart, you first have to install and activate the Advanced Product Size Charts for WooCommerce plugin.
You can do this from the plugins page of your WordPress admin dashboard.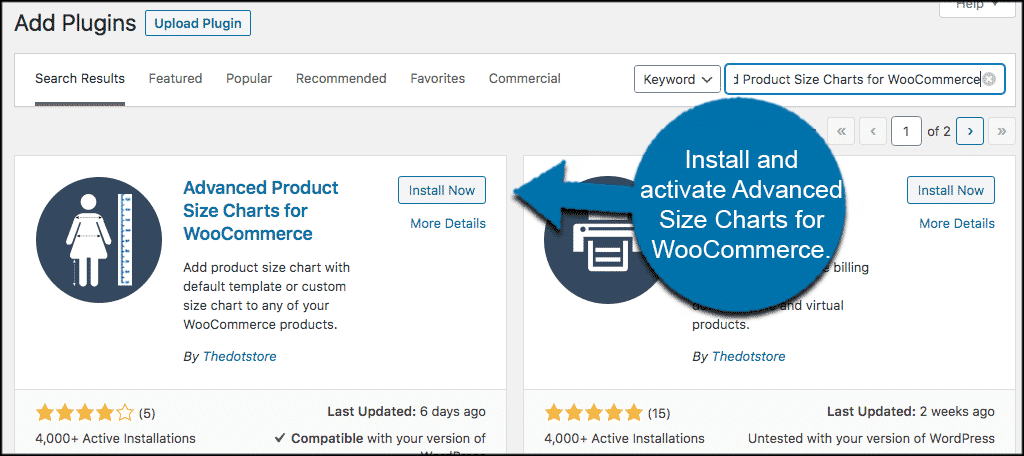 Once the plugin has been installed and activated, click on DotStore Plugins > Advanced Product Size Charts for WooCommerce.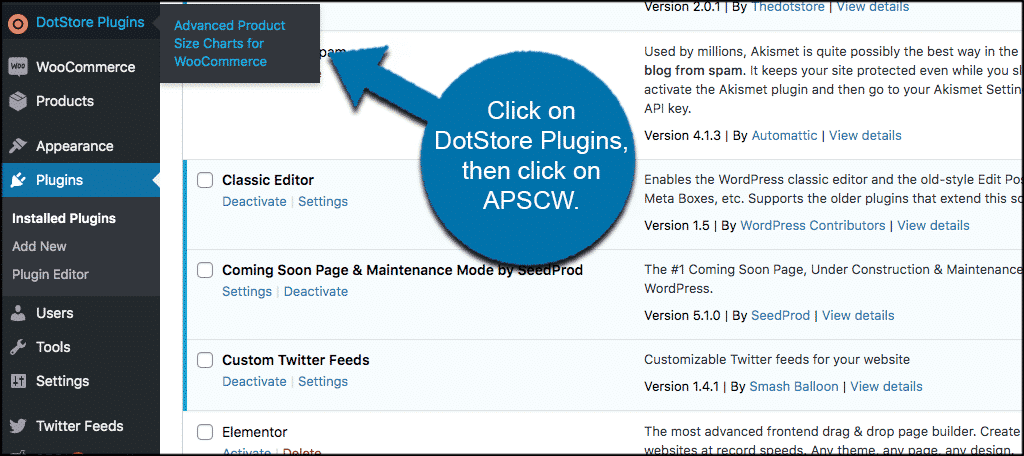 This will take you to the main configuration area for the plugin where you can assign product size charts to all your products based on rules you set.
Display a Product Size Chart
Once on the Advanced Product Size Charts for WooCommerce configuration page, you will see a few tabs. These include:
Size Charts
Add New
Settings
About
Dotstore
Let's take a look at what you can do in these tabs.
Size Charts
Click on the "Size Charts" tab. You will find that there are 10 default size charts that you can play with and use. This makes it faster and easier to start using the charts immediately.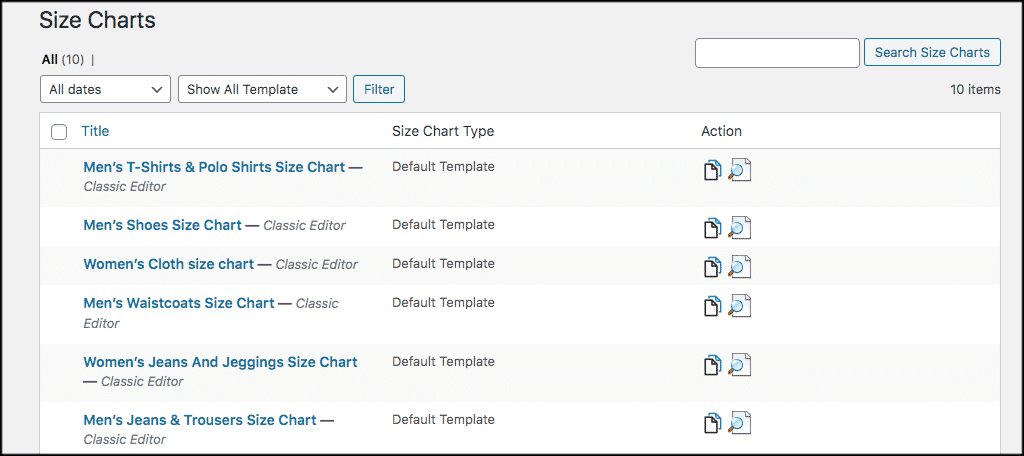 Note: Remember, you can edit any of these default size charts you want. Simply click on the link of the chart you want to edit and play with the settings, preview, and then use it.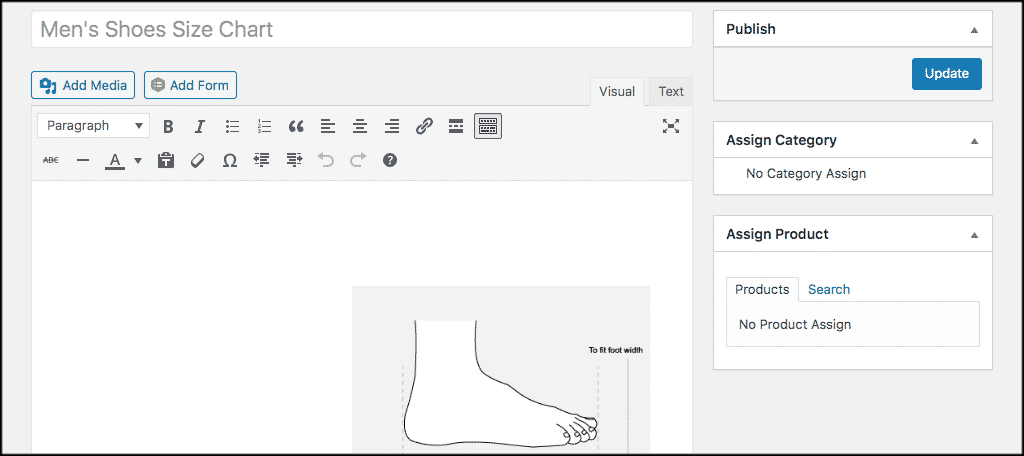 Settings
Click on the "Settings" tab now and you are going to see a number of configuration options for the product size chart plugin. There will only be a few that you can change. If you want more setting options, you will need to get the pro version of the plugin.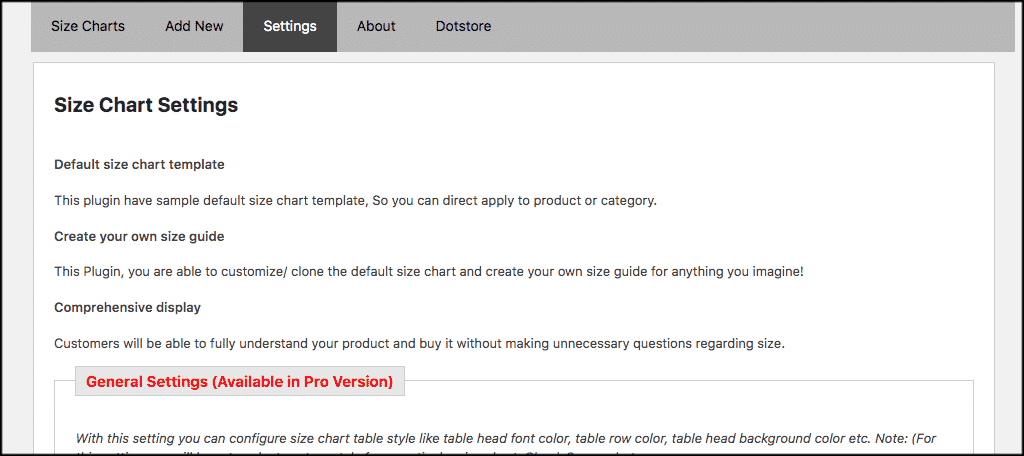 Note: You are able to get the pro version of the plugin right within your WordPress admin dashboard.
About
The "About" tab gives you a solid rundown of the plugin, how it works, and details how to use it. Use this as a resource as well when needed for troubleshooting.
Adding a New Size Chart
If you don't want to use any of the default product size chart templates available, then you can add your own to WooCommerce.
Click on the "Add New" tab and this will open an editor where you can create a custom size chart.
Go ahead and add your product size chart's title and the info you want as well.
Now scroll down some and create your size chart. You are going to see the following options:
Label
Chart Image
Select Chart Categories
Choose Chart Position
Chart Table Style
Chart Table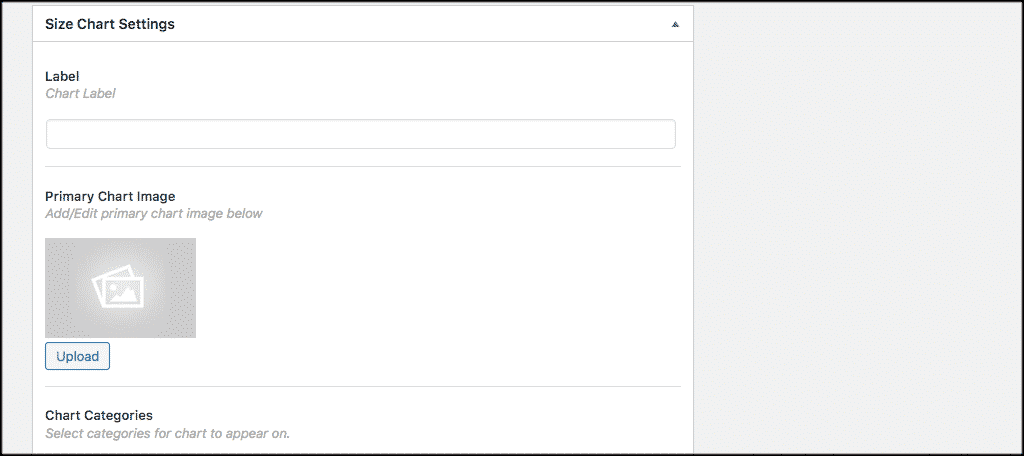 Fill these out how you see fit. Don't forget to assign the chart to products and/or categories.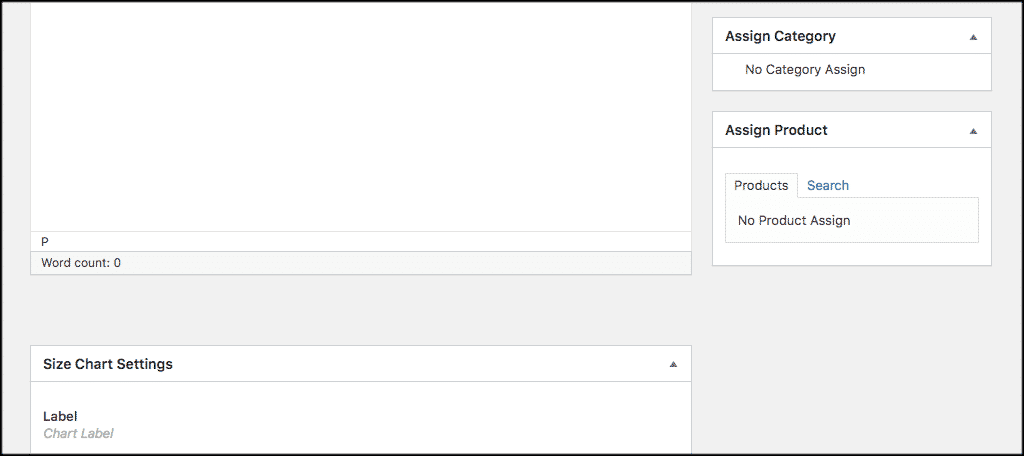 That's it! You have successfully created a WooCommerce product size guide for your store. The chart will display on the products and categories you set in the position you assigned.
Final Thoughts
Having a product size guide on your WooCommerce store will allow you to keep customers online and make things way less confusing when it comes to the sizes of your products.
No matter what kinds of things you sell, this product size chart plugin gives you the option to meet the needs of customers. In this case, it's knowing if something is going to fit or not.
Have you ever used this particular size chart plugin for WooCommerce? Do you prefer displaying your product size charts in a different way?