Collecting user feedback and customer interests is critical to any business, and one of the best ways to collect this information is through surveys. In fact, some businesses may make a website just for the purpose of creating a survey or poll.
Today, I will cover the process of how to build your own survey website from scratch.
Can You Build A Website That Solely Focuses On Surveys?
Now, online surveys are important, but the willingness of people to fill them out is pretty low. Thus, building a website that focuses on surveys isn't usually a great investment. At least not without proper incentive.
A perfect example of this is a site like Swagbucks. This site pays cash and other rewards to its users for participating in surveys. You might wonder how they can afford to do that. Well, that data sells…just look at something like Facebook.
The problem is that this is a pretty difficult market to enter into. Getting started, you might want to consider creating a blog to help increase traffic.
How to Create A Survey Website
Step 1: Come Up With A Plan To Get Visitors
Most people will choose to skip a survey if they can, especially when it's on a very boring topic. Thus, you have to come up with a reason for them to do it.
Now how you go about it depends on your goal.
For example, let's say you run a hobby store. Asking customers to fill out a survey so the store can order products they might be interested in is a smart business decision. Some customers may be willing to help, while others will just say "no thanks."
That tune will change if they were offered a discount or some other type of reward.
And this has become much harder in the last decade due to the other options available. Let's face it; you don't need a survey website when you can run a poll on Facebook or Twitter and collect the same data from a bigger audience.
This is a question you need to figure out before going forward. If not, well, you're better off sticking to social media.
Step 2: Find A Webhost and Choose A Domain Name
The first real step is to find a web hosting company. This is the company that will rent you a web server, and more importantly, maintain it.
To put it in non-technical terms, every time someone visits your website, their computer is actually connecting to a web server that stores your site's files. Thus, your site performance is dictated by the server itself to a large degree.
The good news is that the web hosting industry is very competitive. This means you are going to get the service cheap, and a lot of features will be standard. The problem is that the quality of the services will vary.
That's why here at GreenGeeks we strive to deliver the best experience possible. And as a result, we've become one of the highest-rated web hosts.
Not only that, we've achieved this success while having a positive effect on the environment. For every customer that signs up, we plant a tree. We also calculate the energy each site uses and buy three times the amount in renewable energy.
You will also need to pick out a domain name. To put it simply, this is just the URL your website will use. It's very important to try and make a short and easy-to-remember domain name. This really helps with marketing.
Step 3: Choose A CMS (WordPress)
There are a lot of content management systems to consider when building a website, but let me just point you in the direction of WordPress.
WordPress is an open-source CMS that is free to use and currently, dominates the industry. Most importantly, it's easy to set up and has a ton of survey tools that can help you get started. Or, as they're called in WordPress, Plugins.
Plugins are small software packages that add specific features to your website. Think of them as apps for your phone. You install one to add a specific feature. In this case, you would install a survey creator plugin. It is very straightforward.
You also need to choose a theme, which determines the appearance of the website. WordPress has over 4,000 free themes to choose from, so there's something for everyone. And each one is customizable.
WordPress is easy, customizable, and secure. It's the perfect platform for most websites.
Step 4: Choose A Theme and Plugins
Once you have WordPress installed, the first thing you are going to want to do is to pick out a theme, followed by some plugins.
When it comes to picking out a theme, it's all about finding something you like and that fits the website. The problem here is that a survey site is kind of vague. For instance, let's say you are collecting surveys about your restaurant.
Picking a theme that has a foodie design is a great choice. It's really that simple.
Picking out a plugin is also pretty simple. Since this website is about surveys, you are going to need a plugin that allows you to create them. WordPress has a ton of these tools available, but here are two I can recommend:
Survey Maker
The Survey Maker plugin is a dedicated survey creation tool. Its free version allows you to create an unlimited amount of surveys within your website. Whereas the Pro version adds the ability to send them out via email, and it even has Mailchimp support.
All of the surveys you create are responsive, so you don't have to worry about mobile users. There are a variety of customization options so the plugin will work for any type of survey site. Most importantly, it's easy to use.
Poll, Survey & Quiz Maker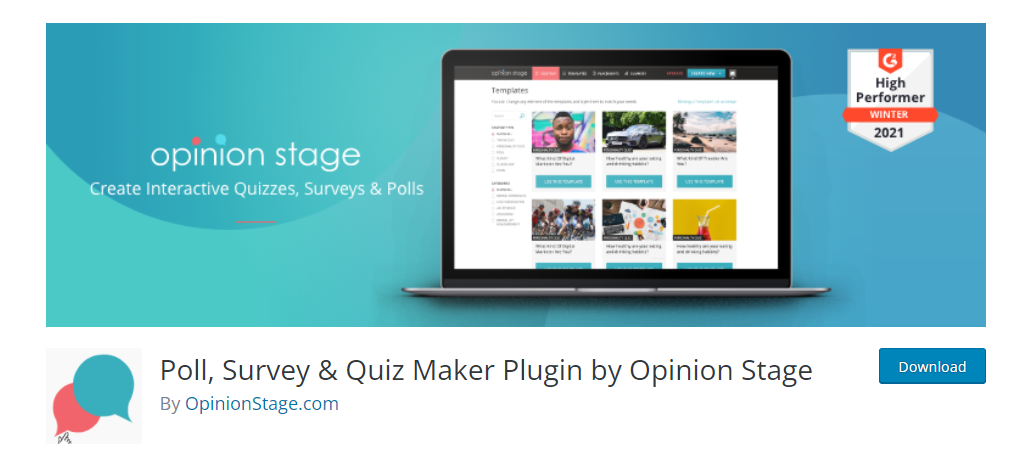 The Poll, Survey, and Quiz Maker plugin is another excellent choice as it gives you a lot of options to work with. Its strongest point is how well it handles images. In fact, you can even have the visitors select an image as an answer.
All of the information you collect can be exported in the CSV file format, so it is Excel safe. It even offers popup settings to make a survey appear when a visitor is trying to exit a page or post. Just don't get too carried away.
Step 5: Spread the Word
Once you have your website ready to go, you still have the most important task left: get visitors.
May create a website to collect survey data when they own a physical location. In those cases, you should use your store as a marketing device. Ask customers to fill out a survey online when they check out. Put a link on a business card or receipt.
And try to make it worth their time. Perhaps a discount code could help you get their participation.
If you do not have a physical location, then you should stick to something more traditional like social media. Facebook, Twitter, and many other platforms are powerful marketing tools that you should take advantage of.
Again, if you have a good rewards system, you can get visitors to give your site a try. But don't get discouraged if it takes a long time to build an audience.
Build A Survey Website Today
Building a survey site is pretty straightforward, especially with an online survey tool or plugin for WordPress. As long as your website has a focus, and most importantly a reward system, visitors will be willing to fill out surveys and questionnaires.
Now, you just need to be able to use the information you collect.