Are you looking for an easy way to collect donations for your favorite charity, local event, or even yourself? If so, the WP Fundraising Donation and Crowdfunding Platform plugin is exactly what you are looking for.
This plugin allows you to receive payments from PayPal, Stripe, or WooCommerce, which makes it the perfect addition to any WordPress website. And most importantly, it's done directly on your website and you get 100% of the donation, unlike platforms like Patreon.
Today, I will demonstrate how to collect donations from visitors with an awesome fundraiser plugin for WordPress.
Why Use A Plugin Instead of Patreon?
When it comes to accepting donations, there is no bigger name than Patreon, and it does a phenomenal job at it.
However, Patreon has a platform fee that can take 5-12% of the donation and charges a payment processing fee as well. As a result, you don't get the full donation.
It's also worth noting that visitors are taken to Patreon as part of the process, which means visitors are leaving your website.
While this is fine for large accounts that regularly collect a lot of donations, it can be troublesome for smaller accounts.
However, this isn't a problem if you are collecting the donations yourself.
Instead, you can collect 100% of the donation, minus any process fees you may encounter through the platform of your choice (PayPal, Stripe, or WooCommerce).
Note: There are also other options like the Buy Me ACoffee plugin to consider.
How to Use WP Fundraising Donation
Step 1: Install WP Fundraising Donation
The WP Fundraising Donation and Crowdfunding Platform will give you the ability to collect donations or start your very own fundraiser or crowdfunding project. It fully supports PayPal, Stripe, and WooCommerce, which means users won't have to make a new account.
Instead, they can just donate directly on your website and you can reap all of the benefits including no platform fees. As a result, it is a superior way of collecting donations as a smaller content creator, but might not be ideal for larger ones.
Let's start by clicking on Plugins and selecting the Add New option on the left-hand admin panel.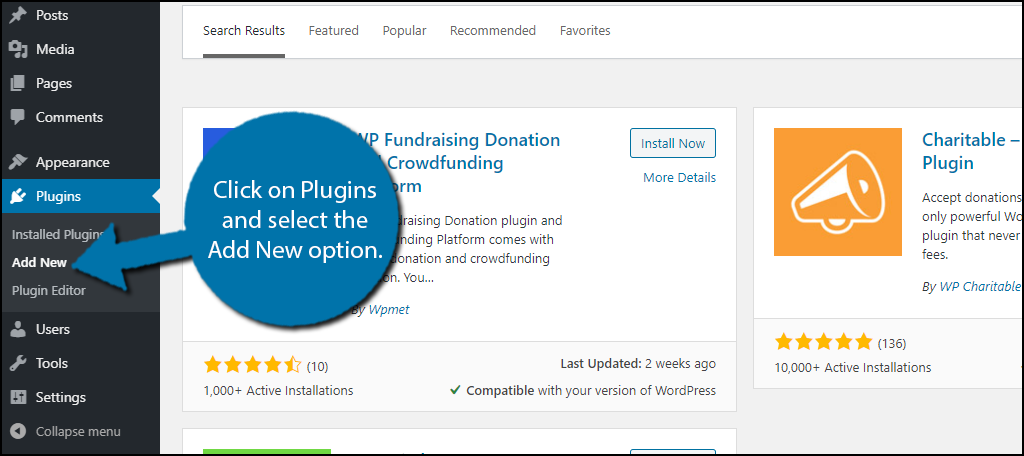 Search for WP Fundraising Donation and Crowdfunding Platform in the available search box. This will pull up additional plugins that you may find helpful.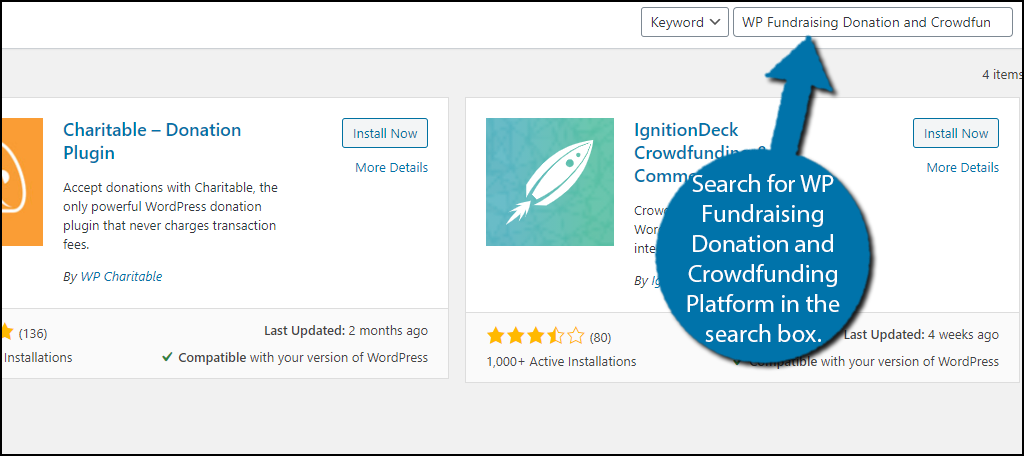 Scroll down until you find the WP Fundraising Donation and Crowdfunding Platform plugin and click on the "Install Now" button and activate the plugin for use.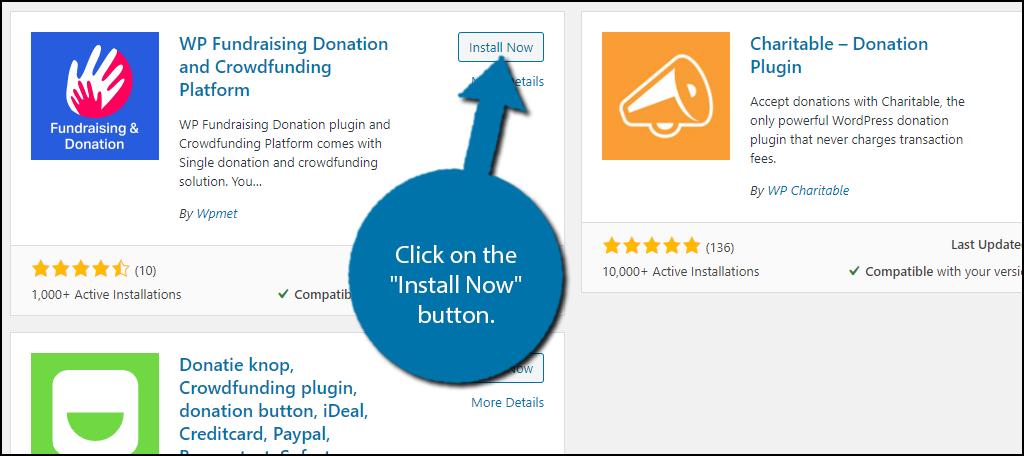 Step 2: Set Up WP Fundraiser
On the left-hand admin panel, click on WP Fundraiser and select the Settings option.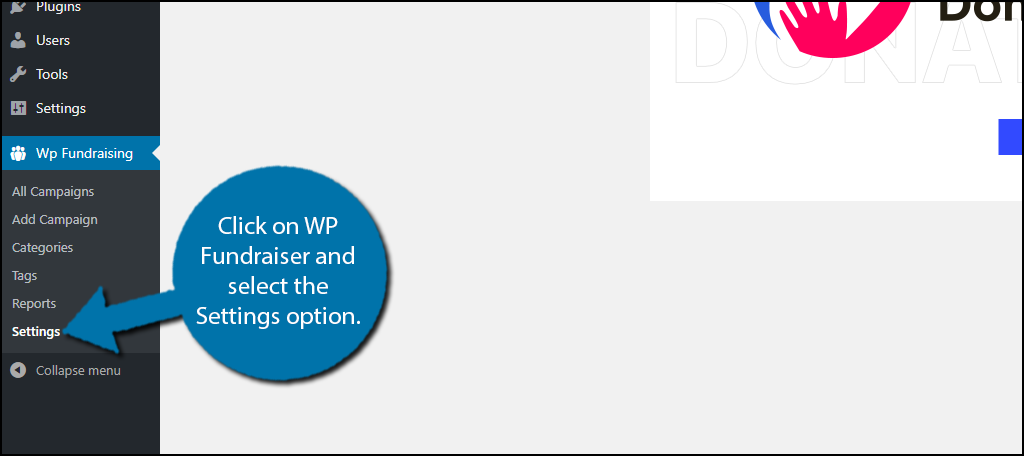 You will now need to run through the setup process. Click on the "Setup" button to begin.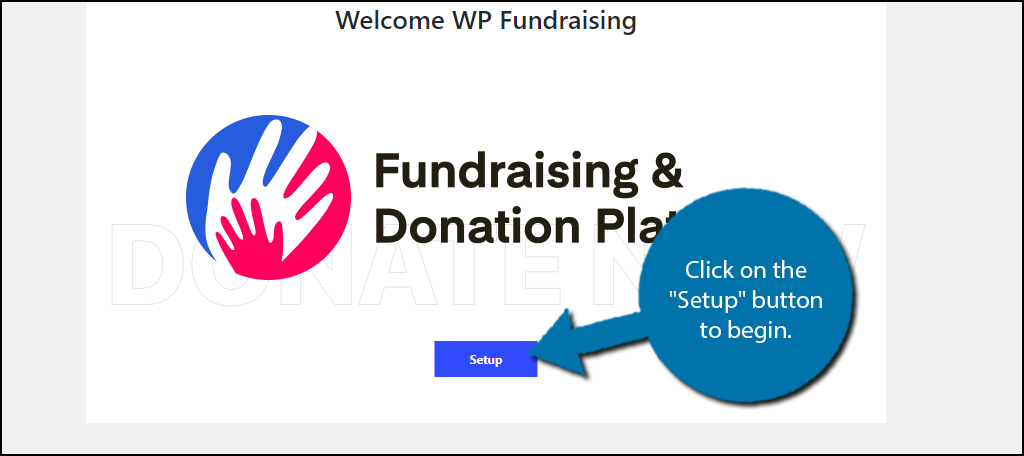 This will open a small popup on the same page. Click on the "Start" button to proceed. The first option is to select if you are using the plugin for Single Donation or Crowdfunding.
Single Donation is for if you are a content creator looking to collect donations or tips from your visitors to help you grow.
Crowdfunding is when you raise money for a specific goal or project. A common example of crowdfunding can be seen in the video game industry as hundreds of projects raise thousands of dollars to help start projects off. However, the projects can be for anything.
Select the option you intend to use. Be aware, you can change this later.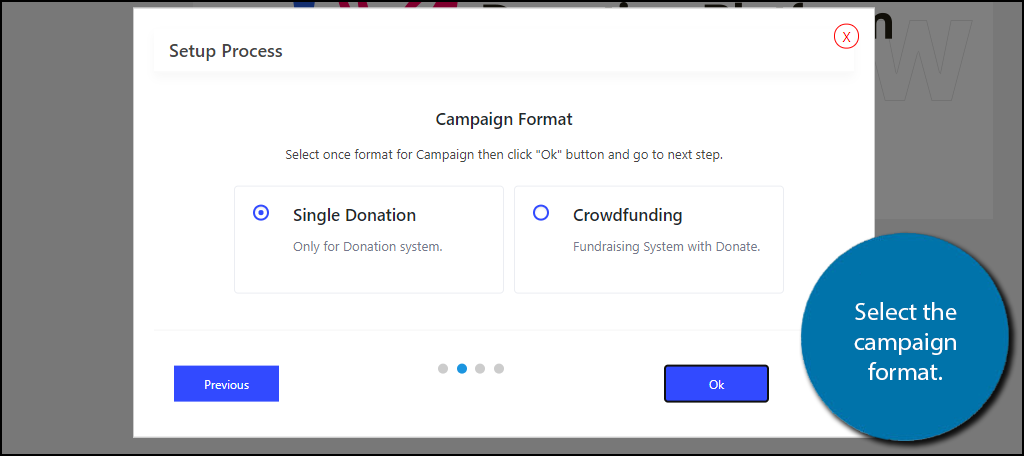 Click on the "Next" button and select what payment gateway you will use.
The default option includes support for PayPal, Stripe, cash on delivery, direct bank transfers, and more.
The WooCommerce option only accepts payments using WooCommerce.
Pick the option that suits your website the best.
And that concludes the setup process, click on the "Finish" button.
You should now notice a brand new settings section has appeared. In it, you can find a variety of settings you will need to carefully go through and customize to meet your website's needs.
There are 7 tabs in total, and these include options like your payment (connecting with your PayPal account), page, social, and much more.
Take your time and go through each setting.
Step 3: Create A Campaign
With all of the settings out of the way, it is time to actually create a campaign.
Click on the Add Campaign option under WP Fundraiser.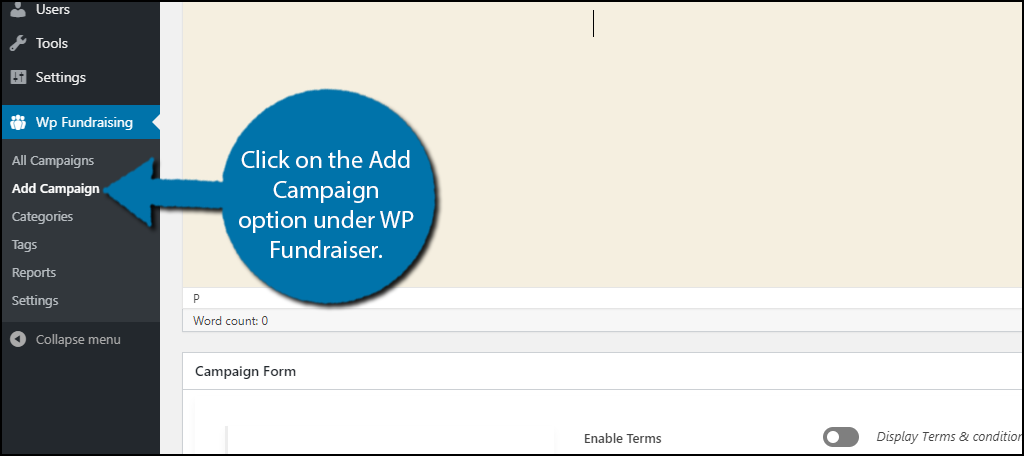 The plugin uses the classic editor in WordPress. This will not affect other content on your website. You can create a title and add additional information to the campaign. Most notably this should include what the money is for, goals (if applicable), how to donate (payment types accepted), and any rewards donators will receive.
At the bottom are the campaign settings. They should look similar to the previous section, but their format is a little different.
You can select what type of campaign this is (single donation or crowdfunding), set a goal, customize the form that collects information, and other various settings.
Once you are satisfied with the settings, click on the "Publish" button to create the campaign.
Step 4: Add the Campaign
Once the campaign has been created, it's time to actually add it to your website. This is accomplished by using shortcodes.
Note: I recommend testing the donation on a private page that way you can ensure everything is working as intended. The last thing you want to do is make the experience tedious for someone generous enough to donate.
You can find the shortcode for every campaign you create within the settings of the campaign itself.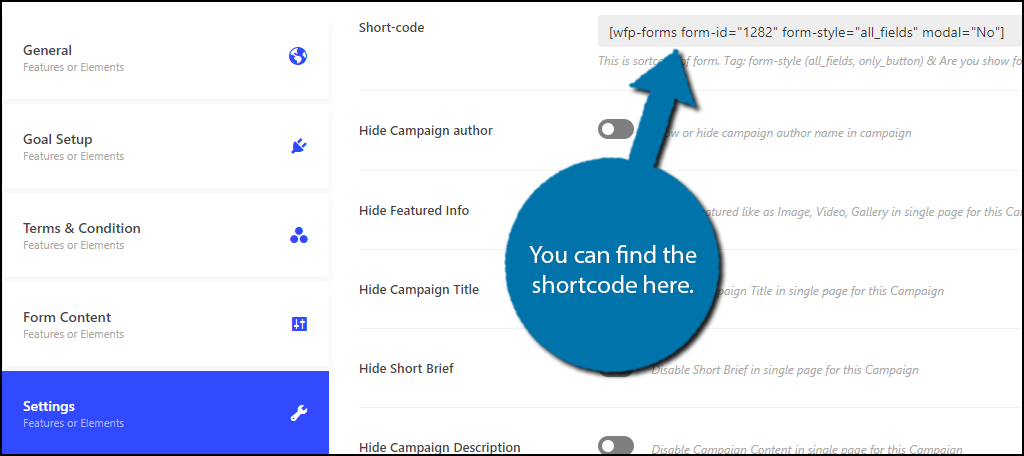 Simply paste the shortcode on any page, post, or text widget and view it in action.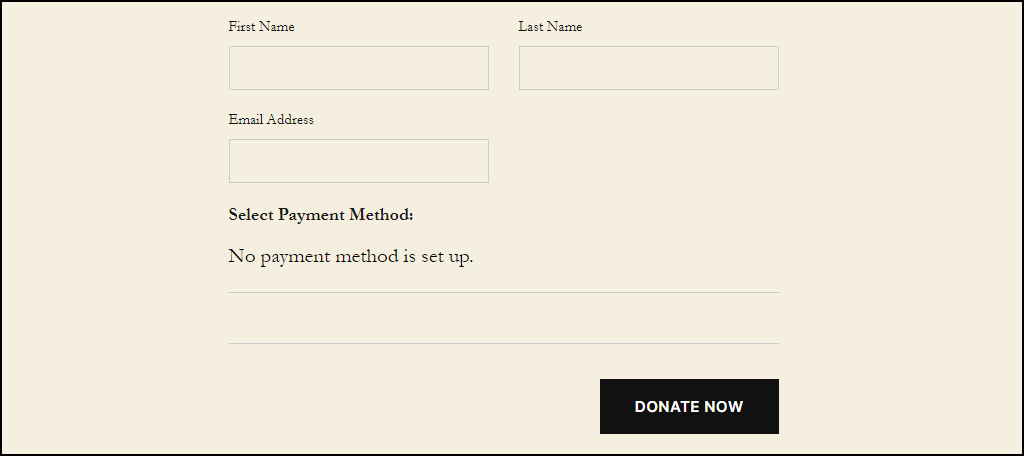 Congratulations on adding a donation option to your WordPress website.
Don't Rule Out Patreon
While there are disadvantages of using Patreon, such as the platform fee, those are easily outweighed by the advantages.
Without a doubt, most people have heard of Patreon. It's a respected name that people trust, and that by itself is worth the platform fee. However, there are also other advantages that are often not thought about.
For starters, ever wonder what happens when a payment is declined?
It's not pretty, and you could end up paying a fee as a result. But, that protection is built into the Patreon platform. As a result, it's not something you ever need to think about.
Another huge benefit is that patrons can sign up as a subscription. If they want to donate a dollar each month, it's really easy to set up. The same cannot be said about the plugin approach.
Patreon is loaded with plenty of other benefits that you can take advantage of, which makes it an ideal platform to use.
Add Exclusive Rewards to Donators
donations have been around for quite some time. As a result, many content creators have figured out some creative incentives. One such thing is being able to view content early.
Depending on the type of content you produce, it can be a really good fit. For example, a very common one is to make an exclusive podcast for donators. This helps you build your brand and is an awesome way to reward your supporters.
Another one is to personally sign merchandise your visitor's purchase. Again, this is very dependent on the type of content you create and not all of these methods work for everyone.
How easy did you find the plugin to set up? What payment method did you select?