What is cPanel?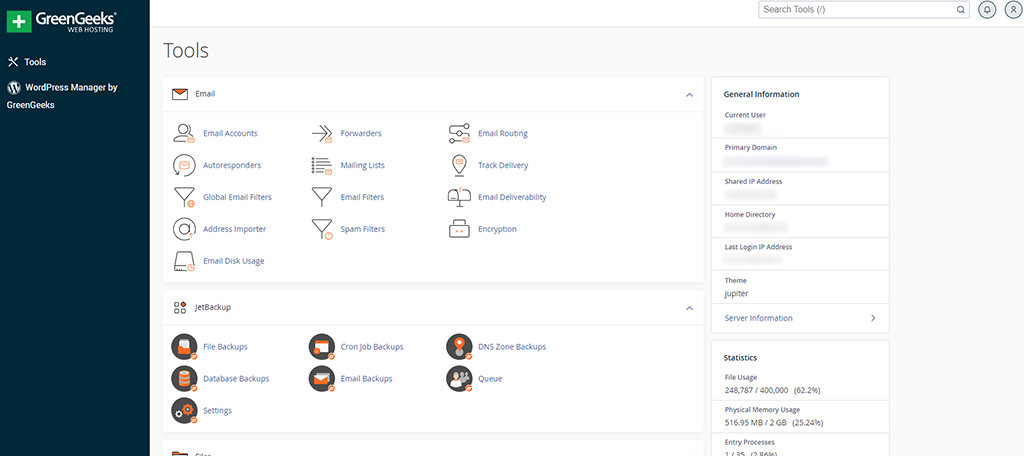 cPanel is a web hosting software that provides users with a graphical interface and automation tools to simplify hosting a website.
cPanel is often used by web hosts as an easy way for customers to manage their websites, emails, files, and other aspects of their online presence.
In addition to its intuitive interface, cPanel also offers a wide range of features that can be used to manage your website, including:
A file manager for managing your website's files
A database manager for setting up and managing databases
Email account management tools
Domain management tools
Website statistics
Is cPanel Free?
cPanel is free with all major web hosting providers, though some providers may charge a small monthly fee for using cPanel.
In addition to the free version, cPanel also offers a premium version with additional features and services.
The premium version is typically only available to enterprise users, though some web hosting providers may offer it to small businesses and individual users as well.
Is cPanel Only Visible to Me?
When you log into cPanel, the interface is only visible to you. Other users on the same server will not be able to see your account's settings or any of your data.
However, the server administrator will be able to see everything in your account and all the other accounts on the server. This is because the administrator has full root access to the server, which allows them to view and modify all files and settings.
If you're concerned about privacy, you can always contact your hosting provider to ask about their policies regarding root access.
How to Login to cPanel
To log in to cPanel, simply follow these steps:
Enter your domain name or IP address in your web browser's address bar and include ":2082" as the cPanel port number.
Enter your cPanel username and password.
Click the "Login" button.
Once you have logged in, you will be taken to the Dashboard, which is the main control panel for cPanel.
From here, you can manage all aspects of your web hosting account, including creating email accounts, installing applications, and managing databases.
How to Install WordPress on cPanel?
To install WordPress, simply follow these steps:
Log in to your cPanel account.
In the "Softaculous Apps Installer" section, click on the "WordPress" icon.
On the next page, select the domain name where you want to install WordPress.
Enter your WordPress Admin Username and Password.
Select the language you want to use for your WordPress site.
Click the "Install" button.
Once the installation is complete, you will be taken to the "Success" page, which will provide you with information about your new WordPress site.
You can now begin creating content, installing plugins, and customizing your site.
What is Managed WordPress Hosting?
Managed WordPress hosting is a type of web hosting that is specifically designed for WordPress websites. Unlike traditional web hosting, which can be used for any type of website, managed WordPress hosting provides several advantages specifically tailored to WordPress websites.
For example, managed WordPress hosting typically includes automatic updates, security enhancements, and expert support from WordPress experts.
This can be particularly helpful for busy website owners who don't have the time to manage their website's hosting themselves.
In addition, managed WordPress hosting often includes features such as staging environments and one-click backups, which can further simplify the process of managing a WordPress website.
Overall, managed WordPress hosting can provide a number of benefits for both busy website owners and those who are new to WordPress.
Should You Use a Managed WordPress Platform?
Yes, you should use a managed WordPress platform because:
It will make your life easier by providing automatic updates, security enhancements, and expert support.
Managed WordPress hosting often includes features such as staging environments and one-click backups.
You will have peace of mind knowing that your website is in good hands.
Where is cPanel in Managed WordPress Hosting?
cPanel is not typically included in managed WordPress hosting plans. However, some managed WordPress hosting providers do offer cPanel as an add-on option.
If you're interested in using cPanel with your managed WordPress hosting account, be sure to check with your provider to see if it's available.