What are Navigation Menus in WordPress?
Navigation menus are an integral part of any website's design. They provide a way for visitors to quickly find the information they need and make it easy to understand how different pages of your website are related.
WordPress makes creating, managing, and customizing page navigation menus simple through its Appearance> Menus panel.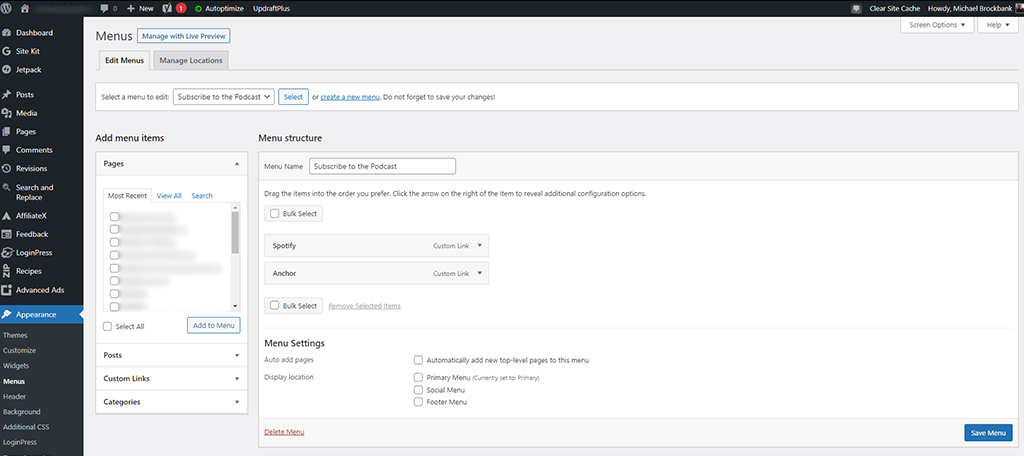 This convenient feature enables you to effortlessly add links to any page on your site or external websites, assign menu items into drop-down hierarchies, and specify exactly where those menu items should appear in the order.
In addition, WordPress allows you to assign specific backgrounds and styling options to customize your menus' appearance further. By taking advantage of these features, you can create comprehensive navigation structures that guide users through your website's content.
How to Customize Your Navigation Menu in WordPress?
You can create and customize your navigation menu in WordPress using the Appearance> Menus panel.
First, click the 'Create a new menu' button to set up your navigation structure. Next, you can add any existing pages, posts, categories, or external links as individual items within this menu. Then assign various sub-menu items into drop-down hierarchies and specify their order of appearance in the navigation bar by dragging and dropping each item where appropriate.
Finally, you can style your menu with colors or backgrounds that best match your website's overall design. You can also edit any of these settings at any time to change how visitors navigate your website content.
By taking advantage of WordPress' intuitive menus feature, you can quickly create an organized and navigable structure for your website.
Overall, Navigation Menus in WordPress is a useful tool for creating the perfect navigation system that caters to the needs of your website visitors.
With its drag-and-drop design and styling options, you can easily customize and organize these menus according to your preferences. This makes it easy to provide users with an intuitive way to find their way around your website content.
What Are The Best Practices for a Navigation Menu in WordPress?
There are several best practices for creating a navigation menu in WordPress.
First, you should keep your menu structure organized and consistent by grouping related pages together in logical hierarchies.
Second, limit the number of items on the main menu to between five and seven to ensure that it's not overwhelming or confusing for visitors.
Third, avoid using too many drop-down menus, as this can be difficult for users to navigate.
Finally, ensure your labels are descriptive and concise, so users know what each item is about without clicking on them first.
Considering these steps, you can create an effective navigation system that helps visitors find their way around your website quickly and easily.