The SSL certificate is a vital part of building a successful website. This is because it not only offers protection to visitors, but search engines like Google also put more emphasis on sites beginning with "https://".
Adding an SSL certificate is easy with GreenGeeks. Log into GreenGeeks.
From the GreenGeeks screen, click the "Security" section on the left of your screen.
NOTE: If you don't see the left navigation panel, you may have to expand it using the hash icon on the top right
Click the "Add SSL Certificate" button on the top right of the page.
Use the drop-down box to select a service (your primary domain name) and select which domain name you want to add it to.
Once you've chosen your account, click the "Continue" button.
In this next screen, you have two options available.
You can choose to install the AlphaSSL Wildcard certificate or Let's Encrypt SSL. There are a few differences between the two that may interest you. While Let's Encrypt SSL is free, AlphaSSL has a yearly cost.
For this tutorial, we're installing Let's Encrypt.
Click on the "Select Let's Encrypt" button.
You must now verify that you selected the correct domains at the beginning. Check that the information is correct in each field.
Click on the "Confirm and Create" button to finish the installation.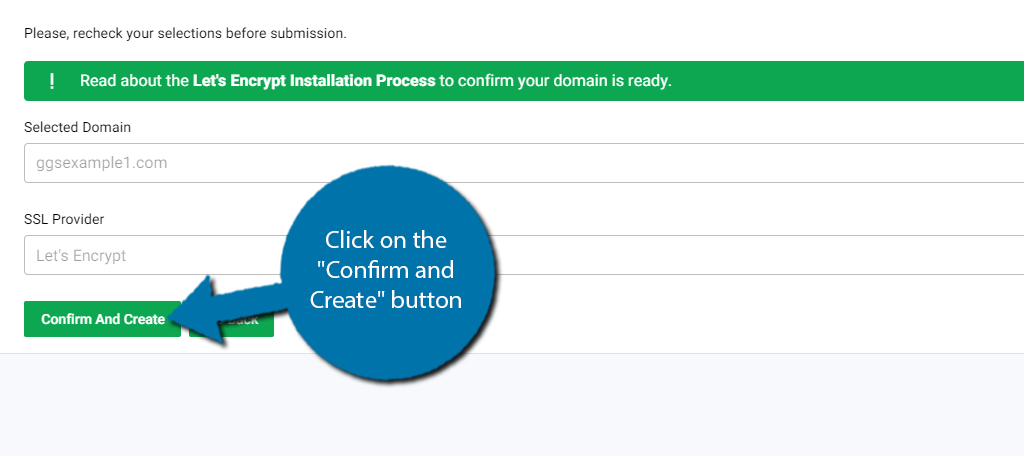 On the next page, click the "Install SSL Certificate" button for the GreenGeeks auto-installer to launch.
NOTE: At Step 5, you may receive a message stating:
"Error 37: Error Validating DNS Challenge. Please try again in 30 minutes. If this error still persists after two hours please contact Support. [23685]"
This is a normal error that occurs when you first enable Let's Encrypt on your domain. This is because Let's Encrypt uses DNS-based authentication. It needs time to propagate, which can take 30-minutes or so.
While you wait for the DNS challenge to complete, you can start the install process for SSL certificates for any other domains.
Once the system recognizes your domain name, you'll no longer have to wait for any subsequent changes to your account. So if you remove the SSL and decide to add it again at a later date, you may not see this error message.
When Let's Encrypt validates the domain, you can proceed by clicking "Install SSL Certificate" to complete the installation.
If Installation Fails
If you manage your own DNS, check out this article about DNS updates that may be necessary to use Let's Encrypt.
For WordPress Websites
If you're planning on using WordPress, you can install and activate Really Simple SSL to quickly add the Let's Encrypt certificate you just installed.