You can easily assign domains to your GreenGeeks hosting account directly from your cPanel. This will come in handy if you want to assign extra domains to your account for one reason or another.
How To Assign a Domain Name
In order to assign more domain names to your hosting account, you first need to log in to GreenGeeks. Simply enter your account email and password to log in.
One inside GreenGeeks, click on the green "CPANEL" button to jump directly into cPanel and get access to domain assigning.
Once inside your cPanel, scroll down to the section titled "Domains" and click on the "Addon Domains" option.
From here you just need to fill out the information and assign the domain name.
In the "New Domain Name" field, enter in the name of the domain you want to assign to your account.
The "Subdomain" field and the "Document Root" field will both auto-fill for you. You can change this if you want.
Note: For this, the Subdomain section is only used by cPanel for the actual domain assignment. You will still access your new assigned domain directly.
Next, you will see a checkbox titled "Create an FTP account associated with this Addon Domain." Check that box and open those options so you can associate an FTP account with this new domain name.
You can see the username will be auto-filled, but you can change it. Type in your password and confirm it. Or, use the "Password Generator" button to have a strong password generated for you.
Once you are finished click on the blue "Add Domain" button to finish assigning the new domain name to your account.
You will receive a confirmation message immediately letting you know that both the domain name and the related FTP account have been successfully added.
To view your new assigned domain, click on the "Domains" link.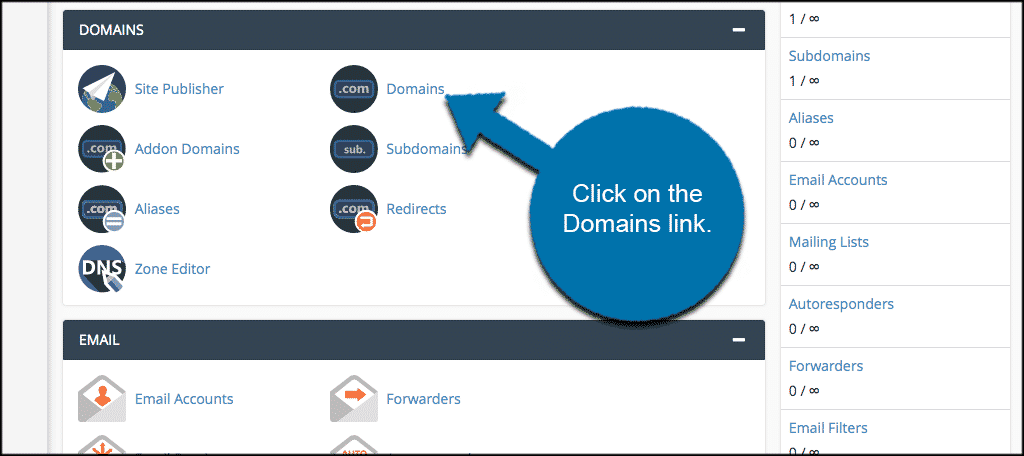 If the process was successful you will now see your new assigned domain as part of your domain's list in cPanel.
Troubleshooting Options
There are a few reasons why you might not be able to properly assign the domain name to your account.
DNS records have not propagated yet. Sometimes this can take up to 24-hours.
You have the wrong Nameservers added to your domain. Double-check those.
This domain name is already part of another GreenGeeks hosting account. You will need to remove it from that account before you can assign it to another account.
If you are still having some issues, then contact GreenGeeks Support and we will be happy to assist you.
Resources
Here are some other domain resources you can look into as well if needed.