Transferring a website from one host to another can be a daunting, time-consuming task. Why not let us do it for you? You can request the service in GreenGeeks.
Log in to GreenGeeks. From the left-hand panel, go to "Support" and click, "Site Migration Request."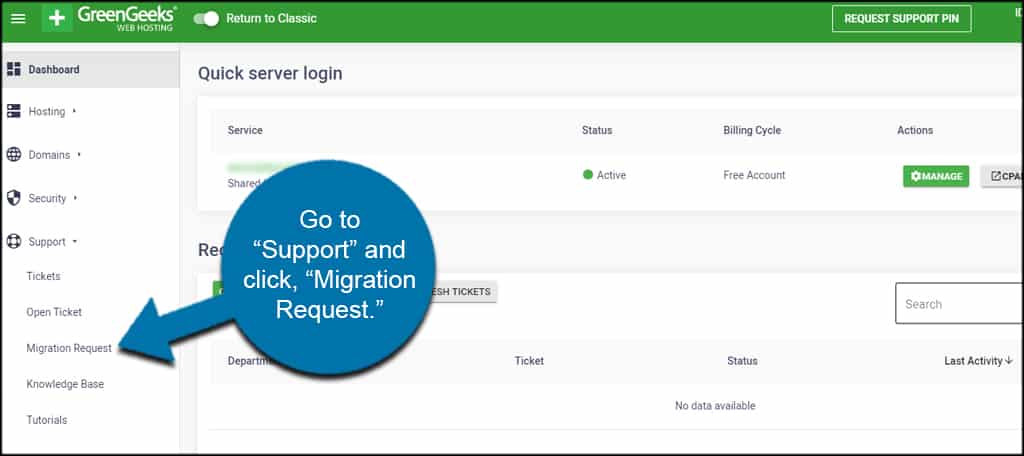 Select the hosting service of which you would like to request migration.
To transfer your web site files and email from your current host, we need the account login information:
Previous Hosting Provider
Control Panel URL
Control Panel Type
FTP Hostname
Control Panel/FTP Username
Control Panel/FTP Password
Additional Instructions: If you have any additional instructions for us such as a particular folder or database that you want to be moved, please provide it here.
When you have completed all the fields, click the "Submit" button.
If our website migration team requires any additional information, they will request it via email. We will send you an email verification when we have completed the migration.
IMPORTANT NOTES
Do not change your name server or other DNS settings to our servers until your web site files and email have been moved to our servers by you or one of our representatives. Updating DNS prematurely will cause your web site to become unavailable and disrupt email service.
If we encounter slow download or upload speeds at your current web hosting provider, delays may result.