Note that older versions of cPanel used the term, "Parked Domains" rather than "Aliases." Functionally they are the same thing. Only the name has changed.
The Alias function in cPanel allows you to host additional domains on your GreenGeeks account and each Alias domain will serve the content from your primary domain name. When a user enters the address for an Alias domain, it redirects to the primary domain on which it is parked.
For example, if ggexample.net is an Alias for ggexample.com, ggexample.com will be accessed when ggexample.net is entered into the web browser (to learn more about Alias and Addon domains, please see our Knowledge Base article, Addon VS Parked (Alias) Domains).
To add an Alias domain, log in to GreenGeeks and go to cPanel by clicking the "cPanel Login" button in the "Quick Server Login" section.
1. Click the "Aliases" icon in the "DOMAINS" section.
2. Enter the domain you wish to use as an Alias in the text field.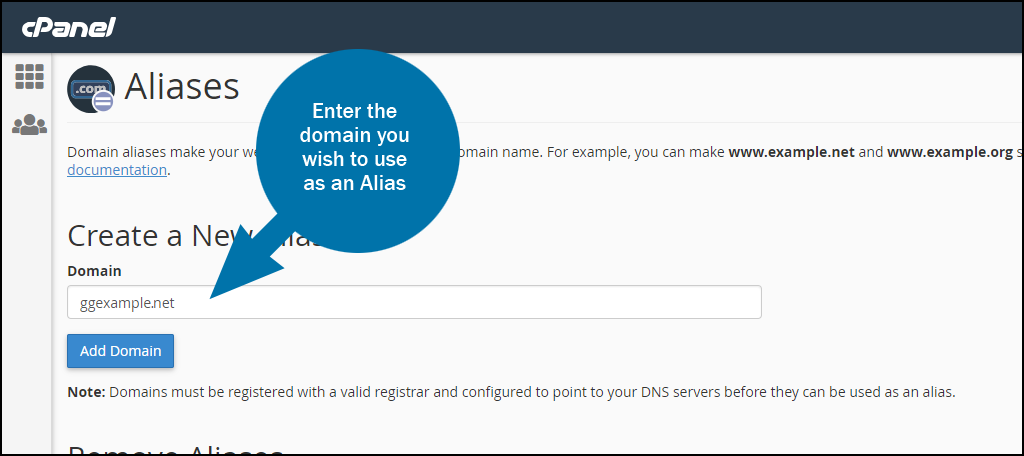 3. Click the "Add Domain" button.
Once the Alias domain has been added to the server, it can be removed or used as a redirect in the Aliases section of cPanel.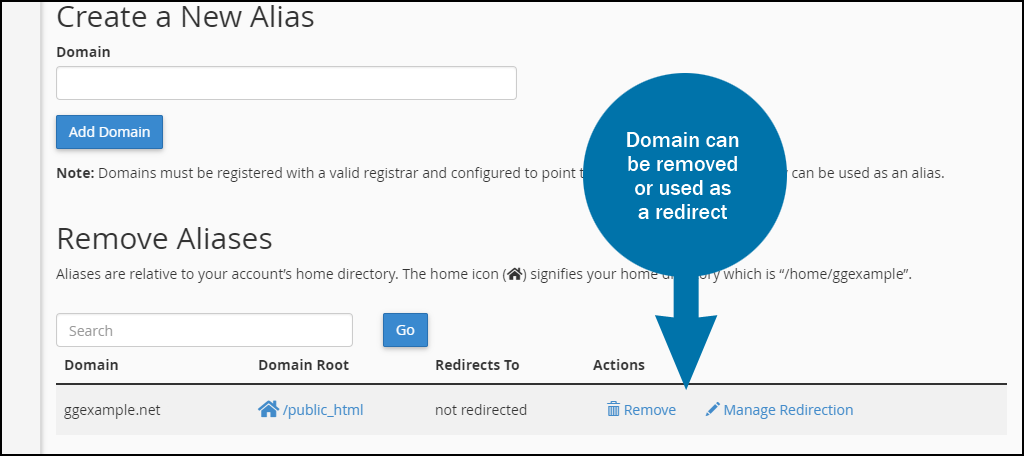 IMPORTANT: When setting up an Alias domain, you must change the DNS settings for that domain to the GreenGeeks DNS servers. See your Login Information email for the names of the DNS servers to use.
Alias Domain Email
Email accounts for the Alias domain can also be set up in the "EMAIL" section of cPanel. Click the "Email Accounts" link/icon and you will be able to choose the Alias domain from the "Domain" drop-down menu.