Are you trying to hide a post on your WordPress home page? The home page is usually the first thing a visitor will see when they visit your website, which is why it's so important to build it right. Visitors are quick to leave pages, which means you need to make sure they have a great first impression and sometimes that means hiding specific posts.
Unfortunately, WordPress cannot hide posts by default, it can only delete posts. Like most things in WordPress, there is a plugin that can add the feature you want. Today, I will demonstrate how to hide a post on your WordPress home page using the WP Hide Post plugin.
Why Hide Posts on Your Home Page
There are many reasons why a post might be better off hidden on the home page then displayed. Many websites diversify the content they produce to help attract new visitors. It is extremely common for a website to identify itself as a specific kind of website, but at the same time, produce other types of content.
For example, imagine a video game website. Video games are considered the biggest type of entertainment in the world. While video games may be the biggest, other types of entertainment, like movies, are still extremely popular. Producing content that can also attract moviegoers as well as gamers makes perfect sense.
However, you may want your website's focus to be on video games and want visitors to see video game related posts on the home page instead of movie posts. This example applies to multiple websites that want to branch out. It could also be as simple as a post not being suitable for every visitor.
How to Hide a Post on Your WordPress Home Page
Today, I will demonstrate how to hide a post on your WordPress home page using the WP Hide Post plugin. This plugin can hide posts almost anywhere on your website including the category, tag, author, archive, and home pages. The plugin is extremely easy to use and will only take a few minutes to get the hang of. It is important to remember that the posts are not deleted and they can be accessed by entering the correct URL or following a link on another page.
Installing WP Hide Post
Let's start by clicking on Plugins and selecting the Add New option on the left-hand admin panel.
Search for WP Hide Post in the available search box. This will pull up additional plugins that you may find helpful.
Scroll down until you find the WP Hide Post plugin and click on the "Install Now" button and activate the plugin for use.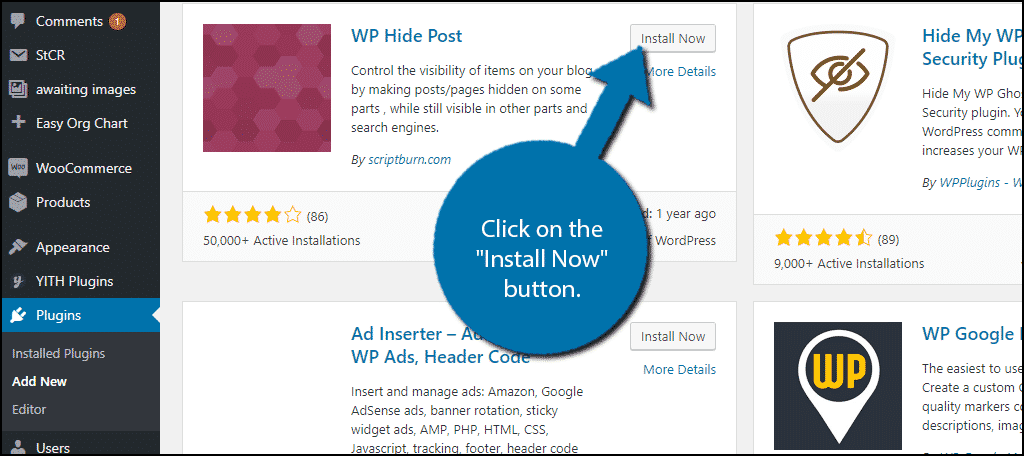 This plugin does not have any additional settings to change. Instead, the settings page is where you would upgrade to the Pro version of the plugin.
Hiding Posts on Your Home Page
Hiding posts on your home or any other page is extremely easy. This plugin adds a box at the bottom of every post's edit page. The box allows you to choose what pages the post will not be visible from.
Go to any existing post or create a new one. Scroll down to the bottom and locate the Post Visibility box.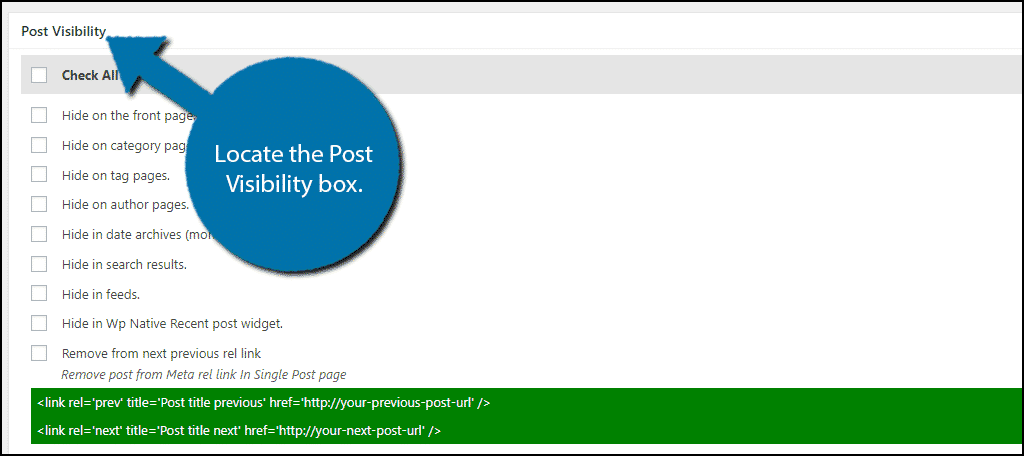 This box allows you to choose where the post is not visible. Select the front page box. The plugin refers to the home page as the front page. You can also choose other pages or places for the post not to appear on.
Click on the "Publish" or "Update" button to save your work. You will need to do this for every post you want to hide on your website.
Congratulations, you have successfully hidden a post that would appear on your home page. This plugin can hide posts from other pages as well. It can also be used to hide other pages from appearing on your home page.
Your Home Page is Important
The home page should show visitors not only what content your website offers, but also how creative you are. Anyone can use a basic template to create a home page, but it takes time and creativity to make a home page stand out. Standing out is exactly what you need to do when you consider how many millions of other websites exist that have similar content.
Controlling what content your visitors see on specific pages is extremely important and hiding specific posts gives you the control you need. Keep in mind that if you're hiding a post because it is not meant for visitors, you should make the post private or password protected instead.
Why do you want to hide a post on your home page? How easy do you find the WP Hide Post plugin to use?